Belfast, 12 January 1997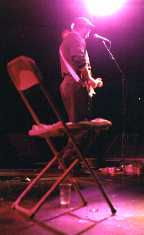 Richard Thompson
Waterfront Hall, Belfast
By Colin Harper
We may never know if Elvis still hangs around supermarkets but the orthodoxy that the company of Richard Thompson is a fast track to despair is, on the evidence of this commanding, soulful and dynamic performance simply wrong.
For two thirds of the show, entirely alone, he powered through material that ran the gamut of light and shade, here demonstrating a consistency in both quality and accessibility. Kicking off with the 1988 single Turning Of The Tide, the notion of one man, one guitar as a limited sonic experience was out the window.
With a singular technique, and the canny use of effects via the mixing desk, a pulsing bass figure and scurrying, mischievous lead lines flowed with deceptive ease from the one set of fingers and thumb to drive home a song that was positively rocking. For every archetypal Thompson ballad there were songs that revelled in the celebration of life.
Embodying the characters in his songs, the passion of Thompson's performance brought momentary life to the street-fighting deviant of I Feel So Good, the thrill-seeking biker of 1952 Vincent Black Lightning and the shadowy heroine of Beeswing, a song that, like his best work, explores complex emotions in a story that while complete in itself leaves a space marked "conclusion" for the listener.
When his son Teddy joined him for some "family favourites" at the end - proving himself a stunningly effective vocal substitute for Linda - we were in cosy, familiar territory, but the adrenalised powerhouse of Thompson on his own is an experience that adding to will never better.