U.K. Tour, January 1997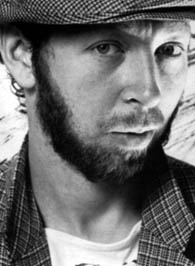 Northampton & Goodbye, 13 January 1998
My impressions of an excellent night in Northampton on Sunday follow. Sorry if they duplicate or contradict other posts, which I haven't been able to read, for reasons that will become clear below.
A non-stop show was billed, but in the event Teddy played solo support for 23 minutes and then we had a long interval. Ridiculous but it sold some ice-creams.
The fliers quoted a review from this list. Man bites dog. Is this the first example of Thommo bootlegging a listee? Do we have copyright!
Teddy has given himself a tough assignment, following a Dad like that, but he's brave, cool and talented, and even has a chance of making a living at it. He must smile more, but then his Pa has only relaxed recently in that department. The singing was lovely. He's inherited his Mum's voice and her little dimple, right in the middle of his chin. Right now, the set is too one-paced and the material not really strong. There are hundreds of singer-songwriters in every US city, all pouring out of lectures at music school, with identical black guitar bags over their shoulders, and he mustrise above them all. Right now, it's the kind of stuff that made Joe Boyd run a mile, but he has real promise and who knows what a couple of years of hard practising and writing may bring? With all of Loudon Wainwright III to choose from, he did One-Man Guy, which was in the same tempo and mood as his own songs, plus some subtle humour.
What an apprenticeship. He commented on Northampton having a Shoe Museum and speculated that there may be an Imelda Marcos wing, with rows of smelly, once-used shoes. You can just hear his Dad in the Cherokee saying "Keep your eyes open for local colour, son, so you can use it in your patter."
OH positively bounced onto stage, smiling broadly. He must be very proud of Teddy and himself, and why not? I may have missed something but I think the set was:
Tide
Bethsheba
Simple
Feel
Ghost
Hamlet
Shift
VBL
Pharaoh
Distance
Shand
Hide
Wire
Crawl Back
Razor
Dimming
Wall
Tear SL
For me and RT, the highlight was Bethsheba, a stunning, enigmatic song about an enigma. You know when a song has taken him to another world, cos at the end he stands for about five seconds, eyes closed, coming down. The soloing on this and other songs, (esp. Hamlet, an unlikely vehicle) was outstanding throughout.
They'd played Belfast the night before and he remarked on this fact during the introduction to Simple. A club doorman had been machine-gunned only a mile away.
Crawl Back was OK and may be a grower, but not in the same class as Bethsheba yet. Hamlet was a revelation. I've heard it too many times, but this was an outstanding version. The facial contortions have been boosted beyond belief and three little girls in front of me (listee offspring, sorry, forgotten you name: let us salute your child-rearing practices!) were in hysterics at some of the rhymes, gestures and puns. The solo was great and attracted spontaneous applause at its end, an unusual practice in England. RT ignored the applause until after the next line of the song, thought about about it and slipped in a "thank you", just to let you know that HE was in charge. Too cool.
After Shift from Industry, Sweetheart was requested. "No, too difficult." "Go on, you can do it." "No, I meant too difficult FOR YOU."
There was an absolutely textbook request for the first encore, as agreed on this list: just as he's setting up for another solo spot, you wait for a silence and speak (don't shout) "Please could you play ****?" Providing the request is practicable, I've never seen it fail.
A very happy, professional performance. He can now whip up the audience participation in a really clever and subtle way that has been honed over the years. Not corny.
After the show, I stripped the theatre of its posters in the slick style taught to me by our listmeister himself. I've had to unsubscribe, but thanks to him, Dee, Diane and to all the others who have made this list such a pleasure. You know who you are: I've corresponded with most of you. Please keep me informed of any Cropredy rendezvous, folks. Tom, I've got your tent!
I've got a few work ambitions to try out and haven't got the time just now to stay with you, but may be back one day.
As a last, unofficial auction (sorry, Dee: no time for a formal one), I have five tour posters and a quantity of handbills for sale. The posters measure 17" by 12", in black, red and white, with "Richard Thompson, January 1998" plus a list of the first four dates.
I'll pay the P&P. All gross proceeds to AI. Any bids by private e-mail please, closing noon GMT, Sat 17 Jan.
Whoever is keeping score, one more. (Blossom Toes)
Goodbye.
Trevor Buck
buck@innotts.co.uk
---
Wolverhampton, 15 January 1998
<< Was anyone at the Wolverhampton, Brecon or Plymouth shows? >>
Yes, Wolverhampton. Thanks for reminding me, I had intended to pass a few comments but hadn't got round to it.
Firstly the venue. Wulfrun Hall is a bit like a third rate Red Army Drill Hall stripped of its ambiance and charm so all the positive feelings definitely came from the music !!! A full house of 500-ish I would guess but he always was popular round here probably because of the Peggy and Swarb connection.
Teddy opened and after a couple of numbers I commented to my wife that he was very much his mother's son. She said yes but he also sounds like LWIII. I said "don't be daft" and then he did LW's One Man Guy and I saw what she meant. When will I ever listen to her ?? I enjoyed Teddy, his guitar work was cautious but competent, his own songs quite pleasant and his voice the best bit.
OH played from about 9:05 till 10:50, joined by Teddy for the last half hour or so. The set list was very similar to that posted for Northampton but the encores were Beeswing, Wall of Death, then Al Bowlly and TSL. The voice wasn't quite warmed up for the first 3 or 4 numbers (good nonetheless) but thereafter the singing was great, he's improved so much, not just in tone but expression too. Guitar playing ranged from marvellous to marvellous cubed but on some of the heavier hit numbers the bass was a bit boomy - don't know if it was the hall or sound system.
Highlights for me in no particular order were
Ghost - best it's ever worked for me VBL - guitar great but the vocals best I've heard on this. Heart - when Teddy came in on 2nd verse the impact was tremendous. I'd probably prefer to hear him sing lead on the whole thing now. Al Bowlly - OH took immense liberties with melody and tempo on the solo. I was really bothered as to how he would get back from where he'd gone but suddenly it all fell amazingly into shape and he landed without a bump at the start of the last verse.
TSL - great final encore. I could hardly see anyone not singing, and it carried on as we all queued to get out of the car park !
Only one I wasn't keen on was Walking On A Wire. Sung and played with much aggression and anger which clashed with my feeling for the song and my admiration for Linda's version. To me it's far more about despondency than anger and yet he gave it the PITP treatment.
Took a couple of RT-virgins with us who ended the night utterly de-flowered and tripping over their jaws at what they'd heard. Should boost his record sales a bit as they swear they'll buy the lot now. At least we know what to buy them for birthdays, Christmas, etc. for the next few years.
That's it for now
Tony Burt
SeltekUK@aol.com
---
Stafford Gatehouse: 16 January 1998
Great show! - but then again they always are aren't they which is why we keep on going as often as he comes around!
It made a pleasant change for me to have an RT show close to home, but it will be back to the less formal venues for me again next time around. It's nice and relaxing to have a seat and there is less noise, certainly the sound and sightlines were very good at the Gatehouse, but somehow a formal theatre just doesn't seem to lend itself to such an intimate or vibrant atmosphere as a 'real' music venue. (Don't knock the Wulfrun too hard :-)).
For some odd reason the show started at 7.30, (ridiculously early!) and ended at 10 when the lights went up immediately after the first encore. I'm sure the theatre cheated us out of a second encore of TSL but theatre goers are too polite to keep sitting and shouting in defiance of the management! If they had done that at the Wheatsheaf the crowd would have politely threatened to lynch the light operator and kept shouting.
The show format was the same as Trevor's report of Northampton, 20 mins of Teddy solo, a break, then RT solo, being joined by Teddy for the last songs
Either my memory is playing tricks or the set list (which I didn't write down) was slightly different to Trevor's especially towards the end when Teddy came back on stage.
They did a duet of an old Left Bank(e?) song. I thought from the intro it would be Don't Walk away Renee (that being the only one I could think of) but it wasn't that, it was one I didn't know. Richard said it was Teddy's idea to do it and from my point of view it certainly worked well for them as a duo.
They didn't do Al Bowly - which is fine by me.
Beeswing took the place of Ghost, whether planned or because of a request made as he was retuning I don't know, but again I'm happy at the trade.
I don't remember walking on a wire I think that was also off the menu tonight, I think Heart Needs a Home, sung mostly by Teddy, introduced as a 'family favourite' filled that slot, and is similar in style and age. It was quite spine tingling hearing Teddy sing in Linda's place.
Trevor said:
There was an absolutely textbook request for the first encore, as agreed on this list: just as he's setting up for another solo spot, you wait for a silence and speak (don't shout) "Please could you play ****?" Providing the request is practicable, I've never seen it fail.
And it didn't fail tonight either, someone at the front did exactly that and the result was Devonside.
In general the show was well up to Richard's high standards. not that much new material but some interesting reworking of guitar parts and instrumental breaks, many of which were unfamiliar.
As for Teddy I have to say I was very impressed. It will take him a few years before (if) he overtakes his dad in the songwriting or guitar viruoso stakes, which is to be expected. But going for him is a superb voice and the fact that he's out there doing a solo opening spot and playing with Richard at an age when Richard was almost still hiding behind the amps trying to remain anonymous.
High spots of the show for me were Teddy singing Linda's old lines and the instrumental breaks towards the end when Teddy effectively looked after the rhythm allowing dad the freedom to improvise on the solos. Generally I prefer Richard solo or with a full band but the duets with Teddy worked very well.
One other thing worth reporting was that someone asked in a tuning break how Danny was. Richard said he was well and looking forward to working again later in the year.
Chris Woods
psa12@keele.ac.uk
PS. If this finds you Trevor all the best in your new ventures, and keep in touch when you get chance, you'll be missed around here!
---
RT and TT at Oldham; finger news, 17 January 1998
Full house, I would guess between 1000 and 1200. Plenty of stereotypespresent, self included but I take exception to the overweight bit. I'm only a a diet to give my wife moral support, honest. It was nice to meet Steve Willis and Phil Parker and his good lady.
Teddy did only 4 songs, including LW3's One Man Guy. As note before his guitar playing is incredibly average during his own set. I liked his last song, Days in the Park and when his voice began to soar I detected a strong similarity to Neil Finn of Crowded House. That was before his singing on Persuasion which has Finn Brothers lyrics.
RT was great. I'd never heard him do "How will I ever be simple again" before. Due to Dee's early warning on her tour date page I actually bought the first ticket for this gig and had front row centre. I was determined to try out the "ask nicely for a request" theory but about half way through somebody shouted very loudly "Devonside!!" OH did a double-take, mimed a bit of thinking, and played it, and then thanked the guy for requesting it!
He did Pharaoh, which was his opener at the Blackheath Industry show in May, but this time with a sustained echo /phasing type effect which was good. He sang very well. I thought his best vocal was "Hide it away" where he turned his voice into a little growl before hitting that falsetto whoop.
Everybody is correct about Heart need a Home; its totally gorgeous, but I think pitched a little high for Richard. Teddy's verse is beautiful, he can sustain notes much better than his Dad.
I noticed during Razor Dance that Teddy has very long fingers. He played a few barre chords, the type where you bar all the strings with your first finger, and then say the top four strings 2 frets higher with your third finger. His third finger looked so long it was virtually double jointed to make this chord. He also uses his thumb on the bass string a lot, indicative of big hands.
I know not everybody is impressed with young Tedward, and I don't suppose Kate Rusby is losing sleep over having to replace his set next week. But in all fairness as a singer and rhythym acoustic guitarist accompanying RT he served his purpose as well as Zorn does. And the bottom line is, he's Richard's son, and it must be lovely to play on stage with your own offspring.
I had a good view of the monitor mix man who seemed to spend the whole set leaning back on the chair, singing along and smiling. I could do that. And I wouldn't ask for a big salary either.
Martin Smith
mrasmith@pendine.prestel.co.uk
---
RT at Oldham Sun, 18 January 1998
A few thoughts to add to those already submitted by Martin and Phil, who it was a pleasure to meet.
The Queen Elizabeth Hall is not a great venue, being a municipal hall with temporary chairs arranged on the flat floor where they have old people's tea dances, etc. My children attend a school in Oldham and it holds its annual Speech Night there, so for me it is inextricably linkedwith an interminable Friday evening in November when we sit through a Head Teacher's annual report and a dull but worthy speech by a cleric or an education expert, the choir and brass band perform their party piece and hundreds of kids troop up to receive certificates and prizes. It was a pleasure, therefore, to see RT perform to a full house there but, despite a great show by him, the atmosphere was definitely muted compared with RT shows I've seen in other local venues.
I can only confirm what others have said about Teddy: great voice, rudimentary guitar technique. His voice reminded me most of an American singer-songwriter called, I think, David Halley, who I have heard occasionally on Andy Kershaw's radio show. I'd love to have heard Kate Rusby as she and RT seems to me like the dream ticket on the current folk scene and I'm eagerly awaiting reports from the gigs where she appears. BTW the latest "Mojo" (Feb. 98) carries a review of her Purcell Room concert which says "her clear, natural voice is simply the finest in her field since the great Anne Brigs".
Returning to RT, the full set was as follows:
1. Tide
2. Bathsheba
3. Simple
4. Feel
5. Ghost
6. Hamlet
7. Shift
8. VBL
9. Devonside (in response to a shout from the floor)
10. Pharaoh
11. Shands
12. Hide
13. Wire
14. Crawl
15. Heart
16. The Left Banke cover whose title I don't know (good song though)
17. Persuasion
18. Razor
19. Beeswing
20. Wall
21. Distance
22. TSL
An excellent mix of old and new, with the highlights for me being:
Tide - because I've never seen anyone, RT included, get into their stride so immediately
Feel - for the way he picked things up again after Simple VBL - for the guitar work. I'm probably in a very small minority in finding the song itself a complete bore, but his playing hit new heights on this one. I had never been so close before (4th row) so was able to see what all the guitar players are on about (the three with me, one a newcomer to RT, were awestruck)
Heart - because to old farts like me the old ones are still the best.
All in all, a good night but I prefer him with a band and I hope next time he is in these parts he tries a different venue. History suggests that he will, as I'm not aware of him playing any venue in the Manchester area twice - but perhaps someone will correct me on this.
Steve Willis
Stalybridge, Cheshire
s.willis@virgin.net