Akron, Ohio - October 30, 1997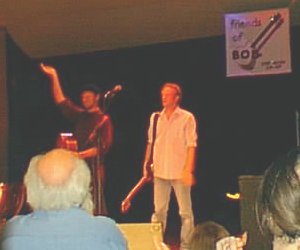 I've been waiting for someone else (who undoubtedly would do a better job) to review the show but as that hasn't happened as yet, I thought that my contribution may be better than nothing. Perhaps this will prompt someone?
Let me preface this by saying that I am new to the list, relatively new to most of RT's post FC stuff and this was the first time I had seen him live since his FC days. So, those hoping for a set-list better delete now! These are observations of a personal nature.
The Highland Theater in Akron, once a cinema, was an intimate venue. At a guess I would say it held 500 - 700. It was ninety per cent full last night. I travelled with my spouse on a coach from Columbus, some 2-1/2 hours away, organised by WCBE Public Radio. The tedium of the journey as eased by beer, food and a FC video.
We arrived about 15 minutes before the show, enough time to relax, observe and find our seats. To my delight we were row K, right smack dab in the middle of the row. Around us were our travelling companions. The show started near 8pm with Dave Wilcox. Ditto everything that has been said on the list before about him. His repartee was entertaining but his songs repetative (to my ears).
Then, after the interval, the part we had all come to see. Lights dimmed, tension in the air and the applause began. RT didn't appear immediately, then came down the side of the theatre and onto the stage, (wearing the obligatory black). He had an immediate presence and his first song confirmed him as a Master of his craft. Awesome. From reading Gordo's excellent review it seems that the set-list closely followed that in Lafayette (although there were no shouted requests until the encore). His banter (which was half of the pleasure) followed on from his previous show. He made reference to the Indians loss in the World Series, asked if the people of Akron were know as Akronisms! and admonished us from Columbus for our backchat "I make the jokes, you're here to listen!" His sales pitch was literally "my new album blah blah blah."
Gordo writes >>Instead, he introduced the next as being about "the bad guys. No longer do they have to wear black gloves and overcoats" A female yelled from the audience that they wear black berets, which brought silence to the crowd and a snide look from OH.<< This time it was RT who linked the bad guys to black hats. He pushed the point a bit saying that nobody round here was like that, but it didn't seem to get picked-up.
Teddy joined his father at about the same point in the show and they did the same numbers together as Lafayette. He has a lovely voice and time will tell how his guitar playing develops. Certainly his solo song was greatly enhanced by RT's additional playing.
The show ended too soon (although in all honesty I can't complain that it wasn't a very fair deal). RT returned for the encore. A few shouts from the audience. Put it there Pal received a cynical look. Someone in the front called for Beeswing which was immediately seized upon. I was real happy about that. Teddy joined his father onstage for his solo followed by Wall of Death. We knew RT was gone for good because this time he took his guitar with him.
Some twenty minutes after the show ended we (some fifty of us) were rewarded for our perserverence in hanging around when RT came into the foyer to sign autographs. Just rounded-off an exhilerating evening.
There aren't enough superlatives to describe my admiration (and they'd be boring anyhow). Fortunately my husband, who'd been dragged along - if not kicking and screaming - then with a degree of cynicism, felt the same.
In closing, if anyone is still this far, I will observe that I think the solo singer format with acoustic guitar suits RT's style well. I like many of his recorded works - but not all (heresy!) All the ones he played last night were winners which could be because of the format. What also helped was mixing the light with the dark. Three or so songs in a row and then some dialogue (or is it monologue?)
We arrived back home at three in the morning. I'm still on a high from the show - or is it lack of sleep?
cheers
ruth
Marulatoo@aol.com