Lafayette, Indiana, October 28, 1997
Richard Thompson and more!

Hey All,
This is my first attempt at reporting on a show, but I know of only one other list member that was planning on seeing this show (missed you Willis). Therefore, I feel obligated to report to you on this one.
My son (19 & devout fan) & I got a late start from Chicago due to school/work obligations. We had no idea what time the show started (not actually having tickets), but headed out at 4:30 p.m., rush hour here in Chicago. We made very good time (those Hoosiers cruise!) and found ourselves driving into Lafayette by 6:45 for a 7:30 show. Unfortunately, we had crossed a time zone and the actual time was 7:45, but fortunately, there was an opening act, of which we caught the last 2 songs + encore. Guys' name was David Wilcox...I never heard of him. Sorta James Taylorish, that was my impression.
The Long Center is a fairly small venue, maybe holds 1,000 by our best guess. By the time we arrived, the only seats available on the main floor were in the last 2-3 rows. I wasn't happy there, so we decided to check out the balcony. The balcony was occupied to app. the 5th row (of 30?) and we sat there for awhile during intermission. To our delight, 2 seats became available in the first row of the balcony and we moved right in. Great seats, for arriving so late!
When they dimmed the audience lights and brought up the stage lights, the crowd erupted with applause. The applause lasted some minutes but still no RT. Finally, the audience stopped clapping. Still, no RT. The audience slowly began clapping again, beginning with a few and building to the roar of the entire crowd. Again, no RT! It took him some moments to awkwardly take the stage, not quite a stumble. He was dressed in matching black (pants, shirt,vest,beret). The crowd became silent as he went into Turning of the Tide. I should say from the start that I thought that this was a great show (ever see a bad RT show?) and will try not to proclaim every song as brilliant. But each was!
Without a word, Bathsheba Smiles followed (No audience recognition? They clapped for the ones they knew!). Next up was Galway to Graceland. He gave the usual spiel regarding the 2 specific groups he was targeting as sales potential for this song. And this time it was, "She sang love me tender, as the plane headed west". I Feel So Good was one the audience must've recognized as they all cheered when he began. And after, he played one of the best renditions of The Ghost of You Walks that I've heard. The auditorium was silent, other than the sounds from Richard; I must say this was one of the most respective audiences I've experienced in quite some time.
RT then went into his sales pitch, advising we purchase his newest album. He rephrased it sentences later as his last album. I was confused as to which he was referring, Industry or You?Me?Us?. He never actually spoke the name, maybe purposely. Hamlet was up next and OH was up to his usual antics during it's intro. "Considering we're in Indiana, I need 4 & 1/2 hours to play this song", he said, inferring life/people are a little slow in this small Midwestern town.
After Hamlet ( I wish he'd get over playing that song, already), the audience began shouting requests. The request for Taking My Business received a "later in the show" response from RT, and Mingus Eyes got no response at all. Vincent put a gleam in his eye, you know he can't resist playing it and this was an audience that was pleading for it. So, Vincent we received. Next request was for Devonside, but RT said "no, I'm not sensitive enough to do that".
Instead, he introduced the next as being about "the bad guys. No longer do they have to wear black gloves and overcoats." A female yelled from the audience that they wear black berets, which brought silence to the crowd and a snide look from OH. He said something about being "ticked off now", with a grimace on his face. Of course, he was trying to intro Pharaoh, which again, was an excellent performance. The audience was silent throughout, and as the sound of the final three thumps he tapped on his guitar resonated through the hall, I question whether they were even breathing. The final ripple of the taps....then total, utter silence and stillness......then the explosion of the applause. Outright eerie, it was.
Keep Your Distance followed. After, more RT banter: "wonderful audience so far, you deserve the next song. Later, we're expecting some special guests. My girlfriend? Ginger? Baez?......what could _we_ do together?" He intro'd Jimmy Shands with, "To the next song, you can polka down the isle if you like. While I was in town earlier today, saw lot's of used sheet music.....for accordion. What's going on in Lafayette? The best sing-a-long for this song was in Tokyo". Many requests after, including Free Bird, to which he responded "you'll love this one then". We were treated to a beautiful version of Walking on a Wire.
RT then introduced Teddy. He said they were going to play a new song....joking they had just made it up 5 minutes before. He didn't actually give the title. Crawl Back Under My Stone? Some lyrics of chorus: "you won't have to stand next to me, you won't have to think about me, you won't have to....". There were some technical difficulties, to which RT quipped, "We learn as we go, this is a relaxed family show, just like the Partridge Family". Next, I think, was A Heart Needs A Home which was absolutely.......what?.....outstanding!?! RT & TT were trading verses and harmonies and I thought they complemented each other wonderfully. TT hits some pretty high notes there...am I hearing ghosts of Linda's harmonies?
Next up was I Wanna See the Bright Lights, Tonight. Richard looked to be having a great time during this song; he truly seemed to be enjoying this outing with his son, proud smiles/nods and all. TT then did one of his songs, Brink of Love. I personally thought he was a good performer (probably not strong enough to stand on his own, yet, but watch out for him), but my son felt surprise at what he termed the lack of guitar finesse. Next was a cover of The Left Bank. I know there's been discussion of this group on the list, which I paid little attention to (sorry), and am unsure of the song title. I was impressed during this song by the differences in the father and son performers onstage. RT, with his head lowered and eyes closed........ while TT sang with an uplifted face, gazing off into the distance. Totally different body language.
Razor Dance was the last song before the encore. As he came back on stage (alone) and was adjusting his guitar, I had my chance to call out. I yelled for Burns Supper (not because I have a specific admiration for this song, but it's one I've never heard live and was hoping to have him play something besides his usual). My request was acknowledged with "too dark, too dark". Instead he played Beeswing. RT then invited Teddy back on stage to perform one of his songs. Days in the Park was the title...again, I thought a good effort and RT added a most wonderful (absolutely sweet!) guitar solo. The evening finished with a rousing version of Wall of Death. Overall.......just a terrific show!
We were hoping to catch RT on his way out. We waited inside a moment, going up front to see what was happening backstage/sidelines (which looked to be the size of a hallway-very small). We hurried round to the back door, but they must've run out right after. No sign of anyone...not even fans. So, off we went on our journey home.
Later~
Gordo
Gphlash@aol.com
---
I was there, Gordo!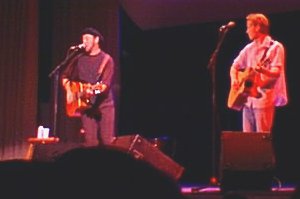 I had been really looked forward to this night of acoustic music by Richard Thompson, and the show was everything I could have hoped for!
Lena and I drove from Elkhart to Lafayette in about 2 and a half hours. The trees were just turning color, and we enjoyed the scenery all the way -- arriving just at sunset. The clouds had a kind of purplish glow that I'd never seen before. As the sun was setting there was a strange reflection off the clouds, giving an image of two suns -- one right on top of the other and both equally bright.
We had never been to Lafayette, but the directions from the nice folks at the Long Center box office were perfect. We drove right to the venue, parking just around the corner. We were nicely surprised when told that there was no fee for parking at night. What a difference from those Chicago shows!
We found ourselves right across from the Lafayette Brewing Company. Having eaten nothing, we went in for a bite before the show. It turned out later that this was a well known spot in Lafayette, and the sponsors of the show "Friends of Bob" announced an upcoming event to be held there. The Lafayette Brewing Company seems to be one of those "brew pubs" where the beer is brewed on site. I sampled one of their ales and was not disappointed. The food was good and reasonably priced. Check it out if in Lafayette.
Lena and I walked one block to the Long Center, arriving about 15 minutes before the show started. As promised, my tickets were waiting at the Box Office. There was open seating and I had decided that I was going to look for a seat right down front. I was astonished to find several whole rows that were empty -- but then disappointed to find them all reserved for those mysterious "Friends of Bob".
Not letting that dampen my spirits, I continued in my quest. Suddenly, I spotted two vacant seats at the right on row 5. All the pictures on this page were taken the night of the show, with the ones of the stage directly from my seat. I used my new digital camera with no flash - I hate those flashes as much as anybody during a show. But the low lighting did hurt the picture quality -- sorry about that!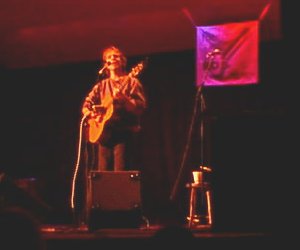 The opening act was David Wilcox on the acoustic guitar, shown above and below. Gordo commented that he sounded like James Taylor. That was exactly what I thought as he was singing. He tended to give long but very entertaining introductions to the songs. Excellent with the ad lib, he commented that "Friends of Bob" today would be the "Church of Bob" tomorrow, and that we should join now or risk becoming serfs in the future! He had his own songs, a performance video, and a CD by his wife on sale. Several people in the audience appeared to know his songs.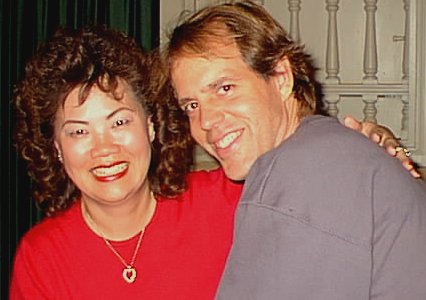 During intermission, he came out to meet his fans. This turned out to be only one seat away from where we were sitting!
Then Richard Thompson came out and gave an absolutely wonderful show. After reading Gordo's review, there is very little for me to add. Richard Thompson was in very good spirits, and was more talkative than I've seen at other shows. On the other hand, maybe I just noticed more because my seat was closer than it usually is.
About 10 or 15 minutes after the show, Richard came out to sign autographs. Two of his fans are shown with him below.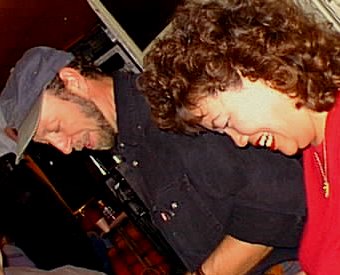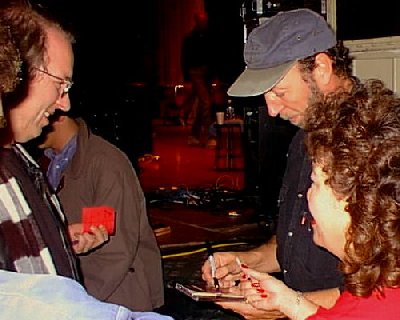 A great show and a great evening!
Willis Howard
wehoward@alphane.com
---
Istvan Csicsery-Ronay Reports
I read the reports of the Lafayette gig with pleasure, they largely express what I felt, too. But I had some other feelings, as well. I was terrifically excited to see this show. I'd never seen The Man in solo acoustic concert, and I was high as a kite. I brought my wife along, for to experience the mana of the man , not just the CDs.
As Gordo said the theatre was great, the crowd was incredible -- I felt that if someone had bombed the place they would have wiped out the middle aged hippie population of central Illinois-Indiana. Everyone's midlife crisis seemed to be on hold. Wilcox impressed me at first, then faded. He plays a good open-tuned rythmic guitar, but his songs were derivative of the West Coast smoothies. His real art-from is the pre-song banter, he really tells a gorgeous story, half-in-verse, half-in-prose. But I did tire of the sweetness and required car song, circus song, fast-riding woman song, etc.
The Man came out with a phenomenal version of Turning of the Tide. I couldn't place it at first from the intro, but then he swooped into the song. This is where it gets weird. I felt that throughout the concert Richard would stumble now and then; Turning of the Tide wasn't perfect, the solo was downright formless, and this stumbling -- sometimes the fingers wouldn't pluck right, sometimes the rhythm wouldn't click, sometimes the solo riffing didn't congeal into a beautiful design-- he would sometimes acknowledge this with little sheepish grins directed to the audience. It was actually quite wonderful. I'd never seen him less than perfect, and here he was being imperfect -- he was trying new things all the time. Vincent was impeccable, and most of the songs were flawless. But now and then he would clearly try something he was improvising conceptually, you could see him thinking. He could have played any of the tunes without a hitch and everyone would have loved him for it. But he was clearly in it for personal pleasure.
Istvan Csicsery-Ronay
ICRONAY@DEPAUW.EDU
Sat, 01 Nov 1997 13:24:35