Australia 2004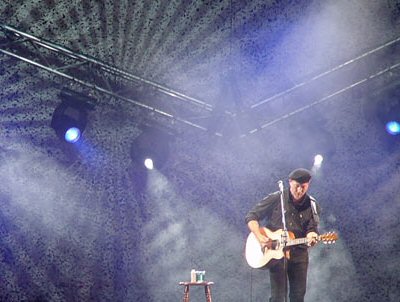 RT at Tilleys - first night, by Pete Herring
The anticipation was running high. Despite that, I was feeling remarkably calm as my cab whisked me from Canberra Airport to Tilly's Divine Cafe to see RT for the first time since Cambridge (with band) in 2K1. The sky in the west was an opal pale-blue as we floated past Lake Burley Griffin, past Kings Avenue which traverses about two miles of this designer city directly to (New) Parliament House. You get a view directly up the Avenue for all of those two miles - it's quite a striking sight, even after forty years since my first visit to this unique country metropolis. RT was later to remark that "it was a good thing the Germans didn't discover Canberra: all those long, wide avenues - perfect for *tanks*!" Pointedly, nobody mentioned that this town is a bastion for the defense forces and that there are probably plenty of tanks to go around here.
John and Angie Penhallow were waiting in our stageside booth as I slipped in and exchanged greetings. We enjoyed a fine set from South Australian singer/songwriter Jodi Martin who was appropriately deferential to the Main Event.
RT appeared onstage to an enthusiastic audience of about 185 - the perfect sized group at the perfect venue. He stepped up to the mike and tore into Watch Me Go. What a wonderful opener this song is - it really gallops along. So good to finally hear it after reading so much about it on the List. There was an early request for Persuasion - he played it immediately. A couple of songs later he absolutely blazed into Cooksferry Qween - he was in hot form. A highlight was Crawl Back, after which he took about six seconds to shake off the other place he'd gone to. RT has never ceased to amaze me - his confidence, his sheer ... I dunno - words fail me. He is simply so bloody good. His songs maintain such a constantly high level of sharpness, especially in the live setting. Sloth was wonderful - it's a song I used to play with friends in the 70s - very simple chords and progressions yet the result after RT de- then re-constructs it to its present form is incandescent. King of Bohemia was shimmering. I had never heard a live version of For Shame of Doing Wrong and I am so pleased that he has chosen to include it in the current set! IWTSTBLT (Bright Lights) was a lovely surprise - this was the first thing I ever heard him sing: Cropredy '84. He closed with Beeswing. It is humbling to stand after a gig beside the Main Musical Influence of my last 33 years and greet him as a valued visitor. I still felt remarkably calm - and really bloody chuffed.
cheers,
Pete
Wed 4/14/2004 1:46 AM
---
RT @ the Gov
I have just, in the last 10 minutes, arrived home from RT's Adelaide gig at the Governor Hindmarsh Hotel. I'll be reviewing it properly for dB Magazine www.dbmagazine.com.au later today (Sunday) but here's a few thoughts etc in brief, along with setlist, especially for the RT List, because I care...
- Watch Me Go
- King Of Bohemia
- Cooksferry Queen
- Outside Of The Inside ("Any members of the Taliban in this evening? Apart from myself, of course")
- Alexander Graham Bell (got a little confused with the words in places, understandable!)
- One Door Opens (got a few cheers of recognition at the beginning , to which he responded with a big showbizzy grin)
- A Love You Can't Survive Crawl Back (with no great audience participation on the chorus, which seemed to amuse him. His own vocals very strong and forceful)
Sloth (starting with verse 1 now, rather than chorus. Mentioned he used to be in a band, FC, which earned some applause - "The word's finally spread here, that's good!") After this, Richard thanked those who have been buying records since 1967. ("My records that is, not other people's. Elton John doesn't count. Pentangle certainly doesn't count")
- 1952 VBL (long applause which RT seemed genuinely appreciative of) Then into the 1000 Years section (mulling over which ones to do, but suggested he'd leave out the Black Death songs, such as "It's My Pustule And I'll Cry If I Want To".... Instead we got....)
- So Ben... (great reaction) ("You can dance to these if you like. Tell all your friends you were dancing to a man with an acoustic guitar. How sad...")
- Shenandoah
- Oops (again, audience too shy to join in on chorus) ('You obviously don't know that one")
- Dimming Of The Day (a request)
- For Shame Of Doing Wrong
- Persuasion
- Gethsemane
- Sibella
- Bright Lights Tonight
Encore 1: Beeswing
Encore 2: I Feel So Good
Galway To Graceland
Hokey Pokey
Word Unspoken
A very appreciative and attentive crowd of approx 450 at Adelaide's premier live music venue, actually run by people who love the music. A couple of comments I heard included "I'll be back on Monday to pick up my jaw!" plus a couple of chaps discussing RT's guitar playing style in great depth. Support act Jodi Martin was excellent as well, I must say.
Got my copies of Liege & Lief and OKB autographed. I mentioned I was reviewing the night, so Richard said he slipped in a "little something" inside the L&L cover for me - "snowstorm in April", I believe he called it...
There was a rumour he would possibly join the RT cover band Smiffy's Glass Eye (mentioned in that Rip It Up article) who were playing in the hotel's front bar after the gig. It didn't happen but it doesn't matter. It was an excellent gig; the man is in top form and apparently he was very pleased with the gig too.
Enough for now I think. I'll write the proper review later...
MH
Sat 4/17/2004 11:04 AM
---
RT in Melbourne
(Part 1- Basement Discs)
It was 2.50pm, and we were heading down Elizabeth Street with a deadline to meet. Already later than I'd hoped, we pulled up as the lights turned red and I made my exit. I didn't notice the sign on the footpath outside the Block Arcade, but my SPUD had taken it to be some sort of cryptic clue to those in the know: it read 'Beehive', but alluded to some retail outlet inside the Arcade, no connection to the performer I was about to see. Up the corridor, turn left, down the steep and narrow staircase, and I'm there.
Basement Discs has a very small area of floorspace and, being that it also forms the support structure for the array of buildings towering above there are, unfortunately, a number of support columns dotted throughout. Where there aren't columns there are CD racks. Where there aren't CD racks there are people. Lots of people. A rectangular patch in front of the tiny stage is occupied by the younger and more agile sat or kneeling on the floor. Many children, including one in a complete Spiderman outfit. A comfy couch at the centre is taken by three twenty-somethings reading the latest music mags (they must have got here early to snag that prime spot !). Around the edges, those tending towards middle age and not game enough to put those arthritic knees and bad backs to the test, stood by quietly and patiently waiting. They had come to hear someone rather special - it mattered not that they couldn't get a view.
As I was on my own (and unhindered by good manners or protocol) I wormed my way around the CD stands, between the crowds at the back, and picked my way towards that prized patch of real-estate in front of the stage. It would be a touch too brazen of me to join the kids near the front (or would it ?), so I claimed a few square centimetres of floor alongside those twenty-somethings on the couch, me being very much a forty-something. Half kneeling, half sitting on the rough stone floor, I braced myself for a session of S&M - the pain and discomfort of packing my contorted body into a space it was not built to fit, coupled with the pleasure of hearing RT live again in Melbourne after too long an absence. A short while later a man appeared on two crutches, slowly limping his way through the packed room. The crowds, of course, seeing someone less able than themselves, parted to let him through, until he had a prime spot, centre couch. (Memo to self: bring some sort of disability aid next time RT comes to town. It works wonders ! Could I perhaps don dark glasses and have Charlie my Beagle come in harness under the guise of a seeing eye dog ? Hhmm. Perhaps not.)
In dashed two figures - Simon and Richard. Quick as a flash Simon had the gear set up; a few mic tests for vocals and a couple of strums on the guitar and we were off. In bounded RT, and the audience were clearly delighted to be there to see him. RT made a quip about the other celebrities present (a reference to Spiderman) and then launched into his short set.
It was apparent that this was going to be a plug for The Old Kit Bag - after all, we were in a CD shop and RT was there to sell the product for them/him. So the set consisted of just a few songs from the album (plus my Daddy Is A Mummy thrown in for the kids), and the rest of the time was spent with RT signing CDs and mementos for the throngs that had the patience to queue.
It was good to have to opportunity to see RT perform here in a fairly intimate setting, knowing that in the evening he would be in the cavernous space that is the Melbourne Concert Hall - a lone figure on a massive stage that is the usual habitat of symphony orchestras and grand operatics.
I got a few digi pics through the set but flash was not allowed (though some chose to ignore the ruling) so I had to run with high speed 'film', wide aperture and slow shutter speed to overcome the darkness of Basement Disks. Plus trying to dodge pillars and heads, and balance on my own dodgy arthritic knees, all made for a less than ideal result. The crowds dispersed, and I too headed off into the cool of a Melbourne afternoon in autumn. I eventually tracked down my SPUD - he'd been far more interested in his own diversions that afternoon, buying more rock climbing equipment at Paddy Palin's and browsing at unaffordable gear at the other outdoor shops down Hardware Street.
Then lo ! Down a Melbourne back street I spotted a familiar sight. There's a lot of visible homeless around the streets of Melbourne, and this one looked like a male version of a 'baglady'. Poor fella, clearly carrying his entire life's possessions on his back, looking like he was after a safe doorway to catch a kip in. See http://www.sarahdurrant.com/rtinmelbourne1.htm
Then off we headed, in the vague direction of Southbank, filling a few hours in the galleries and eateries until the Big Event at 8pm.
Sarah
Victoria, Australia
---
RT in Melbourne
(Part 2 - the Concert Hall)
The designated time for the Listmeet was an hour before the show so, at 7pm, I duly took up position beside the booking office, and tried to look like my photograph on Flip's site (except, of course, I didn't have the wombat with me - I'm not even sure that they'd allow guide dogs in the Concert Hall, so wild life is a definite no no) and hoped that those who needed to would recognize me.
First past the post was Claudine - but she was not 100% sure that it was me (I've probably aged considerably in the last couple of years since we last met) Oddly enough, it was then my SPUD who started attracting people - and they weren't even the people we was meant to be meeting. As it is, in a small city like Melbourne, you bump into people you know in the most unlikely places. In his case, he had found a group of people he knew from a past workplace and suddenly our numbers had grown, until I noticed some poor fellow outside the throng, desperately trying to make his presence known. It was Adrian, long time lurker, and his good wife. Adrian, I must say, was looking absolutely dapper in near-formal attire and stunning black & white shoes (what do you call those shoes ?) - I thought he must have stepped out of an F Scott Fitzgerald novel, but then I remembered he'd come from Tasmania ! A bit like the Kiwis (sorry Garry & Co), visiting Tassie is somewhat like turning the clock back several decades :-) Anyway, we dispatched my SPUD and his little following off to another part of the foyer, so as not to be distracted by idle chit chat, and we got into the serious stuff of exchanging notes about past RT experiences, gaps in RT CD collection, and what treats we thought would be in store for us this night. Of course, there was a degree of nervousness involved too - of particular concern was the desire to say something meaningful and coherent when we got to the (at this stage, half-promised) meet and greet at the end of the show. This author has still not lived down her inexplicable comparison of RT with pork pies and sausages, when talking to RT at Croppers in 2002 and saying what she missed about the UK.
Time to move into the auditorium. The only List Member unaccounted for was Brian, but he'd forewarned me that they might not be able to meet up before the show. Now, being a surveyor in a past life, I'd got the equivalent of a Global Positioning Indicator fix on seats J15 and 16, where Brian and his wife Helen were to be seated. It was actually just two rows directly behind me, so as soon as the seats were occupied I was able to shout across an introduction to a quite startled Brian.
Let's skip the opening act. Yes, definitely. Jodi Martin, while I know Michael Hunter gave her a positive review from Adelaide, I found her pretty dull and uninteresting. A brief half-hour set and we were into the interval. At this stage I had been tasked with finding out from Simon about the arrangements for the after show meet & greet. So I ventured over to the sound board, anxious not to be a pain in the butt (I'd already accosted him about it in Basement Disks that afternoon), and appreciative of the fact that he'd said RT is knackered at the end of a long tour, it'd have to be a quick picture etc etc. So, I was quite taken aback when young Simon instructed me to gather our group in a particular spot at the end of the show, he'd come and collect us and take us to the 'Green Room', and then he'd bring RT to us. Bring him to us !
Back to our seats for the real show. Without ado or fanfare, RT seemed to just appear on the stage and launch into his show - at almost the very same point that he left his last show in Melbourne all those years back - with Word Unspoken. And we were off. A set list that was not really any different from the other Australian shows this tour (no, I didn't write it down - it detracts from the enjoyment of watching/listening) and on-stage banter that was also much the same. When he asked about Taliban members (apart from himself) in the audience, one chap near me (with a strong Irish lilt in his voice, iirc) shouted out that we were strictly Al Quaeda here. When referring to Swarb re Sloth, he asked "Did you know that Swarb was very briefly an Australian resident - VERY briefly, just about a month, I think." A reference to a marriage that didn't work out (I suspect his residency Visa was based on being married to an Australian citizen and, when that failed, he hadn't been resident long enough to remain on his own status). I recall sitting on a table next to Swarb in a Brunswick pub years back, when he was playing there with Alistair Hullett, and overhearing him telling his companion a similar story.
We too had the "You obviously don't know that one" after Ooops failed to get audience participation in the chorus. And Crawl Back's prompt for participation was met with a very weak response.
RT certainly gave it his all for the whole show, but I do think he was indeed showing signs of weariness - a few numbers I felt like I wanted to wind him up, get the tempo moving, as if he couldn't keep his singing up to pace with his guitar playing, but I'm sure most would have not noticed. I also couldn't get out of my head Pete Herring's analogy comparing RT's right hand with a Huntsman spider. Having put one out my house that very day, I can say Pete was spot on. As reported from another show, Crawl Back had an extraordinary ending - all sorts of vocal sounds being let rip, wailing, hollering and, at one stage, he seemed to be mimicking the sound of a Jew's harp. Persuasion was well received (in part because of the Aintipodean connection), as was the predictable 1952VBL and Beeswing.
The only new ones we got were Alexander Graham Bell and Watch Me Go, though someone shouted out for Dear Janet. At one stage, while a few were shouting requests, someone called out "The Plainsman" and RT said "Whaatt ? !!" But what he did was Gethsemane, which was one of the highlights for me, a very strong song and performance. Also strong were I Wish I was A Fool....... and Feel So Good. I wondered whether Feel So Good was ending the show, but no, we went on into a second encore and got Wall of Death and Beeswing.
My biggest disappointment is the venue - I strongly believe it's not the most suitable place in Melbourne for RT. The audience are in such a cavernous great building, a massive auditorium, that it's really difficult for RT to build up a rapport with his audience. (More of this later, when we get to the 'Green Room'). But the impression one gets is that the audience are reserved and conservative - it's very difficult to gauge whether they were actually enjoying the experience.
But I think I was well satisfied with my fill - and we then headed up to the back of the auditorium to await Simon, who would then lead us off to the Green Room............
Sarah
Victoria, Australia
---
RT in Melbourne
(Part 3 - The Green Room)
There we were, sitting on a bench at the back of the auditorium, looking more like we were waiting for a Melbourne Tram, than waiting for a much anticipated meet with OH. My SPUD had attracted yet another work colleague into conversation and, while the rest of us were keenly discussing the evening's show, those two were discussing....well....work ! Gosh, you pay $65 for a ticket, see the greatest guitarist/songwriter only once every four years, and all they can talk about after a great show is work !
Simon came like some sort of shepherd and gathered us into a manageable flock (a small flock, only 7 strong), and with the attributes of the best Australian Red Kelpie, kept us all together as he led us through the labyrinth that is the backstage of the Concert Hall.
The sign on the door said 'The Green Room' (so why was it predominantly blue when we got inside ?). Another sign on the door said 'Michael Buble Meet & Greet' ! Hey, RT didn't even get to have his own sign, but then MB was performing the night before (Sat), and attracted enough attention to get a second show on the Monday night. RT was the meat in the sandwich, so to speak, and I guess they couldn't be bothered to rip down Buble's sign and rehang it again later.
Simon asked us to wait in the room while he went off (and said he'd come back in three weeks to let us out!). Much chatter among the 4 Listmembers. Much patience among associated SPUDS. Someone started guessing what RT might be doing right now - cool drink ? change of clothes ? I wonder if such meeting rooms are bugged ? Perhaps RT was listening in, sizing us up ? :-)
Then someone says "Here they come !. He's got THOSE SHORTS on !'. And, sure enough, a pair of hairy knee caps led the way into the room, followed by their owner, a one Richard Thompson.
We thought time was going to be of the essence, so we'd already lined ourselves up ready to grab the photo we were after. I'd been a bully to the rest and declared that we two female members should have the prime spot either side of OH - after all, it was Claudine's idea which was acted upon ! :-)). But before that was to happen, RT, like a gentleman, took it upon himself to shake hands of each individual and exchange names. Well, of course, we knew _his_ name, but he didn't know ours. So once again, we were in a queue, but this time it was more akin to the line up at a wedding reception (when the bride & groom work the room before leaving) rather than the tram stop situation.
Intros over I launched into why we were here, what we were after and so on. I did say that we were indeed grateful that he managed to get back to Melbourne, but as it was such a brief stay we were giving him a bit of Victoria to take away with him and, with approval from the group gained just 5 minutes earlier, handed over Michael Leunig's most recent collection of cartoons. We're pretty sure RT will enjoy them, plenty of scathing works about Bush, Blair & Howard, Iraq, etc. Simon clearly knows Leunig, as he cheered (from his reclining position, full length atop one of the tables) and said he was great.
I also commented (sticking up for the Kiwi's) that it was a pity that he couldn't get to New Zealand. I said we'd offered up floor space and transport to the Kiwis had they been able to make the trip over to us, but that was not to be. "And, anyway" I said "the Kiwis are revolting because they've been left out." To which RT agreed that, yes, he thought the Kiwis were quite revolting too. (Sorry, Garry - I _did_ set that one up).
I have to say, I pressed a bit about the choice of venue in Melbourne, by asking whether he didn't he find his audience a bit conservative, unresponsive tonight ? RT responded that it wasn't the audience's fault, but the venue's. He himself could only give it his all and hope that he was hitting the mark. And he was confident that he was hitting that mark. So why come to this venue - when we've enjoyed him in other, more appropriate, easier to work settings in Melbourne ? Do you select the venue, I asked (again, full knowing the answer, as it has been recently discussed). No, says RT, the promoter chooses the venues he thinks will suit <me thinking it could be time for a change of promoter>. A quick look at Adrian Bohm's website will show you the client's he's typically dealing with.
There then, iirc, followed a conversation about the weather. I think that anyone who comes to Melbourne _always_ has something to say about the weather. RT even commented on stage about the cool temperature. He was genuinely disappointed that he hadn't been able to conduct his usual trick and bring the rain with him. Alas, we are still in the most terrible drought conditions here.
I think Brian exchanged notes with RT about Byron Bay - a great place in RT's opinion. By this stage I had leapt over to my bag to retrieve my own camera so was out of the action, trying to catch a few shots. Adrian asked a question about a particular song, but I was too far away to hear what was being said. Perhaps Adrian will come out of lurkdom to tell us. Claudine - shy young Claudine - I don't think she was too overwhelmed by it all not to enjoy the meeting.
Then the time came when Simon gave the prompts that we should wrap it up, so we said our farewells and thanked RT for making the time - and Simon for arranging for it to happen. I think we were all pretty chuffed about the meeting - and nobody made any foot-in-mouth blunders (not that I heard, anyway !).
I also got to hear the photographer's side of the story, which was quite interesting. The brief I gave was that time was limited, and we'd probably prefer him to blaze away with the motor drive, photo-journalism style, in the hope of getting one or two acceptable shots out of the roll. Apparently, though, from his side of the camera, RT was very conscious (by conscious, I mean aware) of the camera and was trying to predict when a shot would come, and pose accordingly. He said RT was very animated, leaning this way and that, striking up a pose, pulling a face etc. I guess the evidence will be seen when I get the prints back.
So, then we made our way up from the depths of the now deserted Concert Hall (in fact they'd locked us inside the auditorium, but the lock was on our side, so we escaped) and made our way out into the Melbourne night. We said our goodbyes and wondered how many years it will be before the next time RT's back in town...............
Sarah (hoping the others will chip in with their versions)
Victoria, Australia
sarahdurrant@yahoo.com.au
Mon 4/19/2004 1:30 AM
---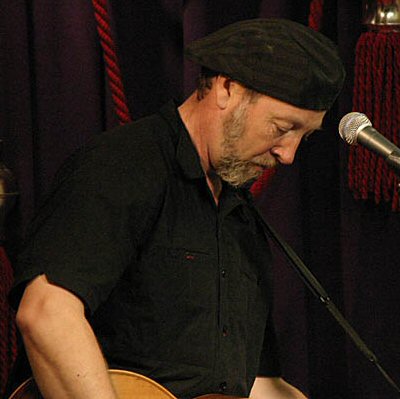 RT's Magic - it's in my head
Hi – I need to get more things out of my head. I haven't been able to concentrate on anything for six days now. I am embarrassed to admit that I have had RT in my dreams every night since the first gig in Canberra. I was bowled over (by three gigs) to an extent that I had not anticipated and I have to tap this out whilst our man is still in this country – heading to Perth for tomorrow night, you lucky hepcats. My SPUD and I had even discussed going to Melbourne (from Sydney) for a fourth one. However, that was not to be. When I think of the number of times I have seen RT and of the vast distances I have travelled to do so, I find it boggling that I have been so deeply affected by these three performances. A young (25) guitarist friend who went with us to the Sydney show summed it up thus when asked by others whether he enjoyed the experience:
"Yes, he`s da man! Some mind bending guitar playing, I`m still trying to figure out how to play a solo with my pinky finger :)
Good mixture of songs, the `History of Rock` section was cool, the Alexander Graham Bell song was a pearler, and I really like the one he said he co-wrote with Tim Finn.
All up a very impressive display from one beret`d man and an acoustic guitar!"
Another satisfied first-timer. NO surprise there. The surprise has been my own reaction. I said before that I would have gladly seen a whole week of his shows. I reiterate that. I also mentioned that I had counted about 12 chord changes in one line of 'Destiny'. Make that about 18 as I only started counting part way through ! And they were played on each beat of the tune – so it was not just 'chord changes' - there was a change with each stroke of the right hand! They were not easy-looking chords. He pushed it really hard – and it came off. Big stuff. It is very difficult to go and see some other performer and to be enthusiastic after witnessing RT's magic. The new songs are wonderful – he is still on the ascendency as a writer and a player. I am looking forward very much to hearing the new album when it arrives later this year.
I usually crave band gigs but these solo shows in noway made me feel disappointed – qwite the opposite. It's the sheer artistry and the polish. The reconstructions of the songs for acoustic performance are breahtaking. At last I think I have finished … for the time being.
ps: I got 17 on Teejej's qwiz and about 6 on the other one.
pete herring
brewhaha33@yahoo.com
Mon 4/19/2004 2:50 AM
---
I don't think I can
outdo Sarah's efforts
describing our encounters with RT. (Only two encounters for me, as I did not get to the Basement Discs appearance. Shame on me for not supporting my local record store, as RT said during the show (not referring to me in particular).)
I was obsessive enough to write down a set list, so here, for your enjoyment (it seems to have varied from some of the other Aust. shows):
* Word unspoken
* King of Bohemia
* Cooksferry Queen (this one really rocked!)
* Outside of the inside
* Alexander Graham Bell ('this goes very fast, please pay attention')
* One door opens
* A love you can't survive
* Crawl back (as Sarah noted, the audience response was pathetic)
'I used to be in a band...'
* Sloth ('the abridged version, only 45 minutes')
* VBL 1952
'Let's skip over the Black Death ... songs like "it's my pustule and I'll cry if I want to"'
* So Ben Mi Ca Bon Tempo
* Shenandoah
* Oops I did it again
* Persuasion
* For shame of doing wrong
* Cold kisses
* Watch me go
* I want to see the bright lights tonight
Encore 1:
* Gethsemane
* I feel so good
Encore 2:
* Wall of death
* Beeswing
Then followed the exclusive meetup. I don't think I've ever participated in one of these before, certainly not with a performer I actually like. I am a shy person in real life and was afraid of saying/doing anything embarrassing or incriminating, so I ended up not saying much. No pork pie bloopers here! ;-)
>> ...shy young Claudine - I don't think she was too overwhelmed by it all not to enjoy the meeting.<<
Was this about 'Streets of Paradise'? I didn't say anything because I don't have the faintest idea what this is about.
Sarah didn't mention the discussion (with Adrian and Brian) about soccer... it appears that RT's ? favourite team is Celtic.
It was a delightful experience, and many thanks to Sarah for picking up the ball I'd dropped and arranging things with Simon and the Beekeeper (whose identity remains a mystery) and convincing the SPUD to bring his camera.
Claudine
claudine@chionh.org
Mon 4/19/2004 2:53 AM
Melbourne, Victoria, Australia
---
Yes I'm back from lurkdom
(albeit only temporarily) to add my 10 cents worth to the recent exercise in RT acoustic excellence. I think that both Sarah and Claudine have summed up the various scenarios admirably so I won't retread the same ground already so eloquently stated. My SPUD (Carolyn) and I were dropped off in the city by my sister in law only a hundred metres or so from RT's Basement Discs appearance (scheduled for 3pm). Being Taswegians (inhabitants of the best place on earth: Tasmania) and having just flown across Bass Strait for the occasion, our collective senses of direction in Melbourne was still a little shaky. We quickly ascertained our bearings and made a "beeline" for Basement Discs. We knew we were getting close once we found Block Arcade with various "RT in store" posters scattered about everywhere. Then we saw a display case heralding his arrival (all rather tastefully done with Old Kit Bag promo fliers etc.) Down the steep stairs into Basement Discs at about 2:40pm only to discover a standing room only situation with those damn support columns (that Sarah has already mentioned) obstructing any decent view. After circling the room and making a total ass out of myself tripping over several reclining people we situated ourselves off to one side of the stage behind one of the aforementioned columns. As I had arranged to try and meet up with Sarah at Basement Discs I quickly tried to identify her from her photo on Flip's site but, alas, I was only met with blank stares of indignation as I scanned the room for any sign of her.
A quick glance around the room pretty much summed up the RT demographic. Mostly the middle age folky crowd with a couple of exceptions (myself included). I also noticed the young boy decked out in his Spiderman suit right up the front by the small stage. I knew that RT couldn't resist such a sight without passing comment. I attempted to think up many varied responses that OH might make: "I'd best be careful, being Henry the Human Fly and all", "It's nice to see representatives from all walks of life here today - superheroes included" etc. Getting close to 3pm and RT finally makes his appearance quickly dashing behind a curtain to prepare himself laden with all the paraphernalia pictured in Sarah's street snapshot. Simon set about taming the small sound desk while the store manager introduced RT to the expectant crowd. Meanwhile I had perched myself rather precariously on one leg to catch a glimpse of the stage with my digital camera in hand. Some nitwit behind us took several flash photographs even after being instructed not to take flash photography by the store's proprietor. I managed to get several shots but they were somewhat dark due to my distance from the stage and the dim lighting in the Basement. RT performed only three songs "She Said It Was Destiny", "Gethsemane" and "My Daddy Is A Mummy" (a song for the kids but too good for kids as RT introduced it). He also explained how it was written for his son's school class etc. At one rather humorous moment RT clearly wasn't that taken by Simon's soundboard work and asked him to turn "that green knob over there". "Yeah, Right!" said Simon as all of the knobs on the desk were green!
All too quickly his set was over and we all lined up for the signing. I made my way across the crowded room and spoke to a person who I thought might be Sarah (unfortunately it wasn't). We were instructed that due to the brief nature of RT's visit only one item per person would be signed and true to the store manager's word RT did only sign one item per person. Patrons were encouraged to rejoin the queue if they wished to have other items autographed. It was interesting to observe the items being signed: Fairport CDs, RT CDs, Patrick Humphries book, LP covers and a once rare vinyl copy of "Small Town Romance". My turn finally came and I gushed to RT how good it was to finally meet him after all this time. "It's good to meet you too" was his response which sounded a little forced, reserved and clinical. I didn't think that RT was really up for all the attention that afternoon. Probably pretty tired this late into the tour. He graciously signed my Capitol records RT photo in a metallic silver pen that I'd bought especially for the occasion. I foolishly tried to retrieve it from him after the signing only to make a grab for his own black pen. "That's mine!" he chuckled. My SPUD took several photos of the signing only to inform me once we had left the queue that she might have had her finger over the lens! So like fools we queued up again and I rather sheepishly asked for a second photo. RT obliged and this time I got a nice handshake photo. I muttered something about seeing him tonight after the concert and left the encounter feeling like some sort of a stalker! I tried to avoid seeing my reflection in case I saw Mark David Chapman looking back at me! We left Basement Discs at about 3:45pm and did some pre-show shopping.
We turned up at the Concert Hall a little after 7pm where we quickly identified Sarah and Claudine standing close to the main ticket box. I introduced myself and we talked about all things RT that quickly came to mind. We then adjourned to the bar for refreshments before making our way inside the auditorium. We agreed to try and meet Simon during the interval and arrange our RT "meet and greet" session for after the show. The show was of course fantastic but I wholeheartedly concur with Sarah that the Melbourne Concert Hall is a tough venue to enthuse a crowd. The post-show "meet and greet" went well. As RT shook my hand he exclaimed "not you again!" after having already seen me twice before that afternoon (one of only a handful who lined up twice). I was impressed that he remembered me what with all the people that must vie for his attention each day. When the group discussion turned to his forthcoming UK concerts RT mentioned that he would be playing at Hackney. I quipped that this must be better than playing on Hackney Marshes to which he responded that he actually DID play on Hackney Marshes as a kid! (I definitely didn't know this before speaking!!) He spoke of how big they are (many different sporting fields) and how hard it used to be to find the particular sport field that he would be playing his game of soccer on (football to the English). Invariably RT was probed by Brian as to his favourite soccer team - Celtic (a "real" football team as RT put it). I pleaded with RT to make a return trip to Tasmania and to bring Loudon Wainwright III with him. He explained that personally he'd love to but, of course, it all depends on the promoter (as does the choice of venue). Before RT left the room I stopped him and asked (in hindsight a particularly stupid question) exactly what "Streets Of Paradise" was all about (forgetting how much artists such as RT hate being asked the meaning of their songs). He reservedly obliged by stating that it was about many different things, people he once knew in London, different situations etc. I redeemed myself by saying basically it's about whatever I want it to be. This brought a smile to his face and he agreed that this was probably the best answer to give, so I effectively answered my own question! It's so damn hard to think of something intelligent or meaningful to say in RT's presence. One other thing that I did notice during our collective encounter is that RT finds it difficult maintaining eye contact with the person he is speaking to for any great length of time. Possibly a very effective defence mechanism against probing and inquisitive fans.
I'd like to extend a big thanks to both Sarah and Claudine for possessing the foresight to arrange the "meet and greet" with RT and for allowing myself and Carolyn to be a part of it. I was surprised that there were only seven or so of us (SPUDS included) at this meeting. The small number certainly made the experience more intimate and RT was certainly far more relaxed and jovial that he had been that afternoon at the Basement Discs appearance. I'm certainly looking forward to the photos once they're developed and obtaining several large glossy prints for my wall! All in all it was definitely an experience that I will always cherish and never forget for as long as I live.
Adrian (alas possibly Tasmania's only RT fan!)
RT In Melbourne (Adrian's View)
loonea@southcom.com.au
Mon 4/19/2004 7:58 PM
---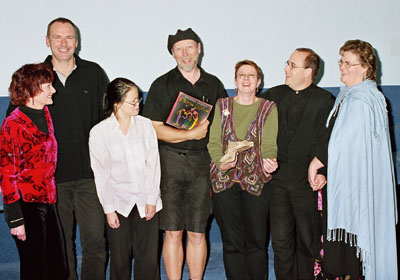 A Picture from the List Meet
See the full set at http://www.sarahdurrant.com/rtinmelbourne3.htm.(l-r)Brian Grills (Melbourne, Vic) & his lovely wife, Helen; young Claudine (Melbourne); Richard Thompson; Sarah Durrant (Kilmore, Vic); Adrian Loone & his good lady Carolyn (Devonport, Tasmania). Richard is holding "a gift ... from Victoria: Michael Leunig's latest collection of cartoons & musings, 'Strange Creature'."
---
High fidelity talent keeps it low key
April 14, 2004
Below the radar ... Richard Thompson,
a sort of musical archaeologist.
Fame has been elusive but singer Richard Thompson has kept his edge, writes Joyce Morgan.
Kenny G fans should stop here. Best not to know how the sax player was the subject of a chirpy, corrosive ditty that still amuses those who caught the singer/songwriter Richard Thompson's last Sydney concert. Or how Kenny's "arcane gifts" rhymes with "brainless pentatonic riffs".
Has Thompson heard from Kenny G's lawyers yet ?
"No. I think I'm below his radar," Thompson says.
And that's the paradox of Richard Thompson. His musicianship is revered by the critics, David Bryne and REM are among those who have covered his songs on a couple of tribute albums. He's even immortalised by the sad bastards in Nick Hornby's High Fidelity. But a household name? Hardly.
Yet British-born Thompson is the master of wit and melancholy - blended with a dram of bile. And he's not a bad guitarist, either. Better than Clapton but less showy, according to one critic.
Thompson's is an understated talent. As understated as the man who sips peppermint tea in a Sydney cafe, the trademark black beret the only sartorial quirk to a musician's uniform of dark jeans and shirt. Mild-mannered, maybe, but the opinions are spiky as he moves from Pavarotti's crack at Love is Like a Butterfly ("the most atrocious nonsense you've ever heard"), confessional songwriters ("Joni Mitchell is one of the few who doesn't make you cringe") or even his own back-catalogue ("I'd gladly keep 100 and ditch the other 300").
Certainly, Thompson's extensive compositions over 30 years could fill several tours, even without the material on his latest CD, The Old Kit Bag, some of which he will include on his Australian tour. But he's been delving into other kit bags recently, putting together a show he's performed at the Getty Museum in Los Angeles, where he now lives. His 1000 Years of Popular Music kicks off with a little 1050 toetapper by St Godric. Most of the music that has survived is sacred, and invariably treated in a "classical" manner, but Thompson has been researching lesser-known secular gems.
"It's nice to unearth songs that get left behind," he says. "Sometimes the bathwater of history throws out the baby of song ... People who perform early music come from a classical background and so put a classical spin on it. But I think it's a bit wilder and loser and funkier and out of tune than that," he says.
He may perform some on this tour; he hasn't decided yet. "I'll have to see what I played last time," he says.
He keeps a list? "Yes, I know that sounds rather anal," he says.
His musical interests range from technopop and jazz to Puccini, Benjamin Britten and Harrison Birtwistle. He is a sort of musical archeologist who has been excavating his music antecedents since his days with the innovative folk-rock band Fairport Convention. "I was fairly repulsed by what was presented as British folk music when I was 17 or 18 ... the stuff at school would put anybody off, Victorian sanitised versions of folk songs."
He began his own research and found that a rich tradition had been buried. For a while, largely as a result of bands such as Fairport and Pentangle, British folk moved away from its twee image to become briefly cool.
Many of his songs are like finely crafted short stories. A Love You Can't Survive, on The Old Kit Bag, is typical. It tells of an adventurer who moves from Brazzaville - not a town that crops up in many popular songs - to New Orleans.
He glued together the stories of two people he knew, including an old school mate who vanished in the Congo, and fantasised about what may have happened.
"As any kind of writer your ears are open for things all the time. Things you read in the newspaper, things you see walking down the street. You are always thinking of how you can use things. At some point your imagination takes over and it becomes yours," he says.
Thompson is surprised that some of his most strongly narrative songs are the most requested, especially the ballads Beeswing and 1952 Vincent Black Lightening.
"They're not the 2 minute 20 that you think people will like. They're the songs that tell a story," he says. "I assumed people's attention spans were shot to pieces by MTV and that people couldn't necessarily sit through a five-minute ballad. But people really enjoy hearing a story in some form. That hasn't changed."
What has changed at 55 is his approach to his material. He is not as emotionally evasive as he was at 20. "Maybe that was characteristic of the time. I go back and listen to a Sandy Denny or Nick Drake record and they're pretty evasive. Maybe it's the way it works, or we were all young and didn't want to say 'my heart is broken'. I'm a lot more forthright now. I've got no shame any more."
He may have no shame, but he acknowledges that going on stage solo is a test of his mettle. There's no one to blame if it all goes horribly wrong - you can't simply blame the drummer. "I think [solo performance] should be compulsory for a musician ... before you can have any hits. 'OK, Britney, you have to get up solo and just perform without any electronics'," he says. His toughest test is singing at a party but he forces himself to do it sometimes. "At least [in concert] you've got a stage, you're up there, maybe there's some kind of respect, they've come to see you. At a party people don't know you, you'd better have something that communicate. I like to do it although I hate it," he says.
He has performed regularly at his youngest son's school, often writing material for the occasion. "They'll say we're doing ancient Egypt this month so could you come and sing something." He's about one song short of an album of kids' songs. These are songs for kids who ask questions, which is the whole point of a good education, he says. The album is unlikely to include the ditty he's composed about Janet Jackson's recent nipple-bearing incident. But it's on his website ( www.richardthompson-music.com/ ). Let's hope it's slipped under the Jackson radar.
http://www.smh.com.au/articles/2004/04/13/1081838709706.html