Midwest February 2004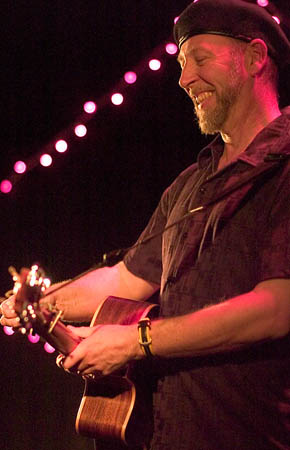 Even after all these years,
the thrill remains.
I first saw our man Richard perform live in 1982, and have been fortunate enough to have seen him play at least a dozen times since at various venues, but the show I was lucky enough to catch with several friends and about 400 other people Thursday night still sent delightful shivers down my spine and left me shaking my head in renewed wonder.
It was the kickoff gig for this Stateside solo-acoustic tour, transpiring at Birdy's in Indianapolis. It was standing room only in the main floor, and hot -- though not as warm as upstairs in the balcony, from what I understand. But even with the high ceiling, the sound was fine (thanks, as always Simon!) and the crowd where we stood was both attentive and enthusiastic. The setlist wasn't unlike those for most recent acoustic shows, but still naturally contained a surprise or three.
One might not wish to read on if wishing to avoid spoilers -- and there is a setlist at the end of this report.
Our hero took to the small stage in typical sartorial splendor, sporting an all-black ensemble, with a short-sleeved shirt and his customary beret. With a grin and a nod he launched into a new number, "Watch Me Go," the first of 22 on the night. It's a strong, up-tempo song with a sprightly, Celticish hook. After the show, when asked about the song, Richard said, "I played it in the wrong key." Not that I could tell. Worked for me.
Then, after a drop-dead gorgeous "King of Bohemia," seven of the next eight songs were titles from the last two studio albums, with the rather notable exception being what seemed a highly-improvised new one about Janet Jackson's revelatory appearance at the Super Bowl. Yes, a ditty about a titty. Mucho mammary allusions. Not totally successful (or tasteful), but that was part of the fun. Soon, however, Richard was back on track with a power-packed "A Love You Can't Survive," a positively ferocious "Crawl Back," a spectacular "Uninhabited Man" and the great "Gethsemane." And that dazzling quartet simply led into "52 Vincent," which Richard somehow manages to keep both fresh and mind-frying.
A real surprise, for me, followed -- "I'll Regret It All in the Morning," off the Hokey Pokey album. I had never seen him play it, though I seem to recall he did it during the career-retrospective shows he did last year. There were some lyric changes ("If I please you nearly dead" instead of "If I beat you nearly dead"), and it certainly brought the crowd to a far more somber place.
Then came the always-welcome "Persuasion," which seemed to be in response to a request, and a rollicking version of "Hokey Pokey" (my wife's favorite-ever Richard tune) before another new song. My best guess at a title is "Should I Betray You," a nasty song about a nasty protagonist and, to be honest, I wasn't overly enamored of it. The initial chording was reminiscent of "Al Bowlly," but I didn't find what ensued as interesting.
"Keep Your Distance" and "The Ghost of You Walks" were appropriately well-received, and "Alexander Graham Bell" justifiably got everybody laughing again, before the regular set ended with the title track from what remains my favorite album of all time, "I Want to See the Bright Lights Tonight."
The first encore featured two gems, "Wall of Death" and "Word Unspoken/Sight Unseen," to much obvious approval. The second encore was "Beeswing," satisfying a request made by several audience members, and it seemed particularly emotionally rendered this night by Richard. My brother Rob gave my shoulder an affectionate squeeze during it. Another friend had tears in his eyes. Richard fudged a couple of lyrics, but nobody cared. It was a beautiful rendition of one of his most beautiful songs. I bet Anne Briggs would have liked it.
And everybody I spoke with really liked this show. Loved it, actually. Once again, I am amazed that the man who has been my favorite artist for decades somehow simply just seems to get better and better. He's a master quadruple-threat -- songwriter/guitarist/vocalist/entertainer -- who is simply unmatched. We have never seen his like.
Nice bloke, too. Signed autographs and was customarily convivial after the show. Even during the show, he expressed empathy for the audience with lines like, "There are few things I appreciate more than a group of middle-aged people willing to stand for acoustic music."
The appreciation was mutual Thursday, for certain.
Cheers, all,
Andy Graham, Bloomington, Ind.
SETLIST:
Watch Me Go
King of Bohemia
Cooksferry Queen
Outside of the Inside
Janet Jackson ...
One Door Opens
A Love You Can't Survive
Crawl Back (under my stone)
Uninhabited Man
Gethsemane
1952 Vincent Black Lightning
I'll Regret It All in the Morning
Persuasion
Hokey Pokey
Should I Betray You(?)
Keep Your Distance
The Ghost of You Walks
Alexander Graham Bell
I Want to See the Bright Lights Tonight
(First encore)
Wall of Death
Word Unspoken, Sight Unseen
(Second encore)
Beeswing
Andy Graham
agraham@insightbb.com
Fri 2/20/2004 3:01 AM
---
Opening night at Birdy's
in Indianapolis last night and as he always seems to be RT was in fine form. Took a couple of friends who hadn't seen him and were duly impressed. Lots of diehard fans (one couple drove from Kansas City!) "Watch Me Go" opened and I believe there was one more new song otherwise heavy on "Mock Tudor" and "Kit Bag" material. Glad to hear "Cooksferry Queen" done acoustically. He had several papers laying on stool and kept referring to them throughout show and appeared to struggle several times remembering lyrics, even to "Beeswing" which was one of the encores! Somehow this didn't detract from the show. He also did a song about Janet Jackson's breast baring that, while humorous, wasn't quite as good as "Madonna's Wedding." "Vincent" came halfway through which took me by surprise. Richard told me to "book him yourself I think he's still playing" when I requested Jerry Lee Lewis's "Drinking Wine..." Didn't seem offended. All in all a typical great show. Everyone left satisfied.
Robert Jordan
rjordan@voyager.net
Fri 2/20/2004 7:54 AM
---
New guy
RT show in Indy, Feb 19th
Hi all,
I just subscribed to the list a few minutes ago, and figured I'd drop in with a quick report on last night's show at Birdy's in Indianapolis. Solo acoustic, up to his usual high standards.
Apparently, a couple of these were debut performances - he was reading the words for "Dear Janet Jackson" from a sheet of paper, and duffed the meter on one line and had to start the verse over. Of course, this could have had something to do with the audience laughter, too. . .
Setlist:
- (Wild Blue Yonder? Human Cannonball?) - a new one, apparently, unless my brane is failing on me. v.spiffy!)
- King of Bohemia
- Cooksferry Queen
- Outside of the Inside
- Dear Janet Jackson (this is along the lines of the song for Madonna's wedding, though musically a little more unwieldy; contains a well-executed if predictable verse ending in "just ask your brother")
- One Door Opens
- A Love You Can't Survive
- Crawl Back (Under My Stone)
- Uninhabited Man
- Gethsemane
- 1952 Vincent Black Lightning
- I'll Regret It All in the Morning
- Persuasion
- Hokey Pokey
- (The Louse That You Turned Out to Be) (another new one, apparently, very sparse)
- Keep Your Distance
- The Ghost of You Walks
- Alexander Graham Bell (no one can say Richard doesn't do his research)
- I Want To See the Bright Lights Tonight
encore 1:
- Wall of Death
- Word Unspoken, Sight Unseen
encore 2:
- Beeswing
Beeswing and Persuasion may have been taken as requests - there were quite a few people clamoring for those.
Richard came back out for meet'n'greet'n'sign things very quickly after the show, and I saw quite a few LP covers and a few CD box sets (Fairport, mostly) that I'd not seen before. I saw at least one guy with a BeesWeb (I think) t-shirt - are you on this list?
Anyway, hope the spoilers don't ruin anyone's anticipation; I COULD have posted the lyrics to "Dear Janet Jackson."
da9ve@webbox.com
David Stovall
Sunday, February 22, 2004 6:34 PM
---
Richard Thompson could say more in
one line than I could in a whole song.
ó John Mellencamp
I was stupid not to bring a notebook along with me to the Richard Thompson show at Birdy's. Having seen Thompson before I should have known that he would break out at least one non-album song about current events, and the lyrical content of that song would be so witty that I'd want to rush out and recite it word-for-word to my friends. This night found Thompson making sport of Janet Jackson's breast-baring episode at this year's Super Bowl in the form of a traditional English folk song that included some useful advice for Ms. Jackson. Like I said, I neglected to bring a notebook, so I can't share with you precisely what Thompson had to say, but I do remember the refrain, which went like this: "If you're going to shove your titty in somebody's face, shove it in a baby's, shove it in a baby's, shove it in a baby's." Thompson later in the song went on to helpfully explain that "titties are good for a squeeze or a tease, but babies need them too."
Juvenile? Yeah, but also acutely funny when pouring forth from the mouth and guitar of Richard Thompson, a singer-songwriter who stands in stark contrast to hyper-sentimental, hyper-cute sugar-pop balladeers that define the genre these days.
Although well into his fifties, Thompson looked lean and lively onstage at Birdy's. Seeing him in such fine physical condition was a refreshing sight for eyes that are conditioned to expect a disheveled, substance-damaged spectacle when confronted with an aging rocker whose formative days were spent in the '60s and '70s. Thompson, a devout Muslim, exudes the glow of a man who treats his body respectfully. Sure, he looked a bit anachronistic in his trademark black beret, but fashion is the least of Thompson's concerns. He's way past fashion, and his comfort in his own skin is something you can feel while watching him perform. Thompson's physical and psychological health probably have a lot to do with the enduring quality of his songwriting, which now, over thirty years after he helped start the influential folk outfit Fairport Convention, is as sharp, literate and lucid as ever.
Thompson is also still a fierce, emotional performer. After the first couple of songs, Thompson joked with the audience, saying with a smile that "religious fundamentalists without a sense of irony will really like this next one," and went straight into the teeth-gritting fundamentalist satire "Outside of the Inside" from The Old Kit Bag. His voice, rich and resonant, trembled with the blind self-righteousness of a would-be religious fanatic as he drew the first verse from his guts:
"God never listened to Charlie Parker / Charlie Parker lived in vain / Blasphemer, womanizer / Let a needle numb his brain / Wash away his monkey music / Damn his demons / Damn his pain!"
Thompson's mock-religious indignation riled the audience up, and the mania carried over into his stirring performance of "Crawl Back (Under My Stone)" from 1999's Mock Tudor. The song -- a seething tell-off tale told from the perspective of a jilted lover -- inflamed the crowd, who initiated a game of call and response with Thompson during its anthemic, anger-fueled chorus:
Thompson: I'll crawl back--
Audience: Crawl back!
Thompson: --under my stone! I'll crawl back--
Audience: Crawl back!
Thompson: Under my stone!
You get the idea. I witnessed more audience-performer synergy at Birdy's that night -- where the median age had to be 33 at the absolute lowest -- than I have at any other show in recent months. That's a strong testament to Thompson, whose presence in Indianapolis really deserved a larger venue than Birdy's, but who all the same gave the impression of a man who's at peace with his lot, large audiences or not.
Matt Gonzales
Pop Matters Music (PopMatters.com)
---
Fitzgerald's in Chicago
Wonderful show.
Very warm.
Very close.
Love that club.
RT requested no smoking so it was an especially nice experience. No seating at all this time (there are usually some tables, but you can't see if seated.) Room full of true believers mostly. You could feel the love.
Some needed to *say* the love. The spooky fan I think I mentioned here a few years back was there, at foot of stage...I couldn't see her but recognized her from her mentioning of Torville & Dean. RT was gentle but firm as she got more insistent (something like Alright that's enough from you for now!)
He was so relaxed, charming and funny, gracious. In supple voice too.
Setlist a bit different and shorter than previous night, posted at end of message.
Janet Jackson song was funny and went over big! Lots of singing along at the end. (A theater friend of mine said: No one can write doggerell better...)
Highlights for me were Regret It All, Hokey Pokey and Alexander Graham Bell... (I'm a sucker for TMBG's James K Polk too...) and Feel So Good.
Enjoyed seeing so many friends! Thank you for the drinks, camaraderie, and hospitality!! And thanks to the angels for the tix.
Louise in Chicago
lemolnar@mindspring.com
Sat 2/21/2004 11:47 PM
Watch Me Go <this could be a hit pop song if someone were to cover it>
King of Bohemia <gorgeous. lots of sighs at the end>
Cooksferry Queen
Outside of the Inside
Janet Jackson ...
One Door Opens
A Love You Can't Survive
Crawl Back
I'll Regret It All in the Morning
Gethsemane
1952 Vincent Black Lightning
Should I Betray You <I want to hear this again!>
Hokey Pokey
Persuasion
Keep Your Distance
Beeswing
I Misunderstood
I Want to See the Bright Lights Tonight <my current favorite RT song>
(Encore I)
Wall of Death
Alexander Graham Bell
Word Unspoken, Sight Unseen <ripping!>
(Encore II)
I Feel So Good
P.S. RT looking good too...looks like he's got some new black gear, except maybe for the beret. Long-sleeve knit jersey with a shiny collar; different trousers cut pretty narrow at the ankles and black suede Merrills that look way comfy and way sharper than the shoes he was wearing on stage last year.
---
I agree with Louise about the club.
I've always loved Fitzgerald's, and I live only about 6 minutes away, so it was a dream venue for me. Very intimate. A good way to experience the music. There was indeed a great energy in the room on Friday. My wife (a recent convert to OH, after seeing him at the 1000 years show last fall) and I took another couple with us. They had only heard of him peripherally, but they left the show impressed. They couldn't stop talking about OH's prowess on the guitar. Amazing. When I mentioned that he tours under various incarnations--solo, trio, band--my friend said, "I don't think I'd want to see him any other way than tonight, solo. This was perfect!"
Saw the spooky fan, too. So did my wife.
But back to the show itself. OH in fine humor, and prompt (I'm a sucker for a performer who comes on stage when he says he is going to). Smiling and joking, he was relaxed and smooth. I think one of the most telling comments by my wife and friends was that he was "just sooo charming." The man and the music are intertwined. I know that sounds cliched but it just WORKS. When he sang each piece, I didn't get the feeling that he was just going through the motions or sick of singing the songs. It all worked.
I enjoyed the set's selection, too. Some old, some new, some brand-spankin' new. A very happy mix. And I hate to sound like a broken record, but the Janet song was so damned clever. Hearing about it from other posts, I was feeling a bit dubious. I've had enough of this silliness, after all. I shouldn't have doubted. OH imbued this song with the old music hall feel. Bawdy, sly, and wink-winking all the way, he had so much fun with it and with us.
King of Bohemia was simply lovely. Cooksferry Queen always gets me going (this is probably one of my all time RT favorites). Crawl Back was full of so much energy it was easy to forget there was just one man and a guitar on stage. Hokey Pokey was fun. And Bright Lights gave me chills. I could go on and on about each song, but I'd just start sounding like a broken record.
It is so exciting to be able to see a performer who is at the top of his game. And what a game it is!
Mad Jacques
madjacques@yahoo.com
Sun 2/22/2004 10:16 AM
---
Hey All!
Just thought I would throw in my two cents on the show at Fitzgeralds in Chicago last week.
I am not a great fan of standing room only gigs (I know, I'm getting old...) but this one was pretty nice. RT started on time, the really tall folks stayed towards the back, the sound (as always) was crisp and clean, and I could see pretty well.
Since the last time I saw RT (May? June?) I have finally picked up an instrument, so I was even more stunned watching the man play. I had an extremely good view of his right hand through most of the show, and it was amazing how he used all five fingers independently. (I realize this may be trite and obvious to the musicians among us.)
For the most part, RT was charming , funny, and wonderful. He did keep glancing off stage left; sometimes with amusement, sometimes with annoyance, once or twice with concern. Was this the home of the scary fan? (Can someone who was closer tell me her story, please?) He did look outright pissed off during "Crawl Back,"--actually angry, not in the context of the song. Curious nobody mentioned that.
I dug the new songs-- if the opener was any indication, the next album will be great fun. The "spouse/louse," song was colored for me by the disturbing laughter from the drunken guys behind me who thought it was extremely funny. I will have to hear it again.. Wasn't that fond of 'Janet Jackson' (its no 'Pat Metheny') but it was nice to hear our man sing an unabashedly dirty song.
Though he didn't play all my favourites (it would take four hours, to be fair) he did play a healthy bunch of faves. Nice to hear so many pretty ballads in one setlist. Sentimental, I know.
As we were leaving, the two people I was with and I all ran into unexpected friends within about thirty seconds of each other. I ran into List Folk (Louise and Willis) and was damn glad to see them.
Keep in touch
Andrew In Chicago
AMeyersLD@aol.com
Tue 2/24/2004 10:41 AM
---
Andrew wrote, "...He did look outright
pissed off during Crawl Back"
I didn't notice that, Andrew, but it may be because we at the front (stage right) were distracted by something that I see now may have been related: a man pushed towards us through the crowd along the front of the stage, all the while saying--not whispering---"scuse me scuse me pardon me", as though he were in a Warner Bros. cartoon. Annoyed by his noisiness, I thought: what a jerk. But he got turned the corner of the stage and reached the owner Bill Fitzgerald, who was standing in his usual place, blocking the doorway that leads backstage. He whispered something in Bill's ear, Bill looked up and gazed across the room, and then they both pushed *back* through the crowd at the foot of the stage. I never saw what happened, but Bill didnt come back. I thought perhaps it had to do with the scary fan (more on her later*)---but now I'm thinking maybe RT caught sight of someone taping? We know how much he hates that.... Was anyone else nearer that side of the room who could fill in the blanks on what went down?
Andrew also mentioned, "As we were leaving, ... I ran into List Folk (Louise and Willis) and was damn glad to see them."
And I was damn glad to see you too! It's been too long. Always fun to hang with Willis and Lena too. That was really some convergence there... I too ran into unexpected friends, including one couple I hadn't seen in 12 years.
Louise in Chicago
lemolnar@mindspring.com
Fri 2/27/2004 12:46 AM
---
I was at the GREAT ST. Paul
show Sunday night.
I decided not to post a review because I spotted several audience members with pads of paper taking notes - I figured one of those fans would be posting a setlist ( which differed from the previously posted lists ). I saw a few folks take some pictures - how about sharing.
As I have said it was a great show . Three or four songs Iíve never heard before including the funny Janet Jackson topical song - a ditty about a titty. I now realize it is the first time Iíve seen a full acoustic show. He really seemed to open up. He was joking and talking with audience members. He even did a couple of snippets of the Italian songs Volare and Thatís Amore in response to a request for ďthat Italian song you doĒ. Iíve seen some previous set lists and he really responded to requests and switched the whole show around. Add his fine performance to the fact that the Fitzgerald Theater is an incredible venue - not a bad comfy seat in the house
This was one of the best Iíve seen.
Flip writes: "If Life Is A Song, RT is the lyrics"
Matt3188@aol.com
Tue 2/24/2004 10:04 AM
---
I'm Excited !!!
Just got back from the St. Paul RT concert at the Fitzgerald Theatre. He was in fine form. The usual equipment -- Lowden with Sunrise pickup, Neumann KMS 105 microphone (black of course), Shubb capo ("I'm lost without it -- without it everything's in D"). Two wedges. Couldn't see his electronics, but he has used a Pendulum preamp in the past. Played a lot of songs off Old Kit Bag (seemed like he played most of the album) as well as a number of songs off Mock Tudor (Cooksferry Queen, Sibella, Crawl Back, Uninhabited Man). Played a charming song about Janet Jackson at the Super Bowl -- as a sing along! Played Alexander Graham Bell ( a tribute to a fellow Scotsman). Played some older songs as well. Hokey Pokey, Wall of Death, Keep your Distance, I want To See the Bright Lights Tonight, I Misunderstood. VBL of course. Two encores. Closed with Dimming of the Day. Played for a full two hours and was amazing as usual. Took my 12 year old daughter (who was about the youngest person there) and had 4th row seats. Whew! I'm now resisting the urge to pull out a guitar and stay up till all hours being depressed about how badly I play.
Yeah I'm a lawyer, but everyone needs a day job.
Henri Minette
minette@minn.net
Sun, 22 Feb 2004 23:46:27 -0600