US East Coast March 2004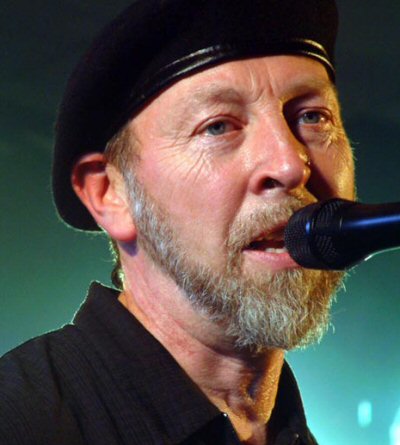 I wanted to tell you that RT is alive and well
and blowing folks away up in New England. My girlfriend and I drove sixteen hours from Nova Scotia to spend some time in New Hampshire and check out two RT shows in Vermont. The first show was during a windy, snowy night at the Higher Ground club in Winooski. This is a friendly, clean little club, with great sound and a fine list of visiting acts. Richard took the stage running and never stumbled. Cooksferry Queen was an early highlight - fingers blazing, notes tweaking - the audience shivering. I don't remember the exact order of the songs, but he continued to play: Word Unspoken Sight Unseen One Door Opens I Want to See the Bright Lights Tonight Uninhabited Man Alexander Graham Bell - This song completely cracked us up. Richard apologized in advance for potential screw-ups, but it was flawless – wicked fast, witty, hilarious stuff! It was loved by the whole audience, but especially by us. We live in the town where Alexander Graham Bell used to live. There is a National Park museum in Baddeck which is filled with his inventions. As we were waiting in the snow squalls to get into the gig, we had spoken to a local couple who had vacationed in Cape Breton, and they remembered the museum, and we talked about how cool it was that A.G.B. had a hand in so many different experiments and inventions. "50 other things as well!" Too much! A Love You Can't Survive Wall of Death Sibella – The only ten seconds when I missed the band. After the first verse when the chorus kicks in and he just couldn't support it by himself. You know, the rush after the Jack Kerouac line… hard to get it solo. Janet Jackson – Okay, this is just too funny. Again, he apologized and pretended to not be sure of the words, but ripped it off perfectly. The audience was in stitches. I have to admit, with all the great playing and fascinating songs, A.G.B. and Janet got the loudest roars from the crowd. Gethsemane Crawl Back – Whoah! Did he ever let it go! Wicked picking, and hollering so loud at the end he stumbled back in silence with his eyes closed, the place was quiet for two seconds before the applause. This was really intense. '52 Vincent Richard told a joke. He said, did you hear about the two guys coming down off acid at the end of a Dead show? One said to the other "Hey, this band sucks!" Then he mentioned Swarb, and spoke of his illness. He said "don't tell jokes to Swarb" cos he'd done it and "it nearly killed him." He looked kind of embarrassed and hollered to the back of the room "This one's for you, Swarb," and played Sloth. Pharaoh Walking on a Wire For Shame of Doing Wrong – By this time he was just fielding requests, chatting, joking, and playing what he felt was best from the requests, including:
From Galway to Graceland
Persuasion
I Feel So Good – this was funny because a soon-to-be-embarrassed lady blurted out loudly "Break my heart tonight!" RT responded "Literally, or do you mean the song?" and the lady admitted she wanted "Both!" Hokey Pokey - Including a new verse at the end with something about not letting all the cream run down your cheeks, "catch all the good stuff." Whoah Buddy! I'm sure the double entendre was lost on anyone not familiar with the song, because it appears to be only about sex now. Money – In response to a catcall of ABBA being the worst '80's band. "yer husband's a louse" – new song. At it's beginning, so many people where hollering out requests that RT had to say, in a sing-song voice "I'm starting!" I wasn't terribly moved by the song, to be honest. Beeswing He played two encores of two and three songs, finishing the performance with Beeswing. When he ran on to the stage for the last time, he mimicked a boxer exchanging blows. What a show.
The next night, at a little church in Middlebury VT, I was stoked for an even more intimate small crowd feeling. Before the gig, I asked Road Man Simon if Richard had been in a fine form the previous night. Simon assured me that even a lesser RT show was better than a smasher from anyone else, but admitted that Richard had indeed been pumped. We enjoyed some tea and cake, endured a rather tedious and inappropriate opening act, then our man took the stage to loving applause. Alas, technical difficulties marred the evening in Middlebury. It was intimate, it was friendly, the pews were hard, but there was such terrible speaker hiss coming out of the right loudspeaker that all but the rockingest songs were very affected. I don't know if Richard knew how bad it sounded to us, because after the second song he did acknowledge it, asked us if we could hear it, and then shrugged and said "Oh. Bummer!" and carried on. A couple times I noticed sound men running about, but it never changed. I wished we all could have taken a break and figured it out, fixed it or just unplugged the damn thing – the room was small enough - but the show went on. The songs were much the same as last night, with the addition of: How Will I Ever be Simple Again Al Bowlly's in Heaven – a request, preceded by a maybe exaggerated "Uh, okay, I've never done this alone before." Cold Kisses Read About Love Mr. Stupid's Back in Town
I know he's moved on to the "retro shows" in Tarrytown last night and then on to Cambridge Mass tonight. I would love to see them, but to be honest his greatest emotion and strength in playing occurred on his Tudor and OKB songs. And this doesn't surprise me. If you're an artist, you've got to be moved by your contemporary work. It would be great to see though, and I hope you all enjoy it! They'll be great shows for the true fans. Thanks Richard!
Tim
---
I saw Our Hero
at the United Methodist Church in Middlebury Vermont last night. It's the smallest venue I've ever seen RT perform in; there were maybe 300 people, give or take a few, crammed into a small wooden church. To give you an idea of the scale of the operation, there is a sign on the door of the bathroom saying "Please let the performer cut to the front of the line so the show can start on time."
After reading some of the enthusiastic reviews of earlier shows on this tour, I had high expectations for this performance, but I was not disappointed. I'd seen RT twice in the last couple of years, and this was by far the best of those shows. The music, of course, was superb. The sound system, unfortunately, left something to be desired, with a persistent buzz in one of the speakers throughout the night, but it only interfered with the performance on really quiet passages, of which there weren't all that many.
The set list was outstanding; lots of material I hadnever heard live before, including personal favorites "How Will I Ever Be Simple Again" and "For Shame of Doing Wrong." It covered pretty much the entire career, but included a fair share of new material from The Old Kit Bag.
What made the evening really special was that RT seemed much more relaxed and engaged with the audience than I've ever seen before. Maybe it was the small venue, but he joked with people, took requests (including Al Bowlly, which he claimed not to have done solo before) and generally seemed to be having a good time.
Here's the set list; only a couple I did not recognize:
1. Sight Unseen
2. How Will I Ever Be Simple Again
3. Cooksferry Queen
4. Outside of the Inside
5. Alexander Graham Bell
6. Walking on a Wire
7. Crawl Back
8. One Door Opens
9. Pharaoh
10. 1952VBL
11. Gethsemane
12. Dear Janet Jackson
13. For Shame of Doing Wrong
14. From Galway to Graceland
15. Hokey Pokey
16. Persuasion
17. ???
18. Al Bowlly's in Heaven
19. ???
20. I Want To See The Bright Lights Tonight
Encore
21. Beeswing
22. Read About Love
Second Encore:
23. Cold Kisses
24. Mr. Stupid's Back In Town
As for Coryell, the opening act, he was not bad, but not particularly impressive either (IMHO). He was entertaining, but the evening would not have been the worse for having left him off.
lee goodwin
leegoodwin@yahoo.com
3/25/2004
---
Let's see if I'm awake enough
to remember what I was doing last night...
My only complaint regarding RT's performance last night at the Club Passim benefit at Sanders Theater in Cambridge, Mass., was that it was too short -- just an hour including encores. Presumably because the was the fourth act on a quadruple bill and had to deal with time constraints, he did a significantly shorter set than is customary for his solo shows. Of course quality can make up for quantity when you're dealing with a performer like RT.
It was also interesting, in light of the recent discussion here about shouted requests from the audience, that there basically weren't any until he came out for the encore segment. Maybe it's the church-like environment of Sanders, a wonderful old (if a little cramped) wood-paneled nineteenth century building that led to the respectful hush that followed the wild applause after every song.
I continue to be amazed at the sonic power of RT's acoustic guitar playing these days, and in that context certainly need to mention that whatever Simon Tassano does with his knobs and dials and electronical things is uniquely wonderful. I go to a lot of concerts and I just don't know any other performers who get that much sound out of an acoustic guitar, and I don't think it's just RT's fingering. After the show, Pam mentioned overhearing a comment from a person sitting behind her who said "it sounds like he's playing three guitars". That says it pretty well.
We didn't get "Sloth", alas, or the Janet Jackson song (which I really wanted to hear -- we got "Alexander Graham Bell" as the comic interlude instead), but we did get a tense, edgy rendition of "Did She Jump or Was She Pushed?", a totally mesmerizing version of "King of Bohemia", driving acoustic rocking on "For Shame of Doing Wrong", and finally "Beeswing" as the second of the two encores -- a song that always brings a tear to my eye because it reminds me of a long lost friend from thirty years ago. It did seem a little unusual that 52VBL was the penultimate song and the he ended quietly with "Persuasion" -- I would have though the reverse order would have better channeled the energy of the crowd, but the long standing ovation that followed indicated that it really didn't matter.
I wish that the first act on the bill, the fiddle-based quartet Halali, had been given more than the fifteen minutes they were allotted. I really like their dynamics and their material. The two middle acts, Mark Erelli and Peter Mulvery, were fine, but I found myself sort of hoping that they'd get on with it so we could hear RT.
Anyway, a splendid time was had and the full house presumably raised some significant money for Club Passim, the 46-year-old folk music venue and school that sponsored the fundraiser. I'm looking forward to RT's next visit to Boston with the band in June.
It's almost time for a nap, I think.
Tom Nelligan
nelligan@ix.netcom.com
Sat 3/27/2004 11:07 AM
---
Watch Him Go-Tarrytown Review
3/30/04 (updated 3/30/04)
Courtesy Joanne Dexter
In recent shows RT has introduced his new song, "Watch Me Go," as being about a young musician getting started on his career, so it was fitting that he started the set for his retro [or "chrono"] show at Tarrytown with the bouncy, rocking, almost martial new number. Although I imagine the lyrics are meant to capture with some irony the singleminded, wreckless overconfidence of a young man who naively believes his music is bound to burst on the scene with the detonation of a thunder clap, I couldn't hear it ironically in the context of this dazzling retrospective show. Instead all I could think, as the song and the show's occasion made me reflect on the young man that had been RT all those years ago, was, "Human cannonball indeed!" Whatever disillusioning and disheartening experiences RT may have experienced on the way, his career has proved that any youthful dreams he cherished or demons of musical ambition he secretly nursed, no matter how seemingly overwheening at the time, have been more than fulfilled, artistically if not commercially, by the outcome. Having listened, entirely entranced, as he moved through the decades of his career, from pre-Fairport to the newest, unreleased material, I can't believe any musician's career has traced a richer, more inventive, more cannon-ball-like trajectory.
First, the setlist:
Watch Me Go
The Boys of Mutton Street
Jack of Diamonds
Meet on the Ledge
Walk Awhile
Nobody's Wedding
I Want to See the Bright Lights Tonight
The Great Valerio
Hokey Pokey
I'll Regret It All in the Morning
For Shame of Doing Wrong
Banish Misfortune
Did She Jump or Was She Pushed?
Devonside
Read About Love
How Will I Ever Be Simple Again?
Sibella, [after the song RT noted he'd jumped out of sequence here]
VBL 52
Crawl Back
encore #1, with impromptu guest Teddy Thompson, sans guitar:
Persuasion
She May Call You Up Tonight
encore #2, solo:
Freebird [riff], the folkie version [went something like, "As I was walking on the seaside, I saw a bird -- free bird, free bird...", rendered in an authentic folkie celtic quaver complete with trills and frills]
Outside of the Inside
Dear Janet Jackson
Word Unspoken, Sight Unseen
The outstanding show contained many highlights that underscored both RT's musical brilliance and skill as well as his quick humor. Hearing Boys of Mutton St for the first time was a real treat -- I loved the almost appalachian feel of both the fingerpicking guitar work and the ballad-like simplicity of the repeated chorus. Hearing the Dylan song Jack of Diamonds performed acoustically fascinated me, in part because the familiar guitar solo is an entirely different beast on acoustic, more understated and rhythmic, with fewer ear-popping bright notes. The Great Valerio was beautifully rendered, very full and poignant, with extra resonance ably provided by Simon. For Shame of Doing Wrong was for me the high point of the show, as even with my clear view of RT's hands from four rows back I simply could not believe the agility of his right hand as it layered the different rhythms, until this once simple ballad assumed the breathtaking complexity and fullness of some of RT's greatest guitar showpieces. Finally, RT's performances of both VBL52 and Crawl Back were among the best on these songs that I have seen. The first, which rivalled the flawless fluidity of his last Englewood/John Harms show, reminded me that RT at his best can make you feel each of the various gears of that motorbike as it opens up; though sometimes I only feel two gears, during shows when RT is so flawlessly "on" in his rhythms and fingerwork he reveals a much more powerful engine on that song. And Crawl Back featured as intense and complex a delivery as I've seen, perfect as the closer for the full set, as many of us were already in encore mode from whooping it up at the jazzy, flashy, always a bit different and always amazing, guitar solo.
Although I had the feeling that RT at this show, as at Ridgefield and Sanders, was so enjoying the music that he didn't want to take too much time away from his playing by talking too much, he still quipped hilariously, particularly as he touched on the musical transitions of his career. After Walk Awhile, he explained his decision in the early 70's to leave Fairport Convention for his solo work -- "I realized they were too ambitious and commercial. That wasn't the direction I wanted to go." Thus he introduced his one number from Henry the Human Fly. And after Henry, when he introduced his work with his ex-wife Linda accompanied by a loudly twanging re-tuning of a low note, the audience seemed to pick up on the musical joke before RT realized he'd made one. [Once he did, he seemed to enjoy it quite as much as we did.] He talked about the mindset of the 70's that led to songs such as Valerio by pointing to the "idealism" of such groups as "the Bay City Rollers, REO Speedwagon...". Finally, when Teddy made his surprise appearance for the first encore and immediately commented on all the pages of crib sheets and lyrics scattered around on the stage by archly observing, "Hmmm, lots of notes..", RT quickly assured him, "Oh these? These are philosophical notes" -- gesturing to one sheet, "See, this one says 'Be kind to people'... That's one of my favorites. And this one here says, 'Have a nice day.'" It was certainly nice for us to see father and son so clearly enjoying their shared time on stage, as both songs featured moments when they positively grinned at each other in delight at, I take it, the guitar embellishments RT has added to these familiar songs over the years.
Opening act Julian Coryell [a decidedly musical young man who made impressive use of both his full vocal range as well as a wide variety of rhythms] said it well when he wryly observed that he had been trying to understand how RT plays the way he does: "I mean, I have twelve pedals out here, supposedly to make me sound like more than one person. And RT has no pedals and sounds like three people." But overall the Tarrytown show made all of us in the audience realize anew the unrivalled brilliance of RT, as a guitarist of course, but more importantly as a songwriter. Sitting there, I found myself wondering how many musicians could perform such a retrospective, covering all their periods from high school to the present day, and uncover such consistent excellence over those almost forty years. Though RT might have paid the price commercially over the years for his refusal to follow musical trends, the result has been an output of music that refuses to sound dated or anachronistic, for his songs strike the ear as just as fresh and full of genius as when they were written. This almost timeless excellence is both the trademark and the benefit of RT's genuine artistic integrity, of his unwillingness to cater to popular tastes and his steadfast pursuit of the standards of musical excellence he has set for himself. As the performance wound to a close, I felt that we had indeed watched a young man go all the way, in a career that has arced across the sky to reach seemingly impossible artistic goals, goals that could only have seemed the most deluded of pipe dreams all those many years ago.
---
Lovely Nancy wrote,
"Let's see. The set list has been posted, the sighers have been disciplined, and for those of you heading up I-95, the truck has exploded. There's not a lot left to say, other than thanks to Pam, TJ, Jesse, Connor, Dan, John, Rosie, ECat (I'm so sorry -- you seem so familiar to me, but I don't know your name) and, of course, RT."
Jesse Hochstadt, on our search for a place to have a post-show drink: "If it's called Tarrytown, how come there's no place to f*%#in' tarry?" (Apologies if I got the quote wrong.) We finally found a watering hole; I had to chug my margarita to avoid missing the train, and seemingly the next thing I knew I woke up in blinding sunlight on a sofa a block from the East River. (Isn't it great how selective detail can make any story sound sordid?)
The Tarrytown show was beautiful--my favorite of the three retro shows that were being recorded for the live recording (Princeton, Annapolis, and this one). (Anyone know how many other retro shows there have been, and whether any of the others have been recorded? I also saw the two retro shows at the Birchmere last November. I suspect I saw more of these shows than I missed!)
Our Man was in fine vocal form, and his fingers were magical. I don't know how he gets the sounds he gets; "Banish Misfortune" was like a forest full of exotic birds, each warbling not only to his own kind, but in some kind of natural symphony.
I don't think anyone has mentioned one deliciously funny moment at Tarrytown. RT did a lot more historical fills than at the earlier retro shows I'd seen, and when he'd dispensed with the "Henry" era, he mentioned, while tuning, that he then began recording with his "then wife." A sort of tense silence followed--and then he tuned his lowest string way down, rapidly, in a sort of bad-news moan that sent the audience into giggles. One of my companions asked later whether RT had done "that joke about Linda" at earlier shows. I know I'm gullible, but I hadn't witnessed it before, it seemed wholly spontaneous and accidental, and I'd be really bummed out if it happened again and I was proved wrong about its serendipitous, slightly seditious goofiness.
I've had "Watch Me Go" in my head ever since Thursday. Strange song--very vertical where you'd expect it to be horizontal.
After a few chilling moments in which I was afraid that that Janet Jackson song was going to be the end of RT's set that night (my morbid fantasies having wandered to "If some rock-star doom should suddenly befall RT, my last memory of him will be of his singing about tits"), he did "Word Unspoken." So I was somewhat amused when, less than 24 hours later, he opened his set in Cambridge by singing about leaving this tainted place. Time flies! I was literally on the edge of my seat then--and not because of the music. I had paid top dollar for a seat in the front row, at the end of a Sanders Theater pew, but during the interlude before RT's set, two more people--crashers?--joined the pew. When I returned, the last one to do so, there was but room for about 55% of a normal adult posterior, or perhaps the whole of Lara Flynn Boyle. I kinda perched there like the old lady in Candide for nearly all of the set, until a couple left before the encore. By "Beeswing" I had appropriated their space and was able to alleviate the strain on my calves. I wish I'd moved more quickly, to be at RT's feet during that joyous "I Feel So Good."
Muscular discomfort and righteous indignation notwithstanding, I loved RT's Sanders set. It was a crowd-pleaser, a condensation of his material that offered a few delights for the cognoscenti ("Pharaoh"!) as well as the expected ("Vincent"). The acoustics were such that I didn't hear anyone else singing along on the "Crawl Back"s--I'm glad to know there were such people. (RT quipped on the room's sound that there were actually only 11 people in the audience.)
Tom's reference to what I overheard at the show was slightly misplaced; it was someone else who overheard the "three guitars" remark. I was the one behind whom, just before the last notes of "Did She Jump," a woman whispered, "He's a genius." As if it were a sudden recognition, not quite a surprise, yet not a remark that could go unspoken.
I wish I had the time to make a more structured, cogent report on these last couple of shows. My jaunt north was last-minute, an impulse I found difficult to resist leading to a trip I'm delighted to have made. So many, many kind people to enjoy--to meet and re-meet--so much to awaken my spirits, such glorious opportunities to connect myself with that music which is a tonic, a comfort, a perfectly echoed pulse for me. I had a funny little moment in Cambridge where I realized all that my discovery of Richard's music has brought into my life, and I was just floored by the gratitude. Or would have been floored, if I hadn't had such strong calf muscles.
And now, the benediction....
Pam Winters
pam@winters.cc
Sun 3/28/2004 12:34 AM
---
the one time I don't write down the set list!
I thought for sure someone would have posted the setlist from Tarrytown by now. No-one did so I'll try to re-create it from memory. I know the order isn't completely right, and I'm sure I've omitted something.
It was a great evening with RT in rare form in terms of both humour and vitality. One particularly fun moment was the 'Freebird' folksong 'invented' on the spot in response to requests from the audience. Another endearing moment came when someone shouted that the show couldn't be over yet as Richard hadn't played anything from TOKB. Richard pointed at the guy, disregarding everyone else, to ask what the gentleman wanted to hear, exactly. Unfortunately, no answer was forthcoming despite much prodding from Mr. T. We got 'Outside of the Inside' from that exchange.
My favorite song of the week is 'Sibella,' heard in both Albany and Tarrytown. A nice surprise to see Teddy, as I mentioned to Richard after the show. He replied that it had been a surprise for him as well. Got my Old Kit Bag signed, which was nice, too, preserving the signature ought to be an interesting challenge since I live out of the damn thing. One guy brought his old Gibson guitar and had it signed.
Watch Me Go
Boys of Mutton Street
Jack O'Diamonds
Meet on the Ledge
Walk Awhile
Nobody's Wedding
I Want to See the Bright Lights Tonight
The Great Valerio
Hokey Pokey
I'll Regret it all in the Morning
For Shame of Doing Wrong
Banish Misfortune
Did She Jump Or Was She Pushed?
Devonside
Shoot out the Lights
Read About Love
1952 VBL (amazing)
Sibella
Crawl Back
E1
Persuasion (with Teddy)
Second duet with Teddy
E2
Outside of the Inside
Dear Janet Jackson
Word Unspoken, Sight Unseen
Jeffrey Wilson
jeffrey@DistractedPoets.com
Fri 3/26/2004 5:09 PM
---
Boston Herald's review RT at Sanders Theatre (3/26/04):
Passim Takes Folk Fans on Fun Trip
By Daniel Gewertz
At its annual benefit concerts, Club Passim is out to prove that folk is far more than a niche music. Passim's main object may simply be to raise funds, but it does it by raising as big and colorful a folk umbrella as aesthetically possible.
The long, varied show on Friday at Sanders Theatre darted around folk sub-genres with pell-mell glee. Did it make for a musically cohesive night? Maybe not. But it was a fun folk trip.
Sanders was less than filled, but with tickets topping off at $100, Passim earned $54,000 for their nonprofit organization.
Brit folk-rock legend Richard Thompson was the obvious draw, and the 55-year-old guitar wizard and song-writing master pulled off an hourlong set with typical panache, one of his most agile, focused solo shows in recent years in the Boston area. Thompson's cultish fans spontaneously shouted out the phrase "crawl back'' on his 1999 song "Crawl Back (Under My Stone).'' But Thompson never takes his cult status for granted. He works hard. "Crawl Back'' led up to a near-operatic close. On "Word Unspoken, Sight Unseen,'' his guitar literally sounded like two instruments.
On a lyric-dense musical lecture on the accomplishments of Alexander Graham Bell, Thompson was able to bring an undiluted passion to a simple list of inventions. The list ends with the phrase ``and 50 other things as well/ from Alexander Graham Bell,'' and Thompson managed to invest it with surprising wit and joy.
"Beeswing,'' "Pharaoh,'' "Cooksferry Queen,'' Neil Finn's "Persuasion,'' and the famed "1952 Vincent Black Lightning'' were all highs. Thompson would be a stronger act if he employed a softer voice on ballads to offset his foghorn passionate bellow, but fans would argue otherwise.
The young Celtic fiddle band Halali opened with a short set that only caught fire in the final batch of Canadian reels. Laura Cortese step-danced up a storm. The band's vocals were no match for the fiddle finery, which sometimes added a striking, modern dissonance.
Mark Erelli appeared in his honky-tonk persona, along with the Spurs, the cracker-jack western-swing band that appears with the local tunesmith on his fine "Hillbilly Pilgrim'' CD.
The most exciting song: "Let's Make a Family,'' with a double-time spree that kicked out the honky-tonk jams. The verse lightly dissing Pres. Bush on "Troubadour Blues'' was timely. Erelli reached lyrical eloquence with "A Bend in the River.''
Peter Mulvey, along with mood-master David Goodrich on guitar, played an engaging set of his uniquely hip poem/songs, the piquant phrases piling up upon each other, creating word paintings. Goodrich washed the songs with an ambient electric guitar style that subtly, seductively, grew aggressive. It was just one more eclectic turn in the wide folk road.
Greetings!
This is my first post and I'm a certifiable Thompson nut. I believe I've come to the right place. Last Friday, I caught Richard's Passim Club benefit show at Sanders Theatre. He was outstanding, of course. RT's performance was warmly reviewed in the Boston Globe and the Herald. If it's appropriate, I could submit those reviews to the list (or elsewhere?). I joined the RT list this past Monday and have been enjoying it thoroughly since. Those "RT's fools" postings were great.
I'm not clear on the year, but my first Thompson show was also at Sanders Theatre. It was a full-band outing, probably in the mid-'80s. I suspect it was from the "More Guitar" period. My wife and I had balcony seats for the evening's early show. A second show had been added at the last-minute due to popular demand, which had left me wondering if the extra gig might somewhat constrain RT's first-show efforts. What a fool I was! I don't recall specific songs or precise details from the show, only the sense that what I was hearing from that figure down on the stage could not possibly be possible. It was the most incredible guitar-shredding performance this side of Hendrix. A maelstrom of chaotically beautiful guitar sounds that reverberated gloriously throughout the old wooden hall. The intensity of some of these solos was almost unbearable. I had the sense Richard could not possibly be unleashing this sort of performance every night, that he was maybe trying to get something painful out of his system, but I don't know.
Anyway, this show was, and remains, the most cathartic rock concert I've ever experienced. I could not have handled the next show, even if I had tickets. And I've always wondered what, if anything, Richard had left for that 2nd show. And I guess I wouldn't be too surprised to hear it was similarly explosive.
Thanks,
Joe
joe_urtz@harvard.edu
Fri 4/2/2004 3:12 PM
---
Thompson leads passionate tribute to Passim
By Sarah Tomlinson,
Globe Correspondent, 3/27/2004
There was abundant affectionate humor and a bounty of eclectic performances at Sanders Theatre last night during the annual benefit concert for the Passim Folk Music and Cultural Center. The evening's sold-out performances showed the many ways folk music can be stretched and embellished.
It was a fitting tribute to the 46-year-old institution, as was the impassioned headlining set by British folk icon Richard Thompson -- a master of infusing traditional music with modern sensibilities and passion -- and the varied representation of new talent with ties to Boston. The night included the stomp and twang of local country rocker Mark Erelli, the bold grace of singer-songwriter Peter Mulvey, and the spirited fiddling of the quartet Halali. With the first heart-stopping note from his mouth, which grew into the imposing beauty of "Word Unspoken, Sight Unseen," Thompson demonstrated why he has remained a leader among contemporary folk artists since his days as a founding member of folk-rock legends Fairport Convention. Sporting his trademark black cap, the seasoned performer resonated power as he wove a rich sonic tapestry with his astute songwriting, majestic vocals, and intricate guitar work.
Peppering his performance with casual banter, Thompson ranged over broad emotions, from the insistent guitar melody and defiant vocals of "Crawl Back Under My Stone," which had the audience echoing his chorus, and the playful, old-timey feel of "Alexander Graham Bell," to the melancholyballad "King of Bohemia." He covered the decades as well, going back to the '70s for "For Shame of Doing Wrong," with its sinewy melody, before closing with "I Feel So Good" and "Beeswing" during his encore.
Former Boston subway performer Peter Mulvey drew dramatic emotion from a rousing set that highlighted the range of his worn, smokey voice, evoking the wry experience of Leonard Cohen and the scratchy intensity of Mark Knopfler. He delivered political commentary during "29 Cent Head," with its percussive fingerpicking, layered with the manic notes of his backing electric guitarist, David Goodrich, and he put gentle humor into the rootsy "The Trouble with Poets."
Local country-tinged folk rocker Mark Erelli delivered a fiery set backed by his sharply dressed band The Spurs. His performance was full of wry, modern humor reminiscent of Lyle Lovett. Erelli looked like he was having a ball during the rollicking "Brand New Baby," which featured his bluesy harmonica and twangy vocals, while the mid-tempo rocker "A Bend in the River" was layered with mournful lap steel, elegant fiddle, and understated upright bass.
Halali, a local quartet led by three female fiddle players, opened the night with a warm set that featured a mix of breakneck playing and pretty pop.
http://www.boston.com/news/globe/living/articles/2004/03/27/thompson_leads_passionate_tribute_to_passim/