North America Tour July 2003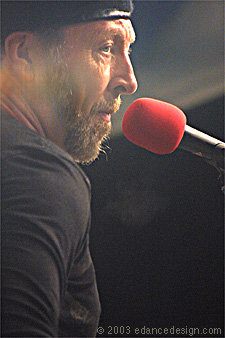 Four in a row (4)
In Paris at Le Cabaret Sauvage RT was wearing a black "Vincent, the motorcycle" T-shirt.
The setlist was:
RTB
1. Tear Stained Letter
2. Gethsemane
3. Pearly Jim
RT's introduction: "Some journalist said the next song made Sting sound humble and unpretentious..."
4. Outside Of The Inside
5. Razor Dance
RT introduced the bandmembers. In Tilburg Earl Harvin got some extra attention. RT said he used to play in a group called The The. In Paris it was Rory McFarlane who got an extra word: "You changed your name, didn't you?" And Pete Zorn's instruments were introduced as daddy saxophone, mummy saxophone and baby saxophone (aahhh!!!)
Plus the "my friend Hans Blix routine" for the big bass flute that Pete uses for the next song.
6. Missie How You Let Me Down
7. All Bowlly
Solo:
8. A Love You Can't Survive
9 Walking On A Wire
RTB:
10. One Door Opens
11. I'll Tag Along
12. Bank Vault In Heaven
13. I Want To See The Bright Lights Tonight
14. Shoot Out The Lights
15. I Misunderstood
16. Valerie
17. Can't Win
Encore 1
Solo:
18. 1952 Vincent Black Lightning
RTB:
19. Wall Of Death
20. Crawl Back/Israelites
(Earl Harvin using his red drumsticks)
Encore 2
21. Man In Need
22. Jealous Words
23. Word Unspoken Sight Unseen
I made these notes, just to remember. And after four concerts I can hear the live versions in my head. I can even see the moments in the songs in which RT turns round to look at Rory or Earl. Like in All Bowlly or in the last bit of Valerie where it's crucial to end up together. Everytime that this goes well Earl shows a satisfied smile.
After the show many people grouped together to see RT. ST is using a system for that: he'd been giving out backstage passes to people who were asking for autographs. ST was also collecting album covers to have those signed backstage. And after these rituals RT appeared in person to listen to all kinds of remarks, like: "I've seen you in 1967 with FC at The Marque" and a small French boy, who had a copy of The Old Kit Bag signed said: "Moi, j'aimait Two Left Feet". RT to the adults around him: "What's he saying?" Then: "Pas cette fois!"
My fellow countryman Gosse Planting complimented Pete Zorn with his contribution and Pete pointed at RT saying: "It's Richard's music. His songs are well thought over, he makes them and they're good for all other instruments as well. Very clever songs...".
Listmember Arie & I went to our hotel and we used much of the hours together to discuss all aspects of the RTB 2003 Tour that we'd seen and heard.
If you'd come in a position to see and hear yourself, please don't hesitate. I cannot think of anything better now.
Regards,
Flip-
PS Shook hands with old listmember Denis Bekart, who's living in Paris now. Avec son frere, le pompier.
Flip Feij [ flipfeij@zeelandnet.nl ]
Sun 6/29/2003 3:49 PM
---
RT in Boston
The show at Berklee followed the basic set that's already been described here. Show ran about two hours.
Notable moments for me (apart from the overall great playing, of course!):
- RT inserting the riff from the Beatles' "I Feel Fine" (albeit inverted progression-wise) into "Tear Stained Letter".
- RT singing "Make me at the station" in "Bright Lights", and sharing a grin with PZ over it.
- RT introducing OOTI by noting that a reporter had said the song "Makes Sting seem cheery and unpretentious"......at least I think it was 'cheery'......and "I'm proud of that....because that's not easy to do"........
Lowlights:
- Driving around for an hour in the rain looking for a parking spot!
- Toward the end of 'SOTL' the soundman kept nudging up the overall volume until my right eardrum started making a telltale rippling noise (which means, "Block me now or pay the price"). He seemed to be having a little chuckle as he pushed up the faders.....this is the kind of thing that really bugs me about sound guys....LOUD=GOOD.... LOUDER=BETTER.....thankfully, he had his bit of "fun" then resumed normal levels for the rest of the show. My right ear only rang for two hours after the concert....
My wife said she thought tonight's version of 'Can't Win' was "the worst [she'd] heard him play it"........not sure what she didn't like, but she does like the song so she must have perceived something "not quite right" to her ears.
Picked up 'Ducknapped!' at the merch table before the show, which actually provided me with a basic setlist so I knew approximately how far along we were in the set! Stick in about 45 minutes of "filler" (ha!) and you've got it covered.
Oh, yeah.....from '1000 Years' we got "So Ben....". I was hoping for "Oops" just for the audience singalong (RT did mention that the chorus for "So Ben.." was singalong-friendly, but nobody took the bait!).
Martin J Fioretti [ martinfioretti@juno.com ]
Wed 7/23/2003 1:18 AM
---
RT in Boston
I love Can't Win - but the concluding solo was not in the same class of transcendent gorgeous mind-boggling virtuosity as his other work last evening.
It was a noticeable exception to a wildly inventive and varied evening - the song arrangements were sometimes splendidly simple, but more often intriguingly different from prior interpretations. The band was tight when it needed to be, swinging and playful at other times - the night's music exalted contrast, a very wide stage of characters and moods.
My spouse and a couple I invited who had little or no awareness of what they were in for - it turned out *I* had less idea of what we were in for than expected - were delightedly stunned - as much by the remarkable variety of TSL, Al Bowlly, So Ben, SOTL, VBL, Word Unspoken, Crawl Back, and on and on. In most cases I thought the arrangements added new perspectives and deeper emotions, creating great interest and suspense for a jaded vet like myself. My unsuspecting companions were amazed such a creature as RT existed or *could* exist.
The arrangements for lighter fare were superior, though I loved the melodrama in most of the rockers (and SOTL literally brought the crowd to its feet --- in Boston!). The frenetic mood, more apparent in RT and PZ than the rhythm section, was a little wearing. I was grateful for the more nuanced interplay in the period pieces.
As to Martin's comments on the sound, I found the level pretty high though more bearable than in previous RTB shows, but that might be a function of seat location: row 20 or so center under the balcony. The mix was OK - great when the volume was moderate or low, often unpleasantly distorted and muddy otherwise. Given the attention to detail in the performance of the musicians, I'm again amazed how the sound quality can go from exquisite to sludge from song to song.
Least appreciated: Pearly Jim, Wall of Death
Excellent: Gethsemane, Can't Win, Crawl Back, I Misunderstood, VBL
Really excellent: Valerie, Bright Lights
Really really excellent: SOTL, Al Bowlly, So Ben, Razor Dance, Word Unspoken, OOTI, Missie, One Door
Really really happy: Mark Pinis
Mark Pinis [ mpinis@comcast.net ]
Wed 7/23/2003 9:35 AM
---
boston 7/22
hey all,
a short note to say wow! the boston show was a new high. the band was much tighter and more flowing than at the 4/30 Northampton show. Pearly Richard was a commanding bandleader; the obvious joy expressed during the "Israelites" coda/show climax inspired an immediate ovation. simply the best electric band since....since...Rory was Ruari.
much as i love Danny T., you can't beat a solid electric bass--and Rory is a rock! hearing "Can't Win" with Rory using the same bass that Tony Levin played (music man) on the Amnesia sessions was thrilling (at least for me), and his fretless basslines on "crawl back" were muscular and melodic. "Gethsemane" was terrifyingly beautiful. Earl Harvin is *perfect* with this band--'nuff said. The hottest flashback-inducingest version of SOTL with overwhelming Ferrington. The Tele-body (also ferrington?) guitar on I'll Tag Along was appealingly sludgy; I'd like to hear more of that git-box.
Pete Zorn was in top form: the mandolin solo on SOTL was intensely musical (less comedic than ever), his harmonies were impassioned and spot-on (his resounding "free!" at the end of "Crawl Back"'s bridge was inspiring), his mandolin on "One Door Opens" and "Valerie" was gorgeous, baritone solo on IWTSTBLT rollicking and beefy. Pete and RT's chemistry was so palpable i was imagining them as an acoustic duo...
let me join the chorus in hoping that there's another CD released with these recent barnburners. (Peter Gabriel was offering every show of his summer US tour on CD; I'd love to see RT do the same)
Andrew in Allston, counting the hours and miles to the Lupo's show in 8 hours...
abissaro@bidmc.harvard.edu
Wed 7/23/2003 10:30 AM
---
Country Standard Time review of Boston show
Mixing wit and musical wisdom, Richard Thompson is a winner
Orpheum Theatre, July 22, 2003
By Jeffrey B. Remz
BOSTON - Richard Thompson enjoyed his stint on a major label, Capitol, where he enjoyed some commercial and definitely critical success. But in the wake of the major reshuffling throughout the industry, Thompson found himself on the sidelines.
He resurfaced a few months ago with "The Old Kit Bag," a generally strong album continuing in the same melodic, intelligent adult rock vein for which he has been known, licensed to the small SpinArt label.
Thompson, long ago a mainstay of the seminal British folk rock group Fairport Convention, has shown his musical prowess time and again and did so again before a packed house.
Thompson merges a strong vocal sense, excellent guitar playing and a very genial stage presence with a host of very strong melodies.
Thompson mixed about half a dozen songs from the new album with his better known songs during the 130-minute show. The new songs did not suffer in comparison.
The new "Gethsemane" was the second song of the night and slightly juiced up from the album. "I'll Tag Along" is vintage Thompson: a good hook and bouncy song. And he did justice to various chestnuts like the muscular opener "Tear Stained Letter," "Shoot Out the Lights" and "Misunderstood" with its refrain "I thought she saying good luck/she was saying goodbye."
In addition to being of strong vocal presence, Thompson's plays a very fine guitar, whether acoustic or electric. He also was capably aided by multi-instrumentalist Pete Zorn, who was particularly adept on sax and mandolin, drummer Al Hardin and bassist Rory McFarland.
Thompson let the band stretch out the songs, often allowing them to build. A few times, though, the songs tended to stretch out a bit too long.
One aspect of any Thompson concert that can be taken to the bank is his steadfast ability to positively interact with the crowd. Yes, they are adoring fans, of course, but Thompson's stage comments and antics make for a warm, enjoyable evening.
After a few songs, Thompson addresses the crowd. "It's been a long period of avoidance," he "confessed." "It wasn't personal."
In reality, it wasn't all that long since Thompson hit Boston. And given another top performance, he needn't worry about having a base here no matter what label he is on.
The Cash Brothers from Toronto, whose second album on Rounder drops in August, opened with a pleasing half-hour set of roots-oriented music. Their possess good songs, strong harmonies and a good stage presence to make for a winning evening of music.
Phan
NP: James Brown - Cold Sweat
We're huge Richard Thompson fans ourselves...but we're pleased he's lost his hair as well.
Dave Pegg
Phantasmagorial Phantom [ phantasmagorial_phantom@yahoo.com ]
Thu 7/24/2003 8:24 PM
---
Love and Rockers
After missing two Richard Thompson concerts in less than a week, I am being forced to recognize that I'm getting old. Perhaps this isn't so bad; I take solace in the immortal words of Prince, as sung by Richard Thompson on my CD player when I was stuck in the 17th traffic jam of a 12-hour day on the road:
Women, not girls, rule my world, I said they rule my world
Act your age, mama, not your shoe size, maybe we could do the twirl
You know, in China my shoe size is nearly the same as my age. But I digress.
A certain chronological awareness came upon me this morning just before 1 a.m., as I attempted to explain to the desk clerk at the Biltmore Hotel in Providence, RI, why I was checking in so late, why I had driven all the way to Rhode Island from Virginia, and (the unasked question) why I looked like I'd been doing heavy-metal-style headbanging for several sweaty hours. The clerk, with aged wisdom scarcely matched by the fuzz on his chin, offered up bromides about following your bliss. Then he sent me to my room.
I got into my car in Arlington, Virginia, just before 10 a.m. At around 6:40, with my gas-tank-empty light on, I wrestled the Escape into a tiny parking space two blocks from Lupo's, stepped out of the car, locked it up, heard Richard's voice, and broke into a run. It was a soundcheck of "Taxman." Half a dozen of us pressed against the doors in adoration.
I ended up front and center once more. So glad there was a rail around the stage; they should have made the roller-coaster announcement "Please hold onto the bar." The show was loud and wild and wonderful. This band has really jelled since the previous U.S. leg of the tour. Whether RT has made a conscious effort to bring Rory and Earl into the foreground more, or whether they've just asserted their musical ideas as they've gone along, I don't know.
RT was playing to the cameras a bit, I think. I'll bet that if someone didn't tell him "Open your eyes when you sing!" he must have thought of it himself. And his guitar solos were often stretched out in appealing, all-the-time-in-the-world fashion.
One thing I've noticed on this tour (after seeing five shows on it--so far) is that this live-band configuration favors RT's angrier side. I wanted to write about the Kimmel Center show last week with the words "blunt" and "brutal." Also "lacerating" and "metal." Last night had less abruptness, less confrontation, but fully as much indignation and passionate catharsis.
I was going to write about this last week, but I woke up the day after the show too sick to stick around for the next one in Philly. And the same thing happened today; I should be at Falcon Ridge right now, but I couldn't face it today. Too tired, post-virus, to hang around so far from home on the rest of a long-planned mini-vacation (which included a mere two RT shows). Too homesick for my husband (who has now caught the bug I had last week).
So I spent today in my car, Virginia bound, thinking about how The Old Kit Bag sounds to me now. I wondered whether, of all RT's albums, it's the one that sounds least like it could have been made by a person under 40. And I pondered its gentle, melancholy sweetness. It's not a downer, but it generates fewer laughs than any album he's made in a long time.
Whereas the band is excelling at portraying the release of pent-up anger--mostly in older barnburners like "Can't Win" and "Shoot Out the Lights"--OKB doesn't so much take aim at targets as get inside and deconstruct them. Only "Pearly Jim" comes close to attacking, but it does so by a rather theatrical description of a community laid waste by its attachment to a two-legged golden calf. (An R.D. Laing joke, for heaven's sake.)
I was thinking today about "First Breath" and how Marc and others have suggested that it and its ilk "appeal to the ladies." (That's not meant to be a direct quote from Marc, and if he's around I'm sure he'll come back and correct my paraphrase of his ideas.) How part of me gets all feministically riled at such an assertion (don't get me started on you guys and your "RT newbies and their wives" generalization!) and part of me thinks maybe straight guys don't get it (and straight women do) because it's such an erotic, mystical elixir (yeah, yeah, thus falling prey to generalization myself).
This spurred me to think of two other key ideas:
(1) Although RT is sometimes known for his songs about love gone bad, a great number of his strongest songs aren't about romantic relationships.
(2) OKB presents an uncommonly blame-free, almost fatalistic approach to romantic love. When it fails, there's no implication that either party is at fault; everyone involved is grown up enough to acknowledge human frailty and, perhaps, superhuman intervention. Not that they're cold-blooded about it. "I've Got No Right" is "Keep Your Distance" in different clothing--and is sadder and more passionate (though not necessarily a better song overall). "One Door Opens" and "First Breath" are back-to-back rides on that old Wheel that lesser songwriters like to spin: Love comes and goes in surprises and disguises, to be savored while it lasts, and sometimes humans can't do much about its forces.
Then, of course, round about the 15th stop in my Jersey Turnpike Service Center women's room mini-tour, I was thinking about the powerful effects of two OKB songs at the Lupo's show: "A Love You Can't Survive" and "Word Unspoken Sight Unseen," both of which are nominally about love affairs. The latter always sounded more like the travel plans of a hejirist (is that a word?) to me, and it's had a particularly luminous quality at the OKB tour shows, probably because it generally comes late in the set when everyone's defenses are totally worn down. But "Survive" is also about more than its plot (which some have found an inconsistent one). I think it's all about "bearing a scar" and being thus changed, wounded and seemingly visible. He doesn't say the love doesn't survive; he says "you can't survive" the love.
Anyway, I know I can't survive too many more of these road trips. They're just too peculiar. After last night's show, I was literally shaking and staggering, my head reeling. (I had one gin and tonic. ONE.) I have a hazy memory of conversationally pingponging off a bunch of people; I awoke this morning all insecure and weirded out and tired and rain-averse and homesick.
There's no place like home. But there's also no place like an RT show, dammit. Sometime earlier in my life, I must have eaten the seeds of one hell of a pomegranate.
Questions I wanted to ask RT last night but didn't get to (although I did say hi to him):
--Whose Mission chair is that on the OKB art?
--Did Wordsworth really have a tattoo?
--You said on the "My Life in CD" program that you like to spend time in Costa Rica. Do you know the name of the villa there that's in a remote area, made out of stone (including, I think, the furniture), has no windowscreens, and is available for rent? Seems like I read about it last spring, and now I can't find it.
--Did you have a lighting tech traveling with you on this tour?
--Have you read the new Harry Potter book? 'Cause it has a St. Mungo's in it.
--Where did you go during that "Can't Win" solo? 'Cause I'm glad you came back alive.
--Do you want to hear my joke? Driving on the hell that is Interstate 95 in Connecticut, I passed by the town of Mystic and was amused by the sign that said "Downtown Mystic." I pictured some old holy man holding court outside a Starbucks. So when you said "Pearly Jim" was about a guru and asked, "Do you have those around here?" I wanted to blurt out, "Sure, there's Downtown Mystic." You can use it if you want, but only in New England.
(Actually, getting back to a more topical note: When RT asked if there were any gurus around here, someone apparently yelled out "You!")
OK, guys, I'll stop blathering now, but I hope somewhere in here are a
couple of points worthy of discussion.
Pam
pam@winters.cc
Thu 7/24/2003 11:11 PM
---
My Rochester review
I drove in from Buffalo early enough to make my wife think I'm obsessed and crazy. Guilty as charged. I had hopes of catching the soundcheck. I was the first one there and the crew were working on the sound. Talk about obsessed. They worked on it for at least 1 1/2 hours. A few other dedicated crazies showed up so I had a few people to talk to. Eventually the band came on and we were treated to an acoustic Keep Your Distance, then Can't Explain(instrumental), Gethsemane, and One Door Opens.
The doors didn't open until 8 and it was great to see 150-200 people in line to get in, especially considering I was at the head of the line. The guy at the door told me that 400 tickets were sold in advance. The venue holds 1,000. My estimate is that there were 600-700 people there. And there were a lot of out of towners. Buffalo, Ithaca, Canada, all over.
It was a standing show for the most part, although there were a small number of seats at the bar and scattered around.
The set list was the same as the Berklee show, so we got Walking on a Wire, Valerie, etc. instead of Two Left Feet, Bank Vault, etc.
Some random thoughts on the songs:
TSL - I thought this would be a strange opener since we're used to it at the end but it really worked. The crowd was pumped from the start.
Pearly Jim - this song was muscular, powerful. Much better in concert than on record, IMO.
Razor Dance - Never my favorite song but this time I really enjoyed it. Missie - just great to see. powerful performance.What lyrics! Al Bowlly - I never get tired of this song. RT introduced it by talking about how shabby veterans are treated in England. And your leader, he said, on one hand he's landing on air craft carriers, on the other hand he's cutting benefits for veterans. This was met with a mixture of cheers and boos. It was hard to tell what they were cheering or booing about. You could have been booing what RT said or booing Bush. Kind of hard to tell so I didn't join in either way. When the band started in someone yelled out, "I love Bush". That wasn't so ambiguous. I think it was meant as a joke. Love You Can't Survive - As with Pearly Jim, I liked this much better than on record.
So Ben - made me want to hear other 1000 year numbers. RT joked that he was sure this was the first time anyone sang in Italian in this club. SOTL & Can't Win - numbing. I don't have the words to describe the solos, especially Can't Win. That and One Door Opens were the highpoints for me. Walking On a Wire - Just great to hear this. A real treat.
Crawl Back - met with a good response on the sing a long part. Went intoall sorts of lyrics at the end I was not familiar with. He did go into the Israelites. Sounded great. One Door Opens, OOTI, Tag Along,WUSU - These songs are my faves on OKB and they didn't disappoint in concert. I just love that middle eastern flavor that they have.
There wasn't just a ton of between song banter. I was right up front, directly in front of RT. I noticed that RT kept his eyes open much more than I remember in past shows. The band was perfect, really. Pete Zorn's vocals may have gotten even better since the MT tour. Rory was solid. I liked the electric bass. Earl Harvin just beats this shit out of his drums. There's really no other way to put it. He was amazing.
I bought 1000 years for $25 and Ducknapped for $18. In the interest of fiscal sanity, I did not buy a shirt, kit bag, or More Guitar. Unlike my government, I didn't spend more than I had.
I could go on and on but you've all heard it before. I'll just say that I hope we don't have to wait another 4 years for RT to hit upstate NY again. I'm hoping the large crowd will encourage him to make us a regular stop.
Scott DeMayo [ sdemayo@pce.net ]
Sun 7/27/2003 10:55 AM
---
My Rochester review (LONG)
I see Scott beat me to the set list and much of the show info, which is fine by me. Maybe he didn't have to wait for his turn at the computer this morning. I arrived in time for the sound check as well, and joined my friend John, who was up listening outside the door. Scott, you were probably just steps away from me, but I missed you, not knowing what you looked like. Sorry!
John had chatted with the band members at the back of the club, prior to the sound check. He said Richard was inside for a while by himself, playing guitar. I got there in time to hear some of Can't Explain, and John said he had also given Dear Prudence a turn. At the end of the sound check, John and I retreated to the back of the line, which had grown in length while we were pressing our noses to the windowpane. That meant that we didn't score ideal spots inside the venue. We made it close to the front, but people began grabbing chairs from the cloak room, and placing them in some sort of rows; I don't think this was intended by the club owner, but it was useless to try to stop it once it began. Thus, the crowd was 4-7 people deep at the front, then several rows of chairs, then more standing behind that.
John and I waded in the humanity until the lights dimmed. It was hot and airless, but we were ready to see Richard, and saw a few guys adjusting stuff onstage. The club owner stepped up to the mic, and announced that these two guys were Richard's "special guests" and would be entertaining us first! That was too much for John; neither of us had expected an opening act since it wasn't billed. He took off for a cooler spot.
The anonymous duo were ok. The poor singer acknowledged that he was a sort of "sacrificial lamb", and not really why we were all there. The crowd was pretty good about it, and I listened for a while before getting too warm. They finished, and during the break I spied Drew in his Beesweb T, and was able to introduce myself. We had a nice chat (is it chatting if you have to yell to be heard?) and then he returned to his friends.
The show itself was great! Richard seemed to be fit and full of energy. It would be hard for me to say what was best, but I love the way So Ben Mi crackles with some kind of sinister mirth. On the bonus disc, my first impression was that all those "la la las" were rather harsh, when I would have expected something more lilting, but I like them fine the way they are.
I had purposely not read all the previous set lists, just to leave myself a few surprises. Near the end, it was great to hear the band break into Valerie. Screw any "misogynist" diatribes, I love that song. I've always loved the unison instrumental breaks that seem to marry Celt with Country Swing or something. I knew The Israelites would be in Crawl Back, so I waited for it, and it was a great addition. Is it wrong to want Richard to do more covers?
My impression was that this show was much louder and bassier that the two shows I saw in 1999. I'm 4 years older, maybe more crotchety in my old age. I did attend a "Kittie" show at Water Street with my daughter a few years back (ouch!) and was blown back by the jet-engine decibel sound, so maybe it's the venue. I adjusted my ear protection as needed for different songs.
After the show, John and I caught up with each other; he was stowing my brand-new copy of 1000 Years. We headed outside to the back of the club just in time to see a black-clad Mr. Thompson emerging, towel around his neck, in the midst of several crew member. Though the manager promised he'd be back to sign if we waited 20 minutes, Cd's and ephemera were already being thrust at OH. He obliged by signing several things, including my CD.
Trying to be more coherent this time around, I asked if he would please return to Rochester. "Well," he demurred, "if I can find it!"
Then he was off to the bus with the various yellow ducks in the dashboard. We walked back to my car, and I have a sneaking suspicion that John headed back to the bus to see if he would indeed re-emerge. As I drove off, I saw Drew heading to his car, having availed himself of some refreshment from the street vendor who is on St. Paul Street, year-round. The street is one of the bright spots in Rochester in this down-turn economy. The clubs are full on weekends and there is plenty of foot traffic. I hope Richard caught a glimpse of it on his way out of town, and makes a mental note to come back before another four years go by.
Pat Farneth
ruby ruby [ rubyruby01@yahoo.com ]
Sun 7/27/2003 11:43 AM
---
RT at Falcon Ridge Folk Festival
My name is Robin and this is my first post on this list. I am in my 40's and have heard RT on and off through the years and always liked his music but never had the chance to see him in concert. Last Friday he and the band played at the Falcon Ridge Folk festival in NY State and simply blew the place apart!! I have been going to Falcon Ridge for 10 years now and to other shows for more years then i care to count and I can honestly say, that his set was one of the best that i have ever seen in my life!
The energy was unbelievable and the 10,000 people on the hill all felt the same. I have never seen a crowd at FRFF that excited about any performer there. People were literally grabbing one another after the set, and raving about RT and the band and asking one another, where they play, what CDs are out, etc. All weekend the RT set was a main topic of conversation and this continues presently on the festival mailing list and and on other lists of artists that were there. I was talking to the merch person and they said that RT's stuff outsold everyone else's.The guy who was responsible for broadcasting the festival said that he felt that RT set the bar for performances that weekend and that his energy inspired everyone there to reach for a higher level.
I am so happy to have rediscovered the music of Richard Thompson and feel so lucky to have been at this show. I'm a little embarrassed to admit that i don't own any of his cds yet but plan to remedy that on Friday when i get paid. Can anyone suggest where I should start? I did love the really "amped up" performance he gave on Friday but I like folk stuff too so I'm not sure which to get first. The CD tent at the fest was sold out by the time i got there but I did snag a really nifty "Old Kit Bag" tee. Thanks for any suggestions and I look forward to reading this list and getting to know all of you "true fans." Bright Blessings, Robin
Robin Oprysko [ robin77@hotmail.com ]
Tue 7/29/2003 11:59 AM
---
penultimate kit bag
The Whitaker Center in Harrisburg, PA, witnessed an excellent RT show tonight--or, rather, last night, at this hour (as well as possibly the highest proportion of listmembers at any RT gig).
The last two shows I've experienced--this one and Lupo's--were especially notable, to me, anyway, for "Can't Win," a particularly anger-fueled performance. For me--I really can't speak for anyone else here--it was a sort of prayerful catharsis; I really felt like something unearthly was happening when he played it. And I thought about how RT's music, in its way (and not a small way), has the power to make people free. Brothers and sisters (I know I'm going all Dave Carter on y'all, if only because I just saw fellow Carter fan Robin newly arrived on the list), if you've ever felt something freeing in Richard's music, give thanks in whatever way seems best. (I know he freed some people of nasty green pieces of paper at the merch booth.)
The reggae stuff was incredible, sprouting out of "Crawl Back" like volunteer plants. Pete Zorn just gets better and better. It's unjust to expect people NOT to sing along for "Wall of Death"--like expecting silence during the national anthem. And I sat behind someone, who shall remain nameless, whose obvious, kinetic enjoyment of the show could have been a manifestation of my own id, albeit with a better haircut.
I also wondered, for the first time, who is being petitioned to let him ride on the wall of death one more time. Tonight, I felt very strongly that I was making that request of Richard--wanting, no matter what happens inside or outside of me, to feel welcome to come back again and again to experience these shows.
For me, it was also a night of blood, toil, tears, sweat, broken glass, and sour cream donuts. I communed with listpals, felt irrationally and embarrassingly attracted to the tour bus, nearly became part of a Beltway accident, suffered existential doubts, shared secrets--yeah, just a normal night for me.
You know, I'd write more, but I think I'm actually typing in my sleep.
Y'all get on MapQuest or www.iflyswa.com or Orbitz and figure out the best way to get to Pittsburgh tonight, you hear? You can't miss this tour on its last show.
Zzzzzzzzzzzzzz,
Pam
pam@winters.cc
Wed 7/30/2003 3:11 AM
---
Pittsburgh Post-Gazette review of yesterday's show
By Scott Mervis, Post-Gazette Weekend Editor
It's hard to watch Richard Thompson and not think it a bit obscene that one man has been possessed with so much talent. Touring on his 25th album -- so let's hope you've heard of him by now -- the British rocker, folk artist, troubadour, poet, guitar hero, comedian (whatever you want to call him) came into the Byham Wednesday night and scorched the place with his rich voice and distinctive aqua Strat.
An electric Thompson show is a precious commodity, which he and the band made the most of with a 21-song, 2 1/4-hour set that touched on his typically superb new album, "The Old Kit Bag," and reached back to what should have been his greatest hits.
The band was versatile beyond any reasonable expectation, grinding through rockers like "I'll Tag Along," caressing ballads like "Missy How You Let Me Down" and "I Misunderstood" and transforming into an acoustic jazz combo for "Al Bowly's in Heaven." Dreadlocked drummer Earl Harvin powered the band while adding new complexities to Thompson's rhythms. Bassist Rory McFarlane, who did some beautiful solo work with and without a bow, could fit in anywhere. And Pete Zorn has got to be one of the best utility fielders, mastering "the saxophone family," mandolin, guitar and vocal harmonies.
Of course, when you're backing Thompson, you bring your A-game. He was in the mood to jam, attacking his guitar with those long, twisting, distinctly Celtic-flavored solos that don't sound even remotely like anyone else's. "Gethsemane" was thick with minor-chord drama. "Tear-Stained Letter" and "Crawl Back" were breathless chases. During "Shoot Out the Lights," played as dark and chilling as anything at Ozz-fest (which was in town, too), it sounded like the strings were being ripped off.
A surprising twist in the middle of the set was the lovely pairing of "Walking on a Wire" with "I Want to See the Bright Lights Tonight," two songs known for featuring the vocals of his former wife, Linda.
As if his material wasn't varied enough, Thompson threw in a piece from his clever "1000 Years of Popular Music" project. This evening's selection was "So Ben Mi Ca Bon Tempo," a folk song from 1590 played solo and sung in that "colloquial, medieval Italian we all struggle with."
He played right up until the 11 p.m. curfew, flying across his acoustic guitar on fan favorite "1952 Vincent Black Lightning" and, finally, savoring every word of the new "Word Unspoken, Sight Unseen."
>From start to finish, it was simply another phenomenal Richard Thompson concert. Raving about him time and time again is getting a little predictable;fortunately, his music never is.
Opening the show was British newcomer Alexi Murdoch, who put the crowd under his own spell with a haunting acoustic style reminiscent of Nick Drake.
For those of you who like to save the original page:
http://www.post-gazette.com/ae/20030801tenors0801fnp3.asp
Phan
A composer is a guy who goes around forcing his will on unsuspecting air molecules, often with the assistance of unsuspecting musicians. Frank Zappa
Phantasmagorial Phantom [ phantasmagorial_phantom@yahoo.com ]
Thu 7/31/2003 7:10 PM
---
Harrisburg notes
It's only been a few days, really, since Harrisburg; hope these notes are of interest to someone and that they don't come through as HTML!
The song I've had in my head these last couple days that isn't RT's is Joan Armatrading's "I'm Lucky"...this week I feel I can walk under ladders.
I'm writing from Texas where I've had the exquisite luxury of replaying my Harrisburg concert memories while doing the backstroke, leisurely-like, back and forth in the pool at my aunt's San Antonio apartment building. With my eyes open: brilliant sun and blue sky, immaculate cumulus clouds; with my eyes closed: spots glinting off guitar strings and the blur of drumsticks, and the intensely concentrated, almost devotional gaze of Earl Harvin watching RT as each song neared its end.
It's unusual for me to have much visual memory of a show, as I tend to listen eyes closed. I caught myself this time: that when RT closes his, I close mine ---is it just imitation, the way I start picking up other people's accents, or a desire to be in the same space he is?
I felt obliged this time to keep eyes open and pay attention because this was my first time sitting front row perfect. It was fascinating, thrilling to watch the mechanics of a band as tight and powerful as this.
I didn't keep a setlist and I'd love to have one--hint! hint!--, though it won't really help me conjure much more than a faint notion of what I loved in this show.
The most overwhelming thrill for me was "Israelites" --even as a little girl at Jones Beach or in Prospect Park that bass line, that rhythm, moved me and hooked me and flooded me with joy. I couldn't quite imagine how the segue from Crawl Back to Israelites would work, and it seemed that the song kept threatening to end without it; I was praying and on pins and needles with anticipation. Like BW I wasn't expecting to hear him sing it, was expecting more of an instrumental quotation, the way Elvis Costello often does --- ohhhh, this was more delicious than I ever could have wished---that voice with those words (still mostly unintelligible!) and Rory doing that run. My sunny childhood favorite all grown up into a force of nature, more like the sea itself than the beach above it.
Other highlights for me: Al Bowlly, probably the most beautiful version I've ever heard, with sublime solos from everyone. Unexpectedly different endings on many songs, often showcasing the subtlety of Earl's drumming --- the one that has stayed very vivid for me is Shoot Out the Lights, the coda drawn out into an otherworldly collection of tiny sounds from all the instruments, with lots of space in between. It evoked for me a storm receding and then, more specifically, a landscape in devastation, smoke curling up through the space left behind in the absence of violent sound.
Compared to the House of Blues show a couple months back which was technically brilliant but I found somewhat icy, this was rollicking, masterful, supemely confident, huge --- and possessed of some ineffable energy. All four at the top of their game. The muscularity of Earl's drumming is awe-inspiring and a perfect match and spur to RT's power.
I'm so thankful, so happy, I didn't miss this show. Absolutely worth every expense and every effort (and even the risk of SDF--Spousal Disapproval Factor.) I need and want to thank the very Honorable Dr. David Orbison and Pam for exercising their perfectly pitched powers of persuasion that kept me from falling off the hook when notions of reason and puritan ethic started to get the better of me. As I seem to need to relearn again and again, the illogical thing is often the very best thing to do, and traveling to hear RT is the very best of those illogical things.
Enjoyed meeting you all!
Louise
Away from Chicago
Louise E. Molnar [ lemolnar@mindspring.com ]
Sun 8/3/2003 2:30 AM
---
tour end notes
Before they become only distant memories, some notes at tour's end. I had the distinct pleasure of seeing the last two shows - Harrisburg and Pittsburgh. While the setlists were virtually the same (RT had to finish up in Pittsburgh without Jealous Words in the second encore due to venue time constraints), there was a difference between the shows, at least as I experienced them. Mind you, along with Louise (not in Chicago at the moment) I, too, sat "front row perfect" in H'bg and it was all fresh, still there were differences. The Pittsburgh show was a tad flatter; sponsored as it was by WYEP, public radio station in Pgh, many of the front seats were allocated for the larger contributors - no, the seats were *not* double-wide - and many of them were not the diehards we found in front in Harrisburg. To the extent that RT plays off the energy of those he can best see and hear, those in front have an important role to play, especially, I would guess, when the band is road-weary. Also, there were some spectacular equipment explosion sounds due, I believe, to problems with the drum microphones. Naturally they didn't throw Earl off the beat.
After the spectacular Harrisburg show, my listmate and I found ourselves quaffing a couple at the local pub in the company of Earl and Ruari. I did speak to Earl, trying not to gush about his drum magic. He was soft-spoken and as decent as one might expect one of OH's bandmates to be. It turned out he was being modest in telling me that he had a project of his own but that he was off to LA for a couple of months, as the next night, in Pittsburgh, I had a chance to chat with Simon before the show, who said that Earl was playing the very next night i.e. Thursday 31 July, in Denver with his own band, called Black Frames --I believe I have that right. I ventured that it was a shame that this tour had to close; Simon said that he thought this was the best band that RT has ever played with and that much as he loves Danny, it was good to have Ruari's electric bass, saying tongue in cheek that maybe they could get both bassists and that Danny could have the upright.
At the close of the Pittsburgh show, RT thanked not only the band members, the radio station, Simon, and Tom but the entire crew of roadies.Louise noted that our man was interviewed on said radio station the afternoon before the Pgh show. I did manage to get it on tape and will post any tidbits you may be interested in hearing (reading) when I get some time.
David O (Pittsburgh)
David Orbison [ dvorbison@cs.com ]
Mon 8/4/2003 4:01 PM