North America Tour April 2003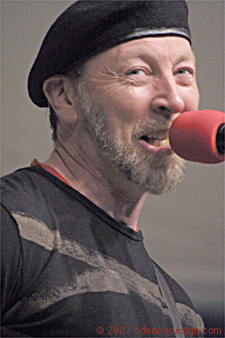 Declaration of independence
Richard Thompson's happy to be on his own
By Matt Sebastian, Camera Music Writer
April 18, 2003
WHO . Richard Thompson Band
WHERE . Boulder Theater, 2032 14th St., Boulder
It's a sad commentary on the state of the music business when major record labels can't figure out what to do with someone like Richard Thompson, an artist widely acclaimed both for his poetic pen and his dexterity with the six-string.
Thompson has honed his literate folk-rock over a 35-year career, playing with Fairport Convention, ex-wife Linda Thompson and as a solo musician. Since the 1980s, he's plied his trade for Capitol Records, recording a series of well-received albums, including Amnesia and Rumor and Sigh.
But when Thompson's six-album contract ran out with the release of 1999's Mock Tudor, neither the artist nor the label had much interest in renewing the deal. Unencumbered, Thompson gladly left Capitol's stable.
"It just seemed it was a really good time not to be on a major label," Thompson says from Los Angeles, where he's preparing for a spring tour that begins Monday at the Boulder Theater. "You know, majors used to get you on the radio and the TV, they had a bit of a promotional budget. But they can't really do that for most people anymore, so they've lost a lot of their usefulness."
Now on his own, Thompson is free to write and record at will, then shop his products to whichever independent label is interested. Or, he can self-release material, selling CDs via his Web site or at concerts, as he recently did with Semi-Detached Mock Tudor, a live album issued last year.
Next up is The Old Kit Bag, Thompson's superb new studio album, due out May 6 on spinART Records. The album's 12 songs find Thompson playing with a stripped-down trio, including backing vocalist Judith Owens, drummer Michael Jerome and Danny Thompson (no relation) on acoustic bass.
"The record's title comes from a song in World War I," Thompson explains. " 'Pack up your troubles in your old kit bag and smile, boy, smile.' You know, even though the bombs are raining on you and you've got trenchfoot and God knows what else, keep smiling, cheer up there. Come on, pull yourself together."
Thompson says he tried to convey that spirit of blind optimism in some of The Old Kit Bag's songs.
"That's the mood, particularly, on the last song ("Happy Days and Auld Lang Syne"), where the woman's husband is about to leave her in the middle of a party, so she decides to just carry on with the party and pretend it hasn't happened," he says. "She'll have a good time, even though she's destroyed inside. She's going to keep up appearances."
In addition to working on the songs that would end up on the new record, Thompson also has spent the past few years on an entirely different sort of project - a live revue of musical history, dubbed "1,000 Years of Popular Music," which he performed several times in Los Angeles and New York.
"I got asked to contribute a list of the greatest songs of the millennium to Playboy magazine, and I thought they were being very pretentious by using the word 'millennium,'" Thompson says. "I knew they didn't mean 'millennium,' they meant the latter half of the 20th century, maybe.
"So I thought, 'Well, I'll just call their bluff,'" he says. "So I sent my list in, starting literally at the year 1,000 A.D. But they didn't print mine, so I was a bit miffed. But it gave me the idea for this show."
Thompson's stage show, sometimes performed with the Doors' John Densmore, includes interpretations of everything from medieval hymns, traditional Scottish murder ballads and the songs of Shakespeare to more modern fare by the likes of Gilbert and Sullivan, Pete Townshend and Prince.
"It's good fun," Thompson says, noting he plans to have a live CD culled from those shows on sale at next week's Boulder Theater concert. "It's interesting to go back and find songs that have been neglected, songs that were very popular in that time, but as fashions move on, some very good stuff gets left behind.
"The show's good for a laugh, but it's the songs that are the stars."
Contact Matt Sebastian at (303) 473-1498 or sebastianm@dailycamera.com.
OK, it's not a review yet, but it's a story. A friend in Boulder promised me to come with first impressions asap.

Regards,
Flip Feij [ flipfeij@zeelandnet.nl ]
Tue 4/22/2003 7:22 AM
---
RT in Boulder: Peggy's Review
Hi all,

Here's a review by Peggy Ronde from Boulder, Colorado. I met her last August in Cropredy and gave her a ride to The Netherlands where she was going to visit her mother in law. She invited me to come to Boulder one day, but RT did this first.

Regards,
Flip-

Here's her report:
RT w/band, Boulder Theater 4-21:
Opening act (Lynn Miles) reminisent of Shawn Colvin, nice, maybe a little too mellow.
Band comes on. Last time I saw RT with a band was about 4-5 yrs ago at the same venue, so I'm pretty psyched. Set opens with Tear Stained Letter then Gethsemane. Outside Looking In sounds great with a band - Pete Zorn added a nice touch with the mandolin and the drummer on a single hand-drum. Razor Dance. Switch to accoustic guitar for Al Bowly. Really nice jazzy touches. Everyone gets in a nice jazzy solo; PZ on clarinet, Rory on stand-up... heavy man, heavy. RT solo/accoustic So Ben Mi Ca Bon Tempo. Add band back: One Door Opens, I'll Tag Along, then another one I didn't recognize (huge apology - I'm a loser), Bright Lights, Shoot Ou the Lights, She Said it Was Destiny, 2 Left Feet, then a most kick-ass rendition of You Can't Win. Blistering solo - crowd finally got off their butts. Encore 1, solo accoustic 52 Vincent, add band for Wall of Death and Crawl Back. Encore 2, Man in Need, Word Unspoken/Sight Unseen.
The usual shouts of requests from the crowd, someone even asking for Teddy... oh, and RT was in black leather pants. never seen that before - oh wait, I see it's the same outfit as in the picture on your site (C Bates). Afterwards one person said that you could tell that it was the start of the tour - couple of rough edges. Ya, I'm no professional and I noticed a slip or 2, but hey, it didn't spoil the show for me at all. I thought that it was a good line-up and that it produced a great, full sound (thank you Pete!!) And our friend from Chile was impressed. Boo/hiss to my buddy that no-showed. We sold his ticket.
On sale in the lobby: canvas tote bags - "Old Kit bags", cd More Guitar (live '88) and Semi-detached Mock Tudor (live).
well, being a total rookie at writing and all, that's about the best I can do for ya.
greetings to the family
peggy
Flip Feij [ flipfeij@zeelandnet.nl ]
Tue 4/22/2003 9:46 AM
---
RT in Boulder: TB's Review
Hey,

Someone calling himself (herself?) TB came up with another review.

Regards,
Flip-
Just got back from boulder show last night and it was great. While 1,000 years is not ready yet but will be, according to RT, he did have one for sale called "More Guitar" which is the show from the Bayou in Washington DC in 1988. Same show the live Can't Win and When the Spell Is Broken were culled from to form bits of Watching The Dark"
Setlist for Boulder
Tear Stained Letter
Gethsemane
Pearly jim
Outside of The Inside
Razor Dance
Missie How You Let Me Down***** GREAT
Al Bowlly
A Love CAn't Survive
I Ain't Marching Anymore
One Door Opens
I'll Tag Along
Bank Vault In Heaven
Bright Lights Tonight
Shoot Out the Lights
Destiny
Two Left Feet
Can't Win** at least 12 minutes long
1952 VBL
Wall of Death
Crawl Back
Man In Need
Jealous Words
Words Unspoken Sight UnSeen
Flip Feij [ flipfeij@zeelandnet.nl ]
Tue 4/22/2003 9:55 AM
---
Boulder, CO show and "more guitar" cd
Greetings and salutations,
Long-time reader, first-time to reply. Just putting in my two cents worth. I was at the Boulder, CO show last night and was thrilled yet again. I've seen OH every time he's come through our fair region in the last 12 years or so and after last year's solo acoustic set at the Denver Botanical Garden it was great to welcome back the band. They were hot. As mentioned in a previous post, there were a few rough edges but nothing to complain about, that's for sure. Blistering solos throughout by RT, especially on You Can't Win. Zorn was in fine form as well. Earl Harvin did a spectacular job, as did Rory McFarlane, though I did miss Danny Thompson's presence on stage. A great show, yet again. Lynn Miles opened and did a fine job warming up the crowd, adding some good humor about sharing a tour bus with an all-male contingent.
As to the cd "more guitar," here's the scoop. The set includes OH of course, with John Kirkpatrick on button accordian, Clive Gregson on rhythm guitar/organ, Pat Donaldson on bass, Kenny Aronoff on drums and Christine Collister on backing vocals. Recorded in 1988. Song list: Don't Tempt Me; Can't Win; Jennie; Gypsy Love Songs; The Angels Took My Racehorse Away; When The Spell Is Broken; Shoot Out The Lights; I Still Dream; Here Without You; A Bone Through Her Nose; We Got To Get Out Of This Place; Jerusalem On The Jukebox.
LWiessner@aol.com
Tue 4/22/2003 10:37 AM
---
Boulder Show
Just a quick follow-up after revisiting the set list for last night's show. I concur that "Missie How You Let Me Down" was excellent. It's an old favorite of mine and it hasn't popped up too often in the sets I've seen. You Can't Win has always been the song/solo that shines as bright as the sun for me and whenever I'm turning someone on to OH, I have them listen to this song in a live format. It never fails. A neophyte sitting next to me last night muttered breathlessly after the song "I've never heard or seen anything like that before." I have, of course, and it still takes my breath away.
RT's humor and stage presence was great, as always. At one point someone hollered out what sounded like "Where's Timmy?"
"Timmy?" RT queried. "You mean Tiny Tim? With his little crutch he couldn't make it up on the stage." Then he asked "Who the hell is Timmy?" After a couple more attempts by the audience member, it was ascertained that he meant Teddy, RT's son. "He's outgrown us." RT replied. "He's much to big to play in our little band anymore. He's playing with Roseanne Cash now. And have you seen his web site? It's downright pornographic, some of the comments that people leave there."
Asking about Hastings, Nebraska, next stop on the tour, RT mentioned the band had never been there before. "How is it?" he asked. "It's dreadful, isn't it. A wasteland." A little while later OH made the comment that he doesn't like fundamentalists of any faction, be they Christian, Muslim, whatever. One wry audience member shouted out, "Don't say that in Hastings." That got a great laugh.
Just a few more impressions of a fabulous show. Thanks for listening.
LWiessner@aol.com
Tue 4/22/2003 11:50 AM
---
RT in Ann Arbor News
Thompson reinvents guitar-god standards
Understatement, Celtic flavor mark style
Saturday, April 26, 2003
BY KEVIN RANSOM
News Special Writer
Richard Thompson is one of rock's most revered guitar heroes - and one of its most reluctant. At least in the recording studio.
Onstage, Thompson is not shy about cutting loose with fleet-fingered solos that leave fans awed by his prowess. But for most of the 1990s, when it came time to go into the studio to make a record, he would downplay his guitar chops.
"People have been telling me for years that I should put more guitar on my records," says Thompson, who comes to the Michigan Theater for a full-band show on Monday.
"But I've always felt that the recorded version of a song should be the 'official' version, so I like to use my guitar to support the emotion of the song, instead of being the focal point. And then when I play the song live, I can flesh it out with more guitar."
That has been frustrating for the guitar-worshiping faction of his audience, which would genuflect over Thompson's tunes even if he were singing the phone book. After all, they only get to see Thompson perform live every couple of years.
But those guitar heads will be thrilled to hear that Thompson comes out swinging on his new release, "The Old Kit Bag." On the first two songs, "Gethsamane" and "Jealous Words," Thompson's signature string-bending and intensity are front and center. And throughout the disc, Thompson embarks on more of his fiery fretboard excursions than on any disc since 1991's "Rumour and Sigh." And, not coincidentally, "Kit Bag" is probably Thompson's strongest record since "Rumour." Indeed, until "Kit Bag," that album's "Mother Knows Best" was the last time Thompson really pulled out the stops on record, as he blazed through a two-minute-long solo that is still one of his most thrilling on disc.
Thompson's playing is less derived from the blues than that of the guitar-hero trinity of Eric Clapton, Jimmy Page and Jimi Hendrix. Thompson is English, with Scottish roots, and from an early age, he was fascinated with the mournful drone of Celtic music. So he adapted that drone quality onto his guitar, giving him a unique, readily identifiable sound. "That's the way I've always played, right from the beginning," says Thompson. "I've always just loved that sound, and I think with my family coming from Scotland, it's probably in my blood or something." Thompson's career as a touring artist has taken two concurrent tracks. One track features Thompson fronting a five-man electric band, which allows him to dig deep into his bag of flash-guitar tricks. Concurrent with that track, however, is Thompson the solo acoustic artist. His solo shows allow him to play smaller rooms, like his March 2002 show at The Ark, and the intimacy of those rooms encourages Thompson to flex his sharp, mordant wit. His quips perfectly counterpoint his songs, often harrowing ballads of ex-cons, mental patients, street drunks, losers in love, serial killers and other lost souls living on the fringe of society.
"I've found that making jokes is a good way to relieve the tension after singing two or three of those songs in a row," says Thompson. "It really helps the pacing of the show."
Tim Fagen, 24, of Ann Arbor is a Thompson fan who says that as a songwriter, "Thompson makes other great writers stop in their tracks. There is a clarity to everything he does that few artists ever reach in one song. His lyrics can be both playful and dark, working together to hook you. Lovers get cute, fall in love, fall apart, and sometimes die. His songs can be heavy, but always honest and gutsy.
"And his musicality will knock you over," says Fagen. "He plays guitar like a Celtic Jimi Hendrix, and bends notes way outside of the rock guitar norm, but that's exactly why every player tries to steal his licks."
For the last couple of years, Thompson has been performing a show that he calls "1,000 Years of Music in One Hour." Last year's Ark audience got a three-song sampling, which included a hilarious but brilliant Celtic-folk take on Britney Spears' "Oops, I Did It Again," which clicked both musically and satirically. Now audiences can hear "1,000 Years of Music" in its entirety; recordings of that project will be for sale at the show.
Last year, Linda Thompson - Richard's ex-wife and ex-musical partner - released her first album in 17 years. The disc was a collaboration between Linda and their son Teddy Thompson, and Richard played guitar on one song. "I think it was a really good album, and I was flattered they wanted me to play on it," says Thompson. "I have two children who are musicians and singers, and I'm proud of both of them."
More than 20 years have passed since the couple's bitter divorce, and both Thompsons are long since remarried. In light of that, and now that Linda is writing songs with Teddy, does Thompson perhaps see himself doing another record with Linda - this time as a family affair? Is he curious to see if the Thompson family can re-capture the old Brit-folk-rock magic of those legendary Richard and Linda recordings from the '70s and '80s? "No thanks," Thompson says. He pauses, then explains: "I'd rather go forward than go back and do something I did 25 years ago."
Kevin Ransom first wrote about Richard Thompson for the Ann Arbor News in 1991. He can be reached at KevRansom@aol.com.
Flip Feij [ flipfeij@zeelandnet.nl ]
Sat 4/26/2003 2:29 PM
---
RT in Chicago (Long)
Hey all!
Just saw our boy last night at the House of Blues, and was (as always) very impressed.
Just thought I would share with you a couple of elements that I have not heard discussed here:
*The Drummer. Earl Harvin really rocked. He especially shined when he played the Djembe on "Outside of the inside," which, by the way, is much cooler with the full band than it was last year solo.
*While some of us are used to hearing a new song or two in an RT set, it was rather odd to have the set built around songs that we have not yet heard.
That said, there were a bunch of "Amnesia," era songs last night. An unexpected but wonderful choice. (I can't find my copy of "Amnesia," though... did I lend it to any of you?)
* Clothes: All black, but it appeared from the balcony that RT was wearing leather trousers.
So now I have seen three of my Rock heroes in six monthes, all men in their 50's, all wearing leather pants. Granted RT doesn't wear them as well as Bryan Ferry, but I have decided I like the trend.
Sorry, Binky, I could not see the shoes.
* "Can't Win" just sparkled. As did "Oh, MIssy." And I cannot remember hearing RT sing "Bright Lights" without Linda. Anyone?
* He mentioned that "1000 Years," will be in Chicago in October. Does this mean a "1000 Years" tour?
*The site lines at the HOB truly suck. There is no excuse for that, as they built it from scratch. And, if it turns out any of you were the two guys smoking cigars in front of me during the show.....
*Lastly: It was a truly odd experience seeing an RT show while happy. Over the years I have seen him only at traumatic points in my life: the day after my ex wife and I decided to split up, the week after I moved out, just after a death in the family, deep in the throws of heartbreak, etc. So, seeing last nights show with the new woman in my life, while things are going well for me, certain old favourite songs just didn't have the impact they usually have. "Man in Need," for example...
On a related note, I did look for our own Louisa, but did not find her. She's only ever seen me at RT gigs, so I might have been unrecognizable last night...
(Did you know that she owns the coolest beer pub in America, by the way?)
Enjoy the day!
--Andrew
AMeyersLD@aol.com
Sun 4/27/2003 12:30 PM
---
RT in Chicago (@HOB Chicago 4/26)
Here is the setlist again with the previously omitted song #4 !
Tear Stained Letter
Gethsemane
Pearly Jim
Outside of the Inside
Razor Dance
Missie
Al Bowley
~~~~~~~~~~~~(band exits)
A Love You Can't Survive
So Ben Mi Ca Bon Tempo
~~~~~~~~~~~~(band enters)
One Door Opens
I'll Tag Along
Bank Vault In Heaven
I Want to See The Bright Lights Tonight
Shoot Out the Lights
Destiny
2 Left Feet
<<possibly something here...I can't read my writing?!>>
Can't Win
~~~~~~~~~~~~~~~~~~~~~~
52VBL
Wall of Death
Crawl Back
~~~~~~~~~~~~~~~~~~~~~~
Man In Need
Jealous Words
Word Unspoken
I agree with most everything Andrew wrote. <<Esp. the sightlines sucking. My poor friends and spouse, who came later, could not see a thing and said the audience in the back-of-the-room bar were completely noisy and inattentive. So it was a waste for them.>>
I'm not surprised you didnt see me, Andrew! It was pretty impossible to see anyone unless you happened to be in the same quadrant once it got packed. (Again, great to see you Gordon and Joel!) That said it was a treat seeing I went an hour early and had exactly the spot I imagined, at the top of the little ramp leading from the pit to the bar/soundboard level. I had unobstructed view of the stage, RT's hands and the doins of Pete and Earl, both of whom were just outstanding, and could also see Simon in the booth to my right.
My notes later. I must go do some things at that bar now. (Thanks much for the plug, Andrew! Happy to hear you are happy.)
louise e molnar [ lemolnar@mindspring.com ]
Sun 4/27/2003 1:42 PM
---
RT in Chicago (LONG)
Some details and thoughts about last night's gig in Chicago:
<Spoiler warning: some info contained herein could affect the freshness of your experience if you will soon be seeing a RTB gig of your own>
~~~~~~
I started my original 4am setlist post this morning like this:
Oh, gorgeous.
That word sums up the quality of lush power that was the sound of the RTB last night.
Today, with the bliss drawn away somewhat by the demands of my day, I add the following. :
A very strong, tight, professional show. Musicianship of Earl Harvin and Pete Zorn extremely high and delightful; Rory McFarlane did fine work on the electric numbers but I did miss Danny alot on tunes like Al Bowly, where only the sound of him and Victoria will do now. RT's voice was just a bit dry early on, but the effect was artfully ameliorated by Simon, who of course did excellent work throughout.
As someone wrote before, they seemed to be having a lot of fun. But this had a very different feel than the Mock Tudor RTB...a more mature vibe. Full grown men, like I said a week ago. Due to the absence of young Teddy & Mike J.? The difference in focus between the new TOKB songs and those of Mock Tudor? The very corporate atmosphere of House of Blues? (where I was very aware of the gap between the Haves and Have-Nots --if you couldnt get there early for a good spot or didnt have the money +/or connections to get in one of the private boxes, you were just plain out of luck, tough!!) Or simply the passage of another three/four years... well, what do you all think? Any opinions?
The arc of the show was very good. I'd been intrigued by the idea of TSL as an opening song...a singalong to start, how does that work? Just fine it turned out. Drew everyone in, focused our attention, got everyone involved in a hurry. Also, a good lead-in to the unfamiliar songs that followed.
It was interesting to consider what this show was like for those who hadnt heard any of TOKB. I was rather envious, actually, recalling how exciting it was to hear so many of the Mock Tudor tunes totally fresh and new during the '99 Pre-release Tour.
It's easy to forget that not everyone is FPO like us (the few, the proud, the obsessed) and not everyone goes to see RT every time he plays...and he does come around often compared to many other musicians...and some only go to the band tours, so they wouldnt have heard the songs like Gethsemane and Word Unspoken we've been hearing for over a year now.
I heard bemoaning occasionally from a few attendees around me; one kept pleading "play some old stuff!" But most seemed wowed by the best of the new: Outside of the Inside, as Andrew mentioned, was particularly brilliant.
But back to the arc: the crowd cheered for Razor Dance after the three unfamiliar songs, were warmed by the intros (in which Pete interjected "surface-to-air flute" at the end of RT's listing of Pete's instruments, provoking a chuckle from RT.) Missie How You Let Me Down was beautiful and welcome; big cheers when he switched to acoustic for Al Bowly.
Then the band took a break , and he launched into "another new one". By now his voice was warmed up and A Love You Can't Survive was, well, gorgeous. He doesn't seem to be having any trouble hitting those high notes, they are right there and big; thrilling. This together with "So Ben Mi Ca Bon Tempo" filled the room with that warm sonic energy that comes from That Voice with That Guitar.
So the energy level in the room had risen a couple more notches durign this well-placed solo acoustic mini-set. The band returned to their places. An energetic and bouncy One Door Opens followed (could use a female voice though Pete did fine.) Earl Harvin TERRIFIC. In I'll Tag Along, even faster, Earl was *really* laying into the drums. Toward the end of the song one of his sticks splintered and went flying. Didnt drop a beat, just picked up a replacement. If we hadn't seen it we'd have never known.
This reminds me that I noticed 3 times (2x the Ferrington, 1x the Lowden) RT similarly adjusted strings without stopping singing or playing. I heard murmurs of amusement and wonder from a few around me. This is part of what I mean by professional.
And *that* reminds me that it was fascinating for me to hear the difference between the Strat (yes?) and the Ferrington. Some of you have mentioned this on numerous occasions but this was the first time I really got to hear it for myself. The older songs kind of require it don't they?
~~~~~~
Bank Vault was surprising and big and perfectly set the scale for the double whammy of Bright Lights and Shoot Out The Lights that followed. Bright Lights' tempo and bassline are so infectious; I was happy I had plenty of room to sway and bop and groove. They launched into SOTL, sweepingly grand and menacing, sounding very current, appropriate, and affording excellent solos from RT and Pete. It was at the end of these two songs that I glanced down and discovered that my blouse had come completely unbuttoned. Ooops. Ahem. I think much of the audience at that point felt ravished by the music, but still....
~~~~~~~
Then the trajectory of the set wavered. Destiny was just too lightweight to follow so closely the grandeur that is SOTL. This segue needs work!
~~~~~~~~
Much fun w/2Left Feet, of course, and I think I described previously, as did Andrew, the transcendant Can't Win, which left me feeling the Bliss I always hope for.
~~~~
Encores: A lovely, classic rendition of 52VBL. Glad he's playing it straight again. Sweet to hear the adoring roar of the audience at the start and at the end. Many people genuinely love this song. A fine Wall of Death. An oddly subdued Crawl Back (the song was actually fine but the solos nowhere near incendiary. I'm wondering about his hands...)
They left again and came back to do Man In Need, then Jealous Words, which has great verve and muscle, and opportunities for gemlike guitar licks. And then an absolutely poignant Word Unspoken. His voice achingly beautiful. Back when I first heard this song a couple summers back I always hoped to hear it sound *exactly* like this.
Good night!
--Louise in Chicago
[ lemolnar@mindspring.com ]
Sun 4/27/2003 11:20 PM
---
RT in Chicago Trib
Thompson tracks life's darker sides
By Kevin McKeough
Special to the Tribune
Published April 28, 2003
An intolerant zealot, a disabled war veteran, a would-be peacekeeper turned criminal, an urban sniper: The characters in many of the songs Richard Thompson sang at House of Blues Saturday night could have been found in recent headlines.
That the music was a mix of new material from his forthcoming CD "The Old Kit Bag" (due out May 6 on Cooking Vinyl/spinART) and songs that have been a standard part of his concert repertoire for years, even decades, displayed Thompson's singular, enduring brilliance.
For more than thirty years, the British songwriter and guitar hero, who now lives in Los Angeles, has written about the extremes of the human condition, examining the travails -- heartbreak, war, crime, disillusion, death, and more heartbreak -- that are life's constants no matter what the time.
In doing so, Thompson has kept faith with his primary source, the centuries-old British folk music tradition he first drew on as a teenager in the late 1960s with the pioneering folk-rock band Fairport Convention. Thompson literally has knowledge of "1,000 years of popular music" -- as the title of one of his projects puts it.
At the same time, Thompson doesn't treat tradition like a dusty museum archive. For example, he updated the British highwayman ballad genre with "1952 Vincent Black Lightning," his tale of a doomed motorcycle-riding, redhead-loving outlaw that already has become something of a classic folk song itself.
The rest of the music likewise fused ancient and modern, as Thompson put his chiming electric guitar-playing and intricate acoustic finger-picking to work on songs that incorporated rhythm and blues, jazz, pop, country and Cajun music. Peter Zorn alternated between woodwinds, guitar and mandolin, driving "I Want to See the Bright Lights Tonight" with his gutbucket saxophone, and filling a solemnly beautiful "Missie How You Let Me Down" with a haunting bass flute.
Thompson recorded "The Old Kit Bag" with bassist Danny Thompson (no relation) and drummer Michael Jerome, who also accompanied him during an incendiary Park West concert in 1999. Although Earl Harvin was a combustible drummer and Rory McFarlane was solid, steady anchor on electric and double bass, this new rhythm section didn't drive Thompson to the same heights.
Even so, Thompson demonstrated why he's a thinking man's guitar hero. He performed extended solos with deceptive ease, playing knotty clusters of barbed notes as he moved up his guitar's arm, proceeding through Middle Eastern scales that added a searching, insistent quality, particularly on his epic coda to "Can't Win."
Thompson converted to Islam in the 1970s, and in addition to his guitar playing he bridged the Western and Muslim worlds with the market bazaar fanfare of "Tear-Stained Letter" and the hand-held drums and exotic melody of the new "One Door Opens." His faith also has informed his songwriting, and it added weight to the satire of a "Taliban's-eye view of Western civilization," as Thompson jokingly described the chilling new "Outside of the Inside."
Thompson is far too skeptical an observer of human nature to have any belief in that sort of absolutism. Instead, his sympathies lie with outlaws and the outcast, whether they're the homeless soldier in "Al Bowlly's In Heaven," or even the tormented gunman storming through the apocalyptic "Shoot Out the Lights."
If fatalism sometimes seems the defining characteristic of these songs, he tempers it with wit, compassion and exceptional musicianship. At the very end of two generous encores, with the lovely "Word Unspoken, Sight Unseen," Thompson offered hope for renewal, love and healing that also couldn't be more timely.
Flip Feij [ flipfeij@zeelandnet.nl ]
Mon 4/28/2003 2:40 PM
---
RT in Chicagoreader.com
RICHARD THOMPSON
Saturday 4/26, House of Blues
Each of the five studio albums British folk-rock great Richard Thompson put out on Capitol between 1988 and 1999 was what you might call a quality effort, a collection of smart, catchy songs punctuated by Thompson's unpredictably wrenching guitar solos. But he seemed to be settling into a routine, and his music rarely burned with the sense of purpose that fueled his great 70s and early 80s work with his wife Linda. While his latest, The Old Kit Bag (Cooking Vinyl), still feels a bit dutiful in spots, Thompson's singing here is fierier, his solos more knotty and searing, and his music, made with drummer Michael Jerome and upright bassist Danny Thompson (no relation), more direct than it has been in decades. As usual, Thompson's outlook is bleak, and his take on relationships, which he sees as an endless cycle he's unable to escape, is cynical. On "One Door Open" he spits, "If I could have my way / I'd leave it all tomorrow / There's sorrow if I stay / I've other fish to fry." And as the protagonist's jealousy increases in "Jealous Words" (one of several tunes where Judith Owen serves as an effective vocal foil), the song grows more claustrophobic, with Thompson's typically economical guitar lines tightening like a tourniquet. On past albums he's occasionally lightened the mood with a humorous toss-off or two. The Old Kit Bag offers no such distractions, and that's fine with me--Thompson's moodiness is most successful when it's suffocating.
Saturday, April 26, 9 PM, House of Blues, 329 North Dearborn; 312-923-2000
. --PETER MARGASAK
Flip Feij [ flipfeij@zeelandnet.nl ]
Mon 4/28/2003 2:51 PM
---
Ann Arbor show (long)
Back home at about 12:40 am after dropping Rebecca off -- she's probably beat me to posting...ah well, perhaps I won't be scooped by New Zealand again!
Michigan Theater was its usual grand self - popcorn in the lobby, marble staircases and all. Bought up the kit bags, the T-shirt, and More Guitar -- was a bit surprised when the lad stated that they only took cash, no checks or credit cards. The black Kit Bag in particular is a great item - I stuffed my shirt, the other bag, my purse, the CD, and a sweatshirt in it with room for more, and it closes securely and is easy to carry -- for what more could one ask?
We were frisked at the door and I had to check my camera (that's a first) - I was not going to use it during the show, but before and after.
We sat just about behind Gary Geyer - fifth row, just to the left of center, prime RT-viewing territory. The theater was, I'd guess, about 80-90% filled. There were a few folks in the balcony. Interestingly, the RT lookalike guys who usually show up at Ann Arbor shows were absent tonight. Maybe it was too warm for them to wear their black berets. I spoke to Simon when we came in - wanted to know if RT would be coming out afterwards - he thought not, until he learned what I had in my gifty bag for Richard, then said he'd make sure RT would come out.
Lynn Miles and her friend whose name I can't recall but who's a fine guitarist all right, did pretty well, though not really to my taste, being a bit twangy and country. Their sound was a bit distorted, I think through too much volume.
The stage was simple, with a white scrim behind the drum kit. No sign of the criss-crossing drapes I've seen in photos of the UK tour. RT and band came out to good but not wild applause, and he didn't speak, just a faint smile. Then simply launched into playing. Set list basically the same as Chicago's as I recall it. RT was not chatty or jokey as I've seen him often, seemed more intent or tense. As we listened to "More Guitar" on the way home (if I'd driven a bit slower it would have played from the parking ramp to Rebecca's door) I realized that this show came off similarly to that Bayou show - lots of guitar solos, few if any of the quieter, calmer, introspective songs, and not much talk. A very guitar driven show, almost exhausting to listen to, can't imagine what it is like to perform.
Most of the set came from Kit Bag. I think only Crawl Back came from Mock Tudor. The highlight for me was Can't Win - even though he fluffed a line. That song kept me sane for a couple years and it was inspiring to hear it again. Missie How You Let Me Down was a nice surprise. Hearing Pearly Jim live made me like the song more, though the opposite was true for One Door Opens, which I love on the CD but thought was taken a little too slowly tonight. It's really odd how much Pete Zorn sounds like Judith Owen when he sings, though...
This is the first I've ever heard or seen Ruari McFarlane - it's a bit different to have a largely electric bass. In a way it was more understated, except where it really counted. And where Danny leans forward into Richard, Ruari leans away. I have no idea if that matters, but it's really what I noticed.
The lighting for this show was interesting - much more designed than it's seemed in the past. The scrim was used to throw an even and solid color over the whole band for most of the time, and then the colors changed. Then just when you were used to that, a simple light effect would grab you. When the stage was bathed in a blue-green light, or when the red light turned the aqua electric guitar black, it was simple and effective. What put chills up my spine was the effect at the end of Gethsemane -- a sudden silhouette effect. And several times, the dim lighting put RT's face into an almost skull-like relief, with his eyes black pools and only his nose and cheeks caught by the grazing light. .
It had to end at some point - we tried to wait around for RT to emerge but surly burly rentacop security guards herded us out. Asked Simon to please give RT the Jimmy Shand LP (I'd heard he didn't own it -- hope he likes it) I'd found in Atlanta as the guards were intent on clearing the building -- what did we look like? Commandos?
Irene
William & Irene J. Henry [ ijh.wrh@worldnet.att.net ]
Tue 4/29/2003 12:21 AM
---
late Madison setlist
Delurking to test whether I've got the AOL text set correctly (apologies if not) and to report a little on the Madison show last Friday (4/25). Woulda done it earlier, but it was too nice here over the weekend to drag myself to the computer.
Got to the show late and ended up in the balcony of the Barrymore. Sound was still fabulous up there though with almost complete lack of leg and elbow room. The lack of space was so bad that I could barely tap my feet without bothering neighbors and was stuck whacking my copy of More Guitar against my leg. This resulted in my buddy taking it away from me mid-show and threatening to launch it off the balcony.
A dj on the local commercial radio station that supports RT reported yesterday that after he invited fans to come to the front of the stage ("if you sit hippy-style"), many chose to dance instead. I'm sure this didn't sit well with the front rows, though perhaps some joined in. But the comic part is that the dj was disgusted with one couple that was so into the show that they were "making out" while dancing.
New thread opportunity - which RT tune makes you want to get it on with your partner? Or will this elicit far more information than is needed?
Others who attended could perhaps add thoughts on how the show went. As always, I was thrilled and can't offer anything but praise. RT didn't speak much between tunes and unlike the rest of the sound from the band, I had a hard time understanding his speaking from where we sat. 8 songs from OKB - a full third of the show.
Back to lurk mode,
Dave
Better late than never Madison setlist (looks a lot like Chicago-thanks Louise for great reports!):
tear stained letter
gethsemane
pearly jim
outside the inside
razor dance
missie how you let me down
al bowly
a love you can't survive
so ben me ca bon tempo
one door opens
i'll tag along
bank vault in heaven
IWSTSBLT
SOTL
she said it was destiny
2 left feet
can't win
--------------
1st encore:
VBL
wall of death
crawl back
--------------
2nd encore:
man in need
jealous words
word unspoken
Burroak15@aol.com
Tue 4/29/2003 8:52 AM
---
Great show...
Richard Thompson Band
(co-billed with Suzanne Vega)
Calvin Theatre; Northampton, MA
Wednesday, April 30, 2003
Suzanne Vega and her band played from
7:13 PM - 8:39 PM (including encore)
Richard Thompson Band played from
9:17 PM - 11:31 PM (including encores)
1. Tear Stained Letter
2. Gethsemane
3. Pearly Jim
4. Outside Of The Inside
5. Razor Dance
6. Missie
7. Al Bowlly's In Heaven
8. A Love You Can't Survive (solo)
9. So Ben Mi Capon Tempo (solo)
10. One Door Opens
11. I'll Tag Along
12. Bank Vault In Heaven
13. I Want To See The Bright Lights Tonight
14. Shoot Out The Lights
15. She Said It Was Destiny
16. Two Left Feet
17. Can't Win (with long guitar solo)
Encore 1:
18. 1952 Vincent Black Lightning (solo)
19. Wall Of Death
20. Crawl Back (Under My Stone)
Encore 2:
21. Man In Need
22. Jealous Words
23. Word Unspoken, Sight Unseen
Brian A. Miller [ brianm@juggler.net ]
Thu 5/1/2003 1:46 AM
---
A few more comments
on last nights [Northampton Show] show......
Suzanne Vega was an enjoyable entertainer. She exhibited a humor and grace that was appealing. She was quite chatty, told many funny stories and sang well. The sound for her set was not so great from the front row as the bass was too loud, but the quieter, acoustic songs were nice.
The sound for RT's set was almost perfect. I was a bit worried about an electric set from the front row, but with Simon's expert treatment, my worries were unfounded. RT seemed to be in a feisty mood. Although he wasn't overly chatty, with comments like "You're only as old as the woman you feel", and much smiling and laughing between band members, it seemed like he was feeling good.
The playing wasn't as intense as the show he did at the Calvin 6 months ago, but a few songs really stood out. "A Love YOu Can't Survive" and "Word Unspoken" were really beautiful, and "Can't Win" "Crawl Back", and SOTL were all satisfying in intensity. It was especially good to hear "Can't Win" as I've been hoping to hear that for years.
It's always great to see RT and very good to see he'll be back in this area fairly soon. I look forward to a repeat performance in NYC on Sat.
Celia Mackinnon [ cmac43@earthlink.net]
Thu 5/1/2003 8:42 AM
---
Awesome show
.....I am beat, though...2 1/2 hour ride back home to the Cape, but well worth the trip [Northampton Show].
RT and the boys sounded great, and it was good to see him with band again.
I thought the sound was great and I have been waiting to see Richard open it up, wail and roar for quite some time.
I like his solo performances, but it was nice to see/hear him crank it up again. Awesome soloing and vocals. Pete Zorn was....well, you know...and the other fellows in the band really did an outstanding job. I wasn't sure how it would go over w/o Danny on bass, but the fellow who has taken his place on this tour did an outstanding job.
I don't know...overall....I really liked the volume and playing. "Can't Win" had a great extended solo
I picked up a copy of "More Guitar" and listened to that on the ride home. Definitely worth the price. I really liked the Gene Clark song, and "The Angels Have Taken My Racehorse Away"...I have never heard either of those before.
I did get some nice digital pictures (I was in the second row) and perhaps I'll send those of to the RT site to see if they want to upload some of them.
Although, I have never been a big fan of Suzanne Vega...not because I don't like here...I just never went out and bought an album, I must say that she was great, as well, and I think that the pairing of RT and SV on parts of this tour was a smart choice. She sounded good and I really enjoyed her set.
I met a couple of new friends from the list...Brian and Andy who also drove a couple of hours from different directions. It was nice meeting you guys and I'm sure we'll bump into each other again out there.......
Ok...well back to the salt mines....
Hugh
HF [ hugh.flye@verizon.net ]
Thu 5/1/2003 10:07 AM
---
Gol, maybe it's just me
and I'm sure I'm about to get pelted with rotten fruit, but I found the Northampton show quite predictable and rather uninvolving at times. One of the things that I find so refreshing about RT shows, which I think comes out far more in his solo acoustic performances, is his rich and clever between-song manner and banter. It was sadly lacking in quantity/quality last night, and left me colder than I am accustomed to feeling in his live presence. From what I've been reading the set was virtually identical to others on this tour, song-for-song and order-wise. I suppose the element of surprise was ruined for me by reading the posts from others attending previous shows... my fault for attending to those set lists maybe. Except I am far more interested in live music that takes off from pre-set design, and the fact that Richard is marching the same 22 songs out in identical single file means that although now he is scheduled on July 22 to come closer to my home town than Northampton (the Boston show), I'll be reluctant to attend for fear of being handed the same meal for my money. Yes, the execution was as dependably stunning as usual, but did I detect some lack of passion in its delivery at times? Yeah, I think I did.
And maybe the audience didn't inspire him to greatness. It seemed relatively subdued (although most appreciative) for a Thompson show, with a noticeable lack of requests being yelled out. I sense that at times Richard needs a proper foil...no, not an antagonistic one, just one that reveals the audience's personality...and then he gets upped to reveal more of his own outside of the standard brilliant songwriting/guitar playing. Indeed, I found Suzanne Vega's same-bill performance more involving than Richard's, and this from a guy who hasn't cared about her work for almost 15 years. Suzanne flubbed up and called her co-headliner Richard "Thomas" and managed to swing the audience right back into her palm by comparing her own faux pas to that of Lucinda Williams once when she misnamed a bandmate and said "Well didn't I just make the mistake of fuckin' hell." And she forgot a whole verse and spent plenty of time trying to remember it, then began the song all over again. These moments and her keen ability to grab our sympathies with words made her set overall more memorable for me, despite what was undoubtedly a lesser band and material.
Of course my attitude may have just been surly from the Vega/Thompson intermission on when I went to get some cash from a bank machine to buy "More Guitar" and it refused to spit out the green, falsely indicating I didn't have enough funds in my account (it worked after the show). No more guitar for me that night.
--Bob Dubrow[ kimchee99@attbi.com ]
Thu 5/1/2003 4:11 PM
---
Northampton Show
Yes, it was worth the drive Way Out West (to this suburban Bostonian) to see RT with a band again. Even worth getting home at 1:30 AM and then dragging myself out of bed to go to work this morning. My last two encounters with him had been solo in Boston in September, and with Danny (and Fairport, of course) at Cropredy last August, but it had been too long since I heard him let loose with his own band. The raging version of "Shoot Out The Lights" was practically worth the drive in itself! And I enjoyed Suzanne Vega a lot more than I thought I was going to -- the somewhat pretentious ice lady of some years ago seems to have mellowed into a very affable entertainer.
But I have to disagree about the sound at the Calvin posted by Hugh and Celia. From my seat 14 rows back, it was just WAY too bloody loud, a problem I've had at most of the RT Band shows I've attended over the decades. Well mixed, yes, but painfully loud. Now, I'm an old guy, a contemporary of RT's, so I admit that what might have been fine for me thirty years ago isn't anymore. But RT's audience also tends towards middle age. Do people really find the typical volume at his electric shows enjoyable? I assume that he and Simon T. think it's fine, and I guess from previously posted comments on last night's show so do many fans. I've learned to bring earplugs, which I employed last night, and what's left of my upper frequency hearing was safe from further damage. But the same fine performance could have had the same highly positive effect on the audience a few decibels down, I think.
After hearing the Strawbs on Tuesday and RT last night, and with Tempest coming up tomorrow, it's a good week for folk-rock veterans around here!
Tom Nelligan [ nelligan@ix.netcom.com ]
Thu 5/1/2003 7:57 PM
---
Report: Keswick Theater 04MAY03
First, it was nice to meet Jon & Warren from the list. I also met several other nice, friendly people. Sorry I didn't get names.
Second, it was a fabulous show from start to finish. RT was in good form, joking with the crowd and appearing comfortable on stage. Singing was quite good, his voice seems to be constantly improving.
The guitar work was... otherworldly, IMHO. RT's first rather short guitar solo during TSL made the hair on the back of my neck stand on end. The second solo on TSL did the same to my arms. There was a repeat during SOTL. There were numerous other notable solos such as Bank Vault, WOD, & Crawl Back.
The pinnacle was Can't Win. He played a rather long (4 minutes+ ?) solo which would compare to his extended solos from the 70's (Night Comes In / Calvary Cross, etc). He kept working it, building it note by note, racheting up the tension. The hair on a good portion of my body was standing on end. How I wish I could bottle that feeling.
Three guitars: Lowden (acoustic), Ferrington (electric / blue) & Strat (?).
After 35 years as a professional musician, the man is still getting better. That is quite an achievement.
If you are thinking of attending an upcoming show, do it. You won't regret it.
Yes, we did have the Pete Zorn mandolin solo during SOTL. The crowd appears to have enjoyed it &, most importantly, RT looked rather pleased during the solo.
Speakng of the the band, Pete did his usual good job on guitar, mando, flute & sax. Rory was quite capable on bass including the bowing on some of the newer songs. Drummer Earl Harvin seemed to fit right in, handling the rockers & Al Bowlly with just the right touch.
The venue was full. I didn't see any empty seats. The audience was "with it", singing along on TSL without prompting. The new material seemed to go over very well with the crowd.
Business report: brisk sales of CDs & other merchandise before & after the show. Avalable were: "SDMT", "More Guitar 88" & "1000 Years" plus tshirts & kit bags.
Setlist
No real surprises here. Has he done Misunderstood previously on this tour?
Tear Stained Letter, Gethsemane, Pearly Jim, Outside Of The Inside, Razor Dance, Missie How You Let Me Down, Al Bowlly's In Heaven, A Love You Can't Survive (solo), So Ben Mi Cíha Bon Tempo (solo), One Door Opens, I'll Tag Along, Bank Vault In Heaven,I Want To See The Bright Lights Tonight, Shoot Out The Lights, I Misunderstood, Two Left Feet, Can't Win
Encore 1
1952 VBL (solo), Wall of Death, Crawl Back (Under My Stone)
Encore 2
Man In Need, Jealous Words, Word Unspoken, Sight Unseen
Your faithful reporter,
tom [ tomp99@enter.net ]
Mon 5/5/2003 12:37 AM
---
Keswick set list
Tear Stained Letter
Gethsemane
Pearly Jim
Outside of the Inside
Razor Dance
Missie
Al Bowlly
A Love You Can't Survive
So Ben Me Ca Bon Tempo
One Door Opens
Bank Vault in Heaven
Bright Lights
Shoot Out the Lights
I Misunderstood
Two Left Feet
Can't Win
[encore]
1952 Vincent Black Lightning
Wall of Death
Crawl Back
[second encore]
A Man In Need
Jealous Words
Word Unspoken
Sorry for abbreviated titles. Also sorry if I missed anything--my pen kept cutting out on me as I scribbled in the dark.
It was wonderful to see so many old friends.
Pam
pam@winters.cc
Mon 5/5/2003 1:37 AM
---
RT Band @ Keswick Theatre
This is my first post to the list. Just wanted to add my voice in praise of the RT Band's magnificent performance at the Keswick Theater yesterday. This was my first visit to the Keswick -- a lovely venue -- though I've been a regular at Thompson's annual McCarter Theater shows in Princeton for five years or so now, which means I've had the chance to hear him solo and in a duo with Danny Thompson as well as with full band. In my opinion, this was the finest performance I've yet been lucky enough to catch, better even than the last full band show in support of Mock Tudor. Not only is the new material very strong -- and it was fascinating to trace the development of the songs I'd heard done solo acoustic this past autumn -- but Thompson is letting himself go on guitar to an extent that I've heard on recordings but never experienced in person, at least not to this extent. His playing on a series of classics from "I Want to See the Bright Lights Tonight" to "Shoot out the Lights" through "Can't Win" was just devastating, and on the whole this set had a much darker intensity and focus than I've been familiar with from Princeton, with the typical audience banter -- sometimes entertaining, sometimes tedious and distracting -- conspicuously held in check. There was a bit of dead wood in the crowd, admittedly, which began to clear out at the encores, yet I can't help but imagine that the somewhat muted atmosphere was due in large part to an astonished reverence on the part of most listeners, as mesmerized I was by the quiet ferocity and grandeur of this performance.
What an amazing night.
Stephen Walter [ sdwalter1@msn.com ]
Mon 5/5/2003 11:05 PM
---
Ferocity and grandeur
That's a fine first post, mister. Thanks for making the effort.
Your comment about the darker intensity strikes a chord with me--it relates to my comments last week about the aura of maturity & professionalism--also how much the impression contrasts with the solo touring last year when he really was becoming RT The Entertainer."Ferocity and grandeur." Very nicely put.
Louise in Chicago
[ lemolnar@mindspring.com ]
Tue 5/6/2003 12:10 AM
---
Keswick Review: Thompson Rips It Up
Thompson rips it up
By David Hiltbrand
Philadelphia Inquirer Staff Writer
With his forlorn voice, dire lyrics and troubadour influences, Richard Thompson always seems to be fashioning the musical accompaniment to a Thomas Hardy novel. The British singer-songwriter certainly transported his rapt fans far from the madding crowd on Sunday night at the Keswick Theatre. His performance was typically penetrating, eclectic and a bit eccentric.
After opening with a propulsive "Tear Stained Letter," Thompson covered much of The Old Kit Bag, the CD that comes out today, giving the material a focus and force the underproduced recording often lacks.
It took Thompson more than an hour to delve into the root cellar for atmospheric vintage odes such as "Shoot Out the Lights" and "I Misunderstood."
What makes Thompson extraordinary is his guitar wizardry. As he proved again on Sunday, he is the Hendrix of folkies. His coiled and complex solos rise, waft and reverse directions like smoke rising off a beach bonfire. On the evening's finale, "Can't Win," he seemed to have his instrument speaking in tongues, so exotic and impassioned was his playing.
Dressed in a black jumpsuit with a cloth Andy Capp cap snugged backwards on his head, Thompson looked like the village auto mechanic. For all the prophet-like intensity of his music, he was in jovial spirits between songs, clearly enjoying the audience's familiarity with and fondness for his work.
Canadian singer-songwriter Lynn Miles proved to be a simpatico opening act. Resembling actress Karen Allen wrapped in a floor-length Earth-momma skirt, she delivered a poetic and moody set that was like the title of one of her CDs, Slightly Haunted.
Mark Rogers [ rogers@mark.name ]
Tue 5/6/2003 7:15 AM
---
Quiting my job to follow the band!
WOW!!!!! Yes it was my first RT concert and so I am not able to lend a jaded view of the event. Instead I am just ready to chuck my job and follow the band from city to city. OH was great last night at the 9:30 club in Washington DC. I'll leave the set list for the guys busy scribbling in the dark. I was just enjoying every moment blissfully stoked on long guitar solos and some great backup by Peter. Thanks to some tips from this list me and my DH snagged a couple of spots center on the balcony and just had the best evening. OH played for like 2 hours and 15 minutes and never seemed to tire. And those leather pants-be still my heart. I picked up TOKB for a very reasonable 15 bucks. I am hooked! Even my DH enjoyed himslef and he is still on the fence. Venue was okay- sound was loud and aside from having a fender bender this morning I'm not too tired from lack of sleep. And I have great music to listen to for the rest of today.
Yes I know I'm gushing!
Patti [ pje78@yahoo.com ]
Tue 5/6/2003 7:38 AM
---
NYC Town Hall 5/2 & 5/3
Hi all,

Here's another contribution to The List from the amazing Jo Wood.

Regards,
Flip-
Now that it's all over, I can't really recall why I'd thought in advance this band tour would be quieter than the Mock Tudor tour -- I guess it was one guitar fewer on stage and the inclusion of the upright bass that made me think, "Oh this will be a sort of a mellower, moodier tour..."
Well! I was clearly an idiot [and why would I think RT of all people would need more guitar for more sound? The 4 men on stage sounded like at least 7 -- or 12, if you parse Pete Zorn's separate instruments into the small band that would usually be needed to play them]. This tour ROCKS, and no mistake, beginning to end. Earl Harvin's drumming is so good and so varied that I didn't miss Michael Jerome nearly as much as I thought I would, and Pete Zorn is so phenomenal throughout [yes, esp. on that slide elec. mandolin solo] that he often pulled my attention away from our man centerstage. But even when the band exits and RT picks up that acoustic guitar for a solo Love You Can't Survive or So Ben... or VBL52, the energy doesn't drop for a second. That energy is simply astonishing; you'd think RT would pass out from exhaustion midway through these long sets he's been playing, his attack on the guitar [esp. on solos] is so ferociously intense. For instance, I don't think I've ever before seen RT pounding his guitar with his fist as he did during Shoot Out the Lights on both nights. And though I've often seen him stamp his foot, he was actually jumping in place on a few of the louder songs. The intensity at times was pitched so high I found that I was clutching my face somewhat painfully with my fingernails, as I discovered during those moments I'd come out of my trance and regain self awareness.
The setlist seemed the same as most recent shows [as always, I might have the order incorrect, b/c I wasn't writing anything down at the time], but I'll note the three changes between Fri and Sat's shows, as well as the numbers to which Teddy added guitar/vocals or Judith O vocals. I'll also add :-p to indicate songs on which RT's guitar work [usually, though not always, on solos] was so stupefying that my mouth was wide open and my tongue was hanging out in sheer, slack-jawed awe..... [Note: If a song earned that icon on Friday, it also did on Saturday. However, Sat night there were a few songs that were jawdroppingly amazing that hadn't been quite so on Friday. ]
FRIDAY: SATURDAY:
Tear Stained Letter :-p "
Gethsemane "
Pearly Jim :-p "
Outside of The Inside "
Razor Dance "
Missie How You Let Me Down "
Al Bowlly's In Heaven :-p "
One Door Opens [w/ Judith] [no Judith]
Love You Can't Survive [solo] "
So Ben Mi Ca Bon Tempo [solo] :-p "
I'll Tag Along :-p "
Bank Vault In Heaven :-p "
I Want To See The Bright Lights Tonight "
Shoot Out the Lights :-p "
Destiny I Misunderstood
Two Left Feet :-p "
Can't Win :-O <ohmigod> "
1st encore:
1952 VBL [solo] " :-P
Persuasion [w/Teddy] Wall of Death
Wall of Death Crawl Back :-p
2nd encore:
Man In Need "
Jealous Words [w/ Judith] :-p [no Judith yet]
Word Unspoken Sight Unseen [w/ Judith] [Judith arrived after the 1st verse]
-- Overall, I'd say that Sat seemed the slightly better show, even though Teddy's and Judith's participation on Friday had been really welcome. On Friday I was particularly impressed by Teddy's singing on Persuasion: though I've always thought Teddy has a pleasant, smooth sort of voice, it was clear from his much gutsier and textured singing on Fri that he's come a long way and learned a lot these past few years, touring with his mother or with Rufus and playing more on his own. [It was also quite charming that, as he was leaving the stage after singing, he shot his arms up in a somewhat belated but well-earned victory V -- it seemed clear that he really thought he'd done well too, and maybe was surprised by how good the duet had sounded?] Although she did that lovely last chorus of Word Unsp differently from on the album, Judith was also very good, though I was surprised how well PZ could do her vocals when she wasn't there to provide them. RT was actually funnier on Friday night as well, though I can't now recall all his comments. Unfortunately on Sat. the attention he usually pays to audience patter was being distracted by a psychotic woman who first tried to leave him flowers in the MIDDLE of Love You can't Survive, when he had his eyes shut and couldn't respond even if he'd seen her -- so to compensate she jumped up and down and waved the flowers at him, almost hitting him with them, until audience members started hissing her to sit down. Nevertheless, when RT was doing his intro to both So Ben.. and the new 100 Yrs cd for sale in the lobby, he was gracious enough to ask where the woman had gone who'd left him the flowers --so she ran forward and he tossed her a free copy of the 1000 Yrs cd. Nice, right? But because she REALLY WAS INSANE, she spent the rest of the show bugging him about whether he was going to sign it for her -- "I'm still waiting for my signature!!" she'd call loudly in between songs. Really, it was too much. RT handled it as humorously as always, but I suspect I wasn't the only audience member who wanted her to either shut up or be kicked out.
So if Saturday was better [as it was, IMHO], it was entirely due to RT's playing. From Can't Win through the very end, he was particularly transcendent [on Fri, his incredible solo playing on Can't Win had been only momentarily interrupted by his guitar amp's getting disconnected -- he and the stage guy quickly hooked the guitar through another amp on stage, but the break in momentum DID end up making a difference, though Ionly really learned that it had when I heard the difference on Sat. night's version]. Although both performances felt filled with one standout moment after another [Al Bowlly, Can't Win, So Ben.., SOTL, Can't Win being just some that jump to mind], if I had to choose one, the real standout song for me was Sat's Crawl Back -- it featured all the intensity of his solo performance of that song but, combined with these loopy instrumental effects and PZ's uncanny vocal backing, it really achieved another level entirely -- I guess I just never thought that song could be any MORE intense than I've heard it before, but it really was.
There's really no way to sum up these shows or do them justice. I mean, you could say "he's _better_ than he ever was", and that might give some idea to fans whose jaws have been dropped in the past. You feel totally drained leaving the auditorium, just flat as a pancake -- and then you think, Good lord, but what must RT feel like? And then you see him hopping out to greet fans and sign cd's on the sidewalk, seemingly unphased by his exertions of the past two and a half hours, and you realize, well he's simply not human. No one should be able to do what he does -- but he just keeps doing it, doesn't he? Bless him. [...and bless us all, says Tiny Tim, hobbling out on stage....]
Flip Feij [ flipfeij@zeelandnet.nl ]
Tue 5/6/2003 11:29 AM
---
C'etait magnifique!
RT Band at the 9:30 Club
WOW!!!!! Yes it was my first RT concert and so I am not able to lend a jaded view of the event.....I am hooked!.....Yes I know I'm gushing!
Patti on the 9:30 Club show last night
I'll echo that first word with the five exclamation marks, Patti! No matter how old a fan you are (I first saw him in 1968), RT will never let you become jaded. Last night at the 9:30 Club, he came, he played, he conquered. How can he keep performing at this peak? How can we fans refrain from superlatives?
I have to retract some of the criticisms I had of the cavernous 9:30 Club. If you could stand to stand last night, this was indeed the best club in the United States. It was packed and the audience was ready to rock and roar. The band walked onstage to a hero's welcome and the energy and excitement level was at eleven from the start. There was cheering and ecstatic audience communion throughout (you can't be that boisterous at the Birchmere). RT was in superb form and seemed to enjoy himself enormously (afterwards, Simon confirmed that OH was in a great mood). OH's quick-witted banter throughout was the frosting on the cake, and his humorous Bush-bashing was a real tonic for these troubled times.
I took my position at the back of the club on the ground floor, next to the enclosed soundboard, and have never been as aware of how great the band could sound. It was like Technicolor sound, big and bright, with all the musical details enhanced and standing out. Every so often I would look back to see Simon busily "playing" the big, complex soundboard to reach just the right mix. For the first time, I could see and hear how Simon is like the fifth member of the band.
When I first played TOKB, I thought, yes, this is very good, but it will sound even better live. The album is the blueprint for the concert, and the songs gain a new sonic depth and intensity live, not the least from RT's even more impassioned singing and playing, backed by a crack band. Pete Zorn outdid himself last night instrumentally and vocally and earned a good share of the audience adulation. Harvin and McFarlane were a fiercely propulsive rhythm section. As Simon observed afterwards, "Isn't it a great band?"
I wasn't taking notes last night (hard to when you're standing), but observed enough details for a hundred posts. Several more to follow.
Scott N. Miller
"This is a very good time to be a Richard Thompson fan!"----Michael Hunter
"The Americans cruised in as the messengers of freedom: 'We are the messengers of happiness for Iraqis. We will deliver you from Saddam Hussein.' We see nothing. Just destruction and shortages."---Walid Khaled, grain trader in Najaf, quoted in today's Washington Post article "Sense of Limbo Pervades Southern Iraq"
"And there's no doubt in my mind, not one doubt in my mind, that we will fail."---George W. Bush
Scott Miller [ smiller@aaas.org ]
Tue 5/6/2003 12:35 PM
---
RT at the 9:30 in DC
Sorry for the length, but I feel like this is just a summary of last night's show.
After a dozen or so RT shows over the years, I have to start by saying that any attempt to rank a particular show among them results in a distortion, in that all 12 shows would rank in the 8-10 rank of the usual 1-10 scale we apply to others. So gradations are fine, and what may sound relatively critical is really just an observation of differences perceived subjectively, within an astoundingly high level of performance.
That said, the 9:30 Club show was a solid, enjoyable show, not at the very pinnacle of the RT band shows I've seen but by any standard darn good. I thought there was some ebb & flow in the intensity but overall, RT continues to amaze me each time I have seen him in the past 4 yrs., from the Mock Tudor tour through a number of solo shows and now this, I think he keeps getting better and better, a more intense (is that possible?) and complete musician (and yes, even entertainer, there's nothing wrong with that, though that was not the focus last night) he's a role model, etc., for this 48 yr. old part time musician [guitarist/singer], showing how to go out night after night with a take no prisoners attitude.
I've had the UK version of TOKB for some time and think it's a terrific album, the sound is beautiful, and I like the range of songs & styles, and the performances; I've heard several in concert over the past couple of years.
The band was solid and tight, though I miss Danny Thompson on bass. Rory McFarlane was solid and intensely into it. Earl Harvin is an excellent drummer, at first I thought he may be just a heavy hitter but he showed great dynamic range through the night, starting with his percussion on Outside of the Inside, which I enjoyed as a solo tune but think has blossomed in this band context. I'm not sure Rory and Earl are as totally locked in as Michael Jerome and Danny T, but again, we're quibbling about nuances at a high level of performance.
Pete Zorn is again the MVP of multi-instrumental/singing, what a talented guy. He handled the vocal parts well all night, esp. evoking Judith Owen's great counterpoint/harmonies on Word Unspoken, which I'd heard solo before but thought did well in the band setting.
The only perfunctory moment IMO was Two Left Feet, which seemed to just sort of pass by. There were a number of highlights, among them Can't Win, where RT's guitar soloing was at its most intense and cohesive IMO, and Outside of the Inside (my napkin says wow there).
I thought VBL (which I'm still not tired of) was done more simply and purely than I've heard in a while, to good effect. I always love Al Bowlly, which was also done with less freeform excursion on acoustic, though RT's electric playing was more raucous than I've heard in a while, I think he was really letting loose and hitting the mark regularly (with some slight exceptions).
RT used the green Ferrington on Broadcaster position (for us gearheads) for most of the night, with the Strat on a handful of tunes and the Tele on I'll Tag Along. Plus the usual acoustic symphony from the Lowden (now without armrest, and with a well worn arm line on the lower bout, that guitar is a true road warrior).
I saw most of the show from the balcony (bad knees mean I can't stand for 4 hrs. straight so have to dash for a stool up there), though I did the last encore downstairs next to Simon at the soundboard. Had a chance to thank him for all the fine work over the years and for making [RT] sound so good....He laughed and said, it's easy when you have such great input, (pointing to RT).
All in all, a great show, wish it was somewhere other than the 9:30 Club and we got 2 nights, but RT remains at the top of his game IMO.
Jon Cole [ fendertweed@yahoo.com ]
Tue 5/6/2003 12:49 PM
---
"Where's reality?"
Seeing the electric RT Band, with those transcendent guitar solos, is close to a religious experience for me. Add to that those incisive lyrics, and some RT followers (like Dylan devotees) could get to thinkin' that OH has the answers to Life's Persistent Questions.
So last night between songs, when an enraptured fan shouted the question, "Where's reality?", RT didn't miss a beat. Without a word, and with an exaggerated, serious expression, he pointed dramatically upward, to someplace over the left side of the 9:30 Club balcony (stage right, for him).
This was an important observation, so RT stopped the show to go over to Pete Zorn to make sure that he saw reality, too. They conferred briefly in dumb show, gazing up with concern toward (and surely past) the high roof of the cavernous club. Then RT pointed reality out to Earl and Rory, who also seemed very impressed.
That being settled, the music resumed. The fan who called out the question must have been amazed by the answer.
Scott N. Miller (even more amazed by the music)
[ smiller@aaas.org ]
Tue 5/6/2003 4:26 PM
---
Northampton show
Over a fifteen year period, I have seen RT 35 times and have endeavored to bring as many different people as possible with me, ranging from my two daughters (now 10 and 24) to my stepson (14), to two wives, to my sister, and various friends. A friend of a friend has written his thoughts on the Northampton show which I will pass along to you all. He really has an analytical bent and expresses himself well, so here goes:
as per usual, a proper pre-show priming helps ready one for a performance. as usual, we immersed ourselves into the northampton buzz by visiting one of the many hotspots. showtime came quickly and we were a bit late arriving for suzanne vega. i had never heard much of her music, although a couple of mild pop-hits played on the airwaves back in the 80's. she played acoustic guitar and sang, and was backed by bass, electric guitar and drums. as a whole, her set was quirky. not really in a bad sense, just hit me as a bit disjointed. i got sucked into the "storytelling" aspects of her soft acoustic-folk numbers. she rambled some stories that attempted, in a semi-successful-but-kinda-long-winded way, to give perspective to her songs. at times, it almost seemed a bit forced, like she was trying to get a point across to some half-attentive friend she met at some bar somewhere. once she began to play her guitar with a wonderful finger-picking style, then and set her voice free, things clicked for me. she tried various combinations of instruments, guitar/bass....guitar/drums...full band...even voice with a finger-popping accompaniment....kinda fun! the full band songs mostly left me in the dust. her beautiful, but fragile voice was swallowed by the wall of sound created by the band. it is too bad....you could tell she had something to say, but just could not hear it. late in her set, she played a full band number where the band opened a place for her to sing, then roared back after her verse....much more successful. highlights for me were the song she dedicated to her old boyfriend from camp...no idea of the title, and a beautifully haunting "left of center". "luka" was somewhere in the mix, and i was familiar enough with the lyrics that i could follow along with the sad tale. i really like her folk songs and will look to add some early stuff to my collection. moody and passionate music.
take a break and have a beer...bar was packed!
sit back down for richard thompson. i want to preface this by saying that the new disc (old kit bag) was a huge...no, monumental surprise for me. i have been slowly baptized into his realm, and have had a difficult time digesting certain aspects of his work. usually very edgy, full of irony and sarcasm, gruff voice. it has been a bit like learning to appreciate the nuances of jazz, or the subtle flavors in scotch. so, from the first listening of the new disc, i am so completely and pleasantly surprised that it ends up on my daily listening list. the sheer power and conviction that comes across on this disc is startling....the sound is pure and crystalline. there are too many highlights to list! i take my seat before the show with this buzzing in my head of all the good things that this disc has done for me. sometimes, having this kind of anticipation can lead to a letdown....i am aware of that, and i keep reminding myself. regardless, i'm stoked and nothing is gonna change it. he comes on and tears though a huge pile of music....i mean, a looong set. played loud and hard and with determination and conviction....played with fire and emotion. this was no "walkthough my hits" kind of performance....he grimaced and grinned as his voice raged through the ebbs and flows of the material. supporting his voice was his guitar. i continue to marvel at his ability...it is amazing. there are so many subtle tonal and rhythmic intricacies in his music...it defies one set of hands making the music. also, he takes each solo as an opportunity to layer on a few surprises, changing up what one would expect an any given moment...adding dissonance, altering tempo, charging hard right at you then taking a quick, unexpected left turn. i love the sheer technical ability showcased, but i love even more the adventurous spirit shown as he pulled surprise after surprise out of is old kit bag. this man is an animal on guitar. another highlight for me was the ever-present musical conversation of pete zorn. this guy made the show....he worked incredibly hard filling every little void with a texture, a feel or a groove. he played with fire and rage, then played and sang with delicate grace. even his solos (read,the mandolin solo!!!) were powerful. credit to r.t. for giving him space and a clear voice in the context of this band. our seats were great....like about 6th row center! if it weren't for the 3 foot wide head in front of me, i would have had the view of a lifetime. two three-song encores and the house light came up. the band seemed to enjoy the show. the crowd was largely subdued, barely even moving during the most rousing of segments. i could not stop moving...it was infectious. especially the new material which is full of hooks and great guitar work. all in all, a great night!!
Todd Schaefer
Todd seems to have been converted. Mark another one for me! My 24 year old has seen five shows and counts RT among her play list favorites. The wives were and are tolerant.
CHARLES GARDNER [ charlesgardner@sbcglobal.net ]
Tue 5/6/2003 4:31 PM
---
RT Band @ Keswick Theatre
A late review, with a bit of historical perspective:
I first saw RT 33 years ago at the Fillmore East (the Full House line-up of Fairport). He never looked up except when he had to sing (emphasis on HAD TO). He looked like he'd rather have been playing behind the curtain than in front of it.
It's hard to believe the incredible artist and masterful showman performing at the Keswick was once that shy young man. Singing as if he had a gun to his head, indeed (thank you TT).
I've seen RT solo and with band three or four dozen times over the years, and the Keswick show was certainly among the most memorable. I think Earl Harvin had a lot to do with that--he's sort of Mike Jerome, Dave Mattacks, and Bernard Purdie rolled into one. Earl creatively propelled the stretch-out pieces all night long, and RT was responding in his solos. I saw the Wayne Shorter Quartet a few weeks ago, and Brian Blade's drumming had exactly the same effect on Shorter--reviving that incredible creative drive that, in Shorter's case, had been more or less dormant for 20 years.
As others have said, RT is singing better than at any point in his career. He's also changing his delivery on the older songs, experimenting, trying things vocally he wouldn't have attempted as recently as the Mock Tudor tour. He's been rejuvenated creatively, for whatever reason. In his solos, he sounded like he was consciously avoiding the fretwork patterns he often falls back on when he's not inspired. I've heard hundreds of RT's electric solos, and Sunday night I heard MANY new inventions, not just a couple.
The reports we've had of the tour so far would indicate that not every show has been as memorable as the Keswick performance, but it's worth taking the chance. For anyone who's undecided about buying tickets for an upcoming show, I'm saying DON'T MISS THIS TOUR. Odds are you're going to experience a great artist performing at new peak levels, and with RT that's saying plenty.
Jim Kauffman [ jkauff@earthlink.net ]
Tue 5/6/2003 10:43 PM
---
Missie, How I Let You Down
So I've just gotten back from several days on the Thommo Trail. I may or may not write more about this later. If I do, it's sure to be subjective blather that you're free to delete. The meat of the shows has already been described by others quite well.
So I'm here, to throw my sorry self abjectly at your virtual feet.
Before leaving for Durham yesterday--was it just yesterday?--I wrote my review of the 9:30 show for the Washington Post. (I've been a stringer for the Post for a few months now, and it's the highest-profile gig I've ever had. I love it; they send me to all sorts of shows, the pay is good, and people I haven't heard from in years are calling to say they read my reviews.)
It was a difficult review to write. I could, and would, write a totally different one for y'all, here. Not formal, and definitely informed by the minute levels of aficionado-ism among us that Jon Cole described so well in his 9:30 review. And I was worried about gushing--I'm saying now, not for the first time, that that Post review is my last-ever review of RT, 'cause of my "detachment" problems. (I tend to get tempted back though.)
But I did what I thought was an OK job, and then I went to Durham. So I'm sitting in the third row center of the Carolina Theater last night, and RT begins the beautiful "Missie." And suddenly, I remember: In my review, I've used "Missie" as one of several examples of "acoustic" songs.
I squirmed through the rest of the song (still distracted somewhat by its beauty) and then literally bolted up the aisle to the lobby, cell phone in hand. I had to call a writer colleague to give me a Post editor's number; mine was in the car. I tried a couple numbers he gave me, but I got voice mail. It was something like 9:30.
Missing "Al Bowlly," I returned to the theater and managed some more of the how--after all, it was brilliant, no matter how upset I was--and was seriously diverted only once when I remembered that I'd also said that "Missie" was "solo." (I think that was what sent me out a second time to make some more calls--so I missed "Vincent.")
What had I been thinking? It's not like I didn't remember the 9:30 performance. Something just slipped, somehow; I was thinking of quieter, more contemplative songs and contrasting them against "Pearly Jim," etc.
Anyway, I called everyone at the Post except for Woodward and Bernstein, but it was too late--the incorrect info got in. And I'm just sick about it.
So I hope y'all will forgive me.
Pam
pam@winters.cc
---
"Your man": Georgie on his mind
Shortly into his DC show at the 9:30 Club, just 20 blocks from the White House, RT announced that it was a pleasure to be playing so near "the seat of power." OH then wondered aloud where Dubya gets his laundry done (implying that W has lot of dirty laundry these days), then concluded that "he must send it out."
Later, introducing "Outside of the Inside," RT said, "This is a philosophical statement that we have to break down into two-sentence soundbites----like your man does." To shouted protests of "He's not our man!" and "We didn't vote for him!", RT feigned shock, pointing to someone in front: "Here's someone who says he didn't vote for him! Now all you Republicans in the audience can come down here and beat the shit out of him! Let's start a war right here!" Yes, Dubya does prompt strong language from OH.
As well he should. Last week, in a "victory" speech on an aircraft carrier, Dubya was shamelessly peddling one of his Big Lies: that Saddam Hussein had a big hand in 9/11 (Dubya barely mentioned the missing weapons of mass destruction). But the White House had to backtrack on one of its little lies today, when they admitted that W could have used a helicopter to reach the carrier. The original White House line was that the carrier was too far out to sea for a helicopter to reach, thus W had to fly out in a four-seat jet. But the jet landing was just for political effect, so W in full flight suit could look like Tom Cruise in "Top Gun." Earlier, the carrier even came within sight of the California coast, but turned back so that no land could be seen when Dubya's jet landed.
And it's utterly shameless that Dubya posed in military garb for prime time last week, assuming no one would mention that he skipped more than a year of the National Guard service that kept him out of Vietnam.
Scott Miller [smiller@aaas.org ]
Wed 5/7/2003 5:46 PM
---
Pam's full review
She wanted to explain before it was posted----here's Pam's full review in today's Washington Post:
"Richard Thompson at 9:30: Divine Inspiration
"He's been called a guitar god, but on Monday at the 9:30 Club, touring with a four-piece band in support of his just-released 'Old Kit Bag,' British folk-rocker Richard Thompson seemed to be drawing on a higher power.
"The metal-stomp 'Pearly Jim,' about a money-grubbing guru, and the Middle Eastern-tinged 'Outside of the Inside,' a Taliban's-eye view of the West ('God never listened to Charlie Parker'), warned of false beliefs, 'Bank Vault in Heaven' questioned the notion of squandering today in favor of tomorrow, while the meditative, eerie 'Word Unspoken, Sight Unseen' portrayed a surrender to the mystery of love.
"The concert was a revival meeting for hordes of Thompson's fans, who were accustomed to seeing him in more sedate venues. Ably backed by longtime sideman Pete Zorn on saxes, mandolin, guitar and vocals, propulsive young drummer Earl Harvin, and acoustic and electric bassist Rory McFarlane, Thompson also took solo acoustic turns on the yearning 'A Love You Can't Survive' and 'Missie How You Let Me Down,' and the crowd-pleasing motorcycle ballad '1952 Vincent Black Lightning.' But a string of mid-set rockers, including 'Bank Vault' and 'Shoot Out the Lights,' gave the ax aficionados the exploratory, emotional string work they craved. Thompson took 'Can't Win' to new heights, with a lengthy solo that shattered the repressive atmosphere set up by the song's mordant lyric.
"Crisp sound threw every detail of the show into sharp relief, and Thompson's vocal articulation and range took him from low growls to plaintive, extended high notes with every word intact. The result was a show that was never holier-than-thou---just wholly satisfying."---Pamela Murray Winters
I'd say it's a fine review with a striking headline and a minor error committed in the haste to meet a deadline. Certainly it's nothing like Joshua Klein giving the false impression that RT is voicing his "Islamic perspective" as a "devout Sufi" when he berates Van Gogh and Botticelli with, "Colour is the fuel of madness/That's no way to praise the Lord." That's an egregious error that could cause RT real grief.
One of the best filmed performances of RT that I've seen is a solo version of "Missie How You Let Me Down" that OH did in a Louisiana club at a gig playing with Beausoleil, filmed for a TV music show hosted by Herbie Hancock. RT is literally sweating through a passionate "Missie" that makes the case for the song as one of his best. Come to think of it, I saw this marvelous clip at the home of Pam Winters. That performance is probably indelibly etched in her mind, as it is in mine.
Scott Miller [ smiller@aaas.org ]
Wed 5/7/2003 6:22 PM
---
Scott said:
<<I'd say it's a fine review with a striking headline and a minor error committed in the haste to meet a deadline.>>
I can't take credit for the headline. I'm really glad they didn't use my suggestion: "Richard Thompson: God in the Details." Best not to draw any more attention to "details" when I got one wrong!
<<One of the best filmed performances of RT that I've seen is a solo version of "Missie How You Let Me Down" that OH did in a Louisiana club at a gig playing with Beausoleil, filmed for a TV music show hosted by Herbie Hancock. RT is literally sweating through a passionate "Missie" that makes the case for the song as one of his best. Come to think of it, I saw this marvelous clip at the home of Pam Winters. That performance is probably indelibly etched in her mind, as it is in mine.>>
Damn straight, Scott. I was very close to him at the 9:30 Club--foot of the stage, hands on the speakers. As I watched his face during the song, I remembered the sweat and passion of that TV performance--the first one in which I laid eyes on Our Man--and felt the timelessness in his music. Not that his voice hasn't changed, or that he hasn't gotten older--but what I felt that night wasn't the difference over time; it was the constancy of the soul within his music.
So, yeah, maybe that's why I slipped.
Pam
pam@winters.cc
Wed 5/7/2003 6:33 PM