English Tour Spring 2003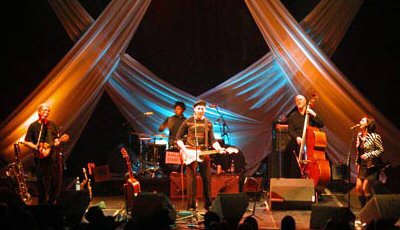 Just back from the first RT Band show of the UK
tour (thanks to Martin Smith for the lift) so here's a quick report before I turn in.
Venue: beautifully restored old theatre not far from the City Hall where RT has played on the last two tours. Elaborately decorated, very compact auditorium with probably only about 25 rows in the stalls plus circle, boxes and very high balcony. Front of house areas recently refurbished by contrast in high-class contemporary style. If this is where National Lottery money is going I'm happy to keep buying the tickets.
Support: Kim Richey, country-influenced singer-songwriter witb a fine voice reminiscent of Patti Griffin but no great shakes as a guitarist. One of the better RT support acts I've seen and she seemed to have won plenty of new fans judging by the queue to buy her latest CD at the interval.
List members: very few in evidence, but we had a drink with David Tomlinson, Paul Hutchinson and his friend Brian in the bar beforehand.
General thoughts on RT's set:
Good value, with 23 songs in about 2 hours 10 minutes. Lots of songs from TOKB, but surprisingly only one from MT (although, looking back, I see that he only did two in the Sheffield solo show last year). Some very welcome surprises from the back catalogue. No novelties. Very little patter. Good sound, with the vocals very clear. Remarkably few glitches considering this was the first gig with this line-up and there can't have been much time for rehearsal, although a couple of times Pete Zorn had to change instruments during the intro when he realised RT was not going to play what he expected. Earl Harvin looked and sounded completely at home and he doesn't half clobber the drums. Pete Zorn played his usual remarkable range of instruments and I've noted these in the set list: if nothing's mentioned, assume he was on acoustic guitar and please forgive me if I've got the saxophones mixed up! Surprisingly little in the way of guitar fireworks, with the first really extended solo coming in the last song before the encores. No requests played and very few called for by what seemed a rather subdued audience, although they gave the band a good ovation at the end.
Set list:
Tear stained letter (PZ: tenor sax, tambourine and acoustic guitar)
[A surprising opener (especially for Flip!) as this usually comes near the end of a band show. Too early for a singalong].
Gethsemane
[sure to feature in both band and solo shows for a long time]
Pearly Jim (PZ: baritone sax)
[I can see this becoming a staple of the band shows and was expecting some guitar fireworks, but he kept it very short]
Outside of the inside (PZ: mandolin)
[introduced as a song about Jimmy Swaggert, with no reference to the Taliban]
Razor dance
[lovely bass intro from DT]
Missee how you let me down (PZ: bass flute)
[can't remember when I last heard this]
Al Bowlly (PZ: soprano sax)
[first of an acoustic interlude, with exquisite solos from RT, DT and PZ]
A Love you can't survive
[solo; beautifully sung]
I'm not marching any more
[solo; well received by the audience, but not rapturously so]
One door opens (PZ: mandolin)
[probably my least favourite track on TOKB; interesting musically and would make a nice instrumental, but the lyrics don't work for me]
I'll tag along
Bank vault in heaven
[a real surprise, with a great solo at the end]
Bright lights (PZ: baritone sax)
[I never tire of hearing this]
Shoot out the lights (PZ: mandolin)
[I was just thinking that most people would not believe that such great rock music could be produced by a band comprising 50% mandolin and double bass, when PZ launched into an amazing "guitar" solo on the mandolin complete with extravagant movements and grimaces. RT seemed to enjoy it hugely]
She said it was destiny
[Another new song that looks set to stay in the repertoire for a long time. Very catchy double refrain with echoes of Elvis Costello - just try to imagine him singing it - but let down by that very feeble last line: "always really takes it out of me"]
Two left feet (PZ: alto sax)
Can't win
[Another very welcome old favourite and at last an extended guitar solo]
First encore:
Vincent
[solo; I had thought we were going to be spared this old warhorse! Brilliant playing of course, but I've never liked the song. For those who keep a record of these things, it was "Velocettes, Rudges and Beezers" i.e. BSAs]
Crawl back (PZ: mandolin)
[The only MT track to get an airing; half-hearted singalong]
Wall of death
[Yes, it's another one we've all heard dozens of times, but I think it's one of his best ever songs and no RT show is complete without it]
Second encore:
Man in need
[Looking back again, I see that he opened with this at the last Sheffield band gig in July 2001]
Jealous words
[another great solo]
Words unspoken, sight unseen
[one of my favourites from TOKB but a bit low key to finish on. I was hoping we might get Cooksferry Queen as the closer]
Another terrific show. If you're going to see the band later in the tour you've got a treat in store as they can only get better as they get used to each other and RT will probably relax and cut loose more.
Steve Willis [ s.willis@virgin.net ]
Sun 3/2/2003 8:37 PM
---
I left Steve to do the Sheffield review
and set list; here's some related, more techie stuff
I was unimpressed with Kim Richey especially after she got good reviews on the RT List. But I think I was spoiled by seeing Erin McKeown open for the Be Good Tanyas in Manchester on Friday. She was great, she's really tiny but a big personality, very confident, a strong singer and a terrific guitarist with an impressive flat picking style, put to good use on her own quirky material. If the Tanyas who are almost perfunctory instrumentalists (although it must be said they combine to make a glorious noise) aren't afraid to have an opener as proficient as Erin McKeown I can't see that RT should be. Here, Bee Keeper, borrow my pen and write this down; E-R-I-N M-c-K-E-O-W-N
Now on to Earlwatch; it was fascinating watching a gig knowing it was the drummers first time out with the band. The good news is that Earl is fine, and fitted right in. If he was suffering from nerves he sure didn't show it. If anything RT seemed more nervous, but I suppose he probably hasn't played with the full band for about 18 months, so the first gig must always be a bit scary. Earl is right-handed, plays with a proper drummer's matched grip, and hits very hard, although he doesn't have as high a backlift as Mike Jerome. He had a small kit, one tom and one floor tom, hi-hat and only 2 cymbals. At some point during each song he seems to run out of breath and sucks his cheeks in to refuel before playing some big fill. He didn't do anything particularly flashy but all his cues were spot on, particularly in the tunes we know well where you expect a sudden stop/start. The only giveaway is that RT counted most of the tunes in, as presumably Earl doesn't know the tempos well enough. He can only get better as the tour develops and he starts to feel his way around the tunes
I watched him discard a (presumably cracked) stick, mid number; he very delicately lobbed it to his left, presumably to make sure it didn't bounce and hit Danny. Most drummers hurl broken sticks across the stage; he did it so carefully that I wondered if he's learned by bitter experience not to throw them. He used brushes well, and on one number used some sort of rubber or plastic beaters which I haven't seen before. He also removed the snare a few times and played a hand drum with his fingertips which came across very well
I didn't see Earl do much eye-contact interplay with the band; Danny once or twice gave him an approving nod which caused Earl to grin back, but Danny mostly plays in his own universe, pulling faces and posing by himself. Once I saw RT wiggle the guitar with a quick hip-swivel to tell Earl the end was nigh; and once RT's finish to the tune seemed to take the other 3 by surprise. I only heard them come unstuck once, near the end where RT moved onto the bridge while the other guys stayed on the verse and had to chase after him very quick. However it was notable, and pleasing to see Pete climb the drum riser at the end to shake Earl's hand in congratulation, and Danny and RT followed his example
I was disturbed at the amount of PA on stage, thinking we might be in for sore ears; not a bit of it, the volume was easy on the ear, and the sound was very good. Danny came across well, and RT's vocals were very clear throughout. Its noticeable how Zorn is sometimes featured very loud on guitar (presumably this is Simon-driven) On a few occasions RT played arpeggio chords on the Ferrington and Zorn played louder frills on his acoustic
I was intrigued by this next bit, and maybe some of the RT list guitar gurus can help me out; RT announced Destiny and detuned his bass string. He then realised he'd missed a song out, returned the bass string and played Shoot out the lights. So I reckon he plays SOTL in standard tuning and Destiny in drop-D. So then he detunes again and they play Destiny, with Zorn on acoustic guitar. But here's the odd bit; they appeared to play exactly the same chord shapes, but RT had a capo at 2nd fret, and Zorn was capo-less. This has 3 likely scenarios; RT has the Ferrington tuned 2 frets low; or Zorn has his acoustic tuned 2 frets high; or I was incorrect in my observation. Does anybody know?
RT played the Ferrington throughout the electric tunes, except when he changed to a strat for 2-left feet and Can't Win, which got the longest solo of the night
To conradict the otherwise impeccable Steve Willis report, I don't think Pete Zorn played tenor sax during the set, I'm sure he played baritone on Tear stained letter; he is a very talented man
Finally, although I think that we RT-list persons like to think we are a bit of a force, there were only 2 RT list shirts evident yesterday out of (I'm guessing here) about 650-750 audience. Old version, Steve Willis; new version, me
regards
Martin Smith [ mrasmith@tesco.net ]
Mon 3/3/2003 5:01 AM
---
This was written by Phil Widdows
of the Fairport Convention list, a man well known for not being afraid to speak his mind.

Richard
Richard Thompson opened up a great big kitbag full of troubles when he planned his current UK tour. First of all, he neglected the North West completely, so myself and MGLW* climbed aboard the Widds Wagon and set off for the wrong side of the Pennines.
Second of all, he'd chosen to play Leeds. That's a 90 minute drive at the end of a day's work.
Third of all, he'd chosen to play The Irish Centre, as grotty a venue as you could hope to find - if you can find it. It's in a rather ratty area, away from the city centre, surrounded by streets which may have seen better days, or may have just been miserable and squalid all their lives. I wasn't happy about leaving my car - the most expensive thing I own other than my house - out there.
Fourth of all, by the time we got to the venue and found our way in, and realised where the stage was, and that there was no chance of getting within a 100 feet of it so thick was the crush of folk, and that the seating area at the back of the club was also full, we were less than happy. If I hadn't just driven for 90 minutes to the wrong side of the Pennines, I'd have been tempted to leave immediately. And fifth of all, he had an excruciating American country singer as support. Not a bad voice, but the kind of guitar playing that lowers the definition of "average".
Ah well, at least it wasn't raining!
We'd stood for an hour before RT and band arrived. This better be good, I thought. After one song, I knew it would be. Musically, the band cooked through a set heavy on new material from The Old Kit Bag, plus a few old favourites. They did more than two hours, too, which can't be bad. The troubles didn't stop there, though. First the stage lights fused. People held up lighters and someone found a torch. Someone shouted a request for Shoot Out The Lights, and we all laughed. Then the lights AND the PA fused. It sounded terminal, but was relatively quickly sorted.
Then RT started a song in the wrong key. Then he changed guitars, started the song, and the neckstrap came undone in mid-twang. All he needed was to break a string and he'd have had the grand slam! Towards the end of the long set, MGLW and I grabbed a couple of recently vacated chairs and rested our legs. Somehow, standing for three hours never seems so bad at Cropredy. But maybe that's something to do with the litre bottle of whisky and ginger I put away during those long summer nights!
RT likes the venue - "cramped, sweaty but somehow magical", he declared. Well, I agree with him on the first two points. Imagine a really ugly social club, capable of accommodating 1,000 people, and you get the picture. Up at the back, I kept waiting for the bingo to start and the announcement that "t'meat pies 'ave come!".
Actually, for all that, I did get a really good view, and the sound was pretty good. If I had travelled there by taxi, and had a few pints, it probably wouldn't have been bad at all. Sadly, I was stone cold sober, and was left wondering whether there's an English Centre in Dublin. Somehow, I doubt it.
As we left the club (it seems too grand to call it a "venue") we passed a couple of cars that had been smashed into, and the stereos stolen. It had proved a very expensive gig for some of RT's fans. With fingers crossed, we walked back to our car - which I had parked a little way from the club, in a residential street. All was well. Phew! Over all, it was just about worth the effort. But no, nay, never! No, nay, never no more will I go to the Irish Centre. I'm of the age and build that I want a guaranteed seat for my £15, and I don't care how magical a venue is.
And as we drove home it started to rain...
Widds
* My Good Lady Wife
Richard.Condon@cec.eu.int
Tue 3/4/2003 6:01 AM
---
The Steve Willis saxaphone controversy
was recognised on stage at Leeds last night. When Richard introduced Pete Zorn, he ran through his long list of instruments and then said "and a note to the SHEFFIELD REVIEWER, NO TENOR SAX"!
Later, when Pete produced the bass flute there was a comment from the front I didn't catch, to which he replied "its a tenor sax.. No its an anti-tank flute", to much hilarity. Pete was also playing Sopranino saxophone, not Soprano. There was generally a fair bit of banter during the evening.
Set list was same as at Sheffield, but I think possibly we got a bit more guitar. Certainly the opening Tear Stained Letter had a fair bit of trademarked RT guitar work. Bank Vault and Jealous Words had some fabulous guitar bits. All the way through, the short sharp guitar breaks were surprising and eyebrow raising. Many of them seemed very complex. I very much got the impression of someone who can do anything he wants with instrument, even to the point of making me laugh out loud at one point.
Some minor points of note:
Power problems! In Tag Along, there was a daring and dramatic drop in the lighting - until we all realised that the power to the lights had gone! The band played on in near darkness quite happily, although Pete Zorn complained about being dazzled by camera flashes in the darkness after the number. Then at the last note of the next number, Bank Vault in heaven, both Light and Sound power went. Power returned in a couple of minutes, during which time there was a half-hearted attempt to get Twist & Shout going in the dark. Someone inevitably called out for Shoot Out The Lights. I thought the lights, though simple, were very effective, especially in Gethsemane.
VBL had Triumphs, Velocettes and Beezers
Destiny had to be restarted after a mix-up in keys.
The Stratocaster had a nice run out on Shoot Out The Lights and Pete did his manic mandolin solo.
The final encore was strange: An emphatic Man in Need, followed by an electric Jealous Words with astonishing guitar work had really raised the tension, but Jealous Words had a very unexpected quiet bass ending and Words Unspoken, Sight Unseen was such a low key finale that it seemed to confuse many in the audience - there was quite a babble of conversation. I think it would work better in reverse order (WOSO, JW, MIN) but that would probably be too conventional!
I was right at the back - which seemed to concern Richard, as he kept asking if I was all right. Sound was excellent, but unfortunately a bit too loud for the group on my right, who talked and where necessary shouted, throughout the entire gig. Simon should have a bit more consideration for such ardent conversationalists. Myself, I was wondering if anyone had Saddam's phone number - I hear he has a missile or two he wants to get rid of, and I know just the place...
A great night - and if they are still getting warmed up, then later dates in the tour are going to be a real treat!
Thanks very much to Richard and the band.
Best Wishes,
Geoff
PS Astonished to see that 'Stratocaster' isn't in Outlook's spell checker - what is the world coming to?
Geoff Batchelor [ geoff.batchelor@btinternet.com ]
Tue 3/4/2003 6:38 AM
---
steve renshall wrote this Leeds set list down:
Set list (yes,I managed to get one!) :
Tear Stained Letter
Gethsemane
Pearly Jim
Outside of the Inside
Razor Dance
Missie How You Let Me Down
Al Bowlly
A G Bell (but did the Phil Ochs song instead)
One Door Opens
I'll Tag Along
Bank Vault in Heaven
Bright Lights
Shoot Out The Lights
Destiny
Two Left Feet
Can't Win' ( my pick of the night)
Encore 1
RT (on the set list but did 'Vincent')
Crawl Back
Wall Of Death
Encore 2
Man In Need
Jealous Words
Sight Unseen

Ronnie:
2 questions, as someone reported the same setlist as Sheffield, was A Love You Can't survive played? And second Vincent was played but what was on the setlist, RT?
Ronnie de Champs [ ronniedechamps@hotmail.com ]
Tue 3/4/2003 1:34 PM
---
A quick report from Leicester.
A truly stonking night - as good a band set as I've seen. Earl certainly fits in well and had brought some nice touches to some of the internal rhythms. Lots of old favourites but the new stuff worked better than I expected, even the ones I don't care for, like Jealous Words. The printed set list was the same as previously reported and the actual set was the same as someone posted yesterday (from Sheffield?) with the addition of A Love You Can't Survive before the Phil Ochs song.
A couple of things I noted:
- VBL has returned to a sensible tempo, after many years of breaking the speed limit. (Rudges and Douglases for those who collect these things.)
- There were mikes on stage to pick up the audience sound, suggesting that a proper recording is being made of the gigs.
- Someone on the tour may be reading this stuff as Richard said, when introducing PZ's many instruments, that he didn't have a tenor sax "as reported somewhere"!
ianewest [ ianewest@ntlworld.com ]
Tue 3/4/2003 6:22 PM
---
It was my first time in Leicester,
a small city more like a medium town, with patches of great character. The small museum has a couple of Stanley Spencer paintings, The Adoration of Old Men and A Distant View of Maidenhead. Among the hundreds of shabby fast food outlets it was good fortune to find a Vegan cafe/bistro.
Tuesday's RTB performance was like the town - not their outstanding best but patchy, growing in energy and with moments of excellence. It took a couple of numbers for the band and audience to get in their stride. Tear Stained Letter loses a lot without a warm audience, and Gethsemane hasn't yet gelled smoothly in this lineup. Earl Harvin is a tight, well disciplined musician who can keep the ship in trim on those relaxed older numbers while RT is free to do what he does best on guitar. The brush work on Words Unspoken resulted in a vast improvement over the recorded version. Danny's bowed work on this was beautiful. It was the older material that provided the best moments. Two Left Feet was a rhythmic delight, while One Door Opens doesn't yet live up to its recorded potential. Al Bowlly and Missy were superbly laid back, and Can't Win had a great swing and tempo.
Vocally RT had a good night, hitting the peaks on A Love You Can't Survive. The hole left by Teddy means Pete Zorn has to work overtime, but is no substitute for Judith Owen on the new stuff. They've let Pete loose with a loaded mandolin again on Shoot Out the Lights, but it was great fun, as was the sax on Bright Lights.
Kim Richey would be terrific with a band behind her. She has a great upper register and has written some beautiful lines that soar above what is merely a competent guitar. It's tough being a support act.
Derrick
Derrick Leigh [ derrick.leigh@ntlworld.com ]
Wed 3/5/2003 8:07 AM
---
A new convert - not on this List and
unkown to me till today
wrote me this:
The opening act was an American woman called Kim Richie. I'd not heard of her before and she had a hard job which she executed commendably. She had a really fine voice (playing a sort of American country/folk) and was a very competent guitarist. She'd already started by the time I arrived, and she played for another 30 or 40 minutes.
After a short interval, the RT band came on stage.
This was the first time that I'd seen the guy since early Fairport days - and I don't have any of his post-Fairport albums - so I didn't know what to expect.
I was totally overwhelmed - it was brilliant.
As usual I'd managed to worm my way to the front of the stage (and, at the Irish Centre, you cannot get much closer to the band before you end up in their laps), camera in hand. [I always take a small portfolio of pix I've taken at other gigs - Ratdog, Love, ISB, etc - it's amazing how willing people are to let me squeeze in front of them, but perhaps they just enjoy the close contact.]
Richard opened his set with a mighty powerful Tear Stained Letter. Took me completely by surprise as I'd expected him to ease into it. I was wrong!
Gethsemane is another very strong number (and we all like strong numbers, don't we?) and one of several I recognised following the receipt of the Cropredy/Wrexham CDs that I received last year.
This is the set list (which I was given by a roadie at the end of the show), but it omits an updated version of Phil Och's "I Ain't Marching Anymore" and "1952 Vincent Black Lightning" which were indeed played - I now know where Kevin Shewan's occasional email signature (Red hair and black leather, my favourite colour scheme) derives from.
Tear Stained Letter
Gethsemane
Pearly Jim
Outside Of The Inside
Razor Dance
Missie, How You Let Me Down
Al Bowlly's In Heaven
Alexander Graham Bell
One Door Opens
I'll Tag Along
Bank Vault In Heaven
(I Want To See The) Bright Lights Tonight
Shoot Out The Lights
She Said It Was Destiny
Two Left Feet
Can't Win
Encores:
1 - RT
Crawl Back (Under My Stone)
Wall Of Death
2 - band
Man In Need
Jealous Words
Sight Unseen
The band:
RT - guitars, vocals
Pete Zorn - various instruments including tenor sax, flutes, mandolin,
banjo, acoustic guitar, plus backing vocals
Danny Thompson - double bass
Earl Harvin - drums
There were problems with the lights at one stage - but the band played on (one of the crew put out lots of torches) - and a little later the sound went too. Fortunately it only lasted a few minutes before the power was restored.
The two most striking things about RT were his virtuosity - at one stage he was playing two separate melodies simultaneously on an acoustic - and his rapport with the audience - he was clearly enjoying everything about the gig and kept up a constant banter between songs, interacting with the crowd totally.
I'll certainly try and see him again as soon as I can.
CJ
Flip Feij [ flipfeij@zeelandnet.nl ]
Wed 3/5/2003 5:35 PM
---
Yes, I love the sound of his Strat
but I'm growing increasingly fond of that Ferrington...it really suits some of his recent material,like "Bank Vault..' and 'Pearly Jim'.
Amazing how that snub-nosed lower bout on the Ferrington alters the looks of it's basic Strat shape.I was up close to the very low stage and had a good look at it throughout the show and it's a nice guitar.The neck in particular look like some kind of figured wood (if that's the term) and the pick-up configuration is radical compared to a Strat.
What struck me the most though was the amount of sweat dripping from both his arm on the body and his hand on the neck.He must have lost half of his body weight in fluid during the course of that gig.Bloody hard worker.
steve renshall
eadg [ acebass@ntlworld.com ]
Thu 3/6/2003 3:43 AM
---
LAST NIGHT'S FIRST NIGHT
KENNY MATHESON
Queen's Hall, Edinburgh
RICHARD Thompson has never been a big star in the conventional rock sense, but he is one of the most widely respected singers, guitarists and song-writers around, and his admirers - whether fans or other musicians - cross many musical boundaries.
Since his emergence as one of the founder members of Fairport Convention, he has developed into a fully expressive artist , both as a solo performer and when rocking out with the high-octane band on this date .
He was joined last night by saxophonist and guitarist Pete Zorn, bassist Danny Thompson and drummer Earl Harvey. Their two hour set, which followed a strong opening solo set from the US singer Kim Richey, featured a mixture of songs from his new album and a generous selection of old favourites.
Songs such as I Want to see the Bright Lights Tonight, 1952 Vincent Black Lightning and Wall of Death have a classic strength and longevity which ensures that they remain fresh no matter how often he plays them.
His short solo sequence mid-set included a slightly reworked version of Phil Ochs's anti-war anthem I Ain't Marching No More, his trenchant comment on current events.
Flip Feij [ flipfeij@zeelandnet.nl ]
Fri 3/7/2003 3:17 AM
---
It was a good gig
- though not quite as interesting as Flip's subject line suggests, once you realise that the Scotsman in question is the local newspaper.
I can't remember the full setlist (still recovering from a bout of food poisoning, arrived to late to spot the Vai-tishirted horders of list members at the bar*). However the highlight, for me, was a solo version of 'A love you can't survive'. 'Can't win' was also excellent. Other than that, it was all very good but - and this could just be because I was a bit out of sorts - it didn't seem to come alight in the way he often does. Maybe a four-piece is just too small a band?
Kevin O'Donnell [ kevin.odonnell@blueyonder.co.uk ]
Fri 3/7/2003 3:19 AM
---
<grin>
... a few of us did manage to meet in the bar area, although unknown to me the bistro had closed some time ago; sorry about that, folks.
I thought it was a pretty good set. Nice to see he's thrown out some of the old standards that we were getting heartily sick of. I didn't write down the set list, & I forgot to ask Simon for a copy. The sound started out a bit muddy where I was, but quickly improved; I guess they've been in the Queen's Hall often enough by now that setup is straightforward. RT listed PZ's collection of saxomophones (as Homer would have it), and said "that should clear things up". Hmmm.
Typical reserved (ie stuffy) Edinburgh crowd. Damn few "Crawl Back" responses. I must go and see him somewhere else next time.
Cheers,
Magnus Paterson [ mjp@roe.ac.uk ]
Fri 3/7/2003 4:09 AM
---
Thompson breaks with Convention
DAVID POLLOCK
Queen's Hall
IT'S got to be annoying for Richard Thompson. In the 23 years which span his solo career, he's released around 25 albums, recorded with artists from Crowded House to Bonnie Raitt, and been covered by luminaries like REM and Bob Mould. Yet the work he completed in the first two-and-a-bit years of his career is what sticks.
Not that there's any shame in being a core founding member of Fairport Convention - surely the seminal British folk crossover group - at the age of 17. But it's bound to be tiring when the first half dozen records of your career receive more retrospective critical fawning than the four-times-as-many albums which followed them.
The mighty impressive turnout at this gig, however, did more than enough to disabuse you of the notion that only obscurist folkies and 60s refugees would be interested in what Mr Thompson has to bring to the party.
Culled from all age-groups (although, admittedly, there weren't many people below 30), these people were more than enough to convince you Thompson's solo career has a rock-steady fanbase, and that the advances paid out by record companies over the years are justifiable expenses.
It's a good thing, too, because anyone who went along expecting the old Wicker Man-esque, maypole-twirling clichés associated with the Convention would have been sorely disappointed.
In support was Kim Richey, who has been Grammy-nominated in her capacity as a songwriter for hire. Straddling the divide between country and singer-songwriter-orientated pop, her style deserves comparison to the likes of Joni Mitchell - not as good, obviously, but still there or thereabouts.
When Thompson and band take to the stage, it's pretty easy to guess his line before he even picks up his guitar.
Dressed in dark jeans and T-shirt, with a matching black beret setting off the grey-bearded look, he was born to be either a supply teacher or an internationally-acclaimed musician of no mean standing.
Once he plugs in, you know it's the latter. If there's one thing that immediately strikes you about Thompson, it's the fact that he's an amazing guitarist.
Despite the inclusion of a good few displays of fretboard self-indulgence later in the set, his dexterity and precision is truly something else, especially because he makes it all look so damn simple.
The next thing you notice is the fact he's gone rock. Not to the exclusion of his earlier sound, mind you, as there are still plenty of wistful, acoustic numbers to fall back on. But just enough so we can tell this is an artist who has worked through the 80s - and not quite managed to escape them without a least a little of Dire Straits or Robert Palmer creeping their way in to his style.
Despite the corny and frankly redneck stomp of Two Left Feet harking back to his earlier days, though, songs like Can't Win and (I Want To See The) Bright Lights Tonight hold just the right amounts of sensuousness and bravado to convince you that Bruce Springsteen is another, more palatable 80s icon Thompson has learned from.
Either way, it's all a far cry from the more rustic days of Fairport Convention. But then, it has every right to be - after all, Richard Thompson 's come a long way since then.
Flip Feij [ flipfeij@zeelandnet.nl ]
Fri 3/7/2003 9:00 AM
---
Came back late
in the evening yesterday after my visit to the UK. Had to read about 650 messages when I came home (that'll teach me to not subscribe to the digest while away!)
Besides several comments on the shows topics included the upcoming war, possible RT sightings on the list, bandwidth issues and apologies etc. it sure is never dull around here.
Most issues about the concerts were covered but i'll chip in with some comments and observations:
- nice to meet up with various list members at these shows. Thanks for the company to Derrick, Martin, Paul, Chris, Ken and Dave, it was nice to finally meet you guys.
- there was discussion (and evidence) about a model car on the stage. I noticed the car in Bristol and Basingstoke as well. No idea about the type though
- re: Brighton setlist / encores
I can confirm Brighton had the same setlist as the other shows so the encores were (in order): VBL, Wall of Death, Crawl back, Man in Need, Jealous Words, Word Unspoken.
- during the last 2 shows I saw the crew (Tom Dube i think) stick a piece of paper on Earl Harvin's drum kit. It said Earls Court. It was only during the short interval between the first and second encore in Basingstoke that they altered this to Earl's Court. Earl did not notice the sign in Bristol but when he came on for the first encore in Basingstoke he did, smiled and said something about it to the guitar guy.
- Pete Zorn had his tour pass dangling from his shirt (or trousers) at all the shows
- musical highlights Can't Win, Shoot Out The Lights, A Love You Can't Survive
- I was not impressed by Outside and Word Unspoken during the the first shows but these grew on me.
- weakest song Pearly Jim
- great to see CC joining the band in Basingstoke. She was on stage only for the Non Kit Bag band songs (with 1 exception). Guess she didn't know them (yet)At first she was a bit shy and hesitating in joining in but she grew in confidence as the show progressed. She left the stage beofre Crawl back and Jealous Words but stepped back in during the second verse of both. Her participation on Can't Win, Wall of Death were the most succesfull.
- In Basingstoke T-shirts and sweaters were on sale, Kit bags were not (end of tour sale) sure hope there's some left for Dublin! And on a private note, sorry Arie already bought yours before Basingstoke!
- I noticed the audience mics only in Bristol and Basingstoke, but I am not absolutely sure they weren't there during the other shows
Ronnie de Champs [ ronniedechamps@hotmail.com ]
Sat 3/15/2003 7:41 AM
---
RT & CC At Basingstoke
I think Chris wrote them down but as far as I remember:
(in order of appearance)
Tear Stained Letter
Razor Dance
Missie
Al Bowlly
Bank Vault in Heaven
Bright Lights
Shoot Out the Lights
Two Left Feet
Can't Win
Wall of Death
Crawl Back
Man in Need
Jealous Words
Ronnie de Champs [ ronniedechamps@hotmail.com ]
Sat 3/15/2003 5:51 PM
---
Warning: this post contains RT-related content only.
I hope listees won't mind if I go off-topic and give an report of RT's gig in Dublin last Friday.
By booking early I managed to get prime seats - almost at RT's feet. I missed the support but took my seat just before RT and the lads took the stage. TSL was a storming opener, and it was all uphill from there. I, like most people on this list, I think, listen to an awful lot of music. It's very rarely just background noise, but very rarely does it transcend the ordinary. The RT Band on Friday were transcendent. Throughout the gig I sat enthralled: my mouth literally hanging open in amazement at times, forming an enormous and, I suspect, idiotic grin for most of the rest of the time. This band makes a great sound together and Earl Harvin fits in as though he has been there for years: he's some drummer! The lads seemed to be having a great time and showed a nice rapport on stage. It's somewhat invidious to select highlights from a show so consistently good, but if forced I'd choose Can't Win. The song developed inexorably into the most wonderful guitar solo: it was as good as music gets in my opinion. At the end of the song my friend shook his head in amazement - an hour after the show he said he was just getting over it. He described it as having the same effect as When My Guitar Gently Weeps, a song he adores, only multiplied one-hundredfold. I didn't disagree. My co-mortgagee thought it was creepy and sinister - I know what she means.
The guitar playing in SOTL was also superb and Pete Zorn's 'heavy metal' mandolin solo brought smiles to the faces of RT and Danny (as well as to many in the audience)!
During the gig I was struck by the relative lack of Mock Tudor stuff - indeed apart from Crawl Back, Razor Dance and Bank Vault, all the non-Kit Bag stuff goes back several years and several albums. What a rich vein of music to draw upon.
The set was similar to previous gigs, and I give it here from the list I got from a very nice guitar-tech after the gig:
TSL
Gethsemane
Pearly Jim
Outside of the Inside (I really like this arrangement)
Razor Dance (there seemed to be some banter going on during this between RT and the monitor-chap - anyone notice this at previous gigs?)
Missie how ...
Al Bowlly
RT (He did Walking on a Wire in response to a request he received before the show to do a song in memory of a chap who died recently. The name RT gave was that of a policeman who was murdered by the IRA during a robbery (they fought for the freedom of money as well) but that was a couple of years ago. I'd be interested to know if it was the same chap.)
RT (I ain't marching anymore)
One Door Opens
I'll Tag Along
Bank Vault in Heaven
Bright Lights
Shoot Out ...
Destiny
Two Left Feet
Can't Win
Encores 1
RT (VBL - Ducattis and something else)
Wall of Death
Can't Win
Encores 2
Man in Need
Jealous Words
Sight Unseen
Spoke briefly to Pete Zorn (still a really nice chap!) and Earl Harvin (very friendly) when they were tidying up their gear .
Cheers,
Brendan Teeling [ bteeling@eircom.net ]
Wed 3/19/2003 5:54 AM