1000 Years at Sadler's Wells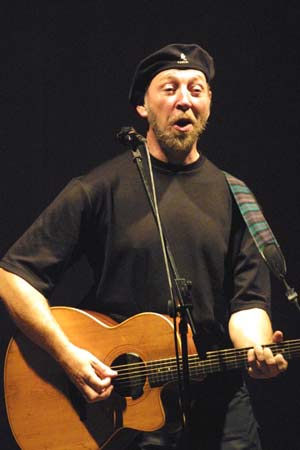 One Thousand Years of Popular Music
Another review of 'One Thousand Years of Popular Music' appears in this Saturday's 'The Times' entertainment supplement. There is also a standard pic of RT in his chair and a tiny pic of the cover. (Incidentally only 6 cds reviewed in all: One jazz, one classical, one punk-funk (all small); Bowie gets the big review lead and Starsailor the second largest, RT small, but nicely placed with pic in top RH corner).
ECLECTIC
Richard Thompson
1,000 Years of Popular Music
Back in 1999, Playboy magazine asked Thompson to name his "best ten songs of the millennium". He realised that they were only really interested in the last few decades, but chose to interpret the request literally and, to Playboy's bemusement, produced a list that ranged from medieval madrigals to Britney Spears. Expanding his song list up to a couple of dozen, he then set about recording them. Preposterous as the notion may appear, it works brilliantly. Sequenced more or less chronologically, he kicks off with Summer Is Icumen In, the oldest round in the English language, and follows up with the Victorian music hall tune Waiting At The Church, a number from The Mikado, and even Abba's Money, Money, Money. An inspired and surprisingly coherent history of a millennium of popular music, this really is remarkable.
Nigel Williamson (***** - Five Stars)
Itís the only review to get Five Stars. Nigel Williamson doesn't mention that it was recorded live. This record is getting better coverage and reviews here in the UK than some of his Capitol releases. It is also notgetting the usual RT review treatment (RT album - UK's unknown genius - Fairport - As good as ever - critic favourite - 3 stars), but much better notices and ratings. With Sadlers Wells coming up (with a possibility of more reviews), I hope RT has taken steps to get some copies in the record shops.
Best Wishes to everyone on a lovely sunny day here in Yorkshire.
Geoff Batchelor [ geoff.batchelor@btinternet.com ]
Sat 9/13/2003 8:27 AM
---
It was a strange but wonderful evening.
OH was somewhat nervous, in his speech and singing (he was very sharp on a few songs, and he wasn't entirely comfortable using the song sheets on a music stand). Debra Drobkin (sp?) was very good (and fun to watch) - although she didn't always finish songs at the same time as OH.
It was mostly as on the CD, with a few extras - including a three-part madrigal by Thomas Morley - which needed at least 19 more rehearsals - RT went about a semitone out of tune in the first bar!!!! (So so strange to see him struggle at something!) And there was some Shakespearen stuff and a country song. Others will give the details I'm sure.
But we shared in his exploration of the centuries and it was a joyful evening. Lots of laughter. Moments of confusion and forgotten lines just added to the "exploration". But at times (when he seemed to be stuttering during introductions quite a bit), I did think - "is he OK tonight?" Of course he was - moments of sheer brilliance, especially "Orange Coloured Sky" and the Gilbert&Sullivan and the guitar playing on Money.
Great venue, but the stage was a little too big. And guitar could have been a bit louder. Lighting was odd (especially when Judith Owen was standing in pitch black trying to find the light swtich on her music stand).
Have fun tonight everyone who's going!
John Hilton
> > I know a few of you were there. Well...what was it like? Any surprises?
John Hilton [ gastroreporter@lycos.co.uk ]
Thu 9/18/2003 6:30 AM
---
1000 Years Sadlers Wells
Last night was the most expensive single concert I've ever been to. Was it worth it? Yes. But it was very different from all the RT concerts I've been to in recent years, and not just in the content, which was, as expected, an amalgam of the two previous versions of 1000 Years I've heard. There was, I think, only one new song, a lovely three-part harmony, unaccompanied. (I'll do a set-list later, if anyone wants it.)
We've come to expect impeccably high standards from RT. Last night was very under-rehearsed. Debra Dobkin was an absolutely brilliant percussionist -- for me, the star of the show -- but I don't think they've worked together before. RT had to give her the rhythm at the beginning of a couple of songs, and many of the endings were ragged, as she wasn't sure quite when to give the final thump. (Much of her playing was with her hands, rather than sticks or brushes -- wonderfully emotive. And she does great backing vocals.) RT made more errors than I've seen from him in total in the last ten years or so. He started the wrong verse in one ballad (usually Simon Nicol's problem!) and had to restart the verse. He forgot one line completely in another song, and had to la-la-la it, to his own and audience laughter. There were a few other verbal fluffs. He also made quite a few mistakes on guitar -- mainly, I think, because his fingers don't have the "muscle-memory" that they do on his own familiar material. On the Prince song, every time he reached for a bar chord way up the neck, he looked down to make sure he was on the right fret, moving his head away from the mike so we lost the words -- not something he'd normally do. In a couple of cases he clearly played entirely the wrong chord, and he screwed up a couple of riffs. Nowhere near as shambolic as Fairport often are, but still a long way from the perfection we've become used to from RT, solo or with his assorted bands.
I can happily accept all of this -- after all, it's a concert he does comparatively rarely, and the very fact that he was shuffling the music on his music stand between each song showed the very different nature of it. It was still a superb show, with lots of humour, and the audience were very responsive. And maybe by tonight they'll have smoothed out the rough edges.
But Judith Owen -- ohmygods... I couldn't tell whether she was trying to conduct herself, or give a subtext to her lyrics in semaphore, or signing for any deaf members of the audience, or proving she could pat her head and rub her stomach at the same time. I went there with friends, including the guitarist and female vocalist in my own band. In "Cry Me a River", which we do ourselves, we were almost pissing ourselves trying not to laugh (or cry), her performance was so embarrassing. She has a nice enough voice, especially on G&S and music hall songs, but I couldn't help thinking how much better Christine Collister would have handled it all -- and without the on-stage aerobics. Oh, and she shouldn't try for improvised harmonies; like Linda Thompson on a bad day with R&LT or Fairport (Cropredy 1982), she gets them horribly wrong.
Message to RT: make Debra Dobkin a permanent member of RT acoustic bands -- she is unbelievably good -- but dump Judith Owen.
But hey, it was still a great concert!
David
P.S. Our vocalist and her husband had never seen RT before (though she sings four or five RT songs with us), but they both said they definitely want to see him again when he's next over here.
P.P.S. Didn't see Ronnie de Champs or Nuno Pereira, but did meet Tim Moon (complete with red Tyrolean trilby), Rob Rudderham (and the lovely Suzannah) -- and a guy I used to work with as a journalist, who I haven't seen since 1989! By the way, I have never before been in a theatre with No Smoking in its bars; fortunately it was a lovely evening, and we could take our beers outside before the show. It was also quite a soul-less concert hall, with not very good acoustics. Perhaps not the best choice of venue for this show, but maybe it was the only place they could get.
dvbarrett [ dvbarrett@ntlworld.com ]
Thu 9/18/2003 7:03 AM
---
Deconstructing Britney
David Cheal reviews Richard Thompson at Sadler's Wells
Never in a thousand years did I think I'd see Richard Thompson singing Oops! I Did it Again, the song made famous by Britney Spears; yet here he was, on the first of two nights at Sadler's Wells, accompanied by a vocalist and a percussionist, pausing before delivering the song's big punchline with absolute seriousness: "I'm not that innocent." And, in his hands, stripped down to chugging chords on an acoustic guitar, minimal drums, and voices, it turned out to be a sinister and menacing tune, full of twists and turns, light and shade. No, really.
The song came towards the end of an evening called "A Thousand Years of Popular Music", a concept that came about in 1999 when Playboy magazine asked Thompson, in his capacity as a highly esteemed singer, songwriter and guitarist, to name his top 10 songs of the millennium. "Hah! I thought, the hypocrites," writes Thompson in the programme notes for this show, "they don't mean millennium, they mean 20 years." But Thompson took them at their word and gave them a list of songs from the 11th century to the present day. It was never published, but he was left with an idea for a show, which he has been performing occasionally in the US, and an album, which is released next month.
Thus we were treated to Thompson's interpretations of songs by, among others, Purcell (When I Am Laid in Earth, from Dido and Aeneas) and Hoagy Carmichael (Old Rocking Chair's Got Me), Prince (Kiss) and Gilbert and Sullivan (There is Beauty, from The Mikado), Abba (Money Money Money) and Nat King Cole (Orange Coloured Sky).
In between times, Thompson chatted with characteristic wit about the songs' origins. In one or two cases, the chat was more entertaining than the song, but for the most part this was a thoroughly absorbing show, and on a couple of occasions, as on the American folk ballad Shenandoah, when his voice slid and swooped with an almost violin-like quality, Thompson revealed his gift for transcending time and place; everything else fell away, and what we were left with was pure music, pure now.
Percussionist Debra Dobkin played a kaleidoscope of rhythmic styles with absolute ease, and vocalist Judith Owen was similarly versatile. As for Thompson: the show illustrated his talent for inhabiting a song and making it his own. For me, his version of Oops! I Did it Again will, from now on, be the definitive interpretation.
Phan
NP: RT- Ducknapped!
Phantasmagorial Phantom [ phantasmagorial_phantom@yahoo.com ]
Thu 9/18/2003 8:39 PM
---
To give some credit
- RT did spend a lot of time not necessarily looking at his fret board - but his music....he fluffed moving a sheet last night which raised a giggle from me in the front row which he heard - and got the giggles too....quite amusing :-)
Having said that, I thought a great deal of work had gone into the second night & other than one fluffed word in Sam Hall, it was a great night last night - a sell-out AND no touts doing the rounds. Great sound, and isn't Debra Dobkin a find! Superb percussion, and a voice that I thought, bettered Judith (Kate Bush) Owen.
The couple beside me obviously hadn't read the blurb & expected a 'proper' RT gig, and left after the fourth number - meant I had 3 front row seats to spread out into - unfortunately marred by being stage left of RT with a bl**dy big music stand in front of him, limiting the photos that I could get. Judith Owen also had one, so Ms Dobkin was the only unobscured artist(e) on stage.....
Chris Bates [ chrisjbates@btinternet.com ]
Fri 9/19/2003 5:26 AM
---
Sadler's Wells, last night
The Sadler's Wells gig last night was splenndid - glad he used the Wednesday for all the fluffs! ;-)=
My goodness, and _doesn't_ Judith wave her hands around a lot during singing, as previously discussed! My mate went out for a pee and to bring back more beer between numbers, and quipped about Judith's arms "Don't worry, I'll duck if they come in low!" ;-)=
I liked the bit when Richard announced something to the effect "There's one song we haven't done tonight", and quick as a flash some wit* called out "Push and shove". This caused some merriment in the front stalls, and Richard retorted "You can sing it yourself" to another fan who had relayed the message to him!
And..._liked_ the alliterative drummer! She can stay. Please!
wudzi
P Woods [ Paul.Woods@bristol.ac.uk ]
Fri 9/19/2003 7:45 AM
---
1000 Years Sadlers Wells
Hi all
Back from the trip to London to see RT perform his 1.000 years of music shows in Sadler's Wells theatre.
I have already seen some reports and will offer my observations anf d try not to duplicate any stuff already said.
Wednesday night:
Missed Dave before the show (as he wrote) and Nuno (but I don't know him so I might have seen him unconsciously!) as well. A xeroxed setlist was handed out with OH's comments on the songs on the 1000 years CD.
Entrance of OH was different from usual as he approached the stage from within the theatre accompanied by Debra.
Fashion alert: no leather pants nor t-shirt, a real suit for these special shows, no tie though and the baret (or whatever it is) offcourse still in place
Setlist (not sure about the order)
Worldes blis ne last *
King Henry
So ben mi ca
Bonnie St Johnstone ("this song mentions 3 cities, Edinburgh, Sterling and St Johnstone, we all knopw the first two, the last one only lives on in a mediocre footballteam. People not from the area may be forgiven for thinking the name is St Johnstone-nil")
Full fathom five
unknown Morley song
When I am laid in the earth
Banks of the Nile
Shenandoah
Blackleg miner
Why have my loved ones gone
Trafalgar Square*
There is beauty
Old rocking chair ("finally some swing") *
Orange coloured sky
Lonesome train whistle *
Cry me a river
Drinking wine spoo*
The fool
Tempted
Kiss
Oops
encore:
Sam hall
Money money money ("this next song really sums it up for me")
It won't be long
* not played on second night
There were several lyrical fluffs and other mishaps (to DD: "are you sure you have the right song?" to which she shifted places to another percussion piece).
It all looked like the show was underrehearsed. The Morley song was done with all 3 performers carrying a lyric sheet.
Judith does sway her arms when singing and it is a strange sight when you see her doing it for the first time. I think she totally gets into her singing and it didn't bother me that much (and I was safely sitting in the first circle!) I think she tried on Thursday to keep her arms behind her back but she couldn't keep that up very long.
Thursday:
5 different songs :
Summer is icumen
Waiting at the church
Sit right down and write myself a letter
Don't stop the music
Legal matter
Talked to Chris B before the show (apparently there are plans to do a whole tour this show) but missed Paul Woods. Saw him after the show on my way to the loo and had a brief chat.
The Thursday show was although not faultless much better than the Wednesday one. The crowd was more into it as well, though the intended singalong on tempted fell through on both nights. Sam Hall was better on Thursday.
Bad news for completists: 1.000 years cd cover now available in green!
Ronnie de Champs [ ronniedechamps@hotmail.com
Fri 9/19/2003 2:45 PM
---
Review in The Independent -1KYOPM
A rather late review of the second Sadler's Wells 1kyopm show:
Richard Thompson enters from the left side of the theatre, and stridesbriskly through the stalls to the stage. He's wearing a black suit, black boots and a black military beret; if it wasn't for the percussionist settling down at her kit beside him, it would les like he was going to play a gig and more like he was going to unfurl a map of the diamond-rich West African country he wants us to help him invade. However, Thompson does intend to take us on a journey of sorts. Tonight's show, the second of two nights at Sadler's Wells is titled "1,000 Years of Popular Music".
As Thompson explains in the programme, the show was inspired by a 1999 call from Playboy - something that must have made Thompson worry that the magazine was embarking on a commercially risky new direction. It turned out to be one of those silly fin-de-siecle articles that were all the rage - they wanted him to name his 10 greatest songs of the millennium. Aware that what Playboy really meant was the 10 greatest songs of the last 40 years or so, Thompson called their bluff and wrote a real 1000-year list.
Tonight, his main set starts with "Summer Is Icumen In" - the oldest known round in the English language, written down by a monk at Reading Abbey in the 13th century - and ends with "Oops, I Did It Again". He's too modest to include any of his own estimable contributions to pop's last millennium, but that, and a curious blind spot about punk, are the only minor quibbles with an entertaining and invigorating evening.
No other artist would be better equipped than Thompson to lead such a tour. Though ably abetted by the percussionist Debra Dobkin and another vocalist, Judith Owen - whose "Cry Me A River" is a particular highlight - the twin stars tonight are Thompson's acoustic guitar and Thompson's voice.
The guitar, in his supremely nimble hands, becomes a thing of astonishing versatility, as capable of providing the blistering r'n'b of The Who's "Legal Matter" as it is of impersonating the orchestration for "There Is Beauty" from The Mikado.
While his instrument articulates dozens of wildly disparate styles - Thompson's odyssey includes Fifties country, 19th-century music hall and 16th-century Italian madrigals - his voice is what gives what could have been a mish-mash an engaging constancy. It's hearing that same gruff bark delivering "King Henry V's Conquest of France" and Prince's "Kiss" that proves Thompson's point - that our idea of popular music has become extraordinarily tunnel-visioned, and that the loss is entirely ours.
ANDREW MUELLER ***** (Five Stars)
A couple of points - The Independent does not chuck its star ratingsround easily - I can't remember the last time I saw a 5 star rating - so this is an exceptionally good rating. Also another good mention of Richard's voice (despite it being a 'gruff bark')! Wish I could have been there (chiz, chiz).
All the best,
Geoff Batchelor [ geoff.batchelor@btinternet.com ]
Thu 9/25/2003 12:10 PM