Italian Interview - Feb 23, 2002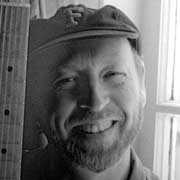 An Italian friend of my web site,
Alfredo Marziano, who is also one of RT's friends, had the pleasure of having an interview with OH a couple of weeks ago. I've asked him if we could have the piece for The List as well and here it is. Unfortunately it's too late for me to do the translation now, but I'm sure many of you won't find it a problem to read it in the original version & pick up the new bits about the *album per bambini* yourself.
Regards,
Flip-
Richard Thompson For Completists
http://people.zeelandnet.nl/flipfeij
Da uno che ha inventato il folk-rock (versione inglese) con i Fairport Convention, che è in circolazione da 35 anni e che ha pubblicato più di 20 album a suo nome ci si aspetterebbe un comprensibile ripiegamento sugli allori, lo sfruttamento legittimo di un marchio che non attrae l'attenzione delle masse ma che ha pieno diritto di cittadinanza tra le icone di culto della musica popolare. E invece la mente di Richard Thompson, 54 anni da compiere, adorato da critici e colleghi e perennemente snobbato dal grande pubblico (o è piuttosto il contrario?), ancora oggi frulla di progetti, lo sguardo rivolto perennemente al futuro e poca, pochissima voglia di guardarsi indietro. E' nei negozi in questi giorni "The old kit bag", una nuova raccolta di "unguenti, foglie di fico e lacci emostatici per l'anima", come lui stesso definisce nei sottotitoli di copertina le sue canzoni-medicina pubblicate, per la prima volta in diciotto anni, da un' etichetta indipendente (la Cooking Vinyl in Europa, Nasco in Italia). Ma quella è solo una delle facce del prisma. C'è in cantiere un disco di canzoni per bambini. C'è, soprattutto, l'infaticabile attività dal vivo, che l'anno scorso lo ha visto replicare a New York un fantasmagorico show intitolato "1000 years of popular music" in cui, tenendo fede al titolo del programma, il cantautore-chitarrista si imbarca in un ironico e onirico viaggio musicale che parte dall'Inghilterra medioevale per arrivare a Britney Spears, passando per Shakespeare, il Cinquecento italiano, Fats Waller, i Beatles, gli Who e Prince. E a cui si aggiungono in questi giorni altre tappe del suo personale "neverending tour": a Lawrence, minuscola "college town" del Kansas, lo ha raggiunto al telefono Rockol. Sei sempre in tournée. Come Dylan ..
Devo lavorare, per pagarmi l'affitto. Ma è una vita che mi piace, naturalmente.
Il nuovo disco, "The old kit bag", ha un suono molto essenziale, ridotto ai minimi termini: e questo in un momento in cui molti tuoi colleghi fanno a gara ad infarcire i loro album di megaproduzioni e ospitate di prestigio.
Non presto attenzione a cosa succede nella scena rock. E ho rinunciato a seguire le mode dagli anni '70. In questo disco mi premeva mantenere una sorta di coesione tra un pezzo e l'altro, non importa se elettrici o prevalentemente acustici. E per farlo ci siamo tenuti fedeli alla formula del trio: io, la batteria di Michael Jerome e il contrabbasso acustico di Danny (Thompson). Volevo che il disco risultasse il più semplice possibile, e poter provvedere da solo a qualunque intervento di editing o sovraincisione fosse necessario.
E' una strada che avevi già percorso, in qualche modo, in passato. Non c' è il rischio che i dischi suonino troppo simili l'uno all'altro?
Il rischio c'è, ma onestamente il nuovo CD mi sembra molto diverso dal precedente. Forse è il fatto di avere un contrabbasso acustico in tutte le canzoni ad aggiungere trame e sfumature diverse. E poi c'erano considerazioni di budget: non potevo permettermi di fare un disco troppo costoso, la produzione doveva essere piuttosto essenziale. Per "Mock Tudor", con la Capitol alle spalle, avevo più denaro da spendere.
Con Danny Thompson, in particolare, c'è un'alchimia musicale evidente all 'ascolto.
Danny è uno strumentista fantastico dal punto di vista melodico e suona anche in modo molto aggressivo. Non fosse così, probabilmente sarei dovuto ricorrere ad un basso elettrico. Ha una personalità musicale e un carattere molto forte, uno stile di esecuzione immediatamente riconoscibile. E poi mi piace lavorare in studio con gli stessi musicisti che suonano con me anche dal vivo.
Le tue relazioni con i batteristi sembrano meno stabili: ultimamente hai lavorato di nuovo con Dave Mattacks, poi con Michael Jerome, e ora ne hai ingaggiato un terzo, Earl Harvin, per il prossimo tour.
In effetti c'è un po' di confusione. Michael Jerome ha firmato un contratto di un anno con qualcun altro. Io continuo a considerarlo il batterista della band e aspetto che ritorni l'anno prossimo. Ma ora abbiamo un ottimo rimpiazzo: Earl Harvin è un percussionista eccellente e suona di tutto, jazz, punk, rock.
Perché hai scelto John Chelew come produttore?
Perché mi telefonava tutti i giorni, insistendo per produrmi. Ha fatto un bel lavoro su "Spirit of the century" dei Blind Boys of Alabama, e altrettanto su quel gran disco che fu "Bring the family" di John Hiatt. Sapevo che sarebbe stato adatto al ruolo. E' difficile dire quanto il suo tocco sia riconoscibile, perché durante le registrazioni e il missaggio c' eravamo anch'io e l'ingegnere del suono Jimmy Hoyson a dire la nostra. Quel che ne è venuto fuori è il frutto di un miscuglio di personalità.
Giovani cantautori come David Gray e Beth Orton, che prendono in qualche modo ispirazione dal folk, sembrano prediligere oggi la combinazione di arpeggi acustici e ritmiche elettroniche. E' una strada che interessa anche a te?
A dire il vero non mi piace suonare musica elettronica. Il fatto è che amo il suono delle vere percussioni, e la prima cosa che faccio quando ho in mano un disco è andare a vedere nei crediti chi è il batterista. La batteria, e l'elemento umano, aggiungono swing e sottigliezza all' esecuzione. Ogni tanto il ricorso all'elettronica mi sembra una buona scusa per essere pigri. Oggi è possibile far dischi senza molta fatica e senza avere nessun musicista intorno. E non è necessario neanche saper cantare, perché basta appiccicare le parti vocali di qualcun altro: a me sembra una prospettiva un po' angosciante. Si ascoltano cose interessanti, nel campo dell'elettronica, ma sono poche. E' un po' quello che è successo con il rap: "The message" di Grandmaster Flash era un gran disco. Ma di lì in avanti l' evoluzione del genere è stata molto lenta. E comunque non è il mio pane quotidiano: a me piace ascoltare musicisti veri , sono molto più coinvolto dalla musica "roots" che dal pop.
Dopo le motociclette Vincent, dopo le MGB gran turismo e le case imitazione Tudor, "The old kit bag" suggerisce un'altra rievocazione di un' Inghilterra d'altri tempi. Da dove arriva questa infatuazione per la "Old Britannia"?
Beh, è quella la cultura da cui provengo, non si scappa. Mi interessa il passato, recente e remoto. Forse è una predisposizione naturale, non so, e comunque non è una scelta consapevole. Quando faccio musica, i miei riferimenti culturali spuntano fuori naturalmente, e in continuazione.
In effetti i tuoi dischi suonano profondamente inglesi, anche se li registri in California, dove ormai vivi la gran parte dell'anno.
Vivo lì, ma in una specie di comunità di espatriati inglesi. Nella sola parte Ovest di Los Angeles ci sono probabilmente cinquantamila cittadini britannici, circondati dai loro pub e dai loro tea shop. E' una situazione strana, che cerco di evitare per quanto possibile, ma è inutile. Non riesco ad assorbire più di tanto la cultura californiana: continuo sostanzialmente a vedermi come un outsider, qui. Solo perché vivo in America, non vuol dire che mi metta a scrivere canzoni nello stile dei Beach Boys. Dove incidi i dischi conta fino ad un certo punto, anche perché io, Danny e Judith Owen, la backing vocalist, veniamo tutti dall'Inghilterra. Pensa alle prime incisioni di Louis Armstrong: suonava il jazz di New Orleans, eppure registrava a Chicago. Stando lontani da casa tanto tempo, si finisce per diventare più accanitamente nazionalisti. E per vedere il proprio paese sotto una luce diversa.
Anche "Happy days and Auld Lang Syne"; il titolo dell'ultimo brano del disco, è un riferimento alla vecchia Inghilterra.
Sì, quel pezzo cita tre vecchie canzoni: "The sweet bye and bye", che è una specie di inno; "Happy days are here again", una composizione degli anni ' 20; e "Auld Lang Syne", una ballata tradizionale scozzese scritta da Robert Burns che la gente canta ogni anno alla vigilia dell'anno nuovo.
E' dunque lo stesso tema che ritorna?
Il titolo, "The old kit bag", introduce all'atmosfera del disco, o almeno di alcune canzoni: "A love you can't survive", ad esempio. Il senso è: sorridi, anche quando il tuo cuore soffre.
Di cosa parla "Gethsemane", il primo pezzo dell'album?
Di un bambino che cresce. L'ho scritta pensando ad un mio amico che ha avuto un'infanzia molto felice, di assoluta libertà: corse nei boschi, gite in barca sul lago. Il resto della sua vita non è stato altrettanto piacevole, considerando le grandi aspettative dei suoi genitori. E' una canzone sulle difficoltà di crescere, di assumersi responsabilità e di corrispondere alle attese che gli altri hanno su di te.
Pochi si aspettavano proprio da te, che sei di credo musulmano, una canzone come "Outside of the inside": un atto d'accusa contro il fondamentalismo talebano, sull'onda della tragedia dell'11 settembre 2001.
L'ho scritta qualche mese dopo quegli avvenimenti: ma è una canzone che assume un punto di vista critico rispetto ad ogni forma di fondamentalismo, non importa se di marca musulmana o cristiana. Non mi piacciono i fondamentalisti di qualunque estrazione, ritengo si tratti di persone ignoranti. Se non si sapesse qual è il mio retroterra culturale, credo che la canzone manterrebbe il suo significato. In sostanza, si tratta di una difesa della civiltà occidentale nei confronti di chi, come un talebano, la considera del tutto priva di valore. Sono un fan della civiltà occidentale. Beh, non tutta: Madonna per esempio è un personaggio che mi infastidisce.
Dal vivo, ultimamente, hai aggiunto al repertorio un vecchio pezzo pacifista di Phil Ochs, "I ain't marching anymore". Un altro esempio di canzone dal messaggio politico-sociale: quasi una novità rispetto ai tuoi abituali canoni compositivi.
C'è un tempo e luogo per le canzoni a contenuto politico, e oggi è uno di quei momenti. Credo di scrivere canzoni politiche di tanto in tanto, magari mascherate sotto forma di canzoni d'amore, perché la politica è ovunque. Ma in certi momenti le cose si mettono così male che devi per forza dire qualcosa di più preciso e diretto. Anch'io, come tanti, sono preoccupato, e considero molto pericolosi i piani dell'America di invadere l'Iraq.
Qual è la reazione del pubblico americano, quando canti la canzone di Ochs?
Dipende. A New York e in California la gente esprime la sua approvazione. In una cittadina del Midwest come quella in cui suonerò stasera potrebbero linciarmi! Il che vuol dire che la suonerò: ho scelto di interpretarla proprio perché voglio stimolare delle reazioni. I cittadini americani hanno paura di prendere posizione contro la Casa Bianca. Ma si suppone che questa sia una democrazia e ci sia libertà di espressione. E credo sia importante cercare di suscitare una qualche forma di dibattito.
Non ami Madonna ma interpreti una canzone di Britney Spears, "Oops, I did it again", nel tuo spettacolo "1000 years of popular music". Come si lega alle altre canzoni dello show, alcune delle quali risalgono, appunto, a mille anni fa?
Ho semplicemente cercato di mettere insieme un set di belle melodie. E la canzone di Britney Spears, secondo me, appartiene a questa categoria. Anche "Kiss" di Prince, un altro dei pezzi in repertorio, mi piace molto. E poi eseguo brani dei Beatles, e degli Squeeze.Non mi piace quel che sento in radio, generalmente: Kylie Minogue non fa per me.
In repertorio c'è anche una antichissima canzone italiana, "So ben mi ca bon tempo" di Orazio Vecchi. Come l'hai scoperta?
L'ho trovata in un libro di composizioni musicali. Orazio Vecchi era un musicista da cattedrale del sedicesimo secolo, originario della zona di Modena. E' una canzone divertente, dal testo molto arguto. Spero che il mio accento sia comprensibile, quando la canto.
Porterai lo spettacolo anche altrove, in futuro?
Non ci sono programmi precisi, ma potrebbe essere divertente.
Cosa provi quando sono altri artisti ad interpretare le tue canzoni? Ultimamente è successo con Graham Nash, con David Gilmour e con la Del McCoury Band.
Ho sentito la versione di "Vincent" di Del McCoury e mi piace molto. Anche Graham ha rifatto "Pavanne"? Molto gentile da parte sua, la cantava dal vivo già venticinque anni fa.
Ti senti a tuo agio, ad essere tornato nei panni di artista "indipendente"?
Le major sono diventate troppo "corporative", oggi la loro unica preoccupazione sono i risultati trimestrali. Sono i contabili, adesso, a governare il music business. Tutto è guidato dal profitto ed è scomparso l' amore per la musica. Negli anni '60 la gente che lavorava nelle case discografiche amava la musica: Mo Ostin e il suo team alla Warner Brothers, per esempio.Per loro la musica era importante quanto il business. E così sostenevano per un'intera carriera gente come Randy Newman o Ry Cooder. Oggi il 90 % degli artisti non trova più spazio in una major. E molti di noi devono trovare modi diversi di raggiungere il loro pubblico.
Per Woody Guthrie la chitarra era una mitragliatrice che uccideva i fascisti. Per molti rocker un simbolo fallico. Per i Fairport lo strumento attraverso il quale elettrificare la musica folk. E cos'è per te, oggi?
Scrivo e arrangio il 90 % delle mie canzoni alla chitarra. Strimpello tutto
il giorno, per la disperazione di chi mi sta intorno. Per me è un'estensione
corporea.
Mi risulta che tu abbia in cantiere anche un album per bambini. E' pronto?
Non ancora, mi serve un'altra canzone. E' frustrante: vorrei pubblicare tutto allo stesso tempo ma non è possibile, c'è troppa roba. Certo, ora il Website mi dà l'opportunità di pubblicare anche piccoli progetti con più flessibilità.
I vecchi fan hanno sognato, vedendoti tornare in studio a sorpresa con la tua ex moglie Linda. Ci sarà qualche strascico?
Ho voluto essere presente su una traccia del suo album perché era un po' come fare una riunione di famiglia. Ci suonavano due dei miei figli e mi è sembrata un'idea carina, farlo per loro. Ma una reunion non mi interessa: siamo stati un duo per dieci anni, ed è stato sufficiente. A me interessa andare avanti.
Ti infastidisce l'etichetta di "cantore delle tenebre" che qualcuno ti ha appiccicato?
Sì, parecchio. I critici pop in genere amano la musica leggera, scacciapensieri. Non gradiscono gli argomenti pesanti, impegnativi: e la mia musica è molto influenzata dalla tradizione, dalle ballate popolari antiche. Dunque, per me è normale parlare di morte, omicidi e cose del genere nelle canzoni. Penso di scrivere musica per un pubblico adulto, mentre molti critici pop hanno altri punti di riferimento. Da quando Dylan fece la sua svolta elettrica negli anni '60 l'intero panorama della musica popolare è cambiato, soprattutto dal punto di vista testuale: e ci sentiamo tutti autorizzati a scrivere di qualunque argomento.
A proposito di critici: in una recente antologia di scritti sul rock
compilata da Nick Hornby, alcuni di loro ti hanno attribuito un posto di
rilievo nel dizionario dello "snob rock", giudicando i tuoi album
"intelligenti, ma in fin dei conti noiosi".
Interessante.Magari hanno ragione loro: anch'io a volte mi trovo noioso, quando riascolto i miei dischi! Mi capita di rimetterli sul piatto per imparare di nuovo una canzone o rendermi conto di com'era la produzione. Ma ci sono certi miei album che non ascolto da vent'anni, ormai.
Flip Feij
flipfeij@zeelandnet.nl
Sun 2/23/2003 9:10 PM
---
At last RT in Italian
I have just finished the translation of RT's interview in Italian. It took me longer than I expected - there are a few difficult words and it's not always easy to guess what RT really said in English. If there's much more of this I shall have to give up the day job!
Richard.Condon@cec.eu.int
Thu 2/27/2003 9:34 AM
When someone has invented folk-rock (English style) with Fairport Convention, has been on the scene for 35 years and has published more than 20 albums in his own name, we would understand perfectly if he rested on his laurels, quite rightly making the most of a brand image that does not attract the attention of the masses but has full rights of citizenship among the cult icons of popular music. Instead, the mind of Richard Thompson, 54 years old, adored by critics and fellow-musicians and perennially snubbed by the great public (or is it perhaps the other way round?), is still today bursting with projects, his gaze turned permanently towards the future, with little or no desire to look back. It's in the stores today: "The old kit bag", a collection of "unguents, figleaves and tourniquets for the soul", as he himself defines them in the subtitles on the cover, his medicinal songs issued for the first time in eighteen years by an independent label (Cooking Vinyl in Europe, Nasco in Italy). But that is only one of the facets of the prism. There is a disc of songs for children on the stocks. There is, above all, the indefatigable activity of his live shows, which has, in the last year, seen him repeat in New York a fantastic show entitled "1000 years of popular music" in which, remaining true to the title of the program, the singer-songwriter-guitarist embarks on an ironic and dreamlike musical voyage that sets out from medieval England to arrive at Britney Spears, via Shakespeare, 16th century Italy, Fats Waller, the Beatles, the Who and Prince. And who, today, adds on to his "never-ending tour" a stopover at Lawrence, a small college town in Kansas, where I finally caught up with him on the Rockol telephone.
Q. You are always on tour. Like Dylan.
I have to work to pay the rent. But of course, it's a life that appeals to me.
Q. The new CD, "The old kit bag", has a very basic sound, pared down to the minimum: and this at a time when many of your contemporaries are competing to stuff their albums with megaproductions and prestige guests.
I pay no attention to what is happening on the rock scene. And I gave up following fashions in the 70s. On the latest disc my priority was to maintain a kind of cohesion between one piece and another, regardless of whether they were electric or mostly acoustic. And in order to do that we remained faithful to the trio format: myself, the drumkit of Michael Jerome and the acoustic double bass of Danny (Thompson). I wanted the recording to turn out as simple as possible, and to be able to provide on my own any editing or overdubbing that was necessary.
Q. This is a route that you have already taken, in some ways, in the past. Is there not the risk that the discs will sound too similar to one another?
There is that risk, but honestly the new CD seems to me to be very different from the previous one. Perhaps it is the fact of having an acoustic bass on all the songs to add various textures and shadings. And then there were budget considerations: I could not allow myself to make too expensive a disc, the production had to be rather basic. For "Mock Tudor", with Capitol backing me, I had more money to spend.
Q. With Danny Thompson, in particular, one can hear an obvious musical alchemy.
Danny is a fantastic instrumentalist from the melodic point of view and also sounds very aggressive in a kind of way. If I hadn't done it that way, I would probably have had to resort to an electric bass. He has a very strong musical personality and a lot of character, and an immediately recognizable performance style. And then it appeals to me to work in the studio with the same musicians who also play with me live.
Q. Your relations with drummers seem less stable: lately you have worked again with Dave Mattacks, then with Michael Jerome, and now you have engaged a third one, Earl Harvin, for the next tour.
Indeed, there is a bit of confusion. Michael Jerome has signed a contract for a year with someone else. I still think of him as the band's drummer and I expect him to return next year. But now we have the best possible replacement: Earl Harvin is an excellent percussionist and plays everything, jazz, punk, rock.
Q. Why did you choose John Chelew as producer?
Because he telephoned me every day, insisting on producing me. He did a great job on "Spirit of the Century" by the Blind Boys of Alabama, and also on that great disc of John Hiatt's called "Bring the family". I knew that he would be suitable for the job. It's difficult to say to what extent his touch is recognizable, because during the recording and the mixing the sound engineer Jimmy Hoyson and myself also had our say. What has emerged is the fruit of a mixing up of our personalities.
Q. Young singer-songwriters like David Gray and Beth Orton, who take some of their inspiration from folk music, seem these days to prefer the combination of acoustic playing and electronic rhythms. Is this a direction that also interests you?
To tell you the truth I don't like to play electronic music. The fact is that I love the sound of real percussion and the first thing that I do when I have a disc in my hand is to go to the credits to see who the drummer is. The drums and the human element add swing and subtlety to the performance. Every time you fall back on electronics it seems to me to be a good excuse for being lazy. Today it's possible to make discs without much hard work and without having any actual musicians around. And it's not even necessary to know how to sing, because it's enough to stick in someone else's vocal part: to me this seems a bit of a distressing prospect. There are some interesting things to listen to in the electronics field but they are few and far between. This is pretty much what has happened with rap: "The Message" by Grandmaster Flash was a great disc. But from then onwards the evolution of this genre has been very slow. And anyway, it's just not my daily bread: I love to listen to real musicians, I feel much more involved in roots music than in pop.
Q. After the Vincent motorcycles, after the MGB GT and the mock Tudor houses, "The old kit bag" suggests another new evocation of England in other times. From where does this infatuation for "Old Britain" derive?
Well, that's the culture that I come from, you can't get away from it. The past, both recent and remote, interests me. Perhaps it is a natural predisposition, I don't know, and anyway it's not a conscious choice. When I make music, my cultural references spontaneously come out, naturally and all the time.
Q. In effect, your discs sound profoundly English, even if you record them in California, where you now live the greater part of the year.
I live there, but in a kind of community of English expatriates. In just the western part of Los Angeles alone, there are probably fifty thousand British citizens, surrounded by their pubs and teashops. It's a bizarre situation, which I try to avoid as far as possible, but I'm wasting my time. I can't manage to absorb very much of the Californian culture: I continue essentially to see myself as an outsider here. Just because I alive in America, this doesn't mean that I shall start to write songs in the style of the Beach Boys. Where you record discs counts up to a certain point, but there is also the fact that I, Danny and Judith Owen, the backing vocalist, all come from England. It makes me think of the first recordings of Louis Armstrong: he played New Orleans jazz, nevertheless he recorded in Chicago. Being far from home for a long time, you end up becoming more fiercely nationalist. And you see your own country in a different light.
Q. "Happy days and Auld Lang Syne"; the title of the last track on the CD, is also a reference to old England.
Yes, that piece quotes three old songs: "The sweet bye and bye", which is a kind of hymn; "Happy days are here again", a composition from the 20's; and "Auld Lang Syne", a traditional Scots ballad written by Robert Burns that people sing every year on new year's eve.
Q. And therefore it's the same topic that returns?
The title, "The old kit bag", introduces you to the atmosphere of the disc, or at least of some of the songs: "A love you can' t survive", for example. The sense is: smile, even when your heart is suffering.
Q. What is "Gethsemane" about, the first track on the album?
It's about a child growing up. I wrote it while thinking about a friend of mine who had a very happy childhood, one of absolute freedom: running in the woods, boat trips on the lake. The rest of his life has not been so pleasant, considering the great expectations of his parents. It's a song about the difficulties of growing up, of taking on responsibilities and of living up to the expectations that others have of you.
Q. Few people would have expected from you, given that you hold Muslim beliefs, a song like "Outside of the inside": an indictment against the Taliban fundamentalism, in the wake of the tragedy of the 11 September 2001.
I wrote it some months after those events: but it's a song that adopts a critical point of view with respect to every form of fundamentalism, regardless of whether it is Muslim or Christian. I can't stand fundamentalists of any origin, I think we are dealing with ignorant people. Even if it was not known what my cultural background is, I believe that the song would maintain its meaning. In substance, it's about defending western civilization when confronted with those who, like the Taliban, consider it of lacking in any value. I am a fan of western civilization. Well, not all: Madonna, for example is a personage who annoys me.
Q. In recent live shows, you have added to your repertoire an old pacifist number by Phil Ochs, "I ain' t marching anymore". Another example of song with a politico-social message: nearly an innovation compared with your usual rules of composition.
There is a time and place for songs with political content and now it is one of those moments. I believe that I write political songs every so often, even if they are disguised as love songs, because politics are everywhere. But at certain times, things are going so badly that you are compelled to say something more precise and direct. Like many other people, I am also concerned at and consider very dangerous the plans for America to invade Iraq.
Q. What is the reaction of the American public when you sing the Ochs's song?
It depends. In New York and California people express approval. In a Midwest city like the one in which I shall play this evening they could lynch me! Which means that I will play it: I have chosen to perform it precisely because I want to stimulate reactions. Americans citizens are afraid to take a position against the White House. But this is supposed to be a democracy and there is supposed to be freedom of expression. And I believe it is important to try to provoke some kind of debate.
Q. You don't like Madonna but you interpret a Britney Spears song, "Oops, I did it again", in your show "1000 years of popular music". How does this fit in with the other songs in the show, some of which go back, in fact, to a thousand years ago?
I have simply tried to put together a set of good tunes. And the Britney Spears song, for me, belongs to this category. Also "Kiss" by Prince, another of the numbers in the repertoire, appeals to me a lot. And then I do stuff by the Beatles and by Squeeze. I don't generally like what I hear on the radio: Kylie Minogue doesn't do it for me.
Q. In your repertoire there is also an old Italian song, "So ben mi ca bon tempo" by Orazio Vecchi. How did you discover it?
I found it in a book of musical compositions. Orazio Vecchi was a cathedral musician from the sixteenth century, originally from the Modena area. It's an amusing song, with very witty lyrics. I hope that my accent is comprehensible when I sing it.
Q. Will you perform the show elsewhere in the future?
There are no precise plans, but it could be amusing.
Q. What feelings do you experience when other artists interpret your songs?
Lately it has happened with Graham Nash, David Gilmour and the Del McCoury Band. I have heard the version of "Vincent" by Del McCoury and I like it a lot. Also Graham has remade "Pavanne", hasn't he? Very kind of him, he was already singing it live 25 years ago.
Q. Do you feel at ease, coming back in the guise of an "independent" artist?
The big labels have become much too "corporatist", today their only concern is the quarterly balance sheet. It's the accountants who run the music business now. Everything is determined by profit and love of music has disappeared. In the 60s the people who worked in the record business loved music: Mo Ostin and his team at Warner Brothers, for example. For them the music was as important as the business. And therefore they supported for an entire career people like Randy Newman or Ry Cooder. Today 90 % of the artists can no longer find a place with one of the major players. And many of us must find different ways to keep in touch with our public.
Q. For Woody Guthrie the guitar was a machine-gun that killed Fascists. For many rockers it was a phallic symbol. For Fairport it was the instrument through which folk music was electrified. What is it for you today?
I write and I arrange 90 % of my songs on the guitar. I strum away all day, to the despair of those around me. For me it is an extension of my body.
Q. I understand that you also have an album for children under way. Is it ready?
Not yet, I need another song. It's frustrating: I should like to issue everything at the same time but it is not possible, there is too much stuff. Sure, now the Website gives me the opportunity to publish little ventures with more flexibility.
Q. The old fans have been dreaming, after seeing your surprise return to the studio with your former wife Linda. Will there be a follow-up?
I wanted to be present on one track of the album because it was a bit like holding a family gathering. Two of my kids played with us and to me it seemed a lovely idea to do it for them. But a reunion does not interest me: we were a couple for ten years, and that was enough. I am interested in moving forward.
Q. Are you annoyed by the label of "singer of doom and gloom" that someone has stuck on you?
Yes, quite a lot. Pop critics in general love light, mindless music. They don't appreciate weighty, demanding subjects: and my music is heavily influenced by tradition, by ancient popular ballads. Therefore, for me it is normal to talk about death, murder and things of that sort in songs. I think I write music for an adult public, while many pop critics have other points of reference. From the moment when Dylan took the electric turning in the 60s the entire panorama of popular music changed, above all from the point of view of the lyrics: and now we all feel authorized to write about any subject.
Q. Talking of critics, in a recently compiled anthology of writings on rock by Nick Hornby, some of them attributed to you a prominent place in the dictionary of "snob rock", judging your albums "intelligent, but in the last analysis boring".
Interesting. Perhaps they've got a point there: sometimes I find myself boring, when I rehear my discs! It happens that I put one on to relearn a song or to work out how the production was done. But there are some of my albums that I have not listened to for 20 years.