Europe - February 2003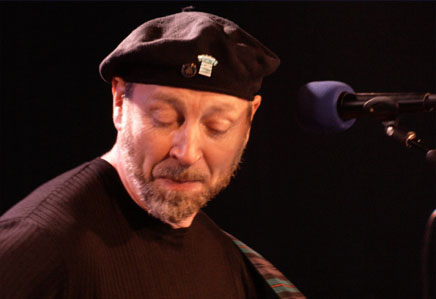 Yes, Pam I was in Paris.
Just coming back now after a familiar walk in the "capitale" where I used to live five years ago. I took the roundabout way as the weather was so clear and time so free. It's holidays for me!
No, Paris is not such a long way from Charleville Mezieres where I live now. In fact it's quite the same time to go to Paris than to Bruxelles for me ;°)... and more less than to Brugge or Amsterdam or any other far northern town of netherlands where I used to attend RT shows last passed years.
I was glad to see RT in a good show for the first time since tow years (last time was in Brugge). I'll send you the set list with some comments soon. Just let me get my shoes off and have a good coffee. By the way, did the thought of France gave you this craving of pain au chocolat, Pam. If yes, I swear that I will buy one just in thought of you.
Emmanuelle
perso.emm@wanadoo.fr
Tue 2/18/2003 9:12 AM
---
This is what a non-list member had to say
about RT in Paris. There's still hope! Looks like RT played his "standard" set. Maybe Emmanuelle will enlighten us in that department.
Ronnie de Champs
ronniedechamps@hotmail.com
Tue 2/18/2003 10:56 AM
I'm not familiar with Richard Thompson's work, but I knew more songs than I thought! Withered and Died, covered by Elvis Costello, Dimming of the Day, Wall of Death (covered by Nanci Griffith), or I was misunderstood, which closed the show. He also sung a 16th century italian song, an english seasong from the 19th century and Britney's Ooops I did it again! (if you don't have a daughter less than 10 years old, you may not know the song!!!).

If you're a guitarist, RT's guitar playing is fascinating, mostly using a pick and his three remaining fingers for picking. He sometimes sounds like they're three guys on stage! He also has a lot of humour ("Don't mention the rugby game", He's from Scotland and they lost heavily to Wales last saturday). The show lasted for about two hours, and he seemed to enjoy it a lot, smiling a lot after going "out" of his songs and returning for two encores. No pictures were taken, no recording was made...

So if you're hesitating, don't! Just go and enjoy the show!
---
Well folks i'll try to do my best
but this is not an usual exercice for me.
Firstly don't ask for RT dressing or things like this. I never think to watch about it.
As I've lost a great part of my memory abilities I have written my thoughts just at the moment of the show and you'll get it as they lay now on the paper sheets before me.
I heard the placekeeper saying that there were three fifty or four hundred people in the audience. May be it is because the show was announced in "Le Monde" (here is the url for those who speak french: http://www.lemonde.fr/article/0,5987,3246--309463-,00.html). The room is a tiny place that was in the past the first "cinema parlant" of Paris. Now it's a "diner-spectacle" restaurant with a little stage all dressed in black fabric. Sound was good. People seemed to really enjoy the show and applause dured a long time... A about ten people waited for RT after the concert. I got my TOKB signed and spoke a little with him (nothing to report about this).
The show began with
*Gethsemane. The sound was not yet ready for a comfortable hearing but it was good.
Then we got:
*Withered and Died (in a little sad mood)
*Cooksferry Queen (rocking)
*Inside the Outside (I wrote +++ : yes a very touching interpretation as I was discovering the song and only understood the chorus that matched with the aerial feeling that impressed the voicing on me. Great!)
*something very funny about Graham Bell and his thousands of inventions. RT was trying to read the words and mhum-mhuming the parts that he forgot as it is a very fast charleston-like playing. Very funny! Then the ambiance became really communicative between him and the audience.
*Genesis Hall. One of the songs he used to like from this old memory... That's approximatively what he said.
*Crawl Back. Excellent version with a desesperate final yelling...
*Pharoah. Unusually melancholic version white a white (unhabited) voice, with no more sounds effects, like trying to render some weight of fate (in my personal interpretation). Beautiful unconspicuous egyptian evocation in the final guitar line.
*a song about young men in wars. The chorus made something like "I ain't marching any more". Directly dedicated to Bush attitude.
Then he spoke about "1000 years of songs". Hoping it will be realised but not knowing when... He gave us three of them:
*a naughty song from a cathedral songwriter of 1550. In italian. Classical mandolin line interpreted in rock'n'roll energic way. Very funny and good! The friend near me said "c'est un fou furieux!" (a crazy mad) : he was speaking about the guitar play (this friend used to be a guitar player).
*another song, very melancholic, usually sung in the american navy, dating from 1800. "oh shant'oh" or something like this...
* and a Oops I did it Again as much funny as he oops ate some words or chords I didn't remember exactly. Our frend crowd couldn't sing the chorus and that seemed to surprise him. How could I do if I would have needed help? did he say... He was in a good cheerfull mood and this all was very convivial.
After that he gave us :
*VBL. Classical
*The Ghost of you Walks. A bit different as I used to remember it (the guitar intro, the solo?). But this song has a particular story with me so my opinion is not very objective may be...
*I feel so good. A very ast version becoming progressively very punchy and quite roaring at the end.
*How will I ever Be Simple Again. I hoped to hear this one live once. It was beautiful like the hope for rain. For sure dedicated to those men sent in war again.
*She twists her knife again.
*I Need You At the Dimming of the Day. I didn't expect this one. It was the first time I got it live and, God! it was so beautiful, such a clear pure wine!...
Plus : *Wall of death. A pale version (excuse me sir!) *Word Unspoken, Sight Unseen. This one marvellous. I'm glad I heard it for the first time in this acoustic version. It will printed in my memory for ever like this. I can't tell more but yes it was so aerial once again. Never he gave me such a feeling with his voicing...
Plus, plus : *I want To See The Bright Light Again. Not such a great version : excuse me again, sir, I thought it was to introduce the great following as for the first rappel, 'cos the following was remarquable: *I Misunderstood. Very inspirated. I thought he was saying goodbye, he was saying good luck. From the deep of his heart.
I just have now to say that the guitar was as remarquable as usual. I am such an "amateur"of this playing that I even can't explain why. It's like taking a breathe in the air you used to smell in your childhood : you feel suddenly well and you forget all that wasn't this. Do I make me understand such a way? I really can't tell more...
So, I hope this is enough to render this 17th february evening at Les Etoiles in Paris with Richard Thompson. I apologize for the lengths or the vain comments. This was the way I got it.
Regards
Emmanuelle
perso.emm@wanadoo.fr
Tue 2/18/2003 11:59 AM
---
Just got back from Amsterdam
where RT played a short but very very good set for a live radio show. The show will be available on the internet tomorrow.
The whole Dutch clan was there and it was nice to meet up with them again and meet Richard Condon for the first time
After a short interview Richard (most remarkable comment "can you practice feeling?" on whether he did his guitar parts more with feeling or more with try it a couple of times and pick the best one. It's a bit hard to describe the question, which wasn't very clear to begin with, but I hope you'll get my meaning) with practice played 6 songs.
He started with a great version of Gethsamene, then continued with Crawl Back. He seemed to enjoy himself very much during the show. Then people started to shout requests, even though RT would only be playing six songs (not everybody knew the number of songs to be played but that was what Simon quickly told Flip in passing). someone shouted for I Misunderstood and another for God Loves a Drunk. After checking with the presenter if it was allright to change the setlist he continued to play both songs, with Drunk first. That's a real favorite from me and I hadn't heard him perform it before so that was a treat. Misunderstood was gret as well. Richard then said he should be plugging the new album and I shouted A Love you can't survive. He thought that a good idea and played it! Great! Then the organisation told him he only had time for 1 more, not too long song, and a heavy Bright Lights closed the show. While Flip was amongst the lucky few who were granted an audience before RT&ST would travel to Hamburg I decided it wqas time for me to go home. I have to work tomorrow, or to be more precise later today.
There may be more comments on the show from other list members and I am sure Flip will share any news he gathered during his meeting with OH
Ronnie (off to bed now)
ronniedechamps@hotmail.com
Wed 2/19/2003 6:46 PM
---
I wonder if anyone
on The List picked up the radio show, because I'd like to check what a very well informed friend told me afterwards, that VPRO possibly didn't broadcast all of RT's six songs as they were performed because they didn't seem to fit in Radio3FM's format....I'll be looking into this as soon as I can. If it's true it would be a bl***y shame.
The working of the Dutch broadcasting system is very hard to explain to foreigners, but the easiest part is that 3FM is the public station for popmusic. There has been quite some criticism on the station of late, because mainstream popmusic has been covered pretty well by our commercial stations and 3FM has been forced to proof there are fields in contemporary music which could fit in the format of public radio broadcasting. I would say, that RT could well fit in off-mainstream contemporary music, but already when members of this list were ordering their tickets we got the strong feeling, we were considered part of a market VPRO Radio 3FM-people isn't really aiming at. We're too old for 3FM is the feeling we got. And during the show the presenter of the programme paid attention to the fact that this night's audience was not the regular audience for the programme but all this had to do with *The legendary Richard Thompson*. There we stood: some 40-ish RT-lovers, who travelled two to three hours to see & hear six songs by the man who flew in from Los Angeles, and who stopped in Amsterdam on his way from Paris to Hamburg to give a little plug for his amazing new album. The friend who told me VPRO-radio didn't broadcast all of the songs was a senior VPRO-programmer himself - and a RT-lover & promotor on the same national public radio - and he promised to lay his hand on the recording to complete the concert in his own programme next week, which BTW, unfortuately, is on a less massive special interest radio section of Dutch public radio. It isn't only in the Middle East where wars are a thread, sorry for the comparison.
Thanks to mr Tassano I had the chance to talk to Richard a bit after the concert in the dressing room. We weren't aware of the Young VPRO policy at that point so we had a chat (with a man and a woman who had met The Thompsons during one sunny vacation in Costa Rica not long ago). What I made of it was, that they made acquaintance through Nancy and Jack, and that at a certain point the pater familias was introduced, being a funny guy with shorts and a cap. They had no thought of the man's occupation, and the subject wasn't mentioned until late. They seemed to have had a great time and after the funny man with the cap seemed to be some musician with a relation to an old British folk-rock group named Fairport Convention it still didn't ring a bell to the couple. Here and now, in Amsterdam, the couple seemed to be aware they'd been spending some time with an internationally acclaimed performer of some status and they'd started to listen some of RT's work with FC and they really seemed to like it. Richard was very polite to the couple while I was silently waiting to get a chance to get the loads of cd-covers signed that The Dutch Contingent gave me as soon as they found out I was the one to represent aforementioned bunch during the apres-concert slim lined meet & greet in the dressing room. That chance came after the woman of the couple asked me: "And who are you, are you a groupie?" RT laid his arm on my shoulder and replied: "Yes, Flip is a special sort of groupie...".
Then Simon came in. I gave him my digital Nikon camera to make a pic or 2 of OH & me ;-) and at last we were, where I wanted to be.
RT said, he'll be back in The Netherlands in May-June-July with The Band. He said he'd love to do a band gig in Paris soon as well. He told me he'd read Emanuelle's review on the Paris concert (which I've forwarded him) and he really loved it. He was really saying he's in love with the way The French (and especially French women like Emanuelle are saying things about his music). He said the upcoming German concerts will be Cooking Vinyl promo concerts, one hour for each act. RT will be opening the first night, play in the second hour the other night and in the third the third night. He said he's never met new drummer Earl Harvin, but he's read the interview yours truly had with him and he's anxious to meet him. He seemed to have been studying some of Earl Harvin's work and he made comparisons to a group named Gong. I told him I read Earl could also sing and he liked the idea of a singing drummer as an extra. And they'll be rehearsing a bit before the band tour really starts of.
At a natural point our meeting ended. All business had been done. All things had been said. I think RT & Simon T will be moving along to Hamburg as soon as the new day begins in Amsterdam.
Before the sun will be coming up I hope to be asleep.
Love,
Flip-
(Like Emanuelle I'd like to say sorry for my poor English, but you may have gotten the main atmosphere of the evening. I thought it was a sad thing many of the other Dutch RT (and Anglo-Belgian RC) weren't able to talk to him a bit, but I hope they'll forgive me I took the given possibillity).
Richard Thompson For Completists
http://people.zeelandnet.nl/flipfeij
PS While in Amsterdam I laid my hand on the first copy of Words, made by former Mojo-journalists, containing a great review of TOKB. I think the time is near real Dutch radioprogrammers will start an alternative station on which RT (and Loudon, and Allison, Gillian, Beausoleil, the Steve Earles & Fearing) and just name it are common stuff. It wouldn't suprise me if I'd be among them someday......
Flip Feij
flipfeij@zeelandnet.nl
Wed 2/19/2003 10:27 PM
---
This was posted on the FC-List
(sorry to those who are on both lists) and sorry to Reinhard for not asking - Hurrying,
Flip-
flipfeij@zeelandnet.nl
Fri 2/21/2003 9:52 AM
Tonight I have been at the "Acoustic Stories" gig in Hamburg at the St. Pauli Theater. I understand that this was the first evening of a short German tour. Participants were
1. Midnight Choir: an acoustic trio from Norway which didn't impress me very much and who seemed to have been quite bored themselves
2. Jackie Leven: a Scottish singer and guitar player I didn't know before, accompanied by a keyboard player whose name I unfortunately didn't understand. Jackie did quite sarcastic introductions, witty songs, and good guitar play. Very impressive.
3. Richard Thompson solo, from 10:30 until about 11:45. He was very friendly and chatty and did quite some magic on his guitar (It was only the second time I saw him live so please excuse my excitement) to lots of well-earned applause from the audience.
Richard said some nice words about the 1970 Fairport gig in Hamburg. One guy from the audience had been there too but both he and Richard claimed to have been too drunk to remember much of the gig except having had a really good time. In remembrance to this and to Sandy Denny, Richard played a very fine Genesis Hall.
The rest of the set - as far as I remember - was:
Gethsemane
Cooksferry Queen
Outside Of The Inside
Crawl Back Under My Stone
Genesis Hall
Turning Of The Tide
Pharaoh
I'm Not Marching Anymore (?)
1952 Vincent Black Lightning
The Ghost Of You Walks
A Love You Can't Survive
I Want To See The Bright Lights Tonight
Encore, asked from the audience: Dimming Of The Day
Reinhard
---
Hamburger Abentblatt reporting:
Eine Legende wird besichtigt
Gespräch mit Folkrock-Legende Richard Thompson, der am 20. 2. zusammen mit
Jackie Leven und Midnight Choir im St.-Pauli-Theater auftritt
Von VOLKER BEHRENS
Mit dem Wort Legende sollte man vorsichtig umgehen. Aber Richard Thompson kommt diesem großen Wort schon ziemlich nahe. Der Sänger und Gitarrist zählte in den 60er-Jahren mit zur britischen Folkrock-Band Fairport Convention, die mit ihrer elektrifizierten Mischung aus altenglischen Liedern, selbst komponiertem Material und Cover-Versionen stilbildend gewirkt hat.
Fairport Convention war ein Durchlauferhitzer, der häufige Personalwechsel berüchtigt. Auch Thompson verabschiedete sich 1971, um eigene Projekte zu realisieren. Das tat der Brite mit Wohnsitz in Kalifornien, den die "Times" den "Mann, der den britischen Folkrock erfunden hat", genannt hat, getan, auch wenn es manchmal schwer fiel. "Problematisch war es Mitte der 70er. Da wusste ich nicht, ob es für meine Musik noch ein Publikum gibt. Ich habe dann versucht, meine Musik zu manipulieren, damit sie zu einem Publikum passt. Ich wollte, dass die Leute mich mögen, aber so funktionierte es nicht."
Kurz danach rüttelte Punk die Musikszene auf, und Richard fand zu seiner eigenen Musik zurück. Der 53-Jährige gilt als "musician's musician" - als ein Künstler, der besonders von Kollegen geschätzt wird. Mehrere Tribute-Alben haben sie ihm schon gewidmet, zuletzt 1995, als unter anderen R.E.M, Bonnie Raitt und Los Lobos seine Songs neu einspielten.
Richard Thompsons neues Album heißt "The Old Kit Bag" und bezieht sich auf ein Lied, das die Soldaten im Ersten Weltkrieg gesungen haben. "Pack up your troubles in your old kit bag and smile, smile, smile!" heißt es in dem Durchhalte-Song. Thompson weiß, wovon er singt, auch wenn es um die Schattenseiten des Lebens geht.
Sein Album klingt knackig, sein Gitarrenspiel und Gesang hat der gute Freund von Sänger-Songwriter Loudon Wainwright frisch gehalten. "Es gibt eine ganze Menge Musik-Dinosaurier, die heute keine vitale oder relevante Musik mehr machen. Sie recyceln nur noch." Richard nicht.
Richard Thompson, Jackie Leven, Midnight Choir Do 20. 2., 20.00, St.-Pauli-Theater (S Reeperbahn), Spielbudenplatz 29/30, Karten zu 11,- bis 25,- im Vvk.
erschienen am 20. Feb 2003 in Konzerte
Flip Feij
flipfeij@zeelandnet.nl
Fri 2/21/2003 10:10 AM
---
Hamburger Morgenpost:
POP | 20.02.2003
Zum Heulen schön
RALF DORSCHEL
Diese Trübsal schreit zum Himmel. "Last Chapter", "Requiem" und "Depths of the Earth" heißen Songs auf dem neuen, dem dritten Album der Norweger Midnight Choir - nicht ohne Grund warnen die drei Herren auf dem Cover vor ihrem eigenen Album: "Einige der Stimmungen auf dieser Platte mögen nicht für jeden geeignet sein." Aber das macht nichts, "Waiting for the Bricks to Fall" (Glitterhouse/Indigo) ist zum Heulen schön. Dass so eine Platte auch noch fröhlich sein muss, steht ja nirgendwo. Paal Flaata singt seine Geschichten mit Johnny Cash im Sinn und Nick Cave im Auge - als stände der Sensenmann mit im Bild, lächelnd und mit der Fluppe im Mund. Verstärkt wurde das Trio durch Lee Harris, Drummer der Pop-Poeten Talk Talk und deren Arrangeur Tim Friese-Greene. Chor und Orchester unterfüttern die Emotionen - wer schon bei den Tindersticks Tränen kullern lässt, wird hier zum Schlosshund.
Auch nicht fröhlicher: Richard Thompson ist der Altmeister des Seelen-Strips - unverdrossen nimmt der Songwriter-Veteran Album nach Album auf, "The Old Kit Bag" (Cooking Vinyl/Indigo) ist für Thompsons Verhältnisse ganz normal, für andere wäre es ein Geniestreich. Sparsam bis zum Minimalismus arrangiert mit Gitarre, Bass (Danny Thompson!) und Schlagzeug, ein oftmals selbstironischer Blick auf ein langes, oft finsteres Leben.
Auch altersmilde: Jackie Leven (Foto): "Ich habe 50 Jahre gebraucht, um rauszufinden, dass ich, nur weil ich wütend bin, noch kein Recht habe." Der Schotte hat mit "Shining Brother Shining Sister" (Cooking Vinyl/Indigo) das sechste Meisterwerk in Folge aufgenommen - eine geradezu beängstigend gute Serie. Melancholische Storys sind das und Lyrik von Rilke bis Sitwell, verpackt in ein opulentes Klanggewand: Schmeichelnde Ohrwürmer mit einer Batterie von Widerhaken.
Second piece from a German newspaper announcing last night's performance stressing Doom & Gloom aspects.
Regards,
Flip-
flipfeij@zeelandnet.nl
Fri 2/21/2003 10:41 AM
---
In Cologne RT
was presented as founder of folkrock legend Fairport Convention who was supposed to play songs of his new album "Mock Tudor", bringing back memories of his hometown London.
And yes, he gave the audience Cooksferry Queen & Crawl Back (Under My Stone) with some pretty good audience participation for a just released song.
He even brought some news songs of an album which is supposed to see the light in May, something like "Old Kit Bag" or "The Old Kit Bag" (?)
Plus Turning Of The Tide, Genesis Hall ("I used to be in a group. In the sixties when you stood together with three persons on a streetcorner you were signed"), Bright Lights, 1952 VBL.
Most of the songs sounded pretty familiar in my ears. I think it's about time for TOKB Bandtour by now.
I've been in my car for about 7 hrs today to see OH in Cologne in the neigbouring country. Lots of wartalk on the BBC World Service during the trip.
It was the first time I heard "I Ain't Marching Anymore" which seemed approriate (still) on this day. But the news is full of young (and old) men who aren't singing this song. They've seemed to have packed their troubles, but I haven't seen them smiling.
The show has been recorded for EinsLive a WDR radiostation for a later broadcast. The crowd seemed to love him.
Twas nice to see Ronnie & Gosse again. And Simon Tassano broke the news - in a friendly chat - that the *1000 Years album is a must have*. "So, why not release it then", I said. But he didn't dare to say if it'll be in 2003.
Regards,
Flip-
(off to bed)
- Midnight Choir didn't do a thing for me. - Jackie Leven started his set when I was on the way back, maybe Ronnie and/or Gosse will come up with a review
- The (not very big) Gloria Theater was loaded - people shouted things about him being "The Rainmaker" (RT: "That's a myth") and if he'll be on Cropredy in 2003 (RT: "I haven't been invited yet, I think I blew it last year") or words to that extend.
Flip Feij
flipfeij@zeelandnet.nl
Sun 2/23/2003 8:43 PM
---
Just returned home after yesterdays
Cologne Acoustic Stories
concert featuring Midnight Choir (rather weak IMHO), Jackie Leven (didn't stay for the whole set, that might say enough) and RT.
setlist:
Gethsemane
King of Bohemia
Cooksferry Queen
Outside of the Inside
Crawl Back
Genesis Hall
I Ain't Marching Anymore
Turning of the Tide
Pharaoh
She Said It Was Destiny
A Love You Can't Survive
I Want To See The Bright Lights Tonight
(encore)
1952 VBL
highlights for me were Cooksferry (one of RT's greatest songs) and somewhat amazingly Crawl Bakc. That's not one of my most favourite songs but it sparkled all the way, especially at the end. Nice to hear Pharaoh, hadn't heard him do that before. I ain't marching is very appropriate these days and I think he should do it with the band as well in an electrical version (just like Ochs did)
The crowd was pretty enthusiastic and RT seemed to enjoy himself very much. He smiled genuinely a couple of times. I thought I noticed it in Amsterdam last week already, but now I am sure. My feeling is he is more relaxed. The guitar playing offcourse was outstanding as always. The singing has undergone some Dylanisms. RT sometimes pauzes just a little before singing the next words of a line just like Dylan often does with his songs. Maybe RT is as tired of some of his songs as Dylan is of his and does he do this to keep himself interested. I do not know offcourse but it was interesting all the same.
I agree with Flip it is time for a band tour, at least for getting some old chestnuts out of the setlist (Turning, 1952)
fashion alert: still leather trousers
Ronnie (counting the days till Brighton)
ronniedechamps@hotmail.com
Mon 2/24/2003 5:26 AM
---
You may want to be informed
that the mummy-t-shirt was changed for a short sleeved black polo. But the black leather pants were still there. The pants could be plastic, I was close to OH last night, but not close enough I to smell if it was real leather.
Some tech info:
I noticed Simon was using a special microphone for RT that they're carrying along with them on tour plus a special device he's using at the soundboard.
The effects ST is using for the vocals - discussed here earlier - are both helpful for RT when he's singing high notes and I like them.
Some info about shouting requests:
ST said RT has changed his setlist several times during the German Tour. RT likes to change his setlist when the audience is suggesting better ideas. ST said he never discusses the setlist with his boss: "I'll leave that stuff, to you guys.." adding: "I'd personally love to hear Hand Of Kindness" again someday. I can't remember him playing that great song", the tour manager chatted.
Last night in Cologne someone shouted "Mr Dead!" and RT went through his quick:
1. That's not one of my songs
2. I don't remember the words
3. If I would do that it would change the whole build-up of the evening at once*-routine.
The audience loved him!
Regards,
Flip-
flipfeij@zeelandnet.nl
Mon 2/24/2003 5:36 AM
---
I saw RT in Berlin Friday,
but for various reasons couldn't write earlier. I thought Asgeir, who was there, would write a report, but as I haven't seen it, I will send you mine. It was written the day after the concert, I will send it as I wrote it then.
Here goes:
Fashion report:
Black leather trousers, a black t-shirt with olive-artsy design, not a Kangol balmoral, but seemingly a more traditional one, black of course. Sorry, girls, I couldn't see his shoes from where I sat.
My wife, who has successfully avoided to see him for a couple of years now, said he looked young and seemed to be in a very good mood. She also actually liked what he played.
My thoughts:
I don't write down setlists, so this is according to my memory and not necessarily in the right order:
Gethsemane
(started with some single notes played as if he was trying to get into the right state of mind to start to play, then the opening chords very powerful, more actually than with drums and bass on TOKB)
King of Bohemia
(first "Wow, I never thought he'd play THIS" of the evening. Very beautiful, also very beautiful instrumental interludes, it is always amazing how he can find amazing sidelines" of the main melodies)
Cooksferry Queen
(very fast, very good, I had to smile so hard while he was playing it, sheer pleasure, and of course always the thought: How can he do all that, create all that power jst with one guitar???)
Inside of the Outside
(My favourite song TOKB-song, it has to be said now, is IMVHO not one of his best albums. Very intense singing and playing)
Pharao
(some nice sound effects, in the chorus he sang "Sisters, don't you understand" and "Brothers and sisters..")
Words Unspoken
(for me the same as on the record. Intellectually I understand it is a great song, wonderful guitar work live, but emotionally it doesn't touch me.)
Crawl Back
(also very fast, amazing guitar playing, very outside just before the chorus. At the end, wonderful singing. I almost thought the going from very deep notes to very high notes could have been a kind of ironic reference to Midnight Choir, but I think I remember somebody has reported him doing that before. At this point it has to be said again what an amazing singer OH has become.)
Ghost of you walks
(I love this song, and wonderful interplay between voice and guitar)
VBL 52
(Triumphs, Ducatis and Jeeveses (sp???))
Turning of the Tide
I ain't marching anymore
(applause at all the right places during announcement and verses, for me it was interesting how he changed the simple melody and chord structure to a more thompsonian mode)
Bright Lights
(wonderful surprise and great singing and playing, I am a huge LT fan, but he really made this his own as a singer, too.)
Genesis Hall (encore)
(introduction with mention of Fairport. "We thought we'd become rich and famous and here I am tonight." Performances like that make me wish, that he would dig into the "way back-catalogue far more often.)
Random notes:
I don't get to see OH play very often, but I think the RT-experience is best when he plays alone.
His guitar playing has IMVHO been described best by Simon Nicol ("He walks on water"), for me the most amazing were not his solos (unbelievable as they were) but things he does while singing, that are almost unnoticed, unless you listen (and watch) very closely.
RT seemed to be in a good mood handled the audience very well. (Somebody called out "Galway to Graceland" and he said "Much too easy").
Eyes were closed during most of the song, but that didn't in any way undermine his stage presence or rapport with the audience.
It was nice to meet Asgeir, first time I saw RT with somebody from this list, and it is just great, how you exchange looks (Triumphs and Ducatis huh?) at certain moments.
Thanks for reading if you were and sorry for taking up so much bandwith
Thomas
ThuL@compuserve.com
Wed 2/26/2003 2:16 PM
---
I arrived very early at the scene.
Thomas had promised to wear his Beesweb shirt, but as I scanned the people in the BKA Luftschloss, there was no sign of him. I had a fear that the grey sky over Berlin had been an early warning that Murphy's law had just got it's "ja" in the German Bundestag. As I sat at the bar smoking way too much, I feared that Mr. Thompson had come down with a cold, and that Thomas was prevented from coming. In the middle of my first pint I knew that RT was going to play. He walked into the bar with J. Leaven's keyboard player and insisted that he'd play last. All set for Thompson but where was Thomas?
I found my place in the line and after a few minutes the rewarding words came through to my mobile. "Hi, I'm here I've just arrived." Thomas and wife had entered the building, so despite it's name it wasn't a Luftschloss, it was real. The less said about the first two, number the better. But when J. Leaven starts his gig by saying "I like to fuck", you become suspicious and after nursing some apple vodka with apple juice he started to talk about what Loudon Wainwright has called what you do with "a roll of toilet paper, and the right magazines." Midnight Chior did an effort, but despite being from the same country as them they were just ok. So off they went, and after a fifteen-minute break, on came the man most of us waited for.
It's been eleven long years since the last time I saw him (must be a list record). And my expectations were sky high, despite my disappointment with TOKB. It's not bad; it's just less good. But from the go he had my button pressed, and there was no longing for wilder days. Thomas, whom I thought was going to post first, has provided the set list. But I may add that he had to stop singing and start again, when the crowd went berserk with applause after one of his solos. It was no doubt who was the ruler of the old GDR parade ground. It was Richard Thompson. A German, who seemed to be working undercover for the local music police, summed it up pretty well when he stated: "It was great, but way to short."
Both Thomas and I had those silly smiles on our faces during the entire concert, and as he mentioned it was great to meet someone from the guild. As the concert came to an end I made a promise to myself that I'm not gonna wait another eleven years until next time, even if he only plays in Japan for the next decade (remember that Mr. Bergman). As I walked the long miles home down Unter den Linden I still had a smile on my face. And despite the clouds it was a holiday in the sun.
Asgeir
hijaz mustapha [ shuffirhiro@yahoo.no ]
Thu 2/27/2003 12:06 AM