The Old Kit Bag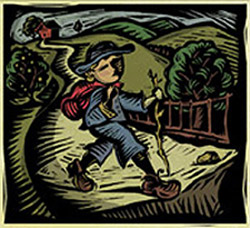 Richard's 2003 CD Release
Reviewed at Amazon.co.uk
Although I have not yet heard all of the songs on Richard Thompson's new CD, I have heard half of the songs at some of the live concerts he has been giving the last couple of years, and if you like what RT has been doing the last several years you'll like these songs on his new CD.
I'm glad that he opens the new CD with "Gethsemane" as he has been using that new song to open some of his concerts of late, and it is a very strong opener live.
"Jealous Words" and "Happy Days and Auld Lange Syne" were both played on Public Radio International's "A Prairie Home Companion" last year. The live version of JW was done in a bluegrass style that worked very well, while HDAALS was a typically moody slow tempo Thompson song.
I rank "Destiny" right up there with "Gethsemane," but unlike G, D is about lost love ("You said it was destiny...but, I'm over here, and you're over there").
The song "Outside of the Inside" is a Taliban's eye view of the world, which I happened to hear on National Public Radio's "Fresh Air" last year.
Finally, "(Words Unspoken,) Sight Unseen" is a fine medium tempo song that is very similar to G and D, which I've heard RT give a pretty emotional reading live.
I can't wait for the new CD, but at least I'll be able to hear him play a live solo show in Omaha, Nebraska on Sunday, Jan. 19 when he will hopefully play more from "The Old Kit Bag." That will have to do until I get to hear the rest of the new CD when I receive it in early February [by ordering from the UK, ed.].
David B. Hughes
from Lincoln, NE United States
---
Amazon.co.uk Review
One studio album every three years is beginning to seem like a guarantee that every new Richard Thompson release will be a gold-plated delight. The Old Kit Bag arrives three years after Mock Tudor, which in turn appeared three years after You? Me? Us?. And if not exactly a trilogy, the three taken together represent some of his most consistently rewarding work. On the new album Thompson is unusually relaxed--indeed he's positively genial in places--and even when he dials the mood down it's done with deliciously self-mocking irony ("I've got no right to have it all"). In the country-inflected "Sight Unseen" he actually goes so far as to sing of love without bitterness, and only with "Outside of the Inside" do his lyrics really sting ("God never listened to Charlie Parker / Charlie Parker lived in vain / Blasphemer, womaniser / Let a needle numb his brain").
Musically The Old Kit Bag employs a stripped-down band and back-to-basics production reminiscent of early Fairport and as on those albums acoustic folk instruments ("One Door Opens") here rub shoulders with that inimitable electric guitar ("A Love You Can't Survive", for example). Brother Danny does his solid thing on double-bass (check out the wonderfully languid "First Breath" and "Got No Right"), while Judith Owen's backing softens Thompson's familiar gruff vocals. Like every Richard Thompson album this one's a grower, but it's well worth the effort. --Mark Walker
Regards,
Flip-
flipfeij@zeelandnet.nl
Tue 1/14/2003 6:23 PM
---
Rolling Stone Review
by CHARLES BERMANT
Richard Thompson's New Bag
Veteran singer-songwriter goes indie on upcoming album
After sixteen years of recording for Polygram and Capitol, Richard Thompson will travel the independent route for his new album, The Old Kit Bag, which will be released on February 3rd by the U.K.'s Cooking Vinyl Records. An American release on iMusic is slated for the spring, but the date has not been finalized.
Produced by John Chelew (Los Lobos, Blind Boys of Alabama), the album, Thompson's first of new material since 1999's Mock Tudor, was recorded with a minimum of overdubs. Aside from Thompson on guitar and dulcimer, it features bassist Danny Thompson, drummer Michael Jerome and background vocalist Judith Owen.
Richard Thompson wrote the twelve originals over the last two years, and many will be familiar to those who have attended his recent concerts. However, he did not include comical crowd pleasers like "My Daddy Is a Mummy" and the anti-Kenny G. diatribe "I Agree With Pat Metheny."
Thompson, who has toured extensively since he parted ways with Capitol in 2001, will kick off another eight-city swing Thursday in Lawrence, Kansas, before he heads to the U.K. He plans to play more U.S. dates later this year.
Rolling Stone Richard Thompson Archive
1/15/2003
---
Richard Thompson found some time again
to answer a couple of questions:
FF: Who did the artwork for TOKB?
RT: Cover art was by Nancy Nimoy - yes, she is Leonard's daughter-in-law. The whole package was by Tornado Design.
FF: There's some confusion about new outlets. Could you say something about the backgrounds of releasing through Artist Direct, Cooking Vinyl, Beesweb and the Japanese internet company?
RT: Record will be available as usual through retail (and the internet) through Cooking Vinyl UK and Germany, and its distributors in Europe, and Artist Direct in the US. Don't know about Japan....
FF: How are things with *1000 Years Of Popular Music?* Like: when will it be in our hands and did the DVD-part work out as planned? Beesweb only enterprise?
RT: '1000 Years' is mastered - our problem is knowing what to do with it - some people would like to see it as a retail release with supporting tour, others as an internet only pressing of 2,000 - or somewhere in between. When we know what to do, we'll do it!
FF: And in Europe we're wondering about getting tickets for the Germany concerts and if it'll be necessary to make travel arrangements, which we wouldn't do if there are gonna be some concerts nearer to us soon as well.
RT: Germany and the UK are confirmed, Paris on the 17th Feb is tentative, radio in Amsterdam on the 19th Feb confirmed (live audience??) - Dublin mid-March somewhere - anything else, Holland, Belgium, Scandinavia, would now be June at the earliest.
FF: Will Judith & Teddy be part of The Road Band to come?
RT: Live band will be:
Danny Thompson
Pete Zorn
Earl Hervin on drums - (Michael Jerome not available till 2004)
Off to sunny Montana!! See you on the road...
Richard
Regards,
Flip-
Richard Thompson For Completists
http://people.zeelandnet.nl/flipfeij
---
Der alte Britfolk
Zauberer besitzt seine Kräfte noch.
Richard der Beständige gibt sich mal wieder die Ehre. 35 Jahre schon wandert Richard Thompson durch die Musikgeschichte streckt seine Fühler in diesen Bereich und in jenen aus kehrt aber immer zurück zum britischen Folkrock Weg, den er selbst maßgeblich mitgeplant hat. Inzwischen ist er bei Cooking Vinyl angelangt, einem Label, das angetreten war, sein Erbe zu verwalten.Forever Young. Doch die Verbindung passt, man merkt es auf TOKB vom ersten Ton bis zum letzten.
Thompson wiegt sich in britischen Bardentraditionen, läßt Rhythm 'n Blues -Gitarren jangeln, spintisiert jazzige Fantasien, schleudert schmissige Pub-Rocker aus dem Handgelenk. Und er kombiniert das Alles zu einem stimmigen Ganzen. Eine durch and durch runde Platte mit einigen markanten Kanten. Wer so ein Kunststück fertigbringt, ist ein alter Zauberer.
Markus Schwarz in Musik Express Februar 2002
Best,
Thomas v. Seckendorff
ThuL@compuserve.com
---
His first studio album in four years finds Thompson going the indie label route and recording as a trio, overdubs kept to a minimum to produce a spare, taut sound that pulls the focus onto the songs' substance, atmospherics and musical muscle. Recorded in Hollywood under the supervision of John Chewel, producer of Five Blind Boys of Alabama (so a man who knows a thing or two of bringing the most out of the basics), it teams Thompson with long time cohort Danny Thompson on double bass and Michael Jerome (who was in Thompson's 99/00 US touring band and provides the same for the Blind Boys) on drums with Judith Owen reprising her Mock Tudor background vocal duties so there's an easy familiarity with each other that lets the music flow and breathe. The result is almost uniformly immaculate.
Written over the past couple of years and worked out on recent live gigs (though audiences may lament the absence of the Kenny G bashing I Agree With Pat Methany), that trademark Thompson marriage of tension and elasticity is evident in the soundscapes, his resonant oak-aged voice stirring the dark waters of melodies and rhythms that draw on his eclectic influences, a shade of trad English folk here, Eastern shimmers there, jazz inflections and tumbling pop chips peeking around the arrangements.
Despite its reference to the old WWI song about packing up yourtroubles in your old kit bag, one things Thompson tends not to do is smile smile smile.
Gethsemane is a powerful opener with its images of "headstones ...crypts and tombs" and "war-whoops and secret signs in the trees" as it details loss of innocence and a crushing of spirit (a striking reference to army bullying) to a driving classic Thompson guitar and surging, soaring chorus. As usual relationship troubles provide the album's mainstay. Jealous Words finds things falling apart over misinterpretation (and a blistering guitar solo), A Love You Can't Survive a classical acoustic guitar mournful ballad as the narrator - a drug baron as it appears - laments the murder that makes it impossible to return to his true love, One Door Opens (with its infectious raga tumble) adopts a couldn't care less stance to the end of things as he sings "make believe that there's ice runs through my veins shrug my shoulders, as if it doesn't matter" while on the adult poppy Destiny (love that cascading chorus) he adopts a sense of humour to get past another implosion ("Venus aligned with Mars always really takes it out of me") and I've Got No Right To Have It All (late night jazz club brushed percussion, torch blues acoustic guitar) finds him putting on the stoicism as she walks away for another.
That songs can both pin and ease heartbreak is the point behind the closing Happy Days and Auld Lang Syne, a slow dance across the battlements that opens with a break-up at a party and ends with the acknowledgement that "All the old songs they're singing such comfort they're bringing to a heart that's as empty as mine. O it lifts you so high does the Sweet Bye and Bye Happy Days and Auld Lang Syne."
It's not all emotional downers. I'll Tag Along is a rousing good time Thompson number even if it is about one of life's third person in a crowd who usually winds up causing the problems and, by way of total musical and emotional contrast, First Breath is a moody bittersweet worn down but seeking salvage plea to "let's love what's left Last dance First breath."
If there's a weak track it has to be Mr Pearly Jim, one of those cliched diatribes about (among other things) the sharks who encourage you to get in beyond your limit and means, a loose unformed lyric that includes such talent unworthy lines as "Chairman Mao's got a whole lot of thoughts and R.D.Laing's got me tied up in knots" to go with its old prog blues riffs. But then comes perhaps two of the album's strongest moments. An almost anthemic Word Unspoken Sight Unseen that slow gallops like the four horsemen of the Apocalypse, Thompson and Owen melding voices over its soul stripped naked 'take me as I am' love song like the vintage days of Richard and Linda, and the ferocious slow burn Outside of the Inside that cites Charlie Parker, Einstein ("curse his devious mathematics curse his deadly atom war") Van Gogh, Shakespeare and Isaac Newton in its cautionary warning about what can be unleashed by ignorance and the refusal to confront yourself and your actions. It's not immediate, but it works its way inside.
That he's no longer with a major label is to some extent an acknowledgement that after over three decades of releases he's never going to have the sort of sales the industry place above prestige and talent, but there's a legion of loyal admirers out there for whom this is certainly going to be the highlight of their year.
Mike Davies
---
and place your order. I've ordered tons of stuff from there, it gets here to the USA in about 4-7 days every time.
I CERTAINLY won't be waiting until April! [US release date, ed.]
John Holcomb
jholcomb@midwest.net
1/2/2003
---
Dear Diary,
Woke up. Ran to mailbox at 5:30 am. Still no TOKB. Paced the floor while drinking orange juice. Tried to read the morning papers, but it was useless. Thought of Richard Thompson's new songs that might be arriving any minute and phoned up Derek, who got his TOKB yesterday. Derek refused to play the songs over the phone and hung up. 5:45 am and still no TOKB in mailbox. Started up the treadmill and thought about Shank's Pony as I trudged away in sadness. Shoveled snow and checked mailbox at 6:15 am, and found nothing. Absolutely blackness. Just like my soul. Organized my Richard Thompson Cds (again) by session drummers, and brewed up a cup of joe. Tried to play "Wall of Death" on the recorder, but it was useless. Practiced standing in front of the mirror wearing my beret and doing windmill guitar motions, but it only looked dumb. Checked the mailbox at 7:25 am, and found...nothing. Called the post office to find out if any parcels from the United Kingdom had arrived for today's distribution- no answer. Called up Derek again, but nobody picked up (he has caller ID). Thought of writing a letter to Rolling Stone asking them to do a cover story on Richard Thompson, but then thought Wenner is more interested in Pink or Pink Floyd nowadays. Or John Mayer. Put on my 'Hand of Kindness' jacket and walked out into the freezing rain to check the mailbox, but then realized it was probably just an exercise in frustration, and returned to my condo empty-handed and in anguish. Played some Lesley Gore and felt better. Re-arranged my Thompson Cds (again) by color, and heated up a farm-fresh muffin top. Can't go on like this. The waiting is the hardest part. Back to bed at 8:14 am with dreams of backstage passes and autographs of RT and a spoken introduction like "My pal Bink wants me to play 'Push and Shove' tonight, so here it goes..."
bink
binkles@optonline.net
2/4/2003
---
In common with quite a few others,
because parts of the UK were covered in almost a millimetre of snow, I couldn't get hold of a copy of TOKB until today.
I must confess, I was hesitant. I enjoyed Mock Tudor so much, that I really wasn't sure that the new album would not be an anticlimax. Although it is VERY different to Mock Tudor, at first playing, I loved it.
It helped that I had heard some of the songs live (Gethsemane, She said it was destiny, Words unspoken sight unseen, and Happy days & old Lang syne), and in addition, we had the downloads from the Cooking Vinyl website, but even so, I was impressed with the whole package. There is just one track (Pearly Jim), that didn't float my boat on 1st hearing, but I'm sure that given a few plays......
There are two things that strike me immediately.
1. The album does not open with an obvious all out grab you by the collar track.
2. This album has an absolutely cracking sound Gromit.
First track Gethsemane is no Cooksferry Queen, Tear Stained Letter, Valerie... you know where I'm coming from, but nevertheless, it's a strong almost understated opener. Jealous words, is also understated, but has an excellent guitar sound. I'll tag along, most people have heard already, so you know it fairly well. It fits a treat as track three. A love you can't survive starts out as a stark acoustic track, but builds into a superb band effort. The next track, One door opens, you've heard the download.... Then we have First breath. Again, some really nice dampened acoustic guitar, and great Bass from DT. Track 11, She said it was destiny. If you liked Dead Man's handle, you'll love this. Next up, I've got no right. I think someone else has already said, very much in the vein of Al Bowley's in heaven. Then we get to Pearly Jim.... I need to really try to get in to this one... Next comes Word unspoken sight unseen. I think most people will be familiar with the song, and it's a nice version. The penultimate track Outside of the inside almost sounds like it's going to incorporate the Muslim call to prayer as it starts (much along the lines of Steve Earle's John Walker's blues). Good use of mandolin, this one in going to be a ling time favourite methinks. And finally Esther (sorry for non-UK readers, or anyone who can't remember "That's Life"), we have Happy days & auld Lang syne. This is an obvious closer.
It's always nice to approach with caution but to be pleasantly surprised.
Paul H.
paul&chris@pook.freeserve.co.uk
2/4/2003
---
Scene:
A vast subterranean chamber, buried deep beneath Whitehall ... a place of feverish excitement and muted voices, illuminated only by liquid crystal displays, dominated by monitors showing satellite photos of the planet .... scores of frantic workers bustle about .... an intercom blares .... phones are ringing .... computers beep, lights blink, salutes snap .... Yes, we are inside the fabled Global Operations Bunker of the RT List .... now the camera moves in for a close-up as a hand grasps a sharp pin with a yellow head, then circles over a gigantic map of the world spread out on a table .... we see the hand hesitate ... then the pin is stabbed into Springfield, Missouri, in the peaceful Ozarks, where The Old Kit Bag arrived today, courtesy of Amazon UK.
--Kelly Knauer (who confesses to having listened to more than 20 seconds already ... One Door Opens catching this pilgrim's fancy!)
Obitman@aol.com
2/7/2003
---
So now we have it.
Proof positive that Elkhart, Indiana is the farthest place on the Earth from England. At least when measured by how long it takes the post office to find me. February 9, and still no TOKB. Everybody else has theirs. It has even arrived in Missouri. Missouri! If my mother hadn't been born there, I wouldn't even know where it was. And so. Here I sit. Still waiting. Still waiting.
Willis Howard
wehoward@alphane.com
2/9/2003
Perhaps the anticipation is not the best part. NP - TOKB. W. Howard 2/12/2003.
---
We've barely begun to unpack the treasures
in The Old Kit Bag. My copy arrived Monday courtesy of amazon.co.uk and I've spent about seven hours in its audio company so far. Seems an instant classic, in my biased opinion, one of the best albums of the dread-naughts (or the naughties) so far.
Those of us who grew up with vinyl records will appreciate how OH, now on Cooking Vinyl, neatly divides his 12 new tunes into two sides, or chapters---makes it easier to grasp the album's flow. But how does each set of half-dozen songs relate to its chapter title?
Except for the opening "Gethsemane," written in the second person, and the closing HDaALS, in the third and first-person, all the songs are sung from a first-person perspective. The first six fall under the first chapter, "The Haunted Keepsake." My theory is that the haunted keepsake is the memory of lost grace, before a bitter fall. The protagonist in the haunted song "Gethsemane" mourns lost freedom, fire and destiny, and "perfect endless days." In "Jealous Words," the narrator remembers when sweet Rosie Lee was like a sister to him, before her jealousy tore them apart. You really have to stretch this theory for the lowlife in "I'll Tag Along," but he's probably momentarily pining for when he wasn't being blamed by his new crowd and when he didn't have to kill for the loo.
"A Love You Can't Survive" fits the theory neatly, as the narrator suffers the pains of his permanent separation from his lost love after his promise to return to her: "Yours is the one face that won't go away." In "One Door Opens," the narrator tries to move on after "love breaks like a precious string of pearls/A thousand memories, they roll away and scatter." The haiku-like "First Breath" ends the first short song cycle with tentative steps forward after an undefined loss: "Let's love/what's left/Last Dance/First Breath."
RT may sing "I've Got No Right To Have It All," but he certainly does have the right to a decent proofreader: "If time stopped in it's tracks" and "This is the point/Wher we act crazy or sane" are embarrassing slips. But I don't think the second chapter heading, "The Pilgrims Fancy," is necessarily a typo. I take fancy here as a verb, in the sense of "to believe without any evidence or in illusion" or, less drastically, "to form a conception of, to imagine."
The protagonists of the last six songs can be seen as pilgrims in a sense. In "She Said It Was Destiny," a cousin to "I Misunderstood," the narrator wonders why he's separated from a woman who seemed to promise togetherness and a shared destiny. The singer of "I've Got No Right To Have It All" goes further and consciously relinquishes the future of his relationship. The frustrated narrator of "Pearly Jim" sees his progress in life's pilgrimage brutally blocked by the sinister Mister Pearly Jim: "Does your conscience ever scream/Between the chaos and the dream."
The protagonists of the last three songs are closer to traditional pilgrims: the mail-order bride from Chernobyl in "Word Unspoken, Sight Unseen" "must leave this tainted place/of slow and hidden pain" to travel to a place where she can just "sweep the dust/And patch and mend." The Taliban follower of "Outside of the Inside" is on an ignorant journey in mental blinders to Heaven, with "a message in the wind/ calling me to glory somewhere." And in "Happy Days and Auld Lang Syne," the suddenly betrayed and empty-hearted woman tries to cling to the comforts of old songs to help her bitter progress into a new year: She resolves, "I won't cry, I won't grieve/But I'll laugh and I'll flow with the wine."
There's a couple of litcrit constructs for 12 well-crafted songs, but OH is inviting such interpretations with his provocative chapter headings. What are some other takes on "The Haunted Keepsake" and "The Pilgrims Fancy"? Which songs are the unguents, which the fig leaves, and which the tourniquets for the soul? And where's an analysis of the uproarious humor in "Little Brown Bear"?
Scott N. Miller
smiller@aaas.org
2/12/2003
"If time stopped in its tracks
Is that what paradise might be
I'll cling like a drowning man
To my driftwood piece of memory
And where's the peace of mind
Among the debris left behind."-----Richard Thompson
"And sometimes you never connect with a song
Till it's telling the way that you feel
Putting words to your story, all the pain and the glory
How can it be written so real."-----Richard Thompson
"'O be something, be something fine!'"----Richard Thompson
---
Scanning just a day's list posts,
I see nothing much has changed. People writing about weather (well, write what you know about) and war (by contrast), in spite of the presence of a new RT album, mixed (Old Kit) bag that it is. Hmmm...
I made a point of not reading any posts on OKB until I'd listened to it for a few days. Reading just today's posts, I noticed some sentiments similar to my own first impressions, particularly the ones regarding 'quotes' from other songs. You could call it homage, you could call it ripping off, you could chalk it up in any event to lack of inspiration or laziness if you were uncharitable. John Lennon (oa) used to say The Beatles stole from the best, and I think you could say the same of RT, except that the best he's ripping off is from himself. Whether you judge this a good or bad thing is up to you, of course.
We can't help but factor in the influence of events that have occurred, both in terms of world politics and the other projects in which RT has been engaged, in the interval between albums when considering this one, and, indeed, there are many references to these, lyrically and musically, to be found herein. There's a school of Amateur RT Critdom which suggests that it's worthwhile noticing who each song is addressed to (1st person, 2nd, etc) and what the implications of that are, even to his entire body of work. You'll have a lot to chew on in this regard.
While listening, I jotted stream of conscious notes, as follow:
1. Gethsemane: bluesier voice/tune, very bluesy (Blues in the Night, kind of) for RT... RMO (reminds me of) Hand of Kindness/For the Sake of Mary... short 1st solo RMO That's All... heard "perfect world" as "Word" (prefer my interpretation)... song SHOULD have stopped at the sudden pause. NAG (no amazing guitar) yet...distortion of voice (god's megaphone) RMO Dylan "Love Sick", interesting device but unnecessary in the context of the song.
2. Jealous Words: RMO Bank Vault (1st sign of y?m?u?)... very bluesyback vocals from J. Owen, bridge of the song RMO a Dylan track (from Street Legal?)...almost AG (Amazing Guitar). Also RMO Yer Blues (same key?)
3. I'll Tag Along: RMO No's Not a Word (y?m?u? again) and Crawl Back... more self put-downs (becoming a boring RT trope by now), RT into Es and booze? the Club scene?... most Dire-Strats-ish song.
4. Love You Can't Survive: 1st acoustic... obviously a BIG number... tone RMO Industry songs (similar RT vocal 'surge') and PITP...chorus is overwrought, annoying, and melodramatic but technically well-sung... he'll never hit the high notes live, or not for very long...why is RT in the Congo?...mercenary soldier RMO Roland the Headless Gunner (good grief)...why can't he go home if he killed someone in Brazzaville, what's the stigma attached to that? who'd know or care?...."it tears you up inside": clicheed line... more inherently interesting song than 2 or 3.
5. One Door Opens: cue Tull: Fatman (what, no tambourine?)... nice DT stuff similar to the end of 4, another bass play-out... 1st exotica (as Uninabited Man)...groovy mandolin, overdubbed against himself... influence of 1000 Years, as it sounds like a chipper song from a Broadway show (Deborah Kerr to Yul Brynner?), thus twee but not fatally so...one for the Morris people perhaps.
6. First Breath: more Uninhabited Man...starts like slow acoustic Come Together...nice RT falsetto... rubbish lyrics... finally some AG solos, RMO playout on That's All transposed to acoustic... music much more interesting than lyrics, which sound like kitsch from Kismet or The Desert Song...hard to write such short-lined lyrics successfully.
7. Destiny: fuzztone???... "she", 3rd person songs usually about women?, connotes distance from them?...major bid for pop single hitdom (not a chance)... don't like the production very much, as on most of OKB so far, apart from Gethsemane and One Door... don't like the organ/harmonium thingy... acoustic version (would be) more satisfying, errrr...
8. I've Got No Right: requisite bluesy-jazzy soul item, very Cry My Tears and Move On...RMO Cry Me a River-type of song (1000 Years influence again)...vibes (who's playing?) thingy no surprise, but a cliche for this kind of number...yet another self put-down.
9. Pearly Jim: RMO She Drives By Lightning/No's Not a Word...bridge from Razor Dance... weak-sounding badly engineered 1st solo, overwhelmed by rhythm parts....missed opportunity to really wig out on guitar... not much of a song...filler?
10. Word Unspoken: profound beauty of this song's tune and meaning totally ruined by bouncy, jaunty percussion ala Put Your Faith in Me... would prefer longer play-out as on acoustic version, as heard in Osaka which is superior in every respect... shame about that...damned shame.
11. Outside of the Inside: more exotica...again, much better done acoustically, especially the chorus (uh, if I'd ever been able to hear it done that way, which, of course, I couldn't have) ...nice wild mandolin run at the end. [At this point, it occurs to me that lyrics are taking precedence over music ...OKB is very wordy, not necessarily a good thing.]
12. Happy Days: RMO I Still Dream...this album's Beat the ReTReaT... best here so far since Gethsemane, oversung, overly 'mannered'.
On the Japanese version, there follows a 30 second gap, after which weget So Ben Can Camp or whatever, thoroughly delightful, though jarring in context of what's gone before. So Ben's tempo/time signature is similar to songs on OKB (Gethsemane, speeded up, One Door Opens), but aside from Gethsemane, it's the most interesting thing on here. Because of that, I'll be especially looking forward to "Oops! and 22 Other Gems: 1,000 Years of Popular Music". I wanted OKB to "be something fine", however...
-Marc Bergman
PS: Price in Japan (with bonus) is 2300 yen = $19.43, 12.19 pounds sterling or fl.39.57 (for Flip's benefit).
marchand@neptune.kanazawa-it.ac.jp
Fri 2/21/2003 4:59 AM
---
I imagine by now
everyone's discussed the trivia abounding here: where/what the Cadie (Acadie) is (check Google), where/what Brazzaville is, our apostrophe lectures going for naught (the lack of one in Pilgims (sic) Fancy, the ungrammatical one in (in my booklet anyway) in "it's tracks" (No Right)), who Diz the Gasman is, what a Molotov is, how common in brit English it is to say "I'd kill for a...(usually a drink or a doner kebab)", "tied up in knots" (both the R.D. Laing title and the quote from Dylan's "When You Gonna Wake Up?) [which idealogue is tying the knots in THAT one? Henry Kissinger?], brit usage of "Pearly..." (as in "queen), what "Mandarins" means (not the fruit, though in some cases, who, knows...), the sweet bye and bye (as in the very recent Dylan tune), which Lamb and Flag it is (Covent Garden or Oxford?) and the couplet missing from the booklet (Destiny @2:06). No need to rehash, then.
What I most like about this album, FWIW, is the splendid use of Judith Owen and the many parts in which RT sings magnificently. What I don't like is the parts where RT OVERsings ("drowned" in Happy Days) and the production, which I find clinical and inferior to Mock Tudor. This may be because of the unusually large amount of overdubbing, and it SOUNDS like overdubbing, as opposed to MT's more live feeling. For example, notice how calm RT's vocals are, in contrast to the what-passes-for-rock music rollicking away behind that same vocal. At no time do I get even the vaguest feeling that there is any spontaneity involved, RT is playing and singing simultaneously or that the talented rhythm guitars, mandolins, etc in the background are being played by anyone but him. I wish the Bongload Team had been allowed to do this album, as well. Also, there's some great guitar to be found, but little that is jaw-dropping (much less than on MT) and far less Amazing Guitar than Iexpect (and, reasonably, I think, demand) on a Richard Thompson album. Maybe they recorded too fast or in fits and starts, between gigs, as it doesn't sound all of a piece to me.
Again, the organizing conceits/principles (Chapters 1 and 2) seem to beas bogus and unnecessary as they were on MT and kind of pretentious. OKB's catchy in places: I find myself humming One Door Opens and the refrain from I'll Tag Along. I think Gethsemane is a masterpiece, but is let down by the solos, surprisingly. It should be a killer done in concert on the Ferrington, though. Of the songs RT has performed acoustically that I've heard (of...), it's the only one that seems as good transposed to the electric as it is when performed acoustically.
If MT would get an A- from me (it'd be an A if not for SASOLT and Hope You Like...), I'd give this a B- or a C, depending on my mood, though I may eventually warm to it a bit more. No new ground has been broken, except that we get a glimpe of what Y?M?U? might have sounded like un-Froomerized.
It's not an album I would play to the uninitiated to show off why I rate RT so highly, and it's not one I'll really play very often for my own pleasure. After a dozen or so plays, I've almost had enough of it already, which has only happened so quickly with Y?M?U?
So, two steps forward for MT, and one step back from that for OKB. I see this in relation to MT much as I see Dylan's Love & Theft in relation to Time Out of Mind: an artist who met great (and unexpected) success by using a different M.O on an album, nobly failing on the follow-up album by trying to again use a different M.O. OKB is disappointing to me, not hugely so, but disappointing nevertheless. I've been conditioned through experience to expect great things from RT; perhaps I expect too much of him.
Needless to say, all of this is based on first impressions and all carries a large, red flashing IMO stamp on it. YMMV. I sort of hope it does.-
Marc Bergman
marchand@neptune.kanazawa-it.ac.jp
Fri 2/21/2003 5:01 AM
---
Yes this is the bag
I got when I had to go on march for the first time. It's stiffed with all those old sticky memories that mingled their smells, joys were the lightest, quite evaporated now, a so fine ans sweet remaining, power and strenght nothing more than a vain lightening armour under the ancient suns. All my share eaten I'd to take edibles around, they said it couldn't be other way, rough and burning leaves, bitter roots, acid fruits, they kept me alive along. Yes it is the same and cherished old kit bag that I hold since a so long time. It's stiffed with the dust of the way and the grime of my hair when I'd to fall worn out bloods had to wed on the grass, I was the killer and the wounded, salted blood with tears of rage and misunderstood, tears of rain, grateful at the end, why am I so sad? All my share eaten I'd to take edibles around, they said it couldn't be other way, rough and burning leaves, bitter roots, acid fruits, they kept me alive along. There's mind, spirit and heart. People don't forget it when I open my bag and tell the story. The skills are tricks, when you learn how to survive just remember to breathe, don't wonder about the way you'd to pray for sake, words are of no understanding for them remember that you are the soldiers, wouldn't you bend your arms, oh listen those crying hearts. All my share eaten I'd to take edibles around, they said it couldn't be other way, rough and burning leaves, bitter roots, acid fruits, they kept me alive along. Should a soldier get a new bag, plastic latches and lightening patches, compacted proteic and overvitamined food-ration, when he has to go and march again? His old kit bag holds the memories of all the ancient wars, superstitious gri-gri against death it's the only witness of his surviving among all the dead around, will it stop once?
All my share eaten I'd to take edibles around, they said it couldn't be other way, rough and burning leaves, bitter roots, acid fruits, they kept me alive along.
(Emmanuelle)
perso.emm@wanadoo.fr
Sat 2/22/2003 7:28 AM
---
I'd agree with Marc
and all the others when they say that there are so many reminiscences of the old songs but I won't say I'd prefer some or others. It seems not appropriated to make comparisons in my shy opinion. The poem-like I wrote to introduce my whole first understanding of this new album could be the starter of my argument.
Production, instrumentation, dubbing or not dubbing, all this is "patching and mending" the old kit bag for a new part of the way. When the man is passing near me I recognise him through the patches and mends of his bag. I'm glad HE is on the way again crossing my way once more and like a child running unconsciously on the road, I'd follow him as much I can until I remember my own path. I like so much the smells springing from his bag, fig leaves, unguents, he helped me so often when I was bleeding in the ditch. He teached me the name of plants, he showed me how to tie and tighten the tourniquet and when to slacken it in prevent of necrosis.
Like it is so well described in the Jim Jarmush movie Ghost Dog, I'm glad I don't speak the same language than him, that's the best way to not stop my spirit on a word (why this one? does it mean so what I thought he had to mean?). I feel I understand beyond the words, not worrying of being understood myself, and that friendship is the most precious in my heart (the heart is said to be the deepest end of the soul).
Then as Amir and Pam whose comments I just read, but I think you're numerous in this congress to feel the same, I received the songs of The Old Kitbag right in the deepest end of my soul. In the order of first earing : Outside the Inside, Word Unspoken, First Breath, I've Got No Right To Have It All, A Love You Can't Survive... and they all pull me up higher in a quite sore but exquisite emotion that I had forgotten along the hard and dusty day of those last four years. They really are unguents of fig leaves smelling for me, a release I didn't hope, I'd like to stay here in those smells and sounds of so good memories and take a rest before going on again, grateful for him giving again the comforting caress of his voice telling stories of survivors...
Emmanuelle
perso.emm@wanadoo.fr
Sat 2/22/2003 7:49 AM
---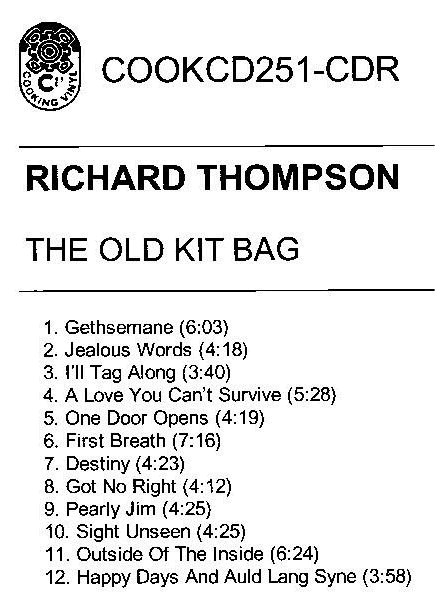 ---
"Papa's got an Old Kit Bag", attributed to Teddy.