November 23, 2002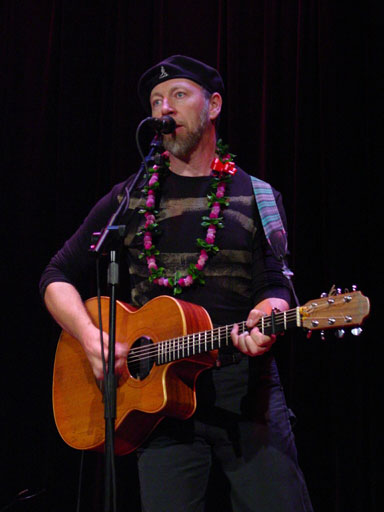 Honolulu Academy
Instrumental,
lyrical prowess meet in
Thompsonís melodies
By Burl Burlingame
Star-Bulletin

He's no Sting; he don't answer to Ricky. For a guy named by Rolling Stone as one of the most influential artists of the last three decades, and whose recent "Mock Tudor" album made nearly every major top 10 critics' list last year, Richard Thompson is practically sneaking in and out of town with a small intimate concert.

A legendary guitar slinger who used to jam with Jimi Hendrix and a singer/songwriter who invented folk-rock with his seminal group Fairport Convention, Thompson performs at 7:30 p.m. tomorrow at the Honolulu Academy of Arts.

Joining Thompson is bassist Danny Thompson, who cut his teeth with the Alexis Koerner Blues Band and Pentangle.

"No relation!" laughs Richard. "We're just winding down after touring the United States, Australia and Japan. Hawaii's a great place to do that. Love it here. Unfortunately, for every concert you play in Hawaii, you have to play 25 in Detroit."

"Mock Tudor" is a love-hate homage to Thompson's working-class suburban roots, bristling with snaky guitar lines and grumbling angst, and clever, insightful lyrics. For example, in the bluesy "Hard On Me," instead of whining You bummed me out baby, Thompson's take is "Unzip my heart/Unbraid my veins/Unstitch my wantoness/And loosen up my reins."

"Lyrics are half the song," said Thompson. "In non-English-speaking countries -- Northern Italy comes to mind -- we just have to rely on instrumental prowess to get by, hey?

"Japan, though -- the Japanese are such music fans. They do their homework before they come to a concert. Promoters in Japan put a translation of the lyrics on every seat before a show begins. Quite extraordinary!"

After a third of a century, he's still on the cutting edge of the music game. Did he think he'd still be at it after all these years?

"Well, it wasn't exactly a job option at school!" he laughed. "Banking, teaching the classics, going into the army -- those were careers. But music wasn't really a choice for me -- it chose me. When you're young, you don't really think about the future anyway.

"I admit I do rather like the lifestyle, as long as you don't thrash it too hard. Some tour to the point where they can't stand, or drink or do drugs. All that is rather hard on you. What makes it worthwhile is the connection with audiences. It's a tremendous reward.

"After all this time, I'm glad to have a broad fan base. Generations of people! And in pop music, a new generation comes along every three years or so to sweep everything away. It's quite a good thing to just be able to stick around!"
---
RT in Honolulu
My brother attended RT's concert in Honolulu on November 23rd and gave me some news of the evening. The music amazed him. "I can't get over what he does up there" was his overwhelming reaction. He also commented on the way that RT sometimes takes a moment to come back to himself when he finishes a song. Richard really committed himself to his music that night.
The setlist my brother kept isn't complete. He isn't acquainted with all of RT's work, and he was a bit hampered by trying to be discreet while sitting in the front row. That being said, here's what he got:
1. Word Unspoken, Sight Unseen
2. a new song, to be on the new album
3. Cooksferry Queen
4. Outside of the Inside
5. Alexander Graham Bell
He had fun trying to maintain the fast pace on this one.
6. Now Be Thankful
7. Destiny
8. God Loves a Drunk
9. I Ain't Marching Anymore
The political remarks he gave in introducing this song were greeted by calls of "Yeah!" and "Right!" from the audience. As he went into the third verse he broke a string. He chatted with the crowd while he replaced it. When he was ready to resume, he said something like, "Do you remember where we were?" He summarized the first two verses, then picked up where he left off in the third.
10. King of Bohemia
11. 52 VBL
12. didn't get this one ... it might have been Withered and Died
13. Turning of the Tide
14. Woods of Darney
15. Crawl Back
This was the intensity highlight of the show.
16. Ghost of You Walks
17. She Twists the Knife Again
18. Dimming of the Day
Encore #1
19. Wall of Death
At the end of this song, a 13 year old girl named Rachel presented him with a lei. He dedicated the next song to her.
20. My Daddy is a Mummy
Encore #2
21. I Misunderstood
This was my brother's second RT show, and it confirmed his first impression. We don't wonder why this concert sold out before word of it hit the newspapers.
Karen ... with a tip of my hat to my brother
---
Report from the Beesweb
RT played at Doris Duke at the Academy, Honolulu Academy for the Arts on November 23rd. A small, 290 capacity theatre in downtown Honolulu, Oahu, Hawaii. It was a totally sold-out show with Ledward Ka'apana opening.
---

Aloha
The Honolulu location where RT played on November 23rd is quite interesting for those of you who are interested in Islamic culture. The mention of Doris Duke in the captions that go with the recently published pictures on Beesweb's Catch Of The Day made me wonder and I went searching for this branch of the Honolulu Academy of Arts. What I found there went much further than the simple impression I had of the island, being a tourist's paradise with a great landscape, typical music and a fine climate. We haven't seen a concert review, but after reading what The Academy & Shangri La & The Doris Duke Foundation are all about it doesn't look like someone has been punishing you very hard by inviting you to perform there as a London suburban youngster with an acoustic guitar.
http://www.honoluluacademy.org/
Regards,
Flip
flipfeij@zeelandnet.nl
---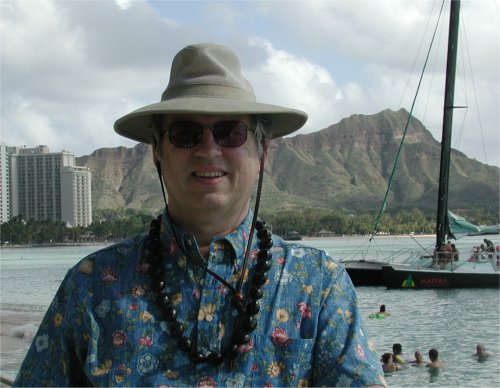 Listmaster Willis Howard in Honolulu for Halloween,
missing the show by just weeks. Doom and gloom, indeed.
---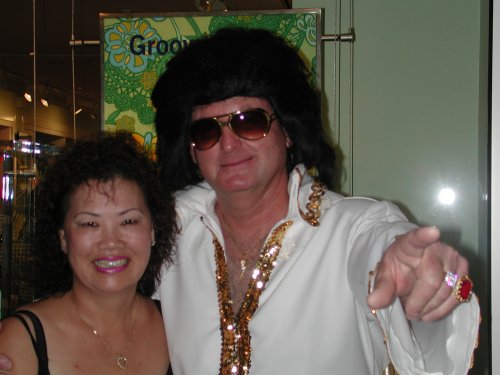 It wasn't Richard Thompson.
But could it have been ...?
---
And so we close out the 2002 concert reviews ...

Please stay tuned for more concerts,
CDs, reviews, and all things
Richard Thompson related into 2003.
Wishing the best to all into the new year,
Willis Howard
willis@rtlist.net
---
I put forth the proposition that all of Richard Thompson's songs may sound "gloomy" and "doomy" but in essence they are cheerful and bright. Let me put this in another way. Some of his songs which are bleak and hopeless inspire us to greater heights of glory. Yes, the message in some of his songs revolves around terminal sadness and unrestrained melancholy laced with bitter wretchedness which, in effect, causes us to lapse into heavy mopishness which can, in effect, bring about a jolt of spirited salvation through lucid understanding.

In short, misery reminds us of how precious happiness is.

In order to reach the skies of nirvana (not the rock group but the feeling of swimming in heaven), you need to wallow in the gutters of desolation and Mephistophelian hell.

I call this hypothesis "The X Theory".

Off to Jersey,

Binkee