July, 2002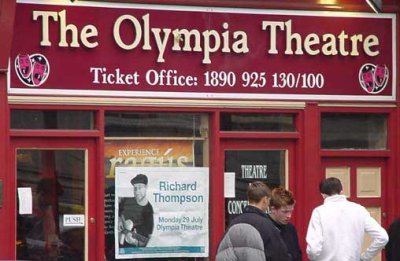 Prelude to Cropredy,
Europe, Ireland, England
RT at Rivierenhof Deurne
Not much time and maybe somebody else will post more, but here's the setlist of yesterdays gig.
Pretty much the same as the last concerts in the USA, but on the other hand rather daring as for most people the majority of the songs were unknown untill TotT.
Sir Patrick didn't really start and in the first half OH was hindered by a frog in his throat.
Apart from me there were two other Beesweb tees and of course some usual suspects in all kind of Fairport clothing. Nice to meet Derrick Leigh again and the same goes for Gosse and Ronnie
That's it for now, must run, my wife is getting impatient ;-)
Vrg.
Setlist:
Gethsemane
Withered and Died
Crawl Back
The Outside and the Inside
My Daddy Is A Mummy
Sir Patrick Spens (few first chords only - RT couldn't remember the rest)
Genesis Hall
Destiny
So Ben Mi Cha Bon Tempo
Shenandoah
Oops, I Did It Again
VBL 1952
Happy Days & Auld Lang Syne
Turning Of The Tide
Persuasion
I Feel So Good
The Ghost of You Walks
Cooksferry Queen
Encore:
I Misunderstood
Wall Of Death
The Dimming of the Day
Arie Euwijk
aeuwijk@chello.nl
Sun 7/28/2002 1:56 AM
---
RT at Rivierenhof Deurne
Thank you Arie for the setlist and a short impression of last-night's concert. As for me it was a year ago I heard RT for the last time in Europe (Brugge and Vlissingen in July 2001). The setlist was quite different compared to last year. I must say that I must get used to the new songs. I heard them yesterday for the first tim. But I'm looking forward to the new cd early next year (as RT promised). See RT three times in August (warm-up in the Mill, Banbury; and Friday and Saturday at Cropredy); that's a total of four times within two weeks.
All in all, it was very much worthwhile driving twice two hours to hear RT in Atnwerpen. I hope the others also enjoyed the concert. I'm sure Ronnie will give hes impressions of the concert.
Gosse
tgplanting@planet.nl
Sun 7/28/2002 8:14 AM
---
RT at Rivierenhof Deurne
After Gosseīs 'promise' of my comments about RTīs show in Deurne last night here they are while I am listening to Springsteenīs new album over the speakers.
It was great finally meeting fellow list members Gosse and Arie. While I travelled to the show with gosse I came to know hin a little better than Arie, with whom I only had a short conversation in the (you guessed it) menīs room. Maybe we can talk a little more in cropredy Arie!
RT was in pretty good form I thought. The new songs (see Arieīs message for setlist) sounded very good indeed to my ears and I am looking forward to the new album very much. RT actually said Gethsamane was on the new album. Is that a first?
The Getty part was impressive especially Oops which I think got the biggest cheers of the evening.
His guitar playing was as great and impressive as ever. Apart from his usual black clothes he wore a colorful front jacket (not sure what the proper English word for it is, but only his breast side was colored not his back side). He momentarily forgot the words to the last couplet of Crawl Back ("wait a minute, thatīs wrong") but regrouped himself just before it became an embaressment.
Too bad he forgot the chords to Sir Patrick Spens cause I would have loved to hear him play that (maybe I have to wait till Worcester) and we got Genesis Hall instead. Thatīs where the frogs Arie wrote about occured. RT could not reach the high notes on the refrain and after the songs was finished blamed it on the frogs.
After Turning of the tide someone shouted Persuasion and someone else proposed I feel so good. both were played immediately but were probably on the setlist anyway.
After he came out for the encore, Gosse shouted I Misunderstood and that was dutifully acknowledged and played.
All in all a pretty good show. I will be seeing RT again in 2 weeks time in worcester, and afterwards in Cropredy. Looking forward to meeting a lot of other listees there.
Ronnie de Champs
ronniedechamps@hotmail.com
Sun 7/28/2002 11:42 AM
---
RT at Rivierenhof Deurne
Saturday was a hot and muggy day in Antwerp, and the Openlucht Theatre in Rivierenhof was the ideal place to listen to an RT concert in the cool of the evening. It's an open ampitheatre on the outskirts of the city, in a woodland park scattered with lakes, playgrounds, mini-golf and sport areas. The date coincided with a Festival of European folk culture in town, which meant negotiating a procession a mile long of flag-waving and dancing by participants in ethnic costumes (no Morris men that I saw, but the kilt and bagpipes were strongly represented).
The gig was very ably opened by Neeka, a six-piece band with a female lead singer/writer who also played guitar and piano. The sound was thoughtful, varied and musically tight and creative. An ideal warmup who deserved their encore.
RT got off to a flying start with Gethsemane, a great opener! I haven't heard Withered and Died for years and it was a pleasant surprise. I have to stop here to say what Arie tactfully did not mention. The mood of the evening was completely disrupted by one drunken moron shouting over introductions for the next third of the set. I hope that this person gets to read this, because 1000 people who paid to hear RT and had their evening marred know what you, sir, obviously do not, and someone has to spell it out. You are a complete and utter moron.
After a couple of fluffed numbers the set recovered some focus. The rest was merely good, with a great deal that was new to me. My thanks go to Arie for keeping the setlist, and to him and everyone else I met for contributing to what was, moron apart, a pleasant summer evening in Antwerp.
Derrick Leigh
derrick.leigh@ntlworld.com
Sun 7/28/2002 11:53 AM
---
Gethsemane
First impressions of a song are sometimes the most powerful. Gethsemane was intriguing to me even before hearing it, the title being so emotionally laden. So much in one word. There's Christ's agony, the betrayal, and the sense of a garden. What could a popular song make of that?
In the song itself there are hooks that really caught me. The first is the insistent and forceful rhythm that takes us on a route march through time, through a soldier's life; the childhood idyll and ambitious dreams broken by adult experience. The second is the succinct refrain "be something fine". Not bad advice.
I don't know yet if the song has a specific geography. Somehow it feels more American. Certainly Gethsemane is a popular name for cemetaries in the USA. Who else but RT could get the combined subjects of the grave and childhood memories into the very first line?
Does the song have anything to do with Christ's life? You may well think not. Then again it may well do....
Derrick Leigh
derrick.leigh@ntlworld.com
Mon 7/29/2002 3:58 AM
---
RT in Dublin report
RT gave an excellent performance here in Dublin last night. He opened with Gethsemane, which I thought was a brave choice. This seems to one of RT's darker songs, and all the more welcome for that! The opener was the first of four new songs scattered throughout the evening, the others being She Said it was Destiny (another top ten single from RT?); Happy Days and Auld Lang Syne (title? - really liked this one); and the Taliban one. On the basis of these the new album (January he said) should be a cracker.
I don't have a set list but highlights for me included a beautiful Withered and Died, Cold Kisses, and the Ghost of You Walks. The 1000 years selection was the Italian one (how's he get the guitar to sound like that?); Shenandoah (also done by Dave Alvin on Public Domain), and Oops (the latter was a big hit with the audience). I have to say I hoped for the Squeeze song, Tempted, but there you go.
My Daddy is a Mummy got a solo-less performance and Madonna's Wedding went down very well indeed. RT mentioned FC's 35th anniversary by way of introducing Genesis Hall, an excellent version. Other songs played (in no particular order) were: Dimming; Crawl; Misunderstood; Persuasion (could've done without this myself); Beeswing; Vincent. Richard Condon flew over from Brussels for the gig and he may be able to fill in the gaps.
All-in-all an excellent gig from RT who was in great form. An appetizer for Cropredy!
Cheers,
Brendan Teeling
Dublin
bteeling@eircom.net
Tue 7/30/2002 11:21 AM
Non omnes qui habent citharam sunt citharoedi.
---
Sheffield
Just back from another great show. Here's the setlist. Report to follow when I'm less knackered.
Gethsemane
Withered and died
Crawl back
Outside of the inside
My Daddy is a mummy
Genesis Hall
Destiny
Madonna's wedding
So ben mi cha bon tempo
Shenandoah
Oops!
The Ghost of you walks
Turning of the tide
Galway to Graceland
I feel so good
Words unspoken
Dimming of the day
Wall of death
VBL
Happy days and auld lang syne
Poor ditching boy
Cooksferry queen
Steve Willis (now the proud owner of SDMT)
s.willis@virgin.net
Fri 8/2/2002 6:43 PM
---
Sheffield review; top banter
After a day of heavy rain Steve Willis and I ventured along the snake pass from Manchester to Sheffield late yesterday afternoon. We passed through Glossop which looked like something out of the third world, with mud everywhere and people's wordly goods piled up on the pavement along the main street, the results of severe flash flooding on Tuesday. Cropredy weather anyone?
We met a few RT list people and their partners in the Red Lion and later in Sheffield Memorial Hall; Louisa Mallett, the good Dr Dave Moreman, Geoff Bachelor, Phil Parker and a few others whose names I didn't catch. BTW I can't access Dee's amaTeur cRiTics page to try and put names to faces. Is anyone else having this problem? I know her site has changed address, although Beesweb is probably the only site to recognise this. But I can't access either the new address or the old one
Sheffield Memorial Hall is a beautiful venue. Its part of a circular building with a straight line cut across it, forming the wall which accommodates the small and very low stage. So the wall behind the audience is completely curved in a circular arc. The walls are all made of big stone blocks, with the lower part of the straight wall being wood pannelled. There is a balcony, but both balcony and stalls are only a few rows deep, which together with the low stage means that everybody feels very close to the action. I guess there are about 450-500 seats and there weren't many going spare
The opener was a Mansfield lad called Sam Genders who was pretty good I thought, some unusual chord structure in his compositions, and a confident writing and performing style. He forgot the words to his last song, but had won over the audience enough to be able to laugh it off
I thought Richard was terrific. He looks very fit, and he needed to be to put on a 1hr 45m show at such an intense energy level. When you see that guitar style close up you realise his wrist and fingers must take some hammering . It was pretty warm in the hall, and I could see the trails of sweat pouring down the front of the guitar. The set list was very similar to other recent gigs posted on this list, but he didn't do Persuasion, and for an encore in what looked like a response to a genuine request he played Poor Ditching Boy. I also thought his Wall of Death was curiously restrained. Like several people have mentioned Madonna's Wedding strikes me as being very mean spirited but it went down very well. I think 2 novelty songs is 1 too many, and My Daddy is a Mummy had featured earlier
After the first 2 tunes I decided that the guitar fills were all getting a bit familiar. Then during the next song, a ferocious version of Crawl Back he played something so completely unexpected and outrageously accomplished that I burst out laughing. I'll never doubt him again! The fact is his standard of accompaniment is so high that I'd become complacent. I noticed he only changed tuning twice in the whole set
Although much of his between-song spiel is similar to what we've already read, he still enjoys a steady banter with the adoring fans. He made us laugh when he told us he and Linda (in acoustic duo mode) had once opened at the Club Paradiso in Amsterdam for Hawkwind. He said they hadn't gone down badly as we might have imagined, they'd simply been ignored. He said they came on to no reaction, played a set to complete disinterest, and went off without any audience recognition whatsoever. At this point some wag shouted "You've never played Barnsley then?" which cracked RT up. I guess you had to be there. Spotting a popular local target, he managed to throw in a few Barnsley jibes later on
Its interesting to note how much support he gets from Simon at the desk. The use of echo / reverb/ whatever is very effective, and obviously if you go back to early performances (like the Small Town Romance CD) he didn't have that facility. Between them they conjure up a very impressive sound
So, a top evenings entertainment with RT in fine form. I realised late on that the guy at the very end of the front row might well have been Flip Feji. I hung around the front door to try and catch him coming out, but either I missed him, or he went backstage, or maybe it wasn't him at all. Anyway, I'm at Cropredy next week, flash flooding notwithstanding and hope to catch up with Flip, and any other RT listees there
Martin Smith
mrasmith@tesco.net
Sat 8/3/2002 7:05 AM
---
Beaumaris
A few days ago by now, but as nobody else has commented on it, here is a very brief update on the Beaumaris gig on Wednesday.
The Canolfan (which is Welsh for "Centre") is basically a village sports hall with some retractable tiered seating. Very utilitarian inside, with the walls of unpainted breeze blocks, the setting compensated for a lot: within 100 metres of Beaumaris Castle, which could be seen (along with a lot of cows and sheep) from the lobby. The hall has a capacity of about 400 people, but was not actually quite sold out -- about 20 seats or so were empty and there were tickets for sale at the door. Interesting crowd, anyway, many of which were clearly local and did not seem very familiar with RT and although everybody seemed to enjoy it, it was a fairly muted audience response.
A good gig, much as has been reported form the other recent venues. I was surprised at how good the sound turned out, both for RT and for the support set by Steve Tilston, as the hall had looked unpromising in that respect. The set list differed somewhat from the Sheffield set reported by Steve: we didn't get Destiny, Galway to Graceland, Dimming of the Day, Wall of Death, Happy Days or Poor Ditching Boy, but instead had Shoot Out The Lights (in what appeared to be a completely new arrangement, which was pretty spectacular, as was the arrangement of Crawl Back, a song I had not previously related to that strongly), Beeswing, Cold Kisses, Persuasion and Smiffy's Glass Eye (a response to a rather disruptively delivered audience request, somewhat haltingly performed, with a key change and retune after the first few lines).
Martin Jonas
martin@jkp.u-net.com
Sat 8/3/2002 11:44 AM
---
Sheffield review; top banter
Martin Smith wrote:
> Sheffield Memorial Hall is a beautiful venue.
I'll second that; ideal for this type of show. But we'll have to find a new meeting place if RT plays Sheffield again. The Old Red Lion is a dingy, smokey place and on Friday was short of draught bitter, change and bar staff.
> The opener was a Mansfield lad called Sam Genders
Make that Matlock (Derbyshire).
The most interesting feature of the show for me was hearing the new songs. I'd not seen RT since the same venue (same building to be more precise) a year ago so there was much that was unfamiliar, both his own compositions and the 1000 years stuff. As other people have said, "Gethsemane" is a brave opener. I had difficulty hearing the lyrics and look forward to reading them, but musically the refrain ("Be something...) reminded me of Gerry Rafferty's "Baker Street". I hope "Madonna's wedding" has a short stay in the repertoire, but "Destiny" and "Words unspoken" (which I'd heard on the radio) are out of the top drawer and I loved "Happy days and auld lang syne", but then I'm a sucker for songs with references to other songs (e.g. that great line "Jambalaya, Cheatin' Heart, I Saw the Light" in "The Night Hank Williams came to town"). Just as "Gethsemane" was an unusual opener, this would have been a strange one to finish on, but he came back to give us a very pleasant surprise with "Poor Ditching Boy" (thanks to whoever called for it) and a rousing finale with "CQ". The latter was one of only 2 numbers from Mock Tudor in tbis set, the other being "Crawl back" which was one of the highlights of the show for me.
I'm signing off for a couple of weeks now and hoping that the weather is better in Denmark than it is here and that those of you going to Cropredy stay dry and have a great time.
Steve Willis (wondering how to persuade my SPUD to let me play SDMT and Bruce's new album on the long drive to the ferry)
Steve Willis
s.willis@virgin.net
Sun 8/4/2002 7:16 PM
---
leonie and john beavers in beaumaris...
i am still in a daze from my rt experience in beaumaris....we arrived very early and tried to loiter to hear the sound check- but were encouraged- in a nice way- by an assistant to come back later!! i came back in my beesweb t-shirt..whereupon the assistant commented "nice t-shirt madam"- i didn't see any others
back again at 7:30 and bumped into pam winters,martin jonas and friends- great to meet fellow list members (thanks for the beer rob- but i was too excited to drink it!)
then the set..martin has already reported on parts of it..i was in shock so i can barely remember the detail...but i heard destiny, gethsemane, the taliban one,the italian one, shenandoah, madonna's wedding,my daddy is a mummy and whoops i did it again for the first time .. the setlist was fairly similar to previous gigs- all fantastic( with a particularly gorgeous version of withered and died)....i remember feeling stunned, excited, elated- all at once
i called out for "oh i swear"--rt looked puzzled and said that he had forgotten it..later i called out for "end of the rainbow"....but, regrettably, we got beeswing and VBL ( i felt that i should be quiet at that point)
we were sitting next to colin campbell- another list member (hi colin)- we decided to hang around to see if we could meet the man....AND WE DID!!!..i gabbled inananely and i said "your music has given me such joy over the years" (sheesh did i really say that?...he looked very humble- probably hiding great discomfort)...he said that the last time he had played "oh i swear" was with shawn colvin and that he had meant to play "end of the rainbow" but had forgotten to! my husband , john, piped up that we had been fans for nearly 30 years- and we had courted to "hokey pokey" ( how embarrassing were we?)
he also said that he and the full band would be touring in the new year (spring?) and that the new album would be out in january
he signed autographs and posed for photos with us - what a bloke!
i was really in shock by this point..i vaguely remember colin saying sensible/ thoughtful things
my overwhelming memory of RT was as a quiet, modest,gentle person who listens , in a very welcoming way, to the blathering of star struck fans ...
i also suddenly understood the mindset of stalkers...i could have stayed there for hours!!!
i am now looking forward to the new album and the next tour- i can't wait
leonie
Leonie.Beavers@centralliverpoolpct.nhs.uk
Mon 8/5/2002 3:30 AM
---
Wrexham
Well .........
It was HOT in Wrexham last night, and so was our man! The Mrs. and I drove over from Staffordshire, arriving at about 7pm. We finally found somewhere to get a meal (ta Yates' for a good curry! - no thanks to Chicago Rock :o( . We wandered over to the Central Station at about 8 to find quite a crowd already there, and even someone touting outside - which I've never seen at an RT gig!!! The Central station is a large converted ummmm Station building??? (I think), with bars downstairs (much cooler!) and upstairs (steamy!). The small stage was set into one end of the building. A lot of people sat on the floor in front, whilst the rest of us stood around the railed area. As we got there, Steve Tilston was about to go on but was delayed by ten minutes by what looked like a duff microphone or a lead. Eventually, Steve came on and did 4 numbers including the excellent 'Slipjigs and Reels' which went down very well. A brief 10 minute break then it was time for RT.
Bathed in red light, RT hammered into Gethsemane - I thought it was an excellent show starter - very percussive. He was really on form - definitely one of the best solo shows I've seen, and the sound was marvellous (thanks Simon). The set list included all the new stuff, plus a few I wasn't expecting (or perhaps missed reading). These included 'Can't Win' (which had a really similar percussive sound to Gethsemane), VBL '52, Beeswing, Turning of the Tide, Tear Stained Letter and ........ the absolute highlight for me .... "God Loves a Drunk". This was AMAZING, not least because it appeared to be a request. Someone shouted it and hardly without missing a breath, RT started the song within 2 seconds of the request .... Was he already planning to play it? ....... I don't know but it stunned me.
Highpoints ........ God Loves .....(see above) and Shenandoah which was just exquisite - you could have heard a pin drop. Fabulous vocal on this.
I really hope they tape some of these shows for Celtschmertz 2 - RT quipped at one point that it was being taped for Radio Wales - anybody know anything about this?
He finished off with the 'slower' Wall of death and then "I Misunderstood."
I'm heading back to Central Station on Thursday to have a go at the Talent Night - what am I playing? ..... Waltzings for Dreamers! I couldn't miss the opportunity to play an RT tune on an RT stage!
Have a great weekend folks!
:O)
Dr. Dave Moreman
adm1@staffs.ac.uk
Tue 8/6/2002 3:44 AM
---
A long (long!) time
since I've written but feel I should report something ('for completists') re the 'New pix on Beesweb' - inside and out of Wrexham.
As I was arriving I saw Simon taking the outside snaps so he's obviously multi-talented as well as being as much an enthusiast as the rest of us!
For the record too here's the set-list
1 Gethsemene (sp!)
2 Withered and Died
3 Crawl Back
4 Message on the Wind
5 My Daddy was a Mummy
6 Genesis Hall
7 (She said it was) Destiny (?? - new!)
8 Madonna's Wedding
9 Early Italian doo-dah (first of three track revist of 1000 years of pop music)
10 Shanondoah (sp again)
11 I'm Not That Innocent (?? My mate who has teenagers' recognised this when we were at Chorley as a Brittney Spear's track? - Never heard of her - but it sounded real good!)
(A lot of what seemed like genuine requests from now on... - at least the order of them)
12 1952 Vincent Black Lightening
13 Happy Days & Auld Langs Seine (sp! - new again)
14 Can't Win
15 Turning of the Tide
16 Ghost of You Walks
17 God Loves a Drunk
18 Cooksferry Queen
19 Beeswing
20 Tear Stained Letter (Definitely a request - which gave me my most crucial Thommo moment so far as, when he was stuck for the lines of the third verse ("I forgot the third verse - I can't remember..."), I was able to realise my apparent purpose for living by volunteering the one about coffee and tea! and he was straight off away again! Yesss!
21 Wall of Death
22 I Misunderstood
It was a wonderful night! Made all the more memorable by the fact that I secured my best vantage point in over 20 years - sat 3rd row back on floor about 15 foot away!!
jim mckenna
jpmckrt@yahoo.com
Thu 8/8/2002 4:27 PM
---
RT Live At Chorley (late)
Chorley (near Preston) UK – St Michael's Church Of England School Sunday July 28th. Name of the event: The Music-Go-Round. Starring: Lil' Fi (a girlsinger from down under with her guitarist), Martin Simpson (he performed "A Strange Affair" and led an interesting Workshop afterwards during which he explained how Leadbelly, Joni Mitchell and Keith Richards have been tuning their instruments. Batanai Marimba (a group from Zimbabwe, based in London), Alistair Hulett (no RT), Beolach (morris dancing in Nova Scotia).
We arrived six hours before RT was on and went thru this warm up nice and easy with a bitter or two and gorgeous French fries. RT stayed in his dressing room for hours and I saw Martin Simpson going in to have his pic taken for Catch Of The Day.
Friendly, but very quiet (150-ish)people around, we must have looked like strangers (was it the RT Beesweb uniform at least two in our company were wearing with pride?) several visitors wondered why we'd come from so far to Chorley for just a concert. A local woman: "I mean, I am from Chorley, but if I wasn't I wouldn't have heard about it in the first place…"
Behind closed doors Simon T. was thoroughly checking the sound system and when he was finished RT played Gethsemane & Withered And Died & Razor Dance while nobody seemed to take notice. ST came out to us, said the Antwerp show on Saturday went very well, that they were surprised by the venue there and that they'd crossed the Northsea by air to Manchester.
At 21:30 hrs RT, good shape, played a 90-minutes concert with:
01. Word Unspoken
02. Crawl Back
03. Withered And Died (here's an old song that you're gonna like)
04. Outside
05. Genesis Hall
06. Destiny
07. Madonna's Wedding (If I didn't know her better you'd have thought about a publicity stunt)
08. So Ben Mi Ch'a Bon Tempo (Annual Getty concerts/Playboy mansion Hef sed: Hey Dick! Yes, Hef's calling me Dick)
09. Shenandoah (full of devotion)
10. Oops! (Helplessy trying to persuade the folk music loving audience to sing along with the chorus)
11. The Ghost Of You Walks
12. Turning Of The Tide
13. Cold Kisses
14. Dimming Of The Day (proud Ya-Ya Sisterhood reference)
15. Cooksferry Queen
ENCORE:
16. 1952 VBL
17. Happy Days And Auld Lang Syne
18. I Misunderstood
After the concert ST mediated in a short meet & greet with the man himself. We had our digi pic taken, Simon asked if I liked the new stuff (I said I was surprised) and I thought of a couple of great questions but RT was gone before I had a chance to find the right words. Maybe next time ;-)
Regards,
Flip-flipfeij@zeelandnet.nl
Mon 8/12/2002 2:56 AM
(Seen and talked a few times afterwards in the following days, but this was how it went the first time).