US March 2002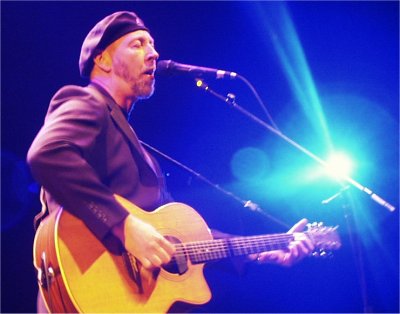 Gee.
Gone all day and none of the various listers I encountered at the show last night has posted anything? tsk. Well, please correct anything I get wrong...
An excellent, very satisfying show. Whatever's been bothering his voice was gone last night: great resonance, no off notes, warmth and depth and feeling, and that magical blending with his guitar. You could tell as soon as he walked on that he was REALLY in the mood to be there, and since the pretty-darn-near-full room was certainly in the mood for him...well!
The Park West is one of the best places to see him.... cleanly desgined, great sightlines and gorgeous acoustics. Simon did beautiful work, with a light hand on the effects and just enough enhancement to produce what I described above. (Ghost of You Walks was a standout.) I found the lighting to be most pleasing from where I sat (ourAndrew may disagree?) Inexplicably there was no coatcheck this night so coats were draped over seatbacks and bundled behind our backs (those of us who were in the booths), which may have enhanced the "coziness" of the evening. It was VERY cold outside yesterday, zero-ish Fahrenheit with addtional windchill, so to be in a nice place hearing one's musical hero really felt like a great blessing.
Here's the setlist, (*'s are for notes at end):
"Gethsemane"
King of Bohemia !
Crawl Back
("Chicago!" he says and plays and sings a medley-ette
of tiny snippets of the usual Chicago songs, then launches
a string of hilarious and explicit exclamations about our
subzero weather yesterday, continuing through some
goodnatured insults and ending with a semi-conciliatory
"Well, I'm sure its very nice here *some* time") *
Inside of the Outside
MDIAMummy
Sloth
SPS
Destiny**
Madonna's Wedding
So Ben Mi Ca Bon Tempo (la lala la la la LA!!)
Shenendoah
Oops...!
Ghost of you Walks
Tide
Can't Win
Persuasion
CFQ
DWTDrunkards Roll

E1:
52VBL
Happy Days & Auld Lang Sine

E2:Wall of Death
WUSU

E3:I Misunderstood
He smiled and laughed a lot and was very talkative: there was plenty of back&forth with the audience compared with previous week (different feel to audience and venue.) He even seemed to consider my request for Orange-Colored Sky (I don't usually yell requests unbidden) before saying something like "or I could play this, which is REALLY good" which was Shenendoah. This song was a highlight for me...I didnt think it was that successful at Glen Ellyn, and I have a great fondness for Dave Alvin's version...this time he really nailed it .
He couldnt quite get a singalong going for Ooops, and the audience participation on Crawl Back and ...Drunkards Roll sounded weak, but that couldve been where I was in the room. Didnt seem to bother him.
This night's rendition of Can't Win wasn't nearly as fierce as at Glen Ellyn...but then, there were no children to send up for requests this time. ;-) A surprise for me was how fresh Wall of Death sounded.
Of the new songs, besides Inside of the Outside, "Gethsemane" (if that's what he's calling it) is the most intriguing to me...I still haven't been able to follow the lyrics because I get mesmerized by the music. Destiny sounds very "pop" which is not to say I disliked it!
Yikes, it's gotten late again! Good night!
Louise
lemolnar@mindspring.com
Wed, 6 Mar 2002
3/4 Park West Chicago
*note: it was unseasonably cold here last June when he played at the Zoo-- jacket and scarf weather!
**see conjecture in separate post "In the Sweet Bye and Bye"
---
I can't resist the opportunity
to provide first comment on tonight's show from the other side of the world, courtesy of my Michigan spies - non-list friends that I have turned on to RT
"The show was brilliant!!!! He was entirely funny and as genius as ever! Did a spoof on Madonna and snag Britney Spears..Oops I did it again. He sang VBL and I Misunderstood as an encore. At the second encore everyone started yelling out songs for him to play....so he pretends to get on a telephone and says...oh yea, I am here doing a gig and have a little time for requests....the woman next to me and myself yelled out MISUNDERSTOOD on the count of 3 and he played it! Maybe he was going to anyway but then again, maybe I had something to do with it.
There were many RT listers there and I am sure they will put out the entire show list....and a review.
. . . .we waited around after the show for an autograph. He waited quite a while and had completely changed clothes by the time he came out. Was very friendly and signed a photo for you and for us. When he asked your name...I said Garry with two R's. He says...well that's quite an eccentric spelling of Gary. Then I told him why I was asking for it, since you live on South Island and can't make it to North Island to see him. He said, well no one has ever ASKED me to South Island.! There ya go!"
Me eccentric! The cheek of him. And that's Auckland (North Island) promoters for you. They think New Zealand begins and ends in Auckland ;-)
KiwiGarry
garryg@world-net.co.nz
Wed, 6 Mar 2002
(Just returned from seeing world famous Kiwi band The Chills ( www.softbomb.com )for the 5th time in 4 years. This show was attended by a Canadian and an American who came specially to see them.)
---
We had Talking Moron neighbors
at Park West, at the table just behind our booth. Since Park West has cabaret seating on descending levels towards the stage, these grown men with their deep voices were practically talking into our ears... we had to do A LOT of shushing. To their credit, they did not react belligerently and would be quiet till the end of the song; but then they'd start back up. They seemed to have little interest in the songs they didn't already know, or the ones that weren't their biggest favorites...VBL was definitely what they came for (and they yelled for it at some point.)
So I forwarded Bink's excellent Yelling Moron Thang to one of my tablemates (our booth was filled with my husband Michael and me, esteemed listmaster Willis Howard and his lovely Lena, and my friends Steve and Jan, who had never seen OH live but own Rumor & Sigh and Mock Tudor. Yes, they were predictably wowed.) Here is Steve's reply:
>I think the problem with the talking moron thing is that as people get older, their differentiated hearing fades and they have to talk really loud whenever there is background noise. This combined with most "grown-up" concerts being quieter than their teenaged counterparts leads me to the following conclusion: quiet concert + older audience = talking morons.
>The other factor that enters into it is television. I imagine most of these talking morons are at home alone every evening, talking with their television, so their social behavior is warped.
>Regretfully, most talking morons have already reproduced, bearing children who are destroying their hearing at a young age with the latest car stereo technology, so the problem is only going to get worse as time goes on and they start attending concerts!
Louise
in Chicago
lemolnar@mindspring.com
Wed 3/6/2002
---
I forgot to mention something
about this show which was pretty unusual, which Willis remarked on afterwards: RT this night concentrated on rhythm and singing, with practically no extended instrumentals. Thinking about it, I might call this a complaint, but the superlative quality of sound and sight, and the intimacy and playfulness of this show created such a completely formed whole that I felt totally satisfied and happy and peaceful afterwards. Can't beat that!
Louise
in Chicago
lemolnar@mindspring.com
Wed 3/6/2002
---
Rebecca and I were there
last night but frankly I'm chagrined to have been beaten to the review punch by New Zealand!! What can I say, I got home at 1 am and had to sleep so that I could drive the same route in reverse at 6:30 in the morning. Not much to add; this was a great show. Truly enjoyed the new songs but have not caught all the lyrics yet. About 3 people besides us clapped for his mention of the Getty show; that must have been the other listers in the room! It was basically the same set list as the previous shows this tour - but the show itself is well put together and has a very good flow and structure.
Random thoughts: thought the echo effect was a bit too much, it's starting to interfere with the clarity of the music and words. Thought the opening act was screechy and strange and could not play guitar. Thought the 3 or 4 guys in the audience with beards and black berets who were really trying to look like RT a bit eccentric (apologies if you are on the list but I'd love to have a conversation with you about it, see below). Thought the cover of "Oops I Did It Again" was phenomenal - I had never understood the words to this song and now realize that it's actually not a bad song at all, it's just the performer.
Did not meet any fellow listers but hopefully we'll meet some folks Thursday at the Magic Bag. I'll be the one in the long red cape again; you probably saw me on the sidewalk outside the Ark and were afraid of the eccentric. Will probably try to eat dinner at the Coney place on the corner.
Irene
IJH.WRH@worldnet.att.net
Wed 3/6/2002
---
Irene wrote:
>Thought the cover of "Oops I Did It Again" was phenomenal - I >had never understood the words to this song and now realize >that it's actually not a bad song at all, it's just the performer.
So true, but did you find it at all funny to hear him sing "oooh, baby baby!" ?
It sounded so foreign to me, it made me laugh or at least smile every time.It's such a common part of modern songs, and yet I don't think I'd ever heard him sing the phrase before. Has anyone else?
Louise
in Chicago
PS Apologies to all for the poor formatting of my earlier posts today. There seemed to be some problem with the interface through the web and it didnt behave as expected.
lemolnar@mindspring.com
Wed 3/6/200
---
So it's 1:09 am
and I refuse to be scooped by New Zealand again (sorry Garry!). Arrived at the Ferndale Magic Bag; sign on the door read "Richard Thompson has requested that there be NO SMOKING in the audience tonight. So I gather that the smokers just drank more instead. The doors opened at 8 and RT only got on stage at about 9:30 or so. Lots of time to listen to Simon's mix tape; who are the people doing that cover of Keep your Distance?
Richard was a bit looser than he was in Ann Arbor 2 nights ago; he was very talkative and interacted with the equally talkative audience. Funny start to the show; after Gethsemane he felt around his pockets, looked at the stool, then asked us all to hold a note (which we did very well, with harmonies) while he dashed backstage to get the capo.
Where he sometimes tamps down the folks who call out quips, a couple of people actually broke him up laughing...the guy sitting next to me who suggested that the 14th C colloquial Italian rock and roll song was "number two...with a bullet!!!" The woman also sitting next to me who told him "I'd like to see you in red leather" after "Ooops, I Did It Again," who was told in turn to "Come backstage after the show." The guy who then asked to see RT's belly button, and we got to see it (another long time dream of mine fulfilled). He reminisced in his wry way a bit about Detroit (Ferndale is a northern suburb) and Fairport's having played a defunct club, saying (tongue-in-cheek) "Oh yes, Detroit was a very folk-rock town, Fo-Town we called it."
The set list was largely Chicago's, but so what? It's a very well-crafted set. The echo effect was toned down a little this time, Gethsemane was a bit distorted at first but some volume adjustment happened and sound was pretty good from that point out. Odd differences between this audience and Ann Arbor's (alcohol consumption higher in Ferndale for sure). Ann Arbor laughed at the first lines of "Cold Kisses," Ferndale did not - Ann Arbor didn't sing much or well, Ferndale sang a lot and reasonably well.
Sartorial Report: Black Beret. Black T-shirt, black pants, laceup shoes. Black jacket - is it now high fashion for men's suit jackets to fall mid-thigh? Nice jacket but wished he hadn't worn it as it concealed his chest and forearms...
A less-than memorable end to the concert - "I Misunderstood" as the last encore - as RT is fading out, someone in the back made a hideous barfing noise. Hopefully that's all it was, just a noise. .
Irene Henry
IJH.WRH@worldnet.att.net
Fri 3/8/2002
---
So I've come home
to the veritable flood of messages about last night's Pittsburgh show. (Can you read my sarcasm?) OK, maybe the rest of you guys have lives to lead beyond the terminal and the feet of RT, so I'll won't whine too much. I'll try to keep my comments brief and hope that someone else elaborates.
Excellent show. Lots of newish material. I have the "official" set list and will herewith reproduce it, hoping against hope that I am not thereby preventing the nice man who gave it to me from ever bestowing such a gift again. Those of you who have seen RT's set lists and who have been keeping up with recent concert threads should be able to while away a happy hour figuring out these notes.
Running down the left of the long side of a 3 x 5 index card, graph ruled:
GETH
COLD X
CRAWL
OUTSIDE
DADDY
SLOTH
SIR PAT
[there is a bracket next to the latter two titles, and an underscore is
below them]
DESTINY
MADONNA
SO BEN
SHEN
OOPS!
[the last three are bracketed]
GHOST U
TIDE
[another underscore]
CANT W
PERSUASION
COOKS
DRUNKARDS

In the right-hand column, floating around near the Getty numbers:

DIM
FEEL
MIS

Then a box appears, bisected by a horizontal line. Above the line:

VINCE
AULD

Below it:

WALL
UNSEEN
He didn't keep to this set list. I think it contains some alternatives (we didn't get "Word Unspoken, Sight Unseen"...I knew that there was something I wanted to hear that I missed!) and we also got some requests ("Jimmy Shands").
Fine voice. Excellent mood. Wonderful, exploratory guitar...that attitude that suggests he could just stand there all day and play, whether we were there or not, if he deemed it appropriate. Nice suit jacket...but it's kind of long, isn't it? Sort of looked like he borrowed it from Dad.
One of the ballsiest things I've ever seen him do: He started to joke about the Taliban. Something like: "You know, many things that we think are bad have their good points." He seemed to back off this, maybe because he wasn't sure where it was going or because he lost his nerve or because the crowd wasn't responding as he expected. I was very aware of being not too far from the site in Pennsylvania where the plane that was headed for downtown Washington had been crashed, almost six months after the fact. I was also aware that I was hearing an avowed Muslim attempt a jibe that might really confuse some people. Maybe other people in the audience had these thoughts as well, and maybe he perceived their reactions.
The word "perverse" comes up a lot when it comes to RT. I know I use it pretty often, and in the Humphries bio, which I'm reading (at last I've dragged myself past page 96!), it comes up, especially in connection with Joe Boyd. But Boyd is also the person who was quoted as saying that back in the early days of Fairport, "My instinct was always to trust Richard in every possible situation. I would always say to myself that whatever Richard felt or wanted, or what his instincts were about something, were the ones that were apt to be right."
I couldn't agree more about Richard's musical instincts, insofar as allowing himself and being allowed to respond to them has created the musician he is today. I drove back from Pittsburgh listening to Richard provide Dylanesque backing to Ian Matthews, do oldies with the Bunch, and play long-legged electric guitar with the Golden Palominos. Last night I heard him take a Britney Spears hit and, as Rob put it when I burned up my cell-phone minutes enthusing to him about it, "find the song in there."
The timbre of Richard's voice is probably my single favorite thing about him as a musician, and it's the part over which he's had least control. But what he's done to imbue everything he touches with his own sound--while never grandstanding or grafting something on where it doesn't belong--is quite amazing, is entirely to his credit, and is certainly the result of a lot of concentration, work, and strongmindedness. It's not that he can do anything; it's that he can do anything he wants, and he wants the right things.
And the divine? Where does some higher being come in?
Oh, blah blah blah. Anyone else?
Pam
pmw@annapurna.com
Sat 3/9/2002
---
Well, out of lurk mode.
Thanks for the set list, PAM! It was a great show!The best thing I thought was that he was very talkative, seemed to have a lot of fun, actually, telling stories. (Of course, this is omitting the "slight" detail of his excellent gutar playing, wonderful singing and brilliant compositions.) My favorite song was the new one from PHC, Happy Days and Auld Lang Syne. Great stuff. It was good to hear Gethsemane and Destiny, I would love to be able to hear them again. I downloaded the PHC songs (yes, even VBL52! :-)) and have been able to listen to them a lot. Wish we could do the same for Gethsemane and Destiny (a little hint for the new website, whenever it gets up, maybe this millennium?).
I would like to thank Pam and Barry and Sean and their friend for letting me take over their table in the balcony to watch the show from! I was there too late to be at the door opening and all the seats up front were taken. It was nice to see some familiar faces and when they were done with their food (or had given up waiting for the ultra-slow service at Rosebud :-(), we (an old buddy and I) were able to grab their great viewing spot "high above the crowd".
I am not so sure about the sound at Rosebud. We watched the opener, sorry I don't remember his name, from about 6 feet behind the mixing board and found the lyrics unintelligible. Maybe it was the sound man (not Simon). Although Simon came and talked to him a few times, the topic seemed to be other than the sound, and the poor opener was left to twist in the breeze. When I saw RT there a couple of years ago, no opener then, I was in the first row, and of course the sound is great there!
From the balcony, the sound was pretty good, so maybe Simon did some special work because it sounded full and exciting and reasonably clear. The crowd seemed to be into the show and was very quiet it seemed during the songs. The crowd in the balcony was a little light on the sing-a-long to Crawl Back, however...:-), since I seemed to be the only one making a peep. Maybe some new people, other than my friend I talked into going.
The one person who kept requesting Jimmy Shands from the back was rewarded with hearing it. Very nice to hear RT do the request, as we now know that it wasn't on the list, or even the alternatives.
Shenandoah was lovely, always brings a tear to my eye. This song and the Italian number make me wish the Getty had a more liberal policy on releasing the performances there. I would love to have a chance to hear ALL the selections from that show too. As Pam said about his voice, an interesting instrument, I wish he would do more interpretation of other songs but only if it meant the shows would be even longer, because his songs are so great. He does seem to be in a really creative period right now, too...
I finally got to hear Madonna's wedding. Nice sarcastic lyrics. He even made a joke about one of his rhyming schemes during the song. He must be always thinking about composition... It was fun to hear "Oops..." included in the songs of the millennium segment. He actually makes it sound intriguing, I haven't heard the Britney version. Is this some kind of inside joke with Teddy? I seem to recall some comments then about Britney's picture in Teddy's guitar case. Maybe a little bet between father and son, "I bet you wouldn't dare do one of her songs in a show", or something along that line.
I am drawing a blank on the second encore. What did he do? Anybody? I don't think it was Wall of Death and I am certain it wasn't Words Unspoken Sight Unseen. I really must start paying more attention... But by then I was just grinning from the joy.
What a great night...ready to go again soon!
Duan
ddh1@psu.edu
Sun 3/10/2002
---
Duane said:
>I am drawing a blank on the second encore. What did he do? Anybody? I >don't think it was Wall of Death and I am certain it wasn't Words Unspoken >Sight Unseen. I really must start paying more attention... But by then I >was just grinning from the joy.
Wasn't that "Jimmy Shands," followed by "I Misunderstood"? He was ignoring strident requests for "Beeswing."
I could not make out the "Gethsemane" lyrics in my seat one meter from RT's shinbones, but that might have been because they weren't familiar. Or maybe the sound wasn't totally right yet. I know next to nothing about sound, but I bet that even after Simon and others have gotten everything set up where they want it, the presence of hundreds of sweaty bodies must affect the acoustics somewhat.
Speaking of sweaty bodies...did I misinterpret things because of where I was sitting, or were the house lights on for most of the show? It seemed very bright.
Pam
pmw@annapurna.com
Sun 3/10/2002 11:10 PM
---
Listmates,
With encouragement from Louise, Pam, Marc, and Gary I offer the following account in parts. Breaking it up allows two things: I can write this in a way that doesn't feel too cramped for space and allows me to proceed, as no one need be forced into downloading excessive bandwidth. If not interested, no one will be stuck with this huge post.
Back in the fall, I was looking at Dee's site just after joining the list and connecting with other Pittsburghers on the list. We toyed with the idea of a roadtrip to San Diego at the beginning of February, the next tour date. At that time the 2/23 concert was listed and before Christmas I remember Louise reporting that she had just gotten her tix. Flip then posted a phone number for the concert , to be held at the College of DuPage, and in between patients, I just called and asked for the best two tickets, not knowing with whom I would go, but probably someone. While on the phone I thought geez, don't they have anything better, so I asked for the single best seat left -- fourth row, left of center -- ok, I'll take that one , too. So I was committed to the idea traveling at some expense for the sole purpose of attending a concert. Even the fact that this was RT did not diminish the impact of this change in me -- how far was this going to go? Well, further. Having shook Richard's hand at the Pittsburgh monsoon concert on June 2, I thought it would be good to try to really meet him. Having suffered a major trauma a year ago, I was highly suspicious of my new fanaticism, as were/are some of my closest firends, who albeit benevolently, tended to roll their eyes at mentions of the RT list. Was this interest a replacement for something or some other post-traumatic symptom? Or was it an opening up, that is, a side benefit of changes wrought by my world's having been overturned? [Let's put it this way: when 9/11 happened, I felt sort of numb to it and sort of relieved that the rest of the world was also feeling kinda traumatized.] When I told one of my closest friends, a music lover, who himself has gone to great lengths to attend concerts by Mr. Z., that I was going to Chicago in February, he said "Wow, you're really taking this seriously." Uh huh. And so, I thought, OK, forget about bundling this trip in with other agendas, I'm just going. At that, I sold my other two tickets to a fellow lister and began to think about how I could meet RT.
After receiving my tickets, as I was now on their mailing list, I also received the marketing brochure from the performing arts center at the College of Du Page. Inside I found a name --- I'll call her Ms. X --- to whom I thought I would write a letter. And so I did, which letter arrived at what seems to have been a propitious time. She called me and laughed and said she would do what she could, encouraging me to call her during the week before the show, Whe we spoke again, she let me know that RT's "people" said that his willingness to meet fans after the show would depend upon his mood, but that in any event, he would want some time to rest after the performance. So, no promises.
You will then be able to imagine my chagrin when I arrived at the McAninch Center and spoke to the woman selling the three authorized bootlegs at a table in the foyer. I tried to chat her up a bit, thinking she might know something about the website's progress, She had a bit of self-importance as she volunteered that RT would not be coming out after the show. As if I'd asked. I had with me a bag containing a one pound bag of pinon coffee and a newspaper clipping which I wanted to give to RT after the show. Believing then that my chances of meeting OH were slim, I thought it time for desperate measures. I decided to walk out and around to the back of the arts center, where I encountered two men sitting , having a smoke on the loading dock. I explained that I needed to give this bag to Ms. X before the show and could they possibly help me. The larger one nodded and lumbered into the building gesturing me to follow. We went through a maze of hallways to a small, lighted office, wherein a young man sat. He explained that Ms. X would return in no more than five minutes. I asked for a pen and paper and wrote a note about what I'd been told up front, how my hopes were fading and could she see to it that the gift was delivered. On I went into the concert, which has been described by Louise and others, and which was sublime for me as well. I found the crowd a bit *too* quiet, for reasons I learned later......
......I have already posted about the dad and his 7 year-old budding guitarist daughter and how that dad was won over, I think primarily because his girl knew Oops ! and he didn't. After the show, I did wait around a bit and the entire theatre cleared out. I believe there was Simon and three others in this now rather cavernous room. Finally, Ms. X walked in and I recognized her from having introduced RT to the audience. She sort of whispered, to me just to hang out. Simon disappeared backstage, but before he departed he said in a very jolly tone "Your waiting shall not be in vain." I was excited, of course. When he returned I saw that Simon was carrying the bag of coffee in his hand, taking it back to the sound board. RT followed, though now I want to call him Richard. He had shanged from the black mid-thigh length jacket and balmoral to a khaki shirt and a matching khaki hat. By now there were still only four fans present, and not one of them made the slightest move toward him. So, I did, with mega-trepidation. Simon asked "are you the guy who gave us the coffee?" to which I mumbled something like yeah, and he said it was quite a remarkable thing that they just run out of coffee that very afternoon. I said I hoped they liked it, that it was pinon coffee, and he said "Whatever, it smells good" and that they would have to find a grinder. At this point I spoke to Richard and said that I had attended the William Ellis School in 1968-9 and that I guessed he had just graduated, in 1967. He said "yeah, '67". I said that I wondered if he had had Paddy Brown as his English master. Oh yes, he laughed warmly. I said that I could not remember the name of the Welsh maths master, who would come into class every day and say [in a very thick Welsh accent, which I did my best to imitate] " Boys, continue with what you were doing yesterday". He laughed again and said "Oh that was Mr. Thomas - he could snatch a fly right out of the air", and he demonstrated with lightning speed. I must say I was surprised by how much larger his physical presence was than it appears to me on stage - bigger in the arms and chest and taller, sort of, well, like a sailor. I asked him if he received the bag I left for him, and he thanked me graciously. I said I understood that they had no way of grinding the beans, to which Richard replied that there was usually a grinder at about every other stop on the tour. I said that I had always fancied myself a drug dealer for a rock and roll band, and that this was likel;y as close as I would ever come. I asked if he had also gotten the picture from the Times. I was a little nervous here, but not to worry. He said "A very bizarre photo". I had clipped a photo which showed several turban-clad men in Kandahar, I think, standing at the top of and looking into a large - maybe 30 feet across - cylinder. Inside could be seen a man with sunglasses riding a motorcycle, sideways, as it were, i.e. using the centifugal force to edge higher up on the wall as he drove the bike in circles. I recognized this from my childhood at a local carnival outside of Boston, where I grew up, and I knew that this was the infamous "wall of death". I was nervous because I had written at the top of the photo : "Islam Meets Wall of Death". Standing there, I feared I had seriously over-reached, as I am wont to do at times in my enthusiasm. Again , not to worry. Richard was amused.
Now all of this took only a few minutes, less time that it takes to read, most likely, but I still felt I was taking up way too much of Richard's time, and I continued to feel a bit more starstruck than I would have liked. I gave way to the three other people to give them a chance and went up the steps toward the soundboard where Ms. X and Simon were chatting. Evidently, the other fans had little to say and, before I knew it, Richard joined us. By this time, I had recovered enough to ask if he remembered the June 2 concert in the rain in Pittsburgh last year. It didn't come to him right away, but then it did and he made a face of sympathy, saying how terrible it was for the audience. I said that I was in the audience and that he'd come up after the last encore and shaken the hands of my twin sons and my friend and me and that the rain added a wonderful "transcendent'" dimension to the concert. I said that I looked forward to seeing him in Pittsburgh. Simon said oh yes, Rosebud, that should be a bit more lively. I floated out.......
......Of course, the Pittsburgh show was added rather late in the day, so we were blessed with what for me seemed like a second helping of dessert. I bought a bunch of tickets and gave them to my friends and family. Friday night I arrived at Rosebud quite early and it was interesting to see who showed up - people from other states - people I've known for years, alas two of my sons decided that some, er, coed-style event held more sway at the dimmin' of the day. Naturally I brought some more coffee - why mess with a good thing? Someone I knew slipped me in throught the front while Simon was doing his soundcheck work, and he recognized me and let me know that actually they don't like flavored coffee - I think of flavored coffees as those Vienna,-chocolate-mocha- take me away crap coffees - but clearly we are dealing with strict purists in Richard and Simon. For this reason, I was relieved that I had brought along a pound of pure unadorned espresso beans - good stuff. So I sort of plunked it down next to the sound board, said I hope you enjoy it, and went outside to return to my place in line. It was great that at Rosebud they have those wide-slated vertical hanging blinds, but one of the slats was askew, so that while waiting outside I was able to walk just a few feet, as did others - we held each others' places in line, and through that small space we were able to watch RT warm up and play during the soundcheck.
Great seats up front resulted from my earlybird efforts and I got to meet our Pam and George. And the concert was stellar. I will leave it to the true experts to describe it, as they have already, but RT was in fine fettle, relaxed, chatty in the way I admire most. My eldest son was sitting next to me - told me later that he was surprised at how funny OH was throughout. Tried to get my request in for Hide it Away, but could not compete with the Jimmy Shands element in back.
Post-show, I hung around with some others who, ahem, for example, were given the actual setlist, and I did get a chance to speak with Richard again. To my surprise, he knew it was I who had gifted the coffee, and he thanked me. I told him that this was not of the "flavoured" sort, and he said yeah that they don't like that. We talked more about the neighborhood next to the W.E.School and Croftdown Road where I lived which got sort of excited about and said he had a frined who lived on the adjacent street, and I asked if he had spent much time "up the caf'" as we would say about time playing hookey from class and having tea and/or whatever at the cafe on Hampstead Heath right near the school and about the bandstand there where a lot of the big bands gave a free concert "for the people" when they were in town. He said that yeah they (FC? E and the D'S? I think he meant FC had played there, and about the Roundhouse where I had seen FC play twice. Then I asked if he was now going to get some time off next (this) week. He said no he wasn't off this week but didn't elaborate. I said I hoped he would have a chance go someplace nice soon and have some time off. He said that he would get a chance to go snorkeling in Belize in two weeks. So, at least I got one little scoop, eh?
So that's my never-ending story.
David (Pittsburgh)
Mon 3/11/2002
Orbison@compuserve.com
---
BW wrote in response to my elliptical statement below:
>I found the crowd a bit *too* quiet, for reasons I learned later...... Thanks, David, I enjoyed all several parts of this. But the above sentence left me hanging. If the reasons have been previously described, I'm afraid I've forgotten them. BW<
I reply: I didn't think it was possible that I left *anything* out, but yes, there was a post-script. I spoke by phone to Ms. X on the Monday after the Chicago show. She related that the felt the RT crowd that night was different from their usual crowd. I asked how so? to which she replied that it was much more animated than usual. I said it seemed way more subdued to me than ones I've attended, to which she replied, that's what they [RT and Simon] thought, too. She elaborated that even though the RT concert was not part of their subscription series of modern dance, chamber music, etc, it drew pretty much the same audience, and that the crowd tends to be from the area surrounding Glen Ellyn, a predominantly white, Republican, religious, upper-middle class suburb where most of those employed work for the big laborotories like Fermi or for high tech, engineering kinds of firms. So it was both a joy and an irony to hear that RT livened them up. Another tiny footnote: this wonderful Ms. X has stayed in touch to find out my thoughts about who else [I said first -->RT again -- what else?] they could contract with to come in and perform next year. I mentioned Buddy and Julie Miller among many others -- I'll let you know what happens, esp. if RT is asked back next year, as I expect that I will hear early on.
David (Pittsburgh)
Orbison@compuserve.com
Tue 3/12/2002
---
Good evening RT fans.
I'm fairly new to the list but a long time RT and Fairport fan.
I just returned from his solo concert at the Barclay Theater here in sunny southern California.
What can I say, his performance was nothing less than brilliant! Two hours of non-stop RT where he covered music that pretty much spanned his entire history including two Fairport tunes, Sloth and Sir Patrick Spens. Persuasion, Ghost of You Walks, Cold Kisses, and Cooksferry were great but tonight's rendition of Shoot Out the Lights was truly inspired.
Down Where the Drunkards Roll, I Misunderstood, Can't Win, VBL52 and a "tribute" to Madonna that had me rolling on the floor rounded out a really great evening of music. Oh, I almost forgot his version of "Oops! ...I did it again"...amazing! ;-)
Thanks Richard for a great show. My wife is now a fan as well.
Ken
stealth93@mediaone.net
Sun 3/17/2002
---
Here are some more details on the Irvine Show:
Setlist virtually exactly the same as that posted for the Pittsburgh show, except that we got Shoot Out The Lights instead of Don't Sit on My Jimmy Shands. And as Ken said, SOTL was truly inspired. The solos veered off atonally, felt somehow jagged...jazzy....crazy... yet always came back to center.
Can't Win was excellent...THE NERVE OF SOME PEOPLE... quite vehement. He had great fun with My Daddy is a Mummy ("stylistically somewhere between the two Memphises"...is this a repeat joke?), really rocking. At the response to it he said something like "Oh, sure, you love this one, but the ones I wrench from my soul are just ok....".
The Ghost of You Walks is really turning into my favorite, what an incredibly beautiful song, lyrically and melodically. Got reminded again what a fun song Cooksferry Queen is. But for me the true *gasp* moment was when he started in with the intro to Sloth. I had missed this on the posted setlists and so was totally unprepared (and actually glad that was the case). Sloth has got to be in my own personal RT top ten. It was interesting to hear it solo. The starkness of just voice and guitar suits it (altho I was mentally filling in the harmony...and Swarb). Wonderful.
Mr. T, I thought, was extremely relaxed and comfortable. I was in the very first row, and it was really lovely to see his slight discomfort with and gracious acknowledgment of the ovations emanating from the audience. One of the times he was called back to encore he put his hand momentarily over his heart....something I might find maudlin or cutesy from someone else, but it was extremely touching coming from him.
Sound seemed fabulous at first, and then I thought the guitar was a little too loud. It was hard to judge what it might have sounded like further back in the house. Singalongs seemed to go well (and OH seems to really get a kick out of this), again, hard to really hear....although for Crawl Back I think I might have been the only one to chime in at the first opportunity....it sounded that way to me, and Richard actually glanced over to where I was and grinned....
Richard was happily free of any vocal tics as remarked upon previously by Pam and others and which I had also noticed on Prarie Home Companion. Also did a very straightforward, and to my mind better, Vincent. (which, truth be told, I could live without-not that it's not a great song, it is. But there are lots of other things I would love to hear live. I actually prefer that other perennial, Beeswing).
Started in to a jig (reel?) after Madonna's Wedding, which he unfortunately cut short.
Seemed to be a very partisan, knowledgeable audience...no laughing at the beginning of Cold Kisses for this lot. The two hours FLEW by.
Sartorial notes: Same figured greyish/black pants, black sneakers, longish (morning coat-ish) jacket, black T-shirt, black Kangol beret.
I am starting to think that perhaps Persuasion is the most accessible of his songs, one that would be a great intro to newbies (right before Psycho Street). Several people in the lobby by the table with all the CD's (Celtscmertz; Crawley; Two-Letter Words; Action Packed) mentioned itand were looking to see which CD it was on.
Overheard in the lobby: "What a great group of songs". Very true.
Also overheard: (speaker was Nancy Covey): "Yes, he has lots of new songs, and he is about to go into the studio."
janet
NP: I Misunderstood
JSarver@fulfillment.org
Mon 3/18/2002
---
Picture by Willis Howard at the Chicago Park West show. Thanks to Simon and Richard for making this possible.