Tarrytown
November 1. 2001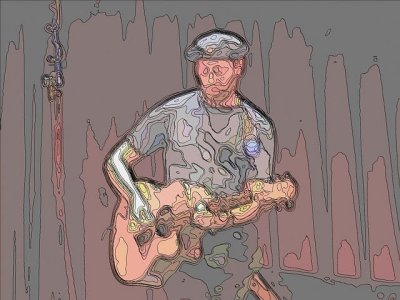 I found the Tarrytown show both intimate and exciting,
despite the fact that the first half was marred by a truly annoying heckler in the upperdeck.
First, the setlist:
Word Unspoken
Crawl Back
How Will I Ever Be Simple Again
Outside from the Inside
My Daddy is a Mummy
I'll Dry My Tears and Move On
52 VBL
Shoot Out the Lights
Razor Dance
Ghost of You Walks
I Feel So Good
Persuasion
Turning of the Tide
Kidzz
Down Where the Drunkards Roll
[She Said It Was] Destiny
Genesis Hall
Cooksferry Queen
encore 1:
__ Ca Bon Tempo
Shenandoah
A Legal Matter
encore 2:
Wall of Death
I Misunderstood
The highlights for me included Outside from the Inside; even on a first listen, this struck me as a great song, already very polished in its lyrics and complex in its east/west guitar work. Sung from a terrorist's perspective, this song might force RT to do maybe too much work prefacing it, so people don't miss the implied critique of its dramatic irony. But that's a price RT has no doubt had to pay many times for writing the thoughtful, complicated songs that he does. The heckler's disruptions began after My Daddy is a Mummy -- "Steve Martin called, and he's pissed" -- this pointless joke took forever and a day for audience members [who were trying to be helpful] to clarify so that RT [who apparently does not know of the old King Tut SNL song] could get it -- and when he did he wasn't all that amused, though he ribbed the audience good naturedly ["I take it you mean 'pissed' in the american rather than the british sense of the word? He's not lying drunk in some gutter...?"]. That first misfired comment didn't much throw RT, but when during the very next song [I'll Dry My Tears... -- a song I love and haven't had a chance to hear live very often] the same voice called out loudly IN THE MIDDLE OF THE VERSE [!] -- "Impressive guitar work!" [implying the opposite, of course], well, I'm not sure RT even heard the comment exactly but he seemed a little nettled and a little distracted through the next few songs, a section which normally should've been among the strongest as it featured both VBL and SOTL. Instead, though, it seemed RT only really righted himself a few songs later, and he did so in the most charming of ways: peeking at his setlist and seeing that the next number up was "I Feel So Good," he seemed to have put the audience out of his mind entirely when he murmured to himself -- "Oh great! -- I _love_ this one!!" [which counts for me as one of the nicest, most joyful and genuine, stage comments I've seen any musician make, anytime], and he launched into a standout rendition of the rollicking song that put the entire evening back onto just a grand footing. From there, everything went beautifully. Before Kidzz, he related a funny story about having been told by a teacher at school that his mind was just like one of those carnival claws -- that it would drop down into all this promising stuff but still come up absolutely empty, having grasped nothing. [As a teacher, this made me shudder, but it was very funny when he told it...]. The other real highlights for me were the best performance of Genesis Hall I've been privileged to hear [and it's one of my favorites] and the heartbreaking Shenandoah [he tried to get the audience to sing with him on this, and we sort of did, or at least started to -- but he sounded so beautiful, so very Irish tenor-ish, that we all eventually dropped out, in many cases teary-eyed, so we could better hear him. Heckler aside, it was, all told, a brilliant, lovely evening. Plus there was that Vincent motorcycle parked out front for atmosphere.
-- Jo Wood
jo_wood64@hotmail.com
---
I also thought the Tarrytown show was outstanding,
even by RT's typicially high standards. No sign whatsoever of Kirk's "phoning it in" critique of the McCarter gig. RT was in excellent spirits and exuded enormous musical and interpersonal (?) energy. I wouldn't say he was overly serious, but he was considerably less cynical and standoffish than he often appears to be. Much more warmth than usual, which I don't know whether to attribute to his being within 20 miles or so of 'ground zero.' Highlights for me were Genesis Hall, Down Where the Drunkards Roll (singalong) and a beautiful rendition of Shenandoah. Great, great show. Thank you Richard!
---
Tarrytown set list
Here's a set list from Tarrytown. It was almost a carbon copy of McCarter:
1. Word Unspoken Sight Unseen
2. Crawl Back
3. How Will I ever Be Simple Again
4. Outside of the Inside
5. My Daddy is a Mummy
6. Dry My Tears
7. 1952 VBL
8. Shoot out the Lights
9. Razor Dance
10. Ghost of You Walks
11. Feel So Good
12. Persuasion
13. Turning of the Tide
14. Kidzz
15. Down Where the Drunkards roll
16. Destiny
17. Genesis Hall
18. Cooksferry Queen
1st encore
19. So Ben Mi Ca Bon Tempo
20. for the patriotic.. Shenandoah or Oh Shenandoah??
21. Legal Matter
2nd encore
22. Wall of Death
23. I Misunderstood
Lots of fun Yankees jokes, good humor and a heartfelt comment on his feeling privileged to be in this country the last 6 weeks because of how Americans have endured. I think it was the first time I saw him be so serious in between songs.
It was great fun.
Doreen ( how long can one hide behind the title "new lister" in order to be absolved of any post faux pas?)
doreenmastandrea@msn.com