New England November 2001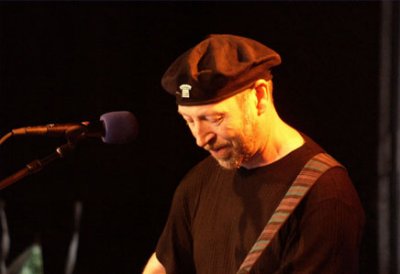 Harrisburg Show
RT was in top form last night at the Whitaker Center. Jane Siberry opened. I had not heard her before. She is a bit surreal and stream of conciousness, but she was entertaining in her own unique way. RT was quite friendly and talkative, and played his guitar with alot of intensity I thought - some great solos. My most pleasant surprise was to hear Can't Win, which I had never seen him play. One of my favorite songs - I hope to hear it electric some day. He clearly hadn't played it in awhile, as he had a cheat sheet for the lyrics. I really liked the two new songs, with the Taliban-inspired one being the better of the two, at least at this stage in their development. Daughter Rachel (5 and a half), was pooped out from her soccer tournament, so unfortunately slept thru most of the show, although we roused her awake for Crawl Back and "Mummy". For once, I kept track of the setlist, as follows:
Words Unspoken, Sight Unseen
Crawl Back
How Can I Ever Be Simple Again
Inner & Outer? (New song)
My Daddy is a Mummy
Dry My Tears
VBL
Can't Win
SOTL
Destiny
Persuasion
Turning of the Tide
Madonna's Wedding
Razor Dance
Ghost of you Walks
Genesis Hall (outstanding)
I Feel So Good
Down Where the Drunkards Role (With Sing-Along)
Cooksferry Queen
First Encore
Previously mentioned Italian song
Shenandoah (very moving version)
Legal Matter (mid 60's Who song I didn't know - he made it into an RT song)
Second Encore
I Misunderstood
Cheers,
Jon
"Michael B. First" <mbf2@columbia.edu>
---
Setlist from IMAC show, Huntington, LI
Set List IMAC Show, Huntington LI, November 2, 2001
1) Words Unspoken, Sight Unseen
2) Crawl Back Under My Stone
3) She Cut Off Her Long Silken Hair
4) Outside Inside
5) My Daddy is a Mummy
6) Dry My Tears
7) 52 VBL
8) Misunderstood
9) Heart Needs a Home
10) Feels So Good
11) Genesis Hall
12) Destiny
13) Wall of Death
14) Madonnaís Wedding (one verse)
15) Turning of the Tide
16) High School Confidential (Jerry Lee Lewis)
17) Canít Win (!)
18) Persuasion
19) Razor Dance
20) Down Where the Drunkards Roll (Audience response)
21) Cooksferry Queen
Encore #1
22) So Ben Mi Ca Bon Tempo
23) Shenandoah
24) Legal Matter (the Who)
Encore #2
25) Sam Jones (!)
26) God Loves a Drunk
Total Time: 2 hours
Excellent show, as always...I'm especially impressed by the varied set list. I also have tickets to the Amagansett show on Wednesday and I was a bit worried that it might be too repetitive but, as can be seen by the setlist, RT is still throwing a few curve balls.
In particular:
1) Can't Win - ACOUSTIC!! I almost fell out of my seat when he played this--I thought it was one of those he would only do electric. Even though it doesn't really come close to the electric version (as best explified with the live version on WTD), it still was a thrill to hear in any form.
2) High School Confidential--A Jerry Lee Lewis song, dropped in the middle of the set, without any introduction, although RT looked like he was having a blast doing it. The friend I attended with recalls hearing RT do this many years ago (perhaps at Maxwell's in Hoboken or St. Ann's in Brooklyn) but we weren't sure.
3) Sam Jones. Another shocker...I've only heard him do this once and almost never see it in the set list...and as the lead song in the second encore! How refreshing!!
4) Like other recent gigs, he's been doing some of the Getty songs for the first encore (another somewhat daring move), saying he wanted to perform these while still fresh in his mind.
5) He tried Madonna's Wedding after someone in the audience requested it, but gave up after the first verse because he couldn't remember the lyrics. Looks like this one is permanently retired.
My only disappointment--he didn't do "Kidz," which I have yet to hear.
I'm looking forward to Amagansett and some more curve balls.
Michael B. First
mbf2@columbia.edu
---
RT at John Harms
Yet another fab RT show. He even pulled out a version of "Sir Patrick Spens" and "Now Be Thankful" as well as Squeeze's 'Tempted'. Teddy came out for the second encore. Not sure if it's just my perception but he came across as "Grouchy Thompson". Almost like they woke him out of bed and told him to get out on stage... regardless a great duet of "Persuasion" and "Wall of Death". On second thought...let him be grouchy. THe way he sings with his father more than makes up for it.
marty b
moggles@ix.netcom.com
---
John Harms Center
I just returned from John Harms Center and wonder how many others on the list caught the show tonight. I'm not sure to what degree being front-row center influenced my feelings, but this had to be among the best shows I've seen in a long, long time ... which, of course, is saying a lot. Marshall Crenshaw opened for RT, and I enjoyed him very much, as I always do. But the crowd, which obviously didn't come to see him, wasn't terribly enthusiastic and both my brother-in-law and his friend, who are musicians, pointed out between sets that there were some very noticeable sound problems. Obviously, Simon agreed, because he spent an unusually long time making adjustments and seemed rather distressed. But when RT came on, he sounded as clear as a bell and just about everything he did delighted the audience. Even his banter was especially entertaining.
I expected the set list to be very similar to last week's at McCarter Theater in Princeton because he hasn't been varying the sets all that much on any given tour lately. So I was surprised (and delighted!) that it differed quite a bit. (So, Michael B. First, I'm sure you won't regret going to the Amagansett show.) At any rate, it would have been worth the price of admission alone to hear "Can't Win." What a treat! It's one of my favorites and I've been longing to hear it for years. Another rare treat for me: "Waltzing's for Dreamers"
When he introduced an old Fairport Convention tune, I was expecting "Genesis Hall," because he did it at McCarter, but tonight it was "Now Be Thankful." The first encore was a bit different as well. He did do the 14th century Italian song, which I now officially adore, but he did two other "history of music" theme songs: Shenandoah, which he introduced with some touching remarks about being in America the past two month, and a rousing version of "Tempted by the Fruit of Another."
Teddy joined him for the second encore and they did "Wall of Death" and "Persuasion."
I was mildly surprised that he didn't do a song or two with Marshall Crenshaw, who did record "Valerie."
Anyway, here is the set list:
Word Unspoken, Sight Unseen
Crawl Back
How Will I ever Be simple Again?
Inside of the Ouside (?? I still don't know the name of this song)
My Daddy is a Mummy
Dry My Tears
Vincent
Destiny
Now Be Thankful
Turning of the Tide
Razor Dance
Can't Win
Walting's for Dreamers
Ghost of You Walks
Down where the Drunkards Roll
Walking on a Wire
Cooksferry Queen
First Encore:
So Ben (that's RT's abbreviation for the 14th century Italian song. Can someone help with the name of it?)
Shenandoah
Tempted by the Fruit of another
Second encore (with Teddy):
Wall of Death
Persuasion
Ellen
ECatDevonside@aol.com
---
The jokes he told?
A man goes to the doctor and says "I am seeing talking animals in my sleep."
The doctor says "Sounds like you are having disney spells."
A man's dog runs away so he puts an ad in the classifieds that says "Here boy."<<
While RT's spontaneous banter marks him as the funniest musicians I've ever seen, his jokes are seriously corny. Since he's a musician he gets laughs anyway. I'll add both of these to my corny joke repertoire, for sure. The latter has a Stephen Wright-ish quality.
My perenial favorite corner jokes, more cute than funny:
Why couldn't the bicycle climb the hill? It was too tired
What did the pony say when it had a sore throat? I'm a little hoarse
and the slightly risque yet ever popular:
Why didn't either of the farmer's girlfriends by him a birthday gift? They were two sheep
---
Harrisburg, Glen Tilbrook!
Greetings, All!
Dropping in from lurk mode to say how great the Harrisburg show was, albeit a little late...
The Whitaker Center is a great venue. Very good seating for all, and a very quiet room; no hums or buzzes at all. I wonder if the venue provided the sound system? It appeared that Simon was working in the 'control room.' The sound was very good ... loud enough that you knew you were at a RT show, but not too much so. Every thing was very articulate. I think that Richard liked it (it's the 3rd time he's been there, right Pam)?
The set list has been discussed before. Marlene and I both noticed a very concentrated performance. It was one of the best I can remember; I think the current sel-list approach is great, because it allows both artist and audience a break from the 'written-in-stone' set list that's often been used. love the Italian piece; does anyone think this is one of the Pickett pieces? (BOAM) Bear with me if this has been discussed previously ... as a digestee I don't catch every response, including the lost digests. Does anybody on the list side have those two weeks archived???
Very eerie (in context of the last 7 weeks, as RT commented) to here Can't Win... 'Towers will crumble..'
Indeed.
And a final note...
We saw GT last night at the Rams Head show in Annapolis. Very excellent. Picked up his new disc (Incomplete Glen Tilbrook). Very satisfying, particularly the bit with the audience member called up to play rhythm guitar at one point. Brilliant! In great voice, too!
Back to lurk-land, and many, many unread digests...
Walt Ferguson!
WFerg424@aol.com