Austin, Texas
October 28, 2001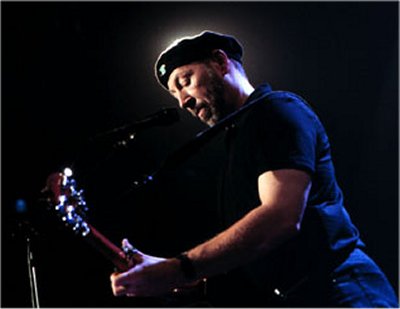 RT in Austin
Getting to the Texas Union Ballroom an hour and a half before the doors were to open put us about 6 or 7 back in line, and got us a front row seat, slightly to the left for the best view of RT's guitar. Like Sacramento, the show started with Word Unspoken, Sight Unseen. I heard this first last March at the Fillmore, but it didn't make that much of an impression. I liked it quite a bit more this time.
The two songs I particularly wanted to hear were How Will I Ever Be Simple Again and The Great Valerio. Since he played Simple in Sacramento, dedicated to peace in Ireland, I hoped we would get it in Austin, and we did. I was planning to shout out "The Great Valerio" at an opportune moment. Then he introduced a song from "way back" and mentioned Fairport, so I thought it would be Genesis Hall, which he did in Sacramento. But then he said he actually wrote this one after leaving Fairport, and went into the Great Valerio. (my first psychic request?) By the way, I don't know if this is news, as I don't follow FC's doings that closely, but he said he would be joining FC's 35th anniversary concert next year in England.
The acoustic Shoot Out the Lights just keeps getting better. The first one I heard was on (I believe) Two Letter Words. Then I heard it at the Fillmore in March and thought it was even better. But the version tonight completely blew me away. The second solo was some of the best acoustic soloing I've ever seen him do.
We got another new song which he didn't announce the name of, but it may be Destiny. He forgot the works and had to look down at a cheat sheet he had and then continue. He joked about writing it in the dressing room. I quite like it for a first hearing. It was also my first hearing of Kidzz, and I like it as well. We also got some of the Getty stuff for encores.
All in all, another great show with great seats, and great sound. Now I hope we get a round of band shows after the album(s) comes out next year.
Set List
Word Unspoken, Sight Unseen
Crawl Back
How will I Ever Be Simple Again
Outside of the Inside (song for "those wacky guys in the Taliban)
My Daddy is a Mummy
Dry My Tears
52 VBL
The Great Valerio
I Feel So Good
The Ghost of You Walks
Turning of the Tide
Destiny?
Persuasion
Kidzz
Shoot Out the Lights
Wall of Death (after soliciting requests)
God Loves a Drunk
Cooksferry Queen
First Encores
So Ben Mi Ca Bon Tempo
A Legal Matter
Second Encores
Heard That Lonesome Whistle Blow
Portion of a song, I think he said it was Buddy Holly, but I didn't recognize it. Then he said "enough of that Texas crap."
I Misunderstood
-John Swanda
SWANDA@aol.com
---
New Song in Austin
Sorry I'm a few days behind the rest of the list. Some discussion on the new RT songs played at the Austin show. The post 9/11 song was apparently sung from the viewpoint of a (how to tactfully phrase this?) "potential perpetrator(?)". It started out by trashing the contributions of famous musicians, scientists & artists, described the singers feeling of being called to a "higher" function and chorused with a stinging reference to getting to heaven but not knowing he was there. (Perhaps calling into question the singers belief system and whether he would recognize the real heaven??? although I hate to over-analyze.) Another new song was told from the viewpoint of a corporate-type, singing to children to encourage them to buy things. Reminding them not to cause trouble by "thinking for yourself". I probably don't have the words right either but short-term memory is a thing of the past.
Many people standing in line before the show were new to RT. I heard several people remarking they had never seen or heard him before so I'm sure there are some new converts in the world. I have to admit I much prefer seeing him in that type of sit-down venue than the stand-up-and-be-squished type of venue. He was still close enough to have that personal feel and I didn't have to get stepped on. There was a nice mix of us 'oldsters'(over 40?, does that qualify?) and the college crowd. The Texas Union Ballroom is on the campus of the University of Texas. It was a great show. Well worth the 3 hour drive from the ranch. Driving around Austin is always a thrill. I only went the wrong way up a one-way street once! The moon was almost full, the weather was cool (for a change) RT was chatty with the audience, music & singing everything you could expect and all is right in my little world. What more could you ask for?
Penny
Non Profit Fire Ant & Rodent Ranch
antranch@pdq.net