California October 2001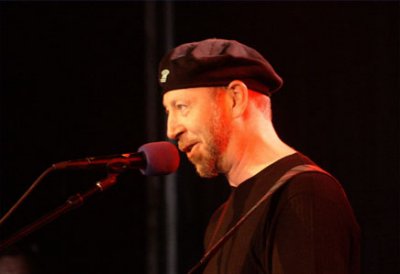 The Getty Show
The Getty show "They Could Have Been Hits: One Thousand Years Of Also-Rans"
Too bad, so sad for you 'also folks' who were frozen out geographically or otherwise, this hour and a half show was phenomenal. Judith Owen mesmerized on such cuts as the standout "Cry Me a River" and a beautiful Henry Purcell gem. Ex-doors drummer John Densmore added spicy percussion to several cuts. The Who were represented, as were Prince, Jimmie Rogers, Stephen Foster, Nat King Cole, Hoagy Carmichael, as well as the ever popular Anon.
This year's model was far more polished and accessible than the prior Getty offering; everyone should petition and hope that this is released commercially. The video would be especially fantastic.You should have swam, ran, flown, skipped or done *anything* not to have missed this show. It was heaven!
Fonda, John & Susan Novack
fondams@gte.net
---
Maybe RT'll tackle Roadhouse Blues! -Marc Bergman
Ok, that strong rumour turned out to be true. In fact, we saw Robbie Krieger on our way in, so when I saw Mr. Densmore on stage I wondered if we were going to get some kind of wacky Doors reunion featuring RT in the ? role...but no, Robbie did not make it onstage.
This 1,000 years was even more fabulous than the first version, I think. For one section I thought RT was revisiting my own childhood. He did Shenandoah, one of my all time favorite songs, and really, one of my first memories of being moved by a tune and lyrics, in, of all places, my fourth grade classroom. He also did "Trafalgar Square", which was on one of the first LP's I played to death, a music hall collection of my mom's, by Stanley Holloway. And then he did "Legal Matter" by the Who, one of the first rock bands I really loved.
Hopefully someone else in attendance (Fonda, Amir, John S, maybe?) will remember exact words, but Richard spoke simply and I thought movingly about the United States ("I live here") and his desire (also in the notes provided by Flip, here, which I did not see or get tonight) to perform songs that were not overtly political or religious but none the less patriotic. Shenandoah was actually the one he did right after saying this and he also did a Stephen Foster song. We also got Jimmie Rodgers, Hoagy Carmichael, Gilbert and Sullivan, Nat King Cole song (Orange something...) Prince, "Tempted" ("a song by one of my favorite bands of the last 10..20..30...40..years") "Cry me a River" (Judith Owen sang this-I thought the best of the songs she did) and "You'll Never Walk Alone" (Judith and Richard, encore).
All the songs had accompanying photos or painting or prints projected on a screen behind the performers, and some (TSquare; Stephen Foster song; You'll Never...) had lyrics and RT encouraged singing along. He encouraged singing along on Shenandoah, but no one really did-the lyrics were not forthcoming. But on the rest people did.
Again, as I think I said last time, is there nothing he can't do? Ok, I'll admit, yodeling is not his forte, and the Nat King Cole tune, played brilliantly, was also not perfection, but believe me, these are minor quibbles. I wanted to yell out "Thompson is God" echoing the old Clapton epithet, but thought better of it quite quickly....don't want to offend anyone, most especially not Mr. T, but my goodness he is special...but it would have been stating the obvious-everyone there knew this, I think.... I must say, tho, that this show, like the last one, left me really wanting to see a band concert soon. In this format he really sticks close to the style and feel of the song and era he is performing (which of course was just right) but I kept yearning for him to cut loose on a break or a fill...he did a bit, but I'm hungry for more. Near the end he actually skipped a song, not entirely, he gave us a taste...an Elvis song (I think it's called "A Fool Such as I"), and then said it was almost time to stop and we might not get home, to which someone in the audience yelled "Yeah, all night!". And in fact it seemed to go quite quickly, all 1,000 years. I would love to hear him do a couple of hours of 60's and 70's and one of my friends who was there wants to hear him "deconstruct" the 90's trends (she caught "Oops, I Did it Again" last year). So I hope this continues, every fall, Richard at the Getty, explaining and reinventing it all, beautifully...
janet
JSarver@fulfillment.org
---
Getty Show
Greetings all, and thanks to Fonda and Janet for their reports of the Getty show. It really was a wonderful performance. I went with two colleagues from my university, who had never seen RT before. I had bought them Action Packed when it came out, and they bought Celtschmerz at the show.
Typical Southern California experience of watching the stars. We get on the tram to the Getty, I look over my shoulder and who do I see beside me but Harry Shearer and Judith Owen. Too cool. Of course, I don't say anything, as that would betray my geekiness. Then we get in, find seats, and I spot Fonda (thanks to Dee's web page). Feel geeky talking to her (sex bombes and perfessors don't usually mix well), but her graciousness puts me at ease.
Sit down, RT comes on, and we all are blown away. Fonda and Janet have already described the set list. And I don't remember what he said about living in America, but it was quite moving. Highlight for me was listening to him do a Prince song, "you don't have to be rich to be my girl". Woke up this morning with that version running through my head... I'm sure this will come out wrong, and I don't mean to complain, but my friends and I all commented afterwards about the fact that the music was all either European or American. Not that there is anything wrong with that, but in this time, perhaps something broader? Not that RT should wear his religion on his sleeve or anything like that, but maybe a song in praise of Allah or Muhammad? I don't know, maybe that's just my agenda...Something to show the connections between different cultures in the world...
My friends just loved the show, and now they GET why I keep talking about this RT guy...
Salaams,
Amir
amir.hussain@csun.edu
---
Publicity (Getty)
Flip Feij wrote: > I think it [Getty] gained a little less attention than Paul McCartney's
Doubtless they were offhand comments but people were saying the show was so much work that they were not sure there would even be another L.A. one. Of course once things became more settled and not a whole new production each occasion, that would change the 'effort quotient' aspect.
> but don't you agree that a little more publicity before the concert could have worked for RT?
ABSOLUTELY! The only thing I saw was in the Thurs. L.A. Times "Best Bets" section (a things to do next four days, with obligatory 'freebies' listing each day). Friday's "Freebie" listing : "Folk-rock titan Richard Thompson gives a solo performance at the Getty Center's... Reservations are recommended...". This _is_ a much read/noted section of the only area major newspaper so it did at least get his name listed (I think in and of itself BFD, however). It did (wrongly) imply it was not sold out. Odd in that they frequently *annoyingly* list sold out events AND specify as such. (I mean what's the point -- except 'advertising' and "one hand washing the other" aspects -- Hmmm _that_ may be it.) So, this listing may have had more people ringing after reservations. However, mayhap this backfires in that when one finds they're shut out, does one primarily associate and retain a negative impression vis-à-vis Richard. It's possible. "People are strange" and marketing/advertising is a complicated 'art'.
Of course the show was listed and briefly *wonderfully* described in the mailed and museum available "This Month at the Getty" calendar noting: "Legendary singer/songwriter and guitarist extraordinaire returns to the Getty..." Thankfully -- I feel -- it did not trammel him with the 'folk/rock' tag. One I do not believe serves him well, especially as an
only and catch all description.
BTW, MAJOR _thank you_! to dee for listing the Getty show before the Getty calendar was mailed or available (and John Schulte for first reminding RTLIST). This is the reason 'we' were able to get the reservations as we were not in immediate competition with the general public who may jump at anything free...
In the "L.A. New Times" (weekly free paper with multiple city versions), Richard's AP release date Troubadour gig had been nicely listed/described last March. But there was no Getty mention for this event. That should have been submitted to them -- IF it wasn't. High distribution, much read/noted, and with good, desirable demographics.
For today's audience, Judith Owens *may* be almost more of a name -- and
she's playing locally each Tues. at 8:30 at the L.A. venue The Joint. So
publicity could add to publicity.
> ...in a hi-tech center like The Getty...
One might be slightly misled/surprized as to the auditorium given the Getty name/reputation. This is in no way a criticism, just not that it is what one might thus presume. It's a general performance venue and handles lectures and films in addition to music and other performances. However, I personally have no remotely negative comment as to its acoustics, seating sight lines, etc. It has very good rake with comfortable theatre style seats and reasonable aisles. The balcony area -- not utilized for the show -- looks to be another story sight wise
anyway.
Fonda -- giving rather more than her 2¢
fondams@gte.net
---
Complete Setlist Getty Gig
Hi all,
I asked Simon Tassano for the Getty Setlist and here it is. I could use some help finding the authors. Anyone?
Regards,
Flip-
Richard Thompson Getty Set List October 19th 2001
01. Worlds Blis Ne Last + JD
02. So Ben Mi Ca Bon Tempo + JD
03. Bonnie St. Johnstone
04. When I Am Laid In - sung by Judith
05. A Begging
06. Blackleg Miner + JD
07. Shenandoah
08. Trafalgar Square
09. Why Have My Loved Ones Gone
10. There Is Beauty In The Bellow Of The Blast - RT + Judith
11. Old Rockin' Chair/Orange Coloured Sky + JD
12. Cry Me A River - Judith solo + JD
13. Hobo Bill's Last Ride
14. The Fool
15. Legal Matter
16. Tempted + JD
17. Kiss + JD
ENCORE:
18. You'll Never Walk Alone - Full Cast
RT=Richard Thompson, JD=John Densmore, Judith=Judith Owen
---
Complete Setlist Getty Gig
Flip writes: "I could use some help finding the authors. Anyone?"
sure, I'll give it a try...
07. Shenandoah
traditional
11. Old Rockin' Chair/Orange Coloured Sky + JD
i believe the Old Rockin;' Chair part is possibly the Hogy Carmichael song? as made popular by Mildred Bailey in 1932 (ole rocking chair got me... )
12. Cry Me A River - Judith solo + JD
a big hit for Julie London
13. Hobo Bill's Last Ride
traditional maybe, I recall a long article about this song in a 1970s Sing-Out
15. Legal Matter
Peter Towsend of the Who
18. You'll Never Walk Alone - Full Cast
from the musical "Carousel" by Rogers and Hammerstein
steven rowe
SRoweCanoe@aol.com
---
Complete Setlist Getty Gig
Flip wrote: "I could use some help finding the authors. Anyone?"
05. A Begging
Presumably "A Beggin' I Will Go", which is a traditional, recorded by Carthy and Swarbrick twice, once in its original form in 1965 and again in 1990 with new lyrics, set in Thatcherite Britain.
06. Blackleg Miner + JD
A trad song about striking miners, recorded on Steeleye's first album. Would fit right into "Industry".
14. The Fool
From the reviews, this would appear to be A Fool (Such As I), made famous by Elvis (and it would also appear that it wasn't actually played on the night).
Martin
martin-jkp@mail.u-net.com
---
Getty show, "Hobo Bill's Last Ride"
"I could use some help finding the authors. Anyone? 13. Hobo Bill's Last Ride Regards, Flip-"
Credited to writer Waldo O'Neal; made famous by Jimmie Rodgers, who recorded the song in New Orleans on Nov. 13, 1929 and released it Aug. 1, 1930.
---
Crest Show
Nice show last night at the Crest - sorry no set list from me.
Standouts for me were a particularly nice "Genesis Hall", a fierce "Shoot out the Lights", and "How Will I ever Be Simple Again", dedicated to the end of the war in Ireland (fingers crossed). For his encore he did a couple of songs from the Getty show, a fifteen century ballad in Italian and the Who's "Legal Matter". He also performed the 30's novelty song "Wham Bam Alakazam" and a new (I think) piece he dedicated to the Taliban, of which we were debating the title afterwards, something like "Inside of my Outside". The Crest is a beautiful little theater, with tons of ornate gold painted decorations. RT joked that he'd take some scrapings off the wall in lieu of his fee.
Thanks again to Evan Malonai for the transport.
Cheers,
Keith
kturner@cloudsystems.com
---
Crest Show
I didn't keep track of the set list either (too self-conscious to jot down notes like a train-spotter in the second row), but I thought it was a particularly good show, and it drew a couple of standing ovations. Most of selections were from Action Packed. We did get "Heart Needs a Home" in response to a request. "My Daddy Is a Mummy," "Kidzz," the new one ("Inside Outside"? -- I didn't quite catch it, either) in response to the "Tally-Bann." It was a pretty fierce song. At one point, he said "I suppose it's all _our_ fault," and then went on to explain that the English had given us the original puritan, Oliver Cromwell.
"Orange Colored Sky" was in response to opening remarks from a DJ who said that Nat "King" Cole was voted by his listeners as best all-time pianist/vocalist/songwriter and RT got the same nod for singer/guitarist/songwriter. I was surprised that RT played the whole song. Maybe it was a candidate for the Getty Show?
Oh, we also got the first verse of Hoagie Carmichael's "Rockin' Chair" (which I think _was_ in the Getty Show -- up to the line "tan your hide."
The only sour note for me came when people persisted in yelling out requests even after RT had already started playing his second (and final) encore: "I Misunderstood." Somebody yelled/whined "Play something exciting!," like a kid who doesn't want to eat his vegetables, just seconds before the vocal started, which must have been off-putting.
Deciding when to honor requests must be tough. It's like feeding your dog from the table. If you do it all, you run the risk of encouraging them to beg all the time and make an obnoxious nuisance of themselves. That said, I wish he'd played "Tempted."
Nice show last night at the Crest - sorry no set list from me.
---
October 26 Crest Show -- Set List
Greetings to all!
I was fortunate enough to have attended the Crest Theater show. I'm sending along the set list as I noted it during the concert. This is my first post on this, or any, list. I am inexperienced in the ways of computers, so please excuse any fumbles.
Karen in Petaluma
MAIN SET
Words Unspoken, Sight Unseen
Orange Colored Sky (Getty Show selection)
Crawl Back
How Will I Ever Be Simple Again
The Outside of the Inside (new, dedicated to the Taliban)
My Daddy is a Mummy
Dry My Tears and Move On
1952 Vincent Black Lightning
Walking the Long Miles Home
Shoot Out the Lights
Feel So Good
Persuasion
Turning of the Tide
The Ghost of You Walks
Kidzz (new)
Genesis Hall
Razor Dance
A Heart Needs a Home (request)
1ST ENCORE (from Getty Show)
So Ben Mi Ca Bon Tempo (the 15th century Italian ballad)
Legal Matter (The Who)
2ND ENCORE
I Misunderstood
Bruce/Karen Hagen
bkhagen@pacbell.net
---
Howdy Listers!
Thanks to Keith, Jim and Karen for their posts re: the Crest show, and to Flip for the lyrics to Orange Colored Sky. It was a wonderful night. Keith and I arrived 30 minutes prior to doors opening, with perhaps 200 people ahead of us. Good fortune prevailed and we managed to score 6 seats 4th row center, saving as many as our spare garments would allow for friends. As soon as we settled in, I noticed the chap seated right in front of us wore an Amateur Critics t-shirt. Doug from Davis said he had been off the list for a couple of years, but was good company for Keith while I roamed the lobby looking for those we'd saved seats for. The last pair arrived just as RT took the stage, house lights dim but not off, we scurried in from the lobby and took our seats.The last time I saw RT solo was the Fillmore in March. The performer's view at that venue presents a flat plane of close-set heads at foot level, spreading out into the black. The house sound was loud from the start, RT out to dominate. The Crest was an entirely different venue, much more intimate, and RT adjusted his approach accordingly. When he took the stage, the house lights were still up, the theatre felt more like a living room than a theatre. The crowd was quiet and polite. Between each of the first few numbers RT began joked with the crowd about his introduction, vis a vis the Nat King Cole reference, citing Hoagie Carmichael (sp?), Alan Tousaint and others. I recall another partial tune from the greats of yesteryear as well. (I didn't know it, but I assumed it was Nat Cole) It was a "patter" song, played a bit tentatively, quieter than a "real" song, as Orange Colored Sky started out - but he seemed to get carried away on the "Alakazam" (a corruption of an Islamic invocation!) and took the number to full volume.
Both were real treats.
Other highlights for me:
The Outside of the Inside
A fast-tempo, intense song, played in DADGAD (the tuning), chordally a repetitive triad without any bridge that I remember, and the chorus stayed around the same tonal center. As with other RT DADGAD tunes it had a Celtic/Arabic feel. I do remember the most repeated line of the chorus, but I'll not cite it out of context. (That's all I can think of now, Tom.)
Persuasion
Second time I've seen it sans Teddy and the first he remembered all the lyrics (including "Teddy's part"). Very moving, especially the bridge. (Nitpick: I think RT should cite Neil as well Tim Finn as the co-authors, as Neil did contribute the words, chords and melody of the bridge.)
Dry My Tears and Move On
Walking the Long Miles Home
Two of my fav's
1952 Vincent Black Lightning
In order to keep his interest awake for this warhorse, RT keeps working it from new angles. IMHO, he has gone a bit too far and would be better to retire it for a spell. I say this because the syncopation and emphasis of phrasing, especially on the 'keystone' turns of melody are so far off the original as to dilute the song's impact considerably. On the other hand, a friend sitting next to me who is a fan but much less exposed than I, remarked "I love that song" upon its completion, so I guess it still does the trick.
Shoot Out The Lights
RT his a foot pedal before launching into this one that jacked the volume up a good 33% and added chorus to the tone. Another great performance which marked a turn toward the more dramatic for the evening.
A Heart Needs A Home
A request from stage left for Beat The Retreat met with the response "My voice isn't up to that right now" or the like, followed by a request for AHNAH. In the moment's silence following this, a motherly, kind voice could be clearly heard at conversational volume saying "oh, that would be nice". RT smiled and complied with what was clearly a song he'd been working out lately, with some new twists on the solo.
How Will I Ever Be Simple Again
Wonderful new arrangement in a new position, now capo'd at the fifth fret. After ten years and 20 shows, I can't remember if I've ever seen this one or just wanted to real bad all along. Footwear use further confuses the issue. A real gem.
NOTE: Add to Karen's set list Cooksferry Queen, which closed the main set.
Topped off the night getting a copy of the show poster and having it signed by OH! Almost made up for having to miss the free bluegrass concert featuring Emmylou Harris the following day....(any report on that, Keith?)
Be Well, all
---
Oh yeah, one last hightlight:
So Ben Mi Ca Bon Tempo
RT's guitar sounded amazingly like a harpsichord to me (or an harpsichord, for the editors among us). No, he used no special effects; it was just the tuning he was in, and the piece, which sounded like Baroque harpsichord music (I suppose it was, but I'm not schooled in these matters). Very beautiful, but also funny to hear RT singing medieval Italian in opera baritone drag.
---
"The Outside of the Inside" impressions
Hello everyone!
We here in Petaluma are still basking in the afterglow of the Crest concert.
Thanks for the welcome. First, for the record, I want to post the COMPLETE set list. My apologies to everyone, and thanks to Evan for finding my accidental omission of Cooksferry Queen. I blame this on the excitement of a first time post!
MAIN SET
Words Unspoken, Sight Unseen
Orange Colored Sky (Getty Show selection)
Crawl Back
How Will I Ever Be Simple Again
The Outside of the Inside (new, dedicated to the Taliban)
My Daddy is a Mummy
Dry My Tears and Move On
1952 Vincent Black Lightning
Walking the Long Miles Home
Shoot Out the Lights
Feel So Good
Persuasion
Turning of the Tide
The Ghost of You Walks
Kidzz (new)
Genesis Hall
Razor Dance
A Heart Needs a Home (request)
Cooksferry Queen
1ST ENCORE (from Getty Show)
So Ben Mi Ca Bon Tempo (the 15th century Italian ballad)
Legal Matter (The Who)
2ND ENCORE
I Misunderstood
Rick added to Tom's query about "The Outside of the Inside," asking >>did he REALLY dedicate a song to the Taliban and do you think he was serious??<< Yes, he did dedicate it to the Taliban. My husband, who attended the concert, and I discussed this song on the way home. We could make out only about two thirds of the lyrics, but from what we gathered (and what I'm willing to speculate!), the song was a blistering indictment of bigotry, done in an ironic, indirect way. It reminded us, both in musical and lyrical style and content, of "Mother Knows Best" (a comparison made by James, I believe.)
In this case, the song is sung from the bigot's point of view. The bigot recounts the artistic and scientific accomplishments of Charlie Parker and Einstein, among others, in a sneering, condescending manner. There is a line about them not smelling the perfume in the air or something, as if there is a universal truth that these poor fools can never perceive. RT's bigot seemed someone with airs of great sophistication, not some illiterate, which made the bigot all the more frightening. Maybe we took more out of this than was there. Nevertheless, the whole impact of the words and music left us with a creepy feeling worthy of people like the Taliban.
Karen in Petaluma
bkhagen@pacbell.net
---
RT Austin City Limits Interview
Hi all,
In case you're in a hotel room, with nothing more than your cell phone at hand. Here's the ACL RT Interview.
Regards,
Flip-
(longing for more news)
flipfeij@zeelandnet.nl
July 2, 2001
Richard Thompson
q: Well, first of all, simple question: How did it feel out there for you tonight, was it good for you?
a: Well, it was a very nice crowd -- nice performance space, and I like doing television where there's enthusiasm for the music. There're not many shows around the world where the music is the priority. A lot of places, you know, the camera angle is the priority. It's very refreshing -- so, you know, I'm grateful.
q: It helps to have an audience of Austin fans, too.
a: I think Austin is a great music town -- always has been. I hope it always will be. For some reason, I don't know the history of Austin well enough, but I suppose because it's a college town or something, that it got that way.
q: Now this was a bit of an experiment for you tonight. You often perform solo, and other times with a four-piece, but tonight it was a trio. Why the trio tonight, and how did it make it feel different.
a: That's the first time we've played with a trio and it was kind of fun. I think the original idea was that the trio would be a little more gentle -- that I'd play acoustic guitar and the other guys would be playing a little lighter. Without having a harmony singer it's a different kind of thing, so you focus on different things. I think the repertoire is a little different. And then, as we got into it, it seemed sensible to kind of up the volume a little bit, at a certain point in the show start playing more electric and see if there was material that would lend itself that way. So it was kind of fun ... I suppose it came out of circumstances -- you know, the whole band wasn't available so we had to do the three-piece. And it was fun. I enjoyed it. I should do it again.
q: And it was fun from our point of view. You're a bit of a road warrior ... you work almost non-stop, with perhaps a couple of months off. Otherwise, you're out there playing in the states and around the world, and you obviously seem to enjoy it after all these years, what is it that maintains your interest and makes performing still something you enjoy?
a: I think more and more the music I play is based on the live process. You know its harder and harder to get on the radio harder and harder to get on TV and the music business has become a very corporate world. The record companies are owned by big multi-national companies and I think as an artist increasingly I have to find a niche and I think my career is really road driven rather than radio or record driven. I suppose if you like it its kind of rock music using a folk process or a troubadour process. You kind of come to town, you sing the songs. That's your real transaction with the audience. That's the give-and-take with the audience, the communication. And the record is more of a reinforcement of that, or a memory of that. But it really seems to have got that way around, which I think it seems to work well and it seems to work for more and more people that way. And there's something very real about it. There's something that you're really touching people or they're really reaching you. It's a great process.
q: No matter how the world changes and with the changes in technology that troubadour tradition does resonate very strongly. How many songs would you say you've written in your career?
a: I suppose I've written you know maybe 300 songs, you know that's not that many. I think Willie Dixon wrote about 2,000. Schubert wrote a lot of songs but he just did the music didn't he.
q: Explain if you would for us, your process - -if I may use such a term -- to describe your song writing. When you write a song, are you inspired to sit down, and do the words just flow? Is it more of a crafting process that sometimes may take days, weeks or you may not ever finish? How does it work for you?
a: I think songwriting is all different kinds of processes there's all different places to begin. Sometimes it just kind of hits you in the face and you write it down as fast as you can. And those are the good times. Other times you're kind of getting bits and pieces, your thinking of little bits and pieces I think musically and lyrically which you can then build up into songs. I think sometimes you have quite abstract ideas of what a song should be and then you can work backwards from kind of knowing what the complete picture is to actually knowing the details. Sometimes I do quite a strict regime of office hours or something where I'll write every day, and sometimes if I'm on the road kids are screaming. I've had to teach myself...
---
Austin City Limits ( and Canada )
I waited until midnight, but was happy I stayed up to see RT, Danny and Michael do the ACL show. Certainly, I wish he'd been featured for the entire show, but any RT on television is better than none. I have yet to convert my 13 year old metal-loving daughter, but now that she is taking guitar lessons, she was impressed when OH turned out a blistering version of SOTL minus one string. I assured her that for RT, this is no big deal, nor does he tour with dozens of guitars like some of her favorite bands. He just restrings for himself, or does without. Little by little, I hope to increase her appreciation. Earlier, there was talk of the pins on his headgear. Was the one a little-blue-and-green T-shirt of some kind? I don't have a giant-screen television.
While requests are being made to Donnie, I guess I'll add mine. There are several of us devoted fans in the Western NY area who rarely are able to revel in the frequent appearances RT makes on the East Coast. We are so near, and yet, so far. A few of us were very lucky to take in two shows during the MT tour, one in Rochester, NY and the other in Buffalo. Nothing could make us happier than a repeat engagement. Please remember us, too, Donnie. Thanks!
Pat Farneth
rubyruby01@yahoo.com>