Scotland and Europe
August 2001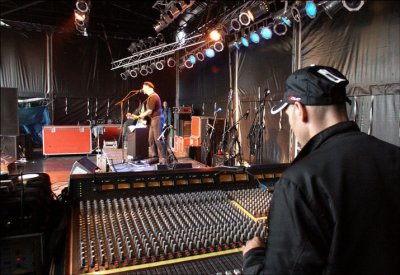 RT in Oslo
Just been to see RT solo at Rockefeller, Oslo. Absolutely stunning, as usual! One of our biggest newspapers ran a great feature on him - spread across a page and a half. Might have helped, cause the turnout was very good and the atmosphere more than inspiring. A cheerful RT played for about an hour and 40 minutes and seemed to enjoy every second of it. A few new songs - one called "Kidzz" (spelt with two Z's, "just to be different", according to the man himself). About corporate exploitation of kids. Another newie was the stunning "Word unspoken, sight unseen", which must be a song he really believes in cause it was his first encore.
But the highlight for me was the beautiful "Persuasion" - almost had me moved to tears.
Songs played (in no particular order):
Bathseba smiles (opening number)
Shoot out the lights
I feel so good
Walking the long miles home
Turning of the tide
My daddy is a mummy
Cooksferry queen
Crawl back (under my stone)
1952 Vincent Black Lightning
Persuasion
King of bohemia
Did she jump
Dry my tears and move on
Kidzz
How will I ever be simple again
Wall of death
Word unspoken, sight unseen
Beeswing
Waltzing's for dreamers
Valerie
I misunderstood
Razor dance
I might have forgotten a tune or two, but that should be about it.
Thor-Rune
supplied by
Chris Bates
chrisjbates@btinternet.com
---
RT in Copenhagen
Hi all!
I feel so good RT:s show i Copenhagen, Denmark, last night was just as good as I hoped it would be. The bereted magician seemed to be in good mood and played for one hour and 45 minutes and there wasn´t a dull moment. The standing audience 300400 persons of which 80 percent were middle-aged men (two of them were me and an old friend of mine) greeted him with great warmth, clapped and cheered och we would have stayed twice the time if only RT had stayed with us.
There were many highlights for me (I misunderstood, Beeswing, Cooksferry queen, The ghost of you walks among them), and it was great to hear some songs I had never heard befor like Mydaddy is a mummy and Kidzz. I know that some of you keep record of what songs he plays at different venues. This is the setlist in Copenhagen, taken from my memory (which means that the order is random and I may have forgotten one or two songs):
Bathsheba smiles
How will I ever be simple again
Did she jump or was she pushed
Crawl back
1952 VBL
Persuasion
Shoot out the lights
My daddy is a mummy
Dry my tears
Kidzz
Walking the long miles home
Beeswing
Madonna´s wedding
The ghost of you walks
Turning of the tide
God loves a drunk
I feel so good
I misunderstood
Cooksferry queen
Waltzing´s for dreamers
Words unspoken, sight unseen
Razor dance
Valerie
15 months ago I saw RT together with Danny T, last night RT was alone on stage. Both shows were terrific, but next time I really like to see him play electric, with the band.
Cheers!
Hans
in Sweden
hans.norrby@mbox301.swipnet.se
---
Gitarguru (RT in Norway)
Hi all,
You can read this, if you want to. It's from a newspaper in Oslo (Norway). Ask your Norwegian neighbor for a translation, if you can't do it on your own.
;)
Regards,
Flip-
Trollmannen
GITARGURU: Richard Thompson (52) sang og spilte for et uvanlig lydhørt publikum på Rockefeller i går kveld, og de fikk valuta i form av en fantastisk konsertopplevelse.
KONSERT
«Richard Thompson»
Sted: Rockefeller, Oslo
Publikum: Ca. 350
Si din mening om saken!
Antall innlegg: 7
Utskriftsvennlig versjon
Tips en venn om saken!
Å spille solo er en krevende øvelse, og det fordrer i hvert fall gode låter. Av ØYVIND RØNNING Torsdag 2. august 2001 7:17
Richard Thompson mestrer øvelsen overmåte godt, og gode låter er hans mellomnavn. Han synger dessuten flott, og på toppen av dette er han en fantastisk gitarist som får publikum til å smile bredt bare ved å se på strengearbeidet.
Og de var der, om enn i færreste laget: de som kom for å høre, beundre og/eller lære av den beskjedne trollmannen. Han er virkelig et band aleine, dessuten har han en unik klang i gitarkassa.
Det store spørsmålet i går kveld var dette: Var det mulig å toppe den flotte konserten han gjorde med bassisten Danny Thompson samme sted i fjor?Ja, skulle det vise seg. Fordi han fikk enda mer spillerom aleine med gitaren og låtene, albuerom til å vise seg fra sine mange sider: rockeren, balladesangeren og framfor alt den virtuose gitaristen.
Han har holdt på i bransjen siden han utviklet folkrocken som en av stifterne av gruppa Fairport Convention i 1968, i duo med sin daværende kone Linda på 70-tallet og ikke minst som soloartist med en stor og trofast fanskare.
Hovedtyngden av låtene kom naturlig nok fra hans siste studioplate «Mock Tudor» (1999) og årets samleplate «Action Packed - The Best of the Capitol Years» - fra åpningslåta «Bathseba Smiles» via den morsomme «Walking The Long Miles Home» og den såre «I Misunderstood» til «Cocksferry Queen». Og det leder til kveldens andre store spørsmål: Har Richard Thompson dårlige dager? Han synger om dem, bevares, men han er i så fall flink til å skjule det på scenen. I går var han bare fantastisk.
Flip Feij
flipfeij@zeelandnet.nl
l
---
Edinburgh 6 Aug 2001
Another fine set from RT last night in Edinburgh Queen's Hall, billed as solo but played as a duo with Danny. It was a typical Edinburgh festival crowd, warm but a bit reserved (RT had to work at getting the call & response going in CBUMS). The sound was excellent despite some early booming, and the guitar work in Al Bowlly was as good as I've heard from him.Throughout the gig I was jotting down the setlist (in the dark) in my Fringe programme. When the house lights came up I realised that pencil and glossy paper do not provide the most readable combination possible, and I couldn't decipher about half of the list. I spoke to Simon afterwards, and he grabbed RT's copy of the setlist from the stool and said "Here, take this", so much kudos to Simon for the sound *and* for saving my sorry ass. The set was played exactly as on the list.
Technical note: The Pearse armrest is no longer on the Lowden, and the top is looking distinctly stained. I notice that RT rests his forearm on the top, between the edge of the lower bout and the bridge (possibly to anchor his playing position), and he seems to have worn through the varnish, leaving the top a bit grubby and sweat stained. Presumably as he's playing amplified most of the time he doesn't worry about the loss of tone or volume caused by resting his arm across the lower bout.
Mingus Eyes
Dry My Tears and Move On
Crawl Back Under My Stone
Ghosts in the Wind
My Daddy is a Mummy
Walking the Long Miles Home
Al Bowlly
(then solo)
Words Unspoken, Sight Unseen
Did She Jump or Was She Pushed
1952 VBL
(back with Danny)
Persuasion
Easy There, Steady Now
Bathsheba Smiles
Madonna's Wedding
Waltzing's For Dreamers
Shoot Out the Lights
Cooksferry Queen
(encore)
End of the Rainbow
Valerie
Cheers,
Magnus
mjp@roe.ac.uk
---
Marcus, thanks for the review,
you beat me too it (and saved me the bother!)
I was expecting the guitar playing to be amazing (and wasn't disappointed) but was blown away by the passion and commitment in his singing. A number of times he walked backwards after a song, still with eyes shut, shook his head and then opened his eyes.
Sample on-stage banter:
RT (after trying for a minute to tune his guitar) turns to DT: You're not in Medieval tuning are you?
DT: I may be old but I'm not that old!
Marvellous.
Also in response to shouts for (among others) Wall of Death and Beeswing RT: Naw, they're far too cheerful. (He then played The End of The Rainbow.)
Some random thoughts:
My daddy is a mummy went down a treat.
How he never broke any strings I'll never know, the way he was hitting that Lowden!
Shoot out the lights was incredible, complete with bass solo by Danny. I tried (like a few other people) to get the set list off the stage but they had assigned a security monkey to guard them.
The gig seemed to get cut short at 1.5 hours. He did the encore and then the house lights came on immediately.
RT had a Celtic FC badge on his beret and another badge that I couldn't identify.
Gary
gary@sferics.com
---
RT in Stockholm, antipodean tips wanted
Apologies if you've seen this before or receive this message twice. I sent it off a couple of times, but haven't seen it on the digest - must have gone to the Kenny G list instead... Am now testing , with Willis's help, an alternative e-mail address
Enclose a hurried translation of a newspaper review of Richard's show in Stockholm, Sweden, last Saturday. Unfortunately I was unable to attend.I'm off to visit all my relatives in Adelaide in October, with hopefully, a few days in my native country NZ. Haven't been back since 1983 and have completely lost touch with the music scene, and you hardly ever see antipodean artists (apart from the Finns - and I've found a couple of old Paul kelly CDs) in the shops here. Would really appreciate a few tips as to what antipodean listees judge to be essential purchases... in both countries.
(I really used to like Renée (sp?) Geyer, the Dingoes - I once made a radio ad with Broderick Smith - is he still active? Otherwise I'm open to almost all kinds of music
Private e-mail unless you think your the entire list should take your tips to heart.
Regards, Greg Church.
Powerful singer and guitarist
Richard Thompson glides effortlessly between genres
Richard Thompson Live at Daily News, Stockholm. Saturday 4 August
On the posters displayed round town Richard Thompson is promoted as a guitar legend". This usually means a pretentious hardrocker sporting a ruffled shirt, much-too-tight leather trousers and an ambition to combine hardrock and classical music.
Nothing could be further from the truth as far as Richard Thompson is concerned. He's a quiet british folkrocker n a vlack beret with more than 30 years experience as an artist - in Fairport Convention, together with his ex-wife Linda and as a solo artist. Nevertheless none derserves the epithet more than Richard Thompson. His guitar playing is often extraordinary. With little visible effort he glides between riffs from rock's early days, British folkmusic and featherlight arabesques from the borderlands between country and soul. His accomplishments becomes so much more obvious when you consider that this time round he's solo with just an acoustic guitar, not even accompanied by a bassist.
The set list is, with a few exceptions - e.g. the rocky number "Kids" about children and multinational conglomerates - perfect. Thompson has, in later years, become a powerful singer, but has at the same time, lost a little of his former edge as a songwriter. The fully realised albums are fewer and far between. However he's sufficiently self-aware to be able to choose the real gems from his solo repertoire with a certain emphasis on his masterpiece "Y?M?U?" and his latest, rather uneven, MT.
The exquisite archetypal British soul ballad "Dry my Tears and Move on" is, I believe, the song Paul Weller has unsuccessfully been looking for the past ten years. "The Ghost of You Walks" sounds even better acoustically than the normal electric version; the incredibly strong lyric about the the consequences of love ("the ghost of you walks right through my head/sleepwalks at the foot of my bed") becomes even more heart-rending. Persuasion which he wrote together with Tim Finn from Crowded House is another monster ballad.
Unlike the last time he was here, this time he returned to older songs from the time before he became a solo artist. He performed brilliant versions of SOTL, "Withered and Died" and "Did She Jump..." (the last two being orginally sung by Linda).
The audience - roughly 90 percent men - are really with it; applauding every gesture and requesting obscure songs. And they're all probably wondering why Richard Thompson, despite such obvious qualities, has never attained the same status as the other heroes in their record collections: Neil Young, Van Morrison, Dylan. That's certainly the level he belongs at.
Greg Church
greg.church@trollhattan.se