Ireland July 2001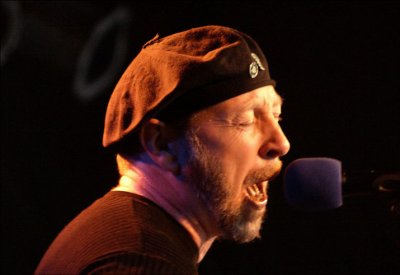 RT in Dublin
Just a short report on last night's gig here in Dublin.
RT and DT were in fine form and played a great set (DT on a borrowed instrument for some reason).
I don't think there was much variation from recent set lists but I will post a bit of a list later when I can remember exactly what was on it.
The most striking performance was of CBUMS - he plays like he means it alright!
I really liked the new song, Words Unspoken ..., there is a sort of Scottish 'air' to the chorus.
Met fellow listee Roy (Burcher? -sorry Roy, not sure of your surname), who I identified by his Dee-shirt, and we spoke briefly after the gig.
Roy remarked that he had never met RT and neither had I until, upon leaving the venue having stayed in the bar for a drink, I happened upon RT and company loading their taxi. A very polite RT signed my copy of Action Packed which I, by pure fluke, had with me, it having arrived in the post on my way out the door yesterday morning. We only had a few words as Simon was waiting with car door open, but he struck me as an extremely nice chap.
Anyway, it rounded off a very enjoyable evening.
Cheers,
Brendan
bteeling@eircom.net
---
Review In The Irish Times
01/08/01: Not the Thompson brothers and definitely not the Thompson Twins, Richard and Danny are two stalwarts of British contemporary folk, the former an intense, often excoriating chronicler of affairs of the heart, the latter a brooding stand-up bass player.
They've played together and recorded together, and their sense of humour, instinct and empathy are clear. Yet while Danny Thompson provides a jazzy backdrop to many of the songs, filling in the spaces with plucky aplomb and a furrowed brow, it's Richard Thompson most of the audience has come to see.He has played Dublin about three times in the past 18 months, each gig a different format, each performance providing a slew of surprises. His onstage shtick remains the same: an essentially stiff-upper-lip, mannerly British comedian.
What differed here was the mix of easy humour, stark poignancy and viciously intense material. From Did She Jump Or Was She Pushed, Al Bowlly's In Heaven and Valerie to Waltzing's For Dreamers and 1952 Vincent Black Lightning, Thompson invested the material with determination and a will to deconstruct. Of all the erstwhile members of the British folk boom of the 1960s, Thompson appears to have left little of his early talent or self-belief behind. Add a mickey-take trad-arr song about Madonna's wedding in Scotland (with some excruciating rhyme schemes) and you have a rounded, typically perverse performance. What he'll do next is, thankfully, never made clear.
Tony Clayton-Lea
supplied by
Flip Feij
flipfeij@zeelandnet.nl