England July 2001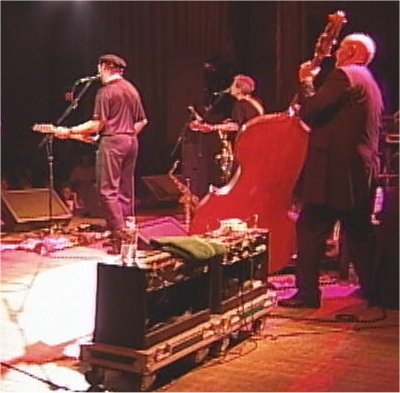 RT headlines Earagail Arts Fest in Co. Donegal
RT appeared before a packed audience at the smallish An Grainan Theatre, Letterkenny tonite as the headline event of the 3-week multicultural festival. It's been about 8 years since I last saw him playing live and from all the recent rave reviews on this list I was very excited to see him again. My wife had come along with me to his last gig (on our first date) and does not count herself amongst his fans. 'Too dirgey' - her favorite put-down to a a few other artists that I like. But she did at least admit to enjoying his guitar work last time round.
RT came on stage just after 8pm and played thru until just before 10pm without a break.
He was very relaxed and looked to enjoy the show. Lots of witty repartee and put-downs :-).
He launched into 'Bathsheba' and it was obvious that we were in for a good night. His voice was strong, guitar-playing was astonishing and perfect thoughout the set and the sound was wonderful. At the end of the first song, he realised he'd left his capo in the dressing room.
'Is there anyone backstage' he called and turning to the audience he beamed his big smile and apologised for the slightly unprofessional turn of events. 'Damn that's really unsettled my rock-star persona' he quipped 'I suppose I'll just have to go back to being a folkie' and calls backstage for them to bring his slippers. Simon hands him his capo and away we went. Introducing 'Long Miles' he said 'This used to happen to me alot when I was a young lad, I'd go out to a party and all the buses would have stopped running by the time I headed home.
He apologised that the next song was specifically written for children as part of a schools project and painted a wickedly funny picture of the opening of Tut's tomb. 'This one is placed musically between the 2 Mempises' before playing 'My Daddy is a Mummy'. Introducing 'Persuasion' he talked about his admiration for Tim Finn who co-wrote the song and gave a big thumbs up for Crowded House before someone in the audience asked if he meant Neil Finn. A quick double-take from OH 'No it was definitely Tim, were you there as well? Actually Neil helped with the bridge but he didn't want to be credited - I guess that you sussed that out by osmosis'.
After 'She Twists the Knife' he asked if there were any requests and after a few requests for some band numbers he said 'Its only me up here, I'm not doing flash tonite' then 'I'll tell you what, try this one, I'm sure you'll like it and played 'Cold Kisses' then 'God Loves a Drunk', 'Beeswing' and 'Cooksferry Queen' at breakneck pace to finish.
Full setlist:
Bathsheba Smiles
Did she Jump
Crawl Back
Galway to Graceland
Walking the Long Miles Home
My Daddy is a Mummy
Dry my Tears and Move On
Vincent Black Lightening 52
The Great Valerio
I feel so Good
Persuasion
Turning of the Tide
Ghost of you Walks
She Twists the Knife
Cold Kisses
God loves a drunk
Beeswing
Cooksferry Queen
Encore 1
Dimming of the Day
Valerie
Encore 2
Easy There, Steady Now
Long Silken Hair
As I say a wonderful night, and even my wife was very impressed, woo-hoo!!
I was hoping that I might pick up a copy of 'CeltSchmerz' after the show, but there was no sign of any CD's being sold. He did do a little plug for 'Action-Packed' during the show - 'You know how I do just a couple of half-decent songs on each CD - well this new one's put them all put together, go check it out at your local record store - and that's as much of the commercial element that I'm gonna do'.
Thanks for a great show RT and to Simon for the superb sound. 'It was grand' as they say around here.
Cheers, Ian
eeyorn@yahoo.com
---
Union Chapel 25th
1) Thought RT was in great form tonight. Very much at ease and much banter with the audience. Played a scorching set too. Cooksferry Queen really rocked. I didn't make a note of the set list but I'm sure someone will post it. If not, the chap I sat next to is emailing me tonight and tomorrow nights on Friday and I'll pass them on if of interest. The set included Amenhotep, which I had not heard before and Madonna, which was amusing (he stumbled over the words once or twice).
There were the usual audience calls for favourites and RT seemed to be influenced by some of the requests. On one occasion he pressed a young lady in the front row for her favourite and played her request for Dimming of The Day, commenting that it was a good choice. As the applause subsided just before his final encore I shouted 'Misunderstood'. RT seemed to look at me, gave a slight wink and nod and into it he launched. Now did the nod mean "good choice, friend, the perfect number to close this set. Thank you, I think I'll go with that" or did it mean "how did you guess that that was what I was going to finish with?" I prefer to think that I influenced the outcome of a splendid evening. Mind you, any of his songs would have been a perfect end.
RT commented about an echo in the acoustics. I was in the middle of row three and had no problems with understanding every word. However, a fellow gig-goer with whom I fell into conversation on the train on the way home was said the acoustics were 'lively' and atmospheric in the balcony seats. His friend who hadn't heard RT before had to strain to try to make out the lyrics.
So to anyone going tonight be sure to get there early in order to secure a good pew downstairs.
2) I have a long-standing arrangement to meet up with Helen and Emma, two newish lady friends (non romantic), for a meal in Cambridge tomorrow night. After tonights' set and knowing that it is a long time till Friday and Sheffield I rang Helen on impulse and suggested a change of venue. She's a music fan, hasn't heard RT and is up for it. Couldn't get hold of Emma so won't find out till tomorrow whether she can come or not (baby sitter and all that). So tomorrow night I shall either be enjoying the company of two lovely young ladies at an RT gig and hoping to gain a convert or two, or I shall be enjoying the company of two lovely young ladies in a Cambridge restaurant and bar/s and enjoying myself anyway.
Rich
rjbryce@btinternet.com>
---
There were a few surprises
on the Wednesday night, the first being a large Victorian Methodist church selling alcohol. There are not many of those about. Admission was delayed for further sound checks, the reason for which quickly became apparent. The accoustics were among the worst I've come across, and Simon must have been fighting a losing battle.
The next surprise was on following the toilet signs and ending up where I should not have been. A group of women were huddled in the alleyway outside where it was quieter, singing in Arabic a vaguely familiar chant of praise to the Prophet. On chatting to them, they turned out to be Friday's performers rehearsing, apparently getting down a 'new' number. I didn't
ask where they got it from, because we were all shooed back inside by the bouncers.
RT opened unconventionally, with Did She Jump or Was She Pushed, and followed it with Kidzz, an ironic diatribe against commercial exploitation of children by large companies. "Don't make trouble by thinking for yourself" and "we're laughing in the boardroom, we're peeing in our rubber underwear." Eh? Did I hear that right? This could be a novel children's album. Crawl Back was an outstanding 110% effort vocally, but if you really want an audience to join in a chorus, don't give them the hardest parts, please! The same was true of Genesis Hall later on. The accoustics were turned to advantage on Valerio, with the playout reverberating astonishingly like a synthesizer. It was a typically good performance from RT overall, and the home crowd really warmed to it with two standing ovations. Centre seats look the best option for Thursday concertgoers!
Derrick
derrick.leigh@ntlworld.com
---
Union Chapel last night was extraordinarily good,
much more enjoyable than Cheltenham. I really wish I could be there tonight as well... Maybe because of the delayed start Richard seemed more focused and intense than he did in Gloucestershire, and the changed-around set order worked wonders. Starting with Did She Jump... seems a bold choice but it worked, and his vocals on the song were 100 percent better than at Cheltenham (where I'd found them disappointing). And Kidzz! Is this actually the first public appearance of this? (If so, I reckon I must have been present at the first public performances of at least three songs now - Beeswing, and Sights and Sounds of London Town are the others, I believe).
My mate, whom I mentioned two days ago was a bit unsure of RT's vocals seemed much more impressed by them after sitting through a complete solo concert. He said "He's putting _real_ vehemence into his delivery" (I think referring to the new, extra-angry ending of CBUMS), and I replied "Hey, he's just acting something he wrote." But so many singers don't bother to act, or seem afraid to put any vocal emotion into their delivery. Richard handled anger, spite, tenderness, longing, sadness and hyper-elation all with equal panache, I thought.
But the bugger still didn't assay Push and Shove...
---
Admission was delayed
owing to a late-running daytime booking that wouldn't give way until after 5pm.
Support was provided by Wood, a UK duo who, I understand, are bigger in the US that in the UK - an unusual occurrence. Am I right in thinking that the duo usually work as a band, rather than a duo. I'd heard good things about them, but whether it was the acoustics or them playing without a band, I'm not sure - but they didn't really do a lot for me, which is a real shame as I was looking forward to them.
For those attending tonight, the box office will open @ 6pm for collection & purchase of tickets, while the doors should open at 7pm for a 7.30 start. As they are playing Cambridge Festival tonight, the support tonight will be Josephine Oniyama, an 18 year old Mancunian urban folk songstress, who has justifiably been likened to a young Tracy Chapman. Her folky guitar, alt.country sensibilities and low, intensely heartfelt, but restrained vocal tones are already making waves (Time Out - London)
Running half an hour late, RT bounded on stage and went straight into half a dozen numbers without uttering more than a 'thank you' at the end of each number. I felt he was slightly worked up over the delay....
About half way in, he seemed to relax and from there on, he interacted with the audience. I didn't get a set-list, but it did seem somewhat different to other recent lists printed here....
Kidzz - 'with two z's' he said, was 'interesting'....I heard the lyric the way Derrick did, and I also wondered whether it was heading for the kids album already mentioned. I guess it might be about kids, not for them.....It appears that Hamlet is no longer to be played, a request firmly turned down with - 'it's no longer in the set'.....The lyrics for Madonna's wedding had been supplied along with a semblance of a set list, by Simon T before he came on. Unfortunately, a member of the crew grabbed the lyrics before I could at the end....:-((
After just 80 minutes, he was singing what turned out to be the last number. He came back for two encores, the second of which was truncated to just one number by a broken string.
The acoustics were very well used by Simon T - certainly from where I was sat - centre, front row! (you got to queue, listees).
Got some excellent pictures, if anyone can find a home - you still there, Dee?....
Great to meet Paul W & Pearse G, and sorry to miss you Derrick (and did you US listees see the show - sorry we couldn't identify you, we did look!)....but a raspberry to the listee who walked past me a few times without saying more than 'Hi'....I thought the idea of the Dee-shirts was recognition & a chat....please don't stick your nose in the air!!
Looking forward to reviews of the rest of the weekend.
Chris
chrisjbates@btinternet.com
---
Just got back from Sheffield show
and feel strange urge to share my views
...must have been observing list too long without participating enough.
First, IMV, great venue..friendly & intimate.Second, sound good, altho' as RT noted, it did change radically depending on where you stood. I ended up about 20 feet away, dead centre and it was pretty good.
Third, band was fantastic, and RT on top form, as much as my 24 years of live RT experience could recall. Not experienced enough to provide full setlist so by no means complete, but in there were ((!) for particularly stunning) and probably not in correct order, but pretty close:
Man In Need
Bathsheba Smiles
Hard On Me (!)
Two Faced Love
She Twists The Knife Again
Walking The Long Miles Home
Uninhabited Man
Persuasion(!!)
Al Bowlly's In Heaven
Sight & Sounds Of London Town
Cooksferry Queen (!) so fast-should've seen DT's face!
Crawl Back Under My Stone
I Want To See The Bright Lights Tonight
Wall Of Death(!)
Tear Stained Letter(!)
King Of Bohemia(!)
Put It There, Pal(!)
Sure I've missed three or four, but will rely on other listers to fill in the gaps. I'm curious as to RT's guitar tonight. He used a green thing for most of the set with his Lowden for the acoustic numbers, but brought out the Strat for WOD and PITP..the sound was stunning. If he's short he can borrow one of my '78 hardtails for Cambridge.. ;- )..I wish..
Mike
mikewallbank@netscapeonline.co.uk
---
He strides on stage with the minimum of fuss,
straps on his blue guitar, and picks out a couple of chords, almost as if he were trying it out for the first time. To his left is the familiar figure of Danny Thompson, hunched over his double bass, while stage right John [sic, it's Pete] Zorn stands amongst a jungle of saxes and guitars.
As Thompson kicks into A Man in Need, its plain that he means business. As usual, his guitar playing cuts through the mix like a scalpel. The bulk of the set is drawn from the Mock Tudor album, perhaps disappointing the folk faithful longing for a touch of Thompson's acoustic magic from days gone by, but when you're faced with material this strong it really doesn't matter. Hard on Me, from the aforesaid album, is up there as one of those rare "great festival moments". On record it tends to sound a bit laboured, but here it's as if something palpably dark has entered the tent. The bitter twist of the lyrics is followed by a guitar solo so brutal it's almost painful to listen to, but which is so expertly woven into the mood of the song it makes perfect sense. Where other guitar heroes widdle away, oblivious to everything except their own burgeoning egos, Thompson always seems to play just the right thing, albeit in unexpected ways. Drummer Michael Jerome also deserves special mention, thundering along with astonishing dexterity and driving Thompson to new heights.
Most artists have to put up with shouts for a particular favourite song. It's a tribute to Thompson's prolific muse that he has to put up with dozens. I Want to See the Bright Lights Tonight gets an airing , kitted out with a great sax solo from Zorn and some stinging guitar. An exuberant Wall of Death follows - one of Thompson's great songs, it has the crowd singing along with every word.
By the time Thompson leaves the stage, he's once more re-affirmed his status as one of British rock's greatest treasures. Most bands would sell their Strats for a fraction of the songs Thompson leaves out. As the audience filters back out into the night, there are no doubt a few people miffed at omissions from the set, but what does it matter. No doubt he'll be back with more classics in years to come.
Mick Fitzsimmons
<http://www.bbc.co.uk/radio2/folk/cambridge/thompson_review.shtml>
supplied by
Chris
chrisjbates@btinternet.com
---
Start at 10:40
Green guitar
Zorn, Danny, Jerome
1 Man In Need RT flubs "descendants lying still" lyric and laughs.
2 Bathsheba Is RTs guitar sharp? Something sounds off, pitchwise. Zorn's mando high in mix
Visually: smoke machines? Not as many closeups of RT's face as I'd like (and none of his hands), but pretty good coverage.
I'm missing the Clive & Christine backing vocal days….these Mock Tudor songs need more bv…miss Teddy
"Hope you're having a great festival! You look like you are…you feel like you are…you sound like you are…."
3 Two-Faced Love ("Not 'Toothpaste Love,' as I've seen recently on the Web site…")
4 Hard On Me passionate, enthralling….began at 5:54 my time….
Solo…Has he a bruise on his left wrist? Is he wearing a wristband?…tight, repeated triplets…restrained fury
5:59…coming up on possible long solo….oh, wait, Danny's solo first….RT signaling for sound alterations, scratching his left ear….at 6 he starts solo….walsking up the siade of a building…rhythm eqsuaite…wailing….wiund down….near cacophony at fadeout (just at 6:04)…superb
[Sorry for incoherent stuff up there...you can probably sort it out]
someone yells "Beeswing"
5 Ghosts in the Wind blue haze onstage (red columns of fire for last song) Someone needs to tune up (RT I think)--he and Danny don't match
Zorn singing echoes…very effective, understated…Zorn on bass flute? Or large flute, backing RT's "singing" solo….gorgeous, in same register, voices of flute & guitar lovely together
Maybe my sense of pitch is slipping; I can't find what's wrong…might be Danny's bass that's sharp.
RT's a little too languid on this one, overall. I wouldn't say phoning it in, but just not quite as awake in it as I'd like.
Nice finish, with little haunted squeaks
6 She Twists the Knife Again …RT's vocal venomous, not playful at all…nice drum thunder from Jerome, harmony from Zorn. Distorted solo…is it him, or is it my Real Player?
Didn't end where I expected it…extra chorus…might have been a surprise to the band, too.
Switches to acoustic guitar
7 Al Bowlly. At beginning, RT sounds almost totally w/o reverb--very nice to hear him that way--but it was probably an error. Forgot "I traded my helmet." Now he seems to be coming back to himself a bit--very "on," very awake.
So there's a camera to his left, which usually shoots 2/3 of him, with the strings facing away from us; a camera on Danny, stage left (now it's his solo and we're seeing him face-on), and a camera on Jerome? The RT cam zooms in on Zorn a lot. No head-on shots of RT.
He's grooving a little at the end of the solo; strings sound happy; I think he's smiling.
[Go for the high note on "Now"! Go for it!] He did…held it a long time…wonderful "dismount."
Didn't hear what the request was, but people onstage laughed, and RT said, "I know it. I'm the only one on stage who stands a chance of knowing that one."
8 Bright Lights I wonder if he is tired of working every day. (Not that he sounds it.) I'm trying to read his face--hopeless on a screen the size of a tin of Altoids. Jerome sounding very vigorous--driving the whole band right now, I think.
Beautiful RT electric solo. He's got the Elvis leg going as he sings about the kind of mess he's looking for. Zorn's doing a nice bv on this oneit's almost a full-enough sound (I still want another bv or two.)
Big cheer at end. Deserved!
9 Wall of Death. Damn, does he need to tune. It's the lowest string--it's sharp. I love this song, but it feels a bit shopworn. I feel like RT's going for breadth and volume, vocally, rather than finesse…very much as if this is a big crowd and a big anthem--both of which are true, I guess. I'm tuning out the vocals…the guitar beneath them is spot-on; I bet this is where he is as he plays, not in his vocals, right now anyway. Not noticing the off string too much…is he compensating for it?
Almost too much flash from Jerome behind this one.
10 Tear Stained Letter. Surprise. Did he tune just there? He's right on, sounds like. Is he trying a wee bit for a Memphis accent there at the end of verse 1? Memphis, Tennessee, I mean. Actually, here we are in verse 2 and I'm also hearing some weird pronunciations.
He's hit that weird vampiric stage where he seems to be gaining in energy rather than depleting it. He's bouncing on his toes. Ah, first little solo, and he's already pretty wired up.
Not much of a singalong response on this feed, but maybe we just can't hear them all. Playing around with Memphisy vocals and sea-chantey riffs beneath audience chorus. Music swells. The light show is really quite annoying now, by the way. Zorn's squawking it out on the sax. The others are playing it cool. Here's where RT starts into soloing…nice slow bent notes spilling into each other, adding in more and more stuff, very hillbilly riffs, climbing the neck, screaming some rock-god wails, but then returning to little high-speed slip-jigs…back to almost random notes, the ones he can hear--and then, too quickly, it's over. Not much meat on it, but what's there is cherce, as Spencer Tracy said.
Goodbyes, band intros…did he credit Jerome on vocals? Sounded like "Brian Setzer on bass," which we know is not true. Inevitable encore awaits. Gotta be Vincent, right? Announcer-nerd is pumping up an already pumped crowd.
Here they are again.
11 Crawl Back Very soft at first (oo, mic feedback noise) RT's voice a little strained, sharp at first, but he's toning it down. I do hear two people on bv…Jerome?
RT bobs to left after each "Crawl back"universal symbol for "Sing along"I wonder whether audience is joining in?
Wacked-out little solo…menacing and playful at turns, mostly a who-gives-a-fuck spree, just perfect for tone of song. RT's king of the world here, or at least court-jester of his world, a world where kings don't matter. Damn, he's good.
At the end, my arms shot forward and I began to clap 'till I realized duh, it's just me here.
That's it. 11:45.
Pam (who loves the Internet), miles and miles from Cambridge.
---
Here are the set lists for Union Chapel
for anyone interested. A chap I met on Weds compiled them. I couldn't make Thurs unfortunately. Even worse I didn't make Sheffield even though I had a ticket - too boring to explain why, but British rail closing services at night and traffic jams on the M1 buggered the best-laid plans. Am I pissed off particularly as I drove past Sheffield twice today, there and back to York!!!
Richard Thompson, Union Chapel, Compton Terrace, London N1; 26 July 2001
1 Word Unspoken, sight unseen
2 Walking on a wire: Shoot Out The Lights
3 Crawl back (under my stone): Mock Tudor
4 She cut off her long silken hair: you? me? us?
5 Walking the long miles home: Mock Tudor
6 My daddy is a mummy!
7 Dry my tears and move on: Mock Tudor
8 1952 Vincent black lightning: Rumor And Sigh
9 The end of the rainbow: I Want To See The Bright Lights Tonight
10 Bathsheba smiles: Mock Tudor
11 The poor ditching boy: Henry The Human Fly
12 Persuasion: Action Packed
13 Madonna's Wedding (to tune of Mairi's Wedding)
14 Kidzz
15 The ghost of you walks: you? me? us?
16 Turning of the tide: Amnesia
17 Did she jump or was she pushed: Shoot Out The Lights
18 Cooksferry Queen: Mock Tudor
Encore: 21.57
19 Beeswing: Mirror Blue
Encores with Christine Collister
20 Wall of death: Shoot Out The Lights
21 ?My sweetheart's on the barricade
22 Razor dance: you? me? us?
23 A heart needs a home: Hokey Pokey
Cheers
Rich
rjbryce@btinternet.com
---
Johnny-Come-Lately and Union Chapel
Hi Folks,
After a holiday in Iceland that forced me to defer what had recently become a disciplined and timely reading of the RT-List, I have just been forced to spend the afternoon catching up with the numerous digests, intermittently stunned that in the absence of my guidance you have kept on topic and declined to quote the digest back to itself ... resulting in the fact that there was very much more to read than I had initially hoped. [Oh, smiley-face to all those in need of typographic indications of attempted humour.] In recent copies of the digest, the later postings show up on my computer as a single block of text. Is this common to other readers, or do I need to purchase new hamsters for the four-paw drive on my wife's PC? OK, to the point. I was sitting in the front row at the Union Chapel gig on Thursday. My wife had picked the clothes that I was wearing (so that I could change out of a suit en route to the concert) so we were colour-coordinated: both in blue jeans and red tops, on the offchance that any of you were the people fighting us for pew-space. Anyway, I never expected to have such a clear sight of OH's guitarwork (he must have been about eight feet away from me) and I spent the time trying to work out what he was doing, and failing miserably.
For me, the concert was nevertheless one of the worst that I have seen. (Fighting words, I know ... perhaps I should say "least breathtakingly good".) The problem was not the performance. RT did seem to stumble occasionally when coming out of what appeared to be largely improvised solos, and even slid to the wrong fret on "Bathsheba Smiles", but was as brilliant as ever. The problem for me was the set-list.
"Madonna's Wedding" is IMHO a pretty dreadful song (it was the first time that I had heard it): mean-spirited and uncharacteristic. Even if you allow that Madonna is a dislikeable person, I find it pretty poor that RT would attack her children as "bastards", since it applies standards of so-called "legitimacy" that have little place in current society, and amounts to a low blow. Does Madonna really deserve this bile? I doubt it.
"Walking the Long Miles Home" is a song I have always found irritating, although I know that it has advocates on this list. The guitarwork on this song was especially strong this time - I had the distinct impression that OH was trying to "make the case" for a song that obviously strikes an especially nostalgic note with him - but for me it was a dud. "My Daddy is a Mummy" was tired the first time I heard it, and worse second time (despite, once more, the blistering rock 'n' roll pastiche fretwork.) More worryingly, "She Cut off her Long Silken Hair", which I find to be a gorgeous song in its original album context, was as dull as ditchwater live: a positive dirge. And "The Poor Ditching Boy" (which I was lucky enough to hear live at the Wycombe Swan, which I believe is the performance on "Celtschmerz", and which is one of my new favourites) received an indifferent, uncommitted performance. That said, there were highpoints as well. I had never heard "End of the Rainbow" live, and was glad to do so. "Did she jump" is another favourite of mine that came over well live, and there were two songs that I had never heard - "Word unspoken sight unseen" (a brave choice for concert opener) and "Kidzz" - that kept things very interesting. Someone mentioned on list that the latter may have been premiered on the Wednesday gig: it's a powerful song, but unusual for RT, having instead the sort of anti-capitalist, ranting note that I would associate with Roy Harper. I look forward to hearing this one in a band version, because it had an edge of violence that could certainly be expanded.
It was great to see Christine Collister join OH for the encores: her verse of "Heart needs a Home" was a tour de force, and I suppose that it should go without saying that she has beautiful mic technique, "mixing" her vocals beautifully on the fly. I thought it was a missed opportunity not to perform "Night Comes In": I have never heard that song live, and the presence of Christine made the essential vocal harmonies possible. Also, I could frankly do without hearing "Wall of Death" again live, but I suppose this is the price one pays for seeing RT so frequently in concert ... if I went once every four years I would be distraught *not* to hear "WoD", "VBL1952" and "Beeswing".
The acoustics of the chapel must vary extraordinarily from the front to the back: for me, the sound was definitely too loud (I left with a definite headache) but I wouldn't have missed the opportunity to hear the massive spread of dynamics that OH achieves in these circumstances. Some passages and phrases just overwhelm the audience when played at those volumes. I also noticed that the chords backing the phrase "life seems so rosy in the cradle" from "EotR" are played almost like lute chords - very softly - which seems to me a new and very striking accompaniment. Perhaps it was always there and I just noticed it more.
As usual, I seem to have spent most of my time griping about RT ... the vice of a fan, I'm afraid, rather than a devotee. Doubtless others will disagree violently.
Robert Renton
Sordel68@aol.com
---
Richard Thompson at Cambridge...
and a few other places
Hi all
Ok got my fix of Richard...Union Chapel, Wednesday, Sheffield, Friday and Cambridge on Saturday!!
Im not going to do setlists cos other people have covered it already. but some things did crop up that I'd like to share.
Union Chapel does not lend itself to Richard Thompson. The show was good and the man is on form but all the echoes did spoil the enjoyment a little...still we will know for the next time.
Met our esteemed listmember Marc Bergman in Sheffield on Friday and had a storming concert at the Town Hall. Sound again was a bit muggy in my opinion due to the acoustics but didn't detract as much as Union Chapel.
Cambridge on Saturday....wow!!! They rocked!!! Don't need to say any more. Shame it couldn't have been longer. Did they also televise the impromptu trio Richard and Danny did with Loudon Wainwright? That was excellent as well!!
Marc says hi to everyone who is anyone and will post when he gets back to Japan, probably more eruditely than myself....but in the meantime what a fantastic week!!
All the best to everyone and I hope this post isn't plagued with mime and goes to the right place:-)
Paul Leitch
pleitch@globalnet.co.uk
PS Christine Collister emailed me and said that she and Richard thought the sound left something to be desired at UC so that's a professional opinion for what its worth.
---
Here, in case no-one else has done it,
is the set list for Cambridge Folk Festival:
Man in Need
Bathsheeba Smiles
Two Faced Love (not, as Richard explained in his introduction, as he had seen on the Internet recently Toothpaste Love - proves he lurks somewhere if not here)
Hard on Me
Ghosts in the Wind
She Twists the Knife Again
Al Bowlly
Bright Lights
Wall of Death
Tear Stained Letter
(encore)
Crawl Back Under My Stone
Not the most varied set I've known, perhaps because of the time constraints - about 70 minutes in total - and not the most polished either but it was good to see him letting loose with a band.
Ian West
101337.3022@compuserve.com
---
For the record
The complete setlist at the Sheffield show was:
1 Man In Need
2 Bathsheba Smiles
3 Two Faced Love
4 Hard on Me
5 Ghosts In The Wind
6 She Twists The Knife Again
7 Uninhabited Man
8 Al Bowlly's In Heaven
9 Sight & Sounds Of London Town
10 Persuasion
11 Walking The Long Miles Home
12 Cooksferry Queen
13 I Want To See The Bright Lights Tonight
14 Nearly in Love
15 Tear Stained Letter
16 King Of Bohemia
17 Crawl Back Under My Stone
18 Wall Of Death
19 Valerie
20 Put It There, PalT
The show was stunning as reported before .. apologies if this has been posted before -
Rob Huntley
mailto:rhuntley@enterprise.net>
---
A late anecdote on Union Chapel.
As we attempted to make our way from the bar to the auditorium on Wednesday evening, shortly before the show was due to begin, we found ourselves in a narrow corridor somewhere backstage (under a steward's direction by the way!) Suddenly a door opened and OH appeared, wearing khaki shirt and shorts, with what seemed to be a very concerned expression on his face. He was tuning his guitar (the Lowden L-32 I think). As he brushed past me I would have loved to have said hello and shake hands but I felt I might have broken his evident concentration and been an intrusion - so I didn't. Appropriate behaviour or missed opportunity - who knows? We were fortunate in our seating, front row, marginally off centre - although from here the acoustics were very muddy. Just prior to one song (can't remember which) he tuned down the base E string with the result that I could actually feel the base notes hitting my chest. I have a weak heart and the effect actually caused my heart to go out of rhythm. Nothing life threatening or dramatic but I wryly thought, we've all got to go some time and when my time comes, if I'm sitting front row centre listening to OH - that's a way to go! (Not that I would want to break RT's concentration of course!)
John Jarvis
jj@folly.screaming.net