Europe July 2001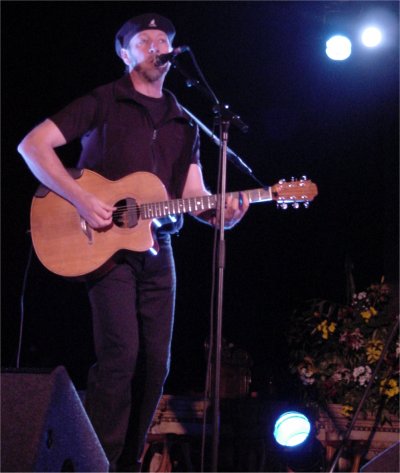 I have just had the pleasure
of seeing hearing and Richard Thompson perform live twice in less than 24 hours. First, on Saturday night at 10.45 pm as part of the Cactus Festival (whatever that means) at Brugge (Bruges) in north-west Belgium. Then, this afternoon (Sunday) at 5.30 in Vlissingen (Flushing) in the southern Netherlands, in the framework of the townís Street Festival. Listees Arie Euwijk and Gosse Planting (plus assorted relations) were at both, while Olivier Le Dour and Emmanuelle Personne were at Bruges.
The first concert took place amid intermittent drizzle. I felt, and some other listees who were there agree, that our man was rather on auto-pilot at Bruges. He went through the motions and he was in good voice but there were moments when I felt that the guitar-playing was below his usual high standard, and his heart was not always in the singing. Maybe it was because it was the first concert of the European series and he needed to wear himself in, because today at Bruges he was superb. The set was longer and he really gave it everything, possibly as a gesture to those of us brave enough to stand there in rain that was torrential at times. At the end of the concert he thanked us for braving the deluge to listen to ďan idiot like meĒ. I have just driven back from Flushing to Brussels, itís late and I have an early start tomorrow. Perhaps other listees who were present will give detailed reports (but I didnít spot you, Pam!). But the setlists are below.
Meanwhile, I just wanted to tell you about the amazing thing that happened BETWEEN the two concerts. As arranged by the selfless Flip Feij, just before he flew off to New York, thereby missing both shows, my SPUD and I *PICKED UP* Richard Thompson and Simon Tassano from their hotel in Bruges and drove them to Flushing (including a ferry crossing over to Zeeland). So for nearly two hours I had RT in my car. Simon Nicol has already occupied the same seat (thatís another story) but now the man himself has graced my 12-year old Nissan Prairie with his presence. How can I ever sell this vehicle now?
I didnít sleep too well the night before: I was worried that something would go wrong and EVEN MORE worried about what music to play in the car. Britney, Kenny G, Madonna? No, I donít think so. Richard Thompson b**tl*gs? Perhaps not. In the end I settled for some Turkish music: not commonly known, no connection with RT or his friends and associates, just that little tinge of Islamic/Middle Eastern atmosphere. Perfect, I thought. After some time I said to RT that I hoped he didnít object to the Turkish music. ďThatís OK, I never listen,Ē he replied.
As you can imagine, I asked RT some questions as we chatted but I was anxious not to sound like an obsessive RT nerd, so I didnít dare ask all the things I would have liked, and I chickened out of asking him to sign the huge pile of LP sleeves and CD booklets (mine and other peopleís) that I had on board he made it pretty clear that he didnít want to spend hours signing so I settled for a small number of them. I asked him why his set had been short in Bruges, with only one encore, and he replied that this was standard formula at festivals, where the large number of other acts made overrunning unwelcome. He also said that the absence of certain slow songs and ballads (some of which were requested) was due to the fact that at a festival the die-hard fans at the front are surrounded by lots of other listeners who maybe neither know nor care about his music, obliging him to stick mostly to upbeat and catchy songs that get the crowd going. Apart from that we talked about a variety of subjects, both musical and non-musical. I hope that you are all suitably green with envy all except Arie Euwijk, who has the privilege of driving RT and ST on the next leg of their journey. No doubt heíll report in due course. However, in some ways it was uncomfortable driving RT. I love the manís music, natch, but that doesnít mean that he and I would necessarily get on well together long-term as people but itís hard to judge after such a short time.
SETLISTS
Bruges:
Bathsheba
Crawl Back
Dry My Tears
VBL 52
My Daddy Is A Mummy
Long Miles Home
When The Spell Is Broken
I Feel So Good
God Loves A Drunk (for me the outstanding song of the evening)
Turning Of The Tide
Ghost Of You Walks
She Twists The Knife Again
Shoot Out The Lights
Persuasion
2 Left Feet
Words Unspoken, Sight Unseen
Cooksferry Queen
encore: Valerie
Flushing:
Intro. to Bathsheba, then "No, I won't do that."
I Misunderstood
Crawl Back
Mr Rebound
Did She Jump?
Daddy Is A Mummy
Dry My Tears
VBL 52
Persuasion
Feel So Good
Ghost of You
Turning Of The Tide
Genesis Hall
Twists The Knife
Shoot Out
2 Left Feet
God Loves A Drunk
Razor Dance
From Galway To Graceland
Cooksferry
encore: Valerie
Short lists of motorbikes in "VBL": in Bruges Velocettes, Harleys and Enfields; in Flushing Velocettes, Beezers (i.e. BSAs) and Indians. And in "Galway to Graceland " she sang "Love Me Tender." In another variation, instead of "they would pull her away" he sang "they would lead her away."
Unusually for Dutch concerts in my experience, at Flushing he did not comment on the "Dutch courage" in "Ghost Of You Walks". However, at Bruges he DID comment, in "2 Left Feet", that Renťe Magritte was Belgian.
Time for bed!
Richard
richard.condon@tvd.be
(ďHappy old fan inside an old manĒ)
---
Beside the obvious jealousy
we just felt, reading the story about Driving Mr Thompson, our weekend has been quite a good one. First RT in Brugge, then the next day RT in Vlissingen (we were the idiots without umbrellas or raincoats... or any coats at all, for that matter).
We thought the show in Brugge was excellent. The performance was dynamic and driven - as far as we could tell, being relative newcomers. ;-) The show in Vlissingen was no less impressive, although I (Eric) felt that the start seemed less 'enthousiastic' somehow, but that may have been due to the rain.
We were standing in absolute awe for the way in which RT manages to get the most out of his guitar. Seeing (hearing) Vincent Black Lightning 1952 live for the first time (as I said, newcomers, heheh) rendered us quite speechless. At the same time, it was instructive to see the man change the tuning of his guitar every so often, and getting a good look at the way he plays - alternating between using a pick or his fingers (or doing both), actually using his thumb to take frets on the 6th string, etcetera. Worth giving a try at home, but of course doomed to happy failure. :-)
All in all a weekend well spent, and more than worth getting rain-soaked clothes for (and possibly a severe cold - we'll see that in the morning)!
cheers,
Eric & Esmee
efr@dds.nl
---
"I hope that you are all suitably green with envy -
all except Arie Euwijk, who has the privilege of
driving RT and ST on the next leg of their journey".
How could I follow that excellent report by Richard Condon?
I've added my views on the music in an earlier post.
Can't say that Simon Nicol had already occupied the same seat of my car, although I spend the best part of an evening, downing some beers, in that same town of Flushing before with him (thatís another story as well)
As I wrote the first thing Simon Tassano said after my introduction was his comment on the performance of RT. As he has attended a few of this concerts one can assume that when he says that it was really good, it really was. Either that or OH pays him to say things like that to everybody, who dares to show up. Mind you I didn't ask for that comment.
Our further exchanges that evening, both with Simon and RT, were mostly of a logistical nature, so we wont go into that.
For those who want to know everything I could send private emails, but you'll have to come up with significant offers when you want sordid details on the sleeping arrangements and what RT had for breakfast ;-)
"and always travel light" it reads somewhere and this had to be put in the trunk of my car: guitar in case, pedal board, FOH FX rack, 2 suitcases and 2 "carry on" bags. No problem there.
The problem of what music to play in the car was solved by my son Jop earlier by removing every cassette we had played on our journey to Vlissingen beforehand. Mostly those consisted of demos and such like from himself; he wanted to prevent me from the embarrasment of having to be asked to put it off.
Richard was more talkative during the journey as I expected and indeed all kind of subjects came up. Everything from the Tour de France (the same part of Belgium would be crossed by it this day) to roundabouts was discussed. I didn't want to be an obsessive nerd either, acting cool and making conversation, but of course sometimes it was a bit one-sided. "So what is it that you do Arie?" is in other circumstances normally followed by the same question after you gave same info on yourself.
But you will understand that I didn't come up with "So what is it that you do Richard" this time.
It was funny in a way that most of the time as I brought up something musical or even asked something very direct, the subject would be changed in a subtle way. I tried "my son Jop was very pleased with Razor Dance yesterday" as an intro to the performance, but was trumped by all kind of questions concerning my family and children. Again when your turn comes you can't come up with "do you have any children" or with "does your son play the guitar as well?" I bloody well know that he does.
Having said that some things of interest for this list (or at least some of you) were:
Rumors that OH would play Amsterdam in August were true, but would stay just that, rumors. A concert at the Melkweg was planned, but in the end it didn't work out. Likewise no shows here this autumn, they now try for February next year. Playing Scandinavia is no news anymore.
Only the 2 band dates in England were a pity, but it wasn't economical possible to do more. The money wasn't good enough. There were plans concerning some German festivals after which a tour would have been possible, but "they only wanted to book heavy metal groups this year" On Cheltenham this evening (prob. some reports will turn up even before this post): difficult to play as the place had bad acoustics. And a diff. audience as well, according to RT only pensioners live there and it's not easy to win them. On my suggestion to play nothing beyond Fairport Convention, he commented that those songs were too recent for Cheltenham, Glen Miller would be a better a choice.
Talking of acoustics, those at both festivals weren't very good either, esp. at Brugge. "I couldn't hear myself" was another reason for this concert being a little bit below par. That and RT being tired, his body still working on an American schedule.
When the website came up, both Richard and Simon reacted heavily. Def. a "no go area". They know we're all waiting, but it wont be up untill the e-commerce side of it will be taken care off. (and of course they need something to sell as well, so as long as the next off. boot isn't ready it is my guess we wont see it started, but I didn't ask)
That's it for now, I probably remember more later on, if you want me to I shall put that in another post. And if you don't want me to, I'll prob. post it anyway. My family expect me to go on about this experience for a long while ;-)
vriendelijke groeten
Arie Euwijk
aeuwijk@chello.nl
---
If you are ever planning
to visit Cheltenham Town Hall to see an musical act, and are planning to spend money doing so, my advice to you would be "DON'T". The sound is to kill for, and even the presence of that colossus of the guitar wielding world could do nothing to ameliorate it.
As it goes, I had planned to do a setlist and proper review, but as I didn't know the title of the second song in - something about "word unspoken, sight unseen" - I gave up and just decided to enjoy it. Which, actually, I didn't very much. The problem is that he was too loud. Because the place is a large cavern lined with ornate pieces of stone, the (predominantly) treble frequencies are just bounced around and around, making everything sound too top-heavy. However, the quieter numbers worked well, and I particularly enjoyed "I Misunderstood" (one of my favourite tracks, though he didn't play "King of Bohemia" which is currently my favourite). I even sort of enjoyed "Beeswing" and "VBL 52", though for me these are like exhibition pieces, rather ossified and over-varnished. He broke a string during "She Twists the Knife Again", asked us whether he should stop to replace it, and then did so. While this bit of business was going on we sang "Sam Hall" (?) - a music hall number about a sociopath getting his just deserts.
I was struck again by the dichotomy between the rather jovial, jolly fellow who pattered away between songs, and the man with the glint of real malice in his eyes as he sang "I'm gonna take someone apart tonight". He was wonderful on "Cooksferry Queen", a song I had rather disliked on MT but was forced, last night, to reappraise.
My long-suffering SPUD enjoyed about half the show (the slow bits). However, she was sitting next to the sort of guy you avoid on the bus ... he was stamping his feet (completely out of time to the music), biting his handkerchief and looking for all the world like someone who was about to have surgery on his jaw. Which, incidentally, describes me (off to the dentist for a BIG dose of Valium in about four hours).
A propos the discussion about the timeframe of VBL52 which was a thread here a week or so ago; I think that it must be early 60's. The bikes that are cited (last night Triumphs, Velocettes and Sunbeams, with, of course, angels on Ariels) are from that era. Triumph have been reborn but the others are never seen except at rallies. Just my 2p.
I must put in a word for the support band, who managed to conquer the terrible acoustics (because they were much quieter). They were called "Wood" (terrible name IMO); two guys with guitars (one doubling on mouth organ, the other playing occasional mandolin). The lead singer had a wonderful voice (like a cross between Rod Stewart and Daryl Hall) and their material was very strong, with some lovely and clever harmonies. A friend who was there said they reminded him of Del Amitri and I would not disagree; the songs were so easy to "get". I tried to buy their album which they said was on sale somewhere, but couldn't find it. Anyone know anything about them (like where to get this elusive recording)?
Edward
edward.collier@techop.co.uk
---
RT at Cheltenham - July 9, 2001
Just signed up for this list again
on the strength of seeing RT again last night (I was last in here about three years ago, then fell off - or out - of it). The point of contrast for us was last June's show at Northampton. Then, we were in the second row, slightly right of centre, giving me a view of the flying fingers that made me weep with frustration. Last night, we were in the second-to-last row, granting us the opportunity to be pinned back in our seats by the power and depth of his performance. And through my tears, I could see that the flying fingers were still operative. I'd forgotten the way in which he takes "Cooksferry Queen" faster when he's on his own - almost as if he's freed from the trammels of a band that can't keep up with him. It all sounds pretty straightforward at first - and then he slips that break in just after "Oh my name, it is Mulvaney" and you look round to see where the other guitarist came in from. Or the way in which his first solo on "Shoot Out The Lights" is a masterpiece of timing and inventiveness. Each half-line that he wedges in between the riffs is played in a completely different style from all the others. Each one sounds like it's an extract from - or could be made the basis for - a separate song. The prodigious display of ideas on display sounds almost wasteful, until you realise that there's plenty more where that came from.
Regarding the big hits, I would have been disappointed not to hear "Beeswing" and "1952VBL" again. I'm sure they could start to lack lustre if you hear them too many times, but I guess that's just the interplay of cause and effect. The idea that he can produce compelling performances of these songs night after night - leaving aside the question of the huge technique required - is quite staggering. It was a joy to hear "Smiffy's Glass Eye" again after many years, and I thought (as last year) that his solo take on "The Great Valerio" was heart-stopping. There were also songs that I was less familiar with, like "Did She Jump", "The Ghost Of You Walks" and "Persuasion", but the highlight for me in that department was "How Will I Ever Be Simple Again", which - as with a lot of his material - sounded effortlessly traditional. I was busily fitting it into my own repertoire before he reached the end of the second verse.
I thought his interplay with the audience was very good, but from where we were, it didn't sound like he was getting much response on the joining-in bits. Seeing him persevering with the string-changing "Sam Hall" while not very many people were singing along was rather like watching a man whose parachute refused to open. One of my enduring memories of him was at Cropredy in 1989 when a string broke midway through his afternoon solo set. I expected him to storm off stage, or a roadie to appear with an alternative guitar, or him to hand the guitar off to someone else for repair while he umm-ed and ahh-ed for a bit (all of these alternatives have been witnessed with other artists). Nothing could have prepared me for the consumate ease with which he led the whole field in an acappella version of "Twist and Shout" while he fitted the string himself.
Wood were a good support act - I much preferred them to last year's Sandy Dillon. The songs were easy to listen to, the singing was great (albeit another example of someone who sings with an American accent and talks with an English one) and the playing was fine, although I'd guess that most of the audience could have played those guitar parts, given half a chance. Perfectly pleasant, but it only heightened the contrast with the playing of the main act, which commanded attention over a set of original and detailed songs lasting more than two hours. It seemed only right (but, in my experience, very unusual indeed) that the support act watched most of the main act from one of the boxes near the stage. No doubt they were trying to pick up some clues as to how he does it. Just like the rest of us.
Cheers,
Jeremy
Jeremy.Walton@nag.co.uk
---
Can't really comment on the overall acoustics,
as I was sat dead middle front row. He did play _loud_ though! (I saw Brass Monkey in the same room one time, and the acoustics were certainly substandard then - lots of the frequencies were swallowed up.)
Richard was in perky form, and there was a lot of banter with the audience. In particular, someone called out early on for Richard to perform Wall of Death replacing the words with "waterbed". RT explained how the mondegreen had first arisen, but then dismissed the heckler with a phrase suggesting that the latter's favoured sexual practice was onanism. 8-)=
Despite good intentions, I didn't keep a set list, but it didn't seem to vary greatly from ones recently posted. We didn't get God Loves a Drunk, which was praised as a high spot in the Netherlands, nor did we get to hear the Pat Metheny number. The newish Word Unspoken, Sight Unseen is really growing on me, and there really seems to be a Scottish lilt to the melody. One disappointment to me was Did She Fall or Was She Pushed - the third number, I think. I'd been expecting it after its inclusion in recent shows, but the vocal line didn't seem to match too well with the guitar line this time round, almost as if Richard was sitting some wrong notes somewhere. On the other hand, some of the older numbers like Smiffy's Glass Eye and (especially!) Valerio came over really strongly, and there was a really wonderful I Misunderstood. The highspot for me was when Thommo bust a string at the start of a song, and replaced it while leading the audience in another song. No Twist and Shout singaround this year, but instead we got an ace version of Sam Hall, which was recently discussed on the list. WTPOAA! There was quite a lot of audience participation, (to better effect than earlier in Crawl Back). Richard gave the Sam Hall song's origins as being music hall, but it's a lot older than that, I think. (Aside: one of the best versions of this I ever heard was by Andrew Frank and Mike Mann, years ago on Jim Lloyd's Radio 2 folk programme. I may still have a poor-quality tape of it somewhere. But I know nothing of this duo, never heard of them since. Any English listee know anything about them? Are they still around?)
I don't think it was the best ever Thompson concert I've ever seen - something didn't _quite_ take off. Someone commented that they's brought some newbies along, and felt they wouldn't have been converted on the strength of the performance. The friend I went with had some similar misgivings, but still greatly enjoyed it. I wish that Richard would include some songs less frequently in his live performances - "greatest hits" ;-)= like Beeswing and 1952VBL could do with a rest, I feel (like I used to wish Dylan would temporarily give a rest to Like a Rolling Stone, Ballad of a Thin Man and Watchtower). I suppose they are included for fans who don't see the man too often, but for saddos like me who obsess at hearing all possible performances that we can, they are beginning to lack some lustre. VBL is a great song, very clever, beautifully perfomed; but it's having nothing new done to it in performance - apart from the inclusion of different motor bike names now and then. At least when Dylan churns out his most well-known numbers he will frequently completely deconstruct/reconstruct them, making them a new experience. Sometimes this will work, sometimes not - but it's the experimenting that counts. Richard's got so much good material under his belt that he could easily re-examine in concert. Some numbers, not performed for a long time, could be sung/played "as was". Other, more familiar material could be given a facelift, different melody lines/instrumental touches. Just a thought.
Unfortunately Push and Shove was passed over: <Glare>I don't remember that one.</Glare> (You _should_, Richard, you _should_!) ... but Mr. Rebound almost made it in... Maybe I'll have better luck at Union Chapel.
---
No, Sarah,
he wears black only on stage. Offstage, at least in summertime, he appears to favor safari-style beige/sand-colored clothes (with matching baseball cap).
Still on a sartorial note, especially for Bink, at Bruges he wore a black polo shirt and at Vlissingen a black tee-shirt. He also wore (both times) black pants with a kind of black-on-black spotted effect. And of course black shoes and beret. I don't know how I cam to omit these details before!
Richard
Richard.Condon@cec.eu.int
("Old fan alias Nigel and Malcolm's replacement")