Austin City Limits
July 2, 2001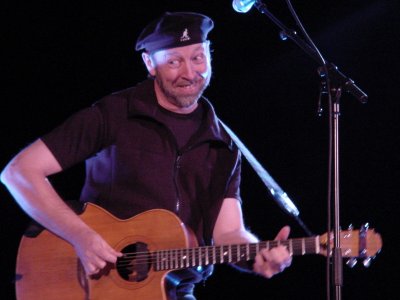 I just got back from the Austin City Limits
taping, and I took a friend who is now a solid convert. In fact, there are probably lots of converts in that audience as I talked to a number of people who had never seen him, and he put on as good a show as I've ever seen him do. He was supposed to play for an hour and fifteen minutes, and it ended up an hour and 45 minutes. Here's the setlist, and I'll post more later after I get back home to San Francisco Thursday. My friend the new convert plans to write something also. He was performing trio with DT and MJ.
On acoustic guitar:
Cocksferry Queen
Unihabited Man
Walking the Long Miles Home
Al Bowley
Mingus Eyes
Dry my Tears
Easy There, Steady Now
On electric guitar:
Bathsheba Smiles
Mr. Rebound
Ghosts in the Wind
She Twists the Knife Again
Shoot Out the Lights (broke a string and kept playing)
Sam Hall (an acapella sing-along while waiting for the electric guitar to be restrung - has anyone heard this before?)
Crawl Back
Encores:
52VBL (solo acoustic)
Put It There Pal (electric)
I'd hate to be the one to edit the show down to 50 or 55 minutes or whatever it will run, but we should get even more converts when it does.
John Swanda
SWANDA@aol.com
---
It looks like I now have time
for a more complete report on the taping. It was only last Thursday that I discovered circumstances had come together that would allow me to fly from San Francisco to Austin to see the taping with my oldest and dearest friend. We learned from the notes in the program by Terry Likona, ACL's producer, that RT has been one of his favorites since his Fairport Convention days in 1968, and he has been trying to book RT for 20 years. they could never get the schedules coordinated. For that reason I'm hoping RT will rate an entire show and not a split show with another artist. Keep your fingers crossed.
The studio is very nice and intimate; it holds 400 people. We were up on a riser slightly to the left of the stage, only about 50 feet away. There seemed to be a lot of people there who got tickets for the show without necessarily being RT fans. A group behind us was from the Raddisson Hotel, one of the show's sponsors, and they had never seen him. I heard one say he had never heard of Fairport Convention.
RT started by saying that they were going to start off easy and work up to a "Metallica intensity" (but "stop before your ears are bleeding.") Then he tore into Cooksferry Queen with a vengence. The sound quality was outstanding, maybe the best I have ever experienced at a RT concert. RT's between song banter was his witty best. He introduced most songs with a short explanation of what it was about. He noted that it was the first time they had played as a trio and they liked it ("also, it's cheap") He said "It worked for Hendrix". Another Hendrix reference: "Like Jimi Hendrix said, we tune up because we care about your ears." He actually stopped after starting one song to retune and started again.
Shortly after starting Shoot Out the Lights he broke a string on his electric guitar. Between chords he moved it down and wrapped it around the end of the guitar and continued playing. I couldn't see which string it was, but evidently it wasn't one he needed to do one of the best versions of the song I've seen. It was after that he did the Sam Hall a cappella singalong while the guitar was being restrung.
At another point, RT was told that they needed to change tapes in the cameras, so he called Danny out to tell a joke: (shortened version) A guy falls off a ship at sea, ends up washed up on a beach where he notices that everything including his skin is a deep red color, and he exclaims, "I've been marooned." The RT said "And that's his favorite joke. You can imagine the other ones he subjects us to."
One indication that it wasn't a regular RT crowd was on the last song of the regular set, Crawl Back, which he introduced as a singalong, but the crowd was a little slow on the uptake to figure out where to come in. But they gave him a long standing ovation and brought him back out solo to do 52VBL. Then DT and MJ came back out and RT switched to electric and started Put it There Pal. About 30 seconds into the song a guy came out in headphones, stood in front of him and started giving him a wrap it up signal. He stopped playing, told the guy that Danny had come from England, MJ from California, and he came from New Mexico. After some more discussion, he said "We'll just have to do our best" and proceded to really stretch out the song.
I thought the trio format was great. I missed backing vocals a little, but not having any other instrumental support really put the spotlight on RT's guitar work. Danny was as good as I've seen him on his solo, and his bow work on Ghosts in the Wind had the crowd wowing.
As the crowd was leaving, I heard a lot of people raving about the show, and asking around, many had never seen him and some hadn't heard of him, but they certainly know who he is now. He really rose to the occasion and put on a show worthy of being captured for posterity. My friend is now a solid fan and plans to join the list and post her feelings about RT.
John Swanda
---
Just small FYI
from Michael Jerome describing some aspects the recent Austin City Limits show: "We had a great time filming the show, so I definitely hoped it we would be good upon air time.
"When filming ACL, we simply sound checked/rehearsed for about 2 hours, then played an hour-or-so set for a studio filled with friends and RT fans. There were no re-takes or stops, as much as I recall. Perhaps one for tuning, and/or the strings RT kept shredding during 2 or 3 separate tunes. God bless him........All in all, an extremely enjoyable evening, and a chance for me to come home for a while."
Fonda M. Scott
fondams@gte.net
---
The Austin City Limits program was really wonderful.
Like Pam, I mourn for dead footage that lies on the cutting room floor. I think this could have been the definitive live video recording of the Mock Tudor era, had there been 60 or 90 minutes of it-- even without Zorn and Jr.
The trio seemed especially crisp and all performers seemed uncommonly relaxed AND precise at the same time. Arrangements were very fresh feeling. Sound mixing was great. For the first time, I see how delicate Mike Jerome's stickwork can be. I thought he emphasized power over subtlety in the general MT tour.
I guess we can hope for a longer version of the ACL concert some day. Meanwhile, bring on the Barrymore tape!
Turner
tmcgehee@hastings.edu