Hudsonville, MI
June 21, 2001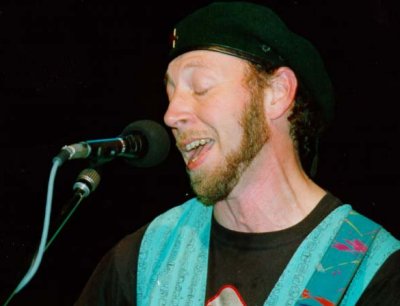 Geezers with Guitars
Richard Thompson with guest John Gorka
The Pinnacle Center, Hudsonville, Michigan, June 21, 2001
"A couple of old geezers with guitars," Richard Thompson declared, after starting his set in the conference center ballroom of The Pinnacle Center, a corporate conference facility in the Grand Rapids suburb of Hudsonville, Michigan. Iím not sure that the geezer part applies, but this concert was one of the better displays of Richardís guitar eminence I can recall.
We were greeted by a force of shiny-faced clean-cut kids in the corporate uniform directing the car park. This concert was part of a "Music to Benefit Music" series benefiting local Michigan music and arts academies, and is providing an impressive array of musicians besides Richard. A student at the Kendall School of Design created a limited (100 print) edition poster for the show, in a lovely Peter Max-ish psychedelic style.
The venue is a strange one for music, being a hotel-type ballroom with a portable stage centered on one long side, and 800 conference chairs arranged fan-like around the stage. Two large video screens flanked the stage to provide those at the back with a life-like experience. These were not as distracting as Iíd feared and gave me many chances to enjoy Richardís forearms larger than life. While a very corporate atmosphere prevailed, I was fairly well-impressed with the quality of the show despite the businesslike aura. I thought that the crowd must have come primarily for John Gorka, but once Richard came out, it was quickly evident that there were many folks here who were fans. We only knew that Gary Geyer of the list was also in attendance.
John Gorkaís opening set was extremely similar to his others Iíve heard lately, and his pseudo-airhead persona, while hilariously engaging on first listen, is a bit grating when youíve heard about the "chaos set" three times that you can recall. Rebecca was unimpressed, and wondered what the fuss is about. I tried to explain that Gorka is one of those singer/songwriters who really benefits from studio production. He comes of better somehow recorded. Could it be that he is visually annoying, with his rumpled, worn-out teddy-bear appearance? Could it be that he holds his guitar up to the mike at the close of almost every song and shakes it a little? Could it be that itís irritating to see a pretty smart person act spacey as a shtick?
After Gorkaís opening set, Simon Tassano appeared to re-set the stage for Richardís appearance. Simon was a fashion plate in his Capri pants topped by a blue shirt, rope-colored cardigan, and fisherman sandals. I kid you not. The half-hour (interminable) intermission finally closed with the hall in darkness and the audience waiting for Richard to appear through the drapery at the back of the stage. From where I sat, I could see Richard (or at least his upper thighs and his guitar) poised on the steps behind the too-short curtain. No-one appeared to introduce him; we each waited on our respective side of the curtain, with rising impatience and anticipation, and not a little embarrassment. Eventually, Richard emerged through the curtain to wild applause.
This bobble seemed to have gotten Richard off his usual stride, but after muffing lyrics and seeming a bit tentative, he regained his balance and gave us an intimate, humorous and fierce concert. Since Hudsonville is in the middle of Michiganís Bible Belt, I thought it interesting that Richard started his set with "Bathsheba Smiles." Wow, I thought, most of these folks will know who Bathsheba was. But this probably was the first time anyoneís sung about half-naked women with tongues down throats in Hudsonville! Richard made his usual cracks about not knowing much about Michigan humor, but we all laughed at his jokes anyway.
The setlist was largely similar to others from this tour, but I donít take detailed notes on these things, being in my usual Richard trance. In general he presented a tremendous variety of his work in two solid hours, with an emphasis on the work found on "Action Packed." He offered people the chance to call out requests, and played "Beeswing" in apparent response to one. One obnoxious git kept hollering something unintelligible, and Richard managed this heckler admirably, proposing that they each take turns when the moron broke into Richardís introduction of one song.
While Iím not certain, I think several songs have come out of hiding this tour. We heard "Did She Jump or Was She Pushed?" and "King of Bohemia" (which Richard noted was "the most depressing song ever written). The new song "Word Unspoken, Sight Unseen" was saved until the second encore and sent chills up my spine, with the muffled drumbeat chording and severe intensity of the lyric. This one is phenomenal.
After the very well-received "My Daddy is a Mummy," one SPouse Under Duress called out "Thatís the one I like best so far," gaining her a pained look and the query, "So you like the one I toss off for the school project ? What about the sensitive ones, where I bare my soul?"
And he did bare his soul, with some of the most vibrant and emotional guitar work and singing Iíve heard from him ever. His range as usual was shocking, from a painfully tender version of "The Great Valerio" to as nasty and violent a "Crawl Back" as was heard during the band tour of 1999. Itís amazing to consider that he manages this level of electricity from an acoustic guitar.
Am always impressed with Richardís ability to refresh his standards. "1952 Vincent Black Lightning" was nearly a different song, with variations on the counterpoint melody, the tempo, syncopation, and of course, the motorcycles. "Dimming of the Day," "Valerie," "I Feel So Good, "Shoot Out the Lights;" all were treated with a fresh interpretation and outlook that energized the entire concert. I think that Iíve never heard "Down Where the Drunkards Roll" performed as a sing-along, for instance!
The recent emphasis on humour in the sets, with "I Agree with Pat Metheny", "Daddy is a Mummy," and so on, seems to be working very well in terms of making Richard a bit more approachable to a new audience. Thought it was funny that as part of Richardís evocation of Kenny Gís gyrations with his sax, he held his guitar up to the mike and shook it; Iím sure he didnít realize that his opener does this constantly. Near the end, he gratified me with "Wall of Death," one of my most favorite songs, and segued into several snips of Bob Dylan, relying on audience help with lyrics and incorporating audience suggestions in his Dylan tribute. As John Gorka had noted in his set, "we all owe Bob Dylan a huge debt, he basically invented our jobs."
I had a bit of an out-of body experience when he began singing "Galway to Graceland" to the tune of "How Will I Ever Be Simple Again?" Try it, it almost worksÖ
Altogether, this was a memorable concert, and one of the finest and most generous Iíve seen Richard do. He seems energized, happy, and strong; Iím looking forward to the next stage of Richardís work.
Irene Henry
IJH.WRH@worldnet.att.net
---
Hi all,
I didn't jot down a set list, but it was much like Bloomington with a few twists. I was delighted to hear him play "Did She Jump, Or Was She Pushed?," which was a stunning version. That was a fantastic treat. Richard was in good spirits (as usual), and encouraged requests mid-set. I was surprised by a couple of other offerings as well: "The Great Valerio" and "Down Where The Drunkards Roll," which had a melancholy touch that was enhanced by the gentle call-and-response with the audience during the chorus. I was anxious to hear both "End of the Rainbow" and "Word Unspoken, Sight Unseen," and RT was kind enough to treat us to both. "Rainbow" is quite bleak....I joked with my friend that he'll certainly want to include that track on the children's CD project!
He certainly did his share of goofing off and interacting with the crowd, including a bit of bantering with "the local village idiot." When someone requested some Hendrix, he had some fun throwing out riffs from "Purple Haze," "Fire," and got quite a ways down the road with "Hey Joe." Tongue firmly planted in cheek, of course. At one point, he referred back to "Jump Or Pushed" as the most depressing song he has. He shared his thoughts on Genesis with us (disparaging them as "arrogant public school boys" or something to that effect), but did admit that he likes solo Peter Gabriel and (gasp!) Phil Collins. He enjoyed poking fun at the French for disco and lame popular music. He was having a rollicking good time sustaining a faint note on his acoustic guitar in mimicry of Kenny G's circular breathing trick. And, as in Bloomington, he riffed on Dylan lyrics during the ending of "Wall of Death," the closer to a fantastic evening.
John Gorka failed to make much of an impression on me. Too much "carefully-rehearsed ad-libbing" between songs, a very average guitarist and lyricist, but a nice singer.
Thanks for indulging me...back to lurking.
John
seldin@mediaone.net
---
And with all that I forgot
to mention that I saw RT do 2 things I've never seen him do before in some 8 or 9 concerts (nowhere near Pammy): first, he fell to his knees at the close of one of the barnburners, whether through weariness, passion, or theatrics I have no idea. The passion during this set still astonishes, so that's my bet. Gary, Rebecca, or John, do you recall which song? I was entranced, and to some extent, still am.
The second new thing was RT rubbing the metacarpals of his right hand between songs. This only happened once so am hoping it was a rare cramp or twinge and not, all heavens forfend, arthritis.
Irene Henry
IJH.WRH@worldnet.att.net