Bloomington, Indiana
June 19, 2001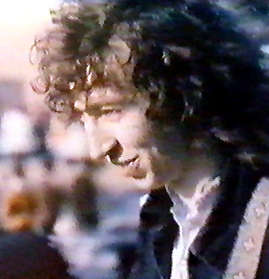 Pam and others
have graciously asked me to post the following preview for Richard's recent show in Bloomington on the list, and I'm happy to comply. The lone caveat is that none of the following piece can be reproduced, due to copyright restrictions, without expressly crediting the Bloomington Herald-Times. That said, here goes:
June 17, 2001
Guitarist Richard Thompson returns to Bloomington for solo show
By Andy Graham,
Bloomington Herald-Times
Music critic and MTV News maven Kurt Loder wrote the following for a 1985 review of re-released Richard Thompson albums in Rolling Stone:
"Imagine encountering someone who had never heard of Jimi Hendrix, who had never been moved by the great singers and session groups of golden-age Motown, or who, by whatever unimaginable means, had managed to remain incognizant of the collected masterworks of Lennon and McCartney.
"Apart from chance encounters with the deaf, the dead and the Pennsylvania Dutch, the actual existence of such a person is well- nigh inconceivable. And yet, how many Americans remain unaware of the work of Richard Thompson?"
Plenty, even now, unfortunately.
Fortunately, though, the percentage of those in and around Bloomington familiar with Thompson is already pretty high and figures to increase when he comes calling for a solo acoustic show Tuesday night at the Buskirk-Chumley Theater.
Thompson, world-renowned songwriter and virtuoso guitarist, has repeatedly graced this fair city with his august presence since his Bloomington debut, a legendary 1982 show at Second Story with erstwhile wife and musical partner Linda. His most recent visit was for a full-band, near-sellout show at the Buskirk-Chumley in support the acclaimed 1999 album, Mock Tudor.
During a recent phone conversation, Thompson was asked if exhaustive - and expensive - touring over the past couple of years reflected his belief in the Mock Tudor material. His reply:
"It reflects in my bank statement. But I thought it was a very strong record, and something I should tour behind and support. It wasn't something that was going to get on radio much. And I ended up frustrated. I was counting on selling at least 15 million copies."
That was Thompson being wry. His albums have never sold anything close to that figure during a recording career that spans more than three decades, back to his stint as a founding member of the British folk-rock band Fairport Convention.
Several factors figure in Thompson's relative obscurity, not the least of which is the challenging nature of much of his material. It is ferociously intelligent. Its take on the human condition is often brutally honest, if compassionate. The music is accessible -- a rock 'n' roll/traditional folk/pop hybrid with British and American elements predominating - but hardly fits into today's increasingly rigid radio formats.
And fate has seemed daunting, in terms of Thompson's career advancement.
A fatal motorway crash and subsequent departure of charismatic lead singer Sandy Denny undermined perhaps Fairport Convention's strongest lineup before it could tour the United States. Richard and Linda Thompson issued Shoot Out the Lights, Rolling Stone's 1982 Album of the Year, just as their professional and marital partnership ended.
Still, Thompson has slowly expanded his audience as a solo artist, gigging regularly while residing in both California and his native London. Radio play remains nearly non-existent, but remarkable live performances, strong albums, critical acclaim and word-of-mouth endorsements have had some cumulative effect.
It might seem superfluous for Thompson to continue playing Bloomington, when there are bigger and previously untapped markets awaiting. He likes the town, though, and likes Lee Williams, a long-time friend and fan who runs Bloomington's renowned Lotus World Music and Arts Festival and is promoting Tuesday's show.
Fans and friends of Thompson include legions of fellow musicians. His recent solo gig at The Troubadour in Los Angeles drew a throng which included, among others, Morrissey, Bonnie and John Raitt, the Goo Goo Dolls' Johnny Rzeznik, ex-Police guitarist Andy Summers, Doors drummer John Densmore, Loudon and Rufus Wainwright, Lisa Loeb and members of the Dave Matthews Band.
Artists citing Thompson as an influence are as varied as R.E.M., Bruce Springsteen, Beck, Los Lobos, Linda Ronstadt and David Byrne. Just some of the artists who have covered Thompson songs include Raitt, Ronstadt, Elvis Costello, Shawn Colvin, Nanci Griffith and (believe it) The Pointer Sisters.
Thompson's best interpreter is himself, however. And the solo acoustic format provides perhaps the optimal context for that - and for showcasing his astonishing ability to make one acoustic guitar sound more like three. Unlike some other technically-gifted guitarists, it's never just a barrage of notes with Thompson, either. He serves the song.
"There are considerable restraints in having to play all the parts (on one acoustic guitar) but, in some ways, I like that," Thompson told Geoffrey Himes of the Washington Post before a previous stop on the current tour. "You can take a song that you recorded with a band and ask yourself, 'How can I play this on one guitar?' You only have so many fingers and so much hand-span, but you find ways around those limitations and that leads you into new tunings and new solos.
"On a song like 'I Feel So Good' (a rocker from Thompson's 1991 release, Rumour and Sigh), for example, I found it's possible to keep the rhythm in the bass and to play the lead feels over the top on one guitar. Also I can play the horn riff on the guitar. And it can be done without Viagra."
Such witticisms pepper Thompson's work, and live shows. And he has reportedly utilized President George W. Bush's penchant for malapropisms during recent concerts.
"He's supplied some fabulous material for between-songs patter," Thomspon acknowledged. "You mustn't `misunderestimate' this man. The best ones are where he contradicts himself by the end of the sentence."
A single sentence, John Mellencamp once observed, is all Thompson needs "to say more than I can say in an entire song."
Both the depth and drollery of Thompson's work are well- represented on Action Packed, a recently-released compilation culled from his past decade of recording for Capitol Records. The rather ironic album title met with Thompson's approval, as did the collation of the 19 songs -- many of which adorn his current setlists.
"I think it's a pretty good collection," said Thompson, who wanted the package to feature album cuts over unreleased or live tracks. "I'm not ashamed of the last 10 years, and I think it's a reasonable representation."
It also represents Thompson's last release for Capitol, as he and the label have parted ways.
Asked if he might follow a similar path as John Prine, an American singer-songwriter with a comparable audience, and form his own label to market directly to his fan base, Thompson replied:
"I think that is certainly an option, these days. I think there are very few artists who are really being served by the record business. Labels, promoters and radio have become so corporate. It's such a corporate world. They're so concerned with quarterly returns.
"They can handle Britney (Spears), because they know how to market her. A lot of the other stuff has fallen by the wayside, though. There is a whole range of music that a good record label used to feature which is now becoming unavailable."
Thompson has already made available "authorized bootlegs" of live recordings through fanclubs and Web sites, and will have an official Internet site opening soon. He has nearly completed his first album of children's songs, and also plans an Islamic-themed album for possible "minor-label or perhaps Internet-only" release.
So Thompson is still going strong at age 52, unlike some of his chronically-challenged peers, and thinks it only natural.
"When pop music and rock 'n' roll was strictly teenage music, then you were pretty much too old to be a practitioner when you got to be 24 or so," Thompson said. "You had to burn out or retire or something.
"Now, it's such a multi-generational thing. I mean, the biggest record out last year was by the bloody Beatles, for God's sake. It's obviously become a bit of a classic music form in its fifth decade or so. So the creativity curve should be considered more in line with other professions. Like film director. Are they any good before they're 23? Are novelists any good before 23? Poets? Occasionally - they tend to die young. But look at Picasso. He wasn't too bad at age 50."
Thompson paid homage to Bob Dylan, when the latter turned 60, by including snippets of Dylan lyrics in his own songs during recent shows.
"Bob's really old," Thompson wisecracked. "The week of his birthday, I did do a small tribute. I'd say he's a sufficiently important figure in 20th century popular music. His impact was absolutely huge. He helped bring an adult, intellectual sensibility to rock. He changed popular music, and we haven't been the same since."
People tend not to be the same after exposure to Thompson's work, either. There is really nobody else like him in popular music, enjoying his sort of exulted status as both a singer/songwriter and a guitarist. As the fine British traditional singer June Tabor once said during a Bloomington concert, "If Richard Thompson didn't already exist, we'd have to invent him."
Indeed. A world without Jimi Hendrix, Motown, the Beatles -- and, yes, Richard Thompson -- would be a much poorer place.
WHO: Richard Thompson with Tim Grimm
WHEN: Tuesday, 7:30 p.m.
WHERE: Buskirk-Chumley Theatre, Bloomington
HOW MUCH: Tickets are $16 in advance, $20 at the door, available in Bloomington at TD's CDs & LPs, Athena, Borders Books and Music and the Lotus World Music and Arts Festival office (812-336-6599).
Andy Graham
graham@heraldt.com
---
I'm new to the list
so if someone's already posted this please ignore. RT performed Tuesday night 19 June in Bloomington, Indiana. I drove up from the Louisville, KY area to see the show. His opening act was Tim Grimm. The following is a set list for RT's performance.
1. Bathsheba Smiles
2. Did She Jump or Was She Pushed?
3. Crawl Back (Under My Stone)
4. Cold Kisses
5. For Shame of Doing Wrong
6. Walking the Long Miles Home
7. My Daddy is a Mummy
8. Dry My Tears and Move On
9. 1952 Vincent Black Lightning
10. King of Bohemia
11. I Feel So Good
12. Persuasion
13. I Agree with Pat Metheny
14. Old Rocking Chair (impromptu)
15. Stardust (impromptu)
16. Turning of the Tide
17. Dimming of the Day
18. She Twists the Knife Again
19. The Ghost of You Walks
20. Shoot Out the Lights
21. Cooksferry Queen
22. Word Unspoken, Sight Unseen (?)
23. Valerie
24. Wall of Death / Dylan medley
25. Beeswing
Highlights (in my opinion): Bathsheba Smiles, King of Bohemia, I Feel So Good, Turning of the Tide, Word Unspoken, Sight Unseen, and Beeswing.
"Old Rocking Chair" is apparently a song written by Hoagy Carmichael (who was from Bloomington - or at least is buried there) and performed by Hoagy and Louis Armstrong. This ties in with the Kenny G / Louis Armstrong theme of "I Agree with Pat Metheny". The subject of Hoagy Carmichael continued with the rendition of "Stardust".
I'll ask a little help from those of you more familiar with RT's work. I don't know the song "Word Unspoken, Sight Unseen". Is it on a comercially available release or is it something like "My Daddy is a Mummy" that he only performs live?
Thanks,
Tommy Allred
tallred75@aol.com
---
Folk legend Richard Thompson amazes Bloomington crowd
Updated: Thu, Jun 21 12:00 PM EDT
By Davin Kolderup
Indiana Daily Student
Indiana U.
(U-WIRE) BLOOMINGTON, Ind. -- As the wind and rain blew down Kirkwood on Tuesday night, a stream of baby boomers and college hipsters took refuge in the Buskirk-Chumley Theater, buzzing with anticipation over the night's performance. Only one of Richard Thompson's perennial stops in Bloomington could bring such a generationally diverse crowd together.
Richard Thompson first made a name for himself in the late 1960s with the British folk-rock band Fairport Convention and has been recording and performing steadily since then. He's never really achieved significant commercial success but has garnered constant critical acclaim and, as Tuesday's show indicated, a devoted cult following.
Although he's experimented with backing groups of various sizes on his records, the Richard Thompson live experience is a one-man affair. Clad in black from head to toe, he straps on his acoustic guitar and launches into one classic after another. As expected, the set borrowed heavily from the recently released "Action Packed: The Best of the Capitol Years," a compilation of gems taken from his last half-dozen records.
'I know some of you think 'The bastard only writes two good songs per album,"' he joked from the stage about the greatest hits package. "'Why should I buy twelve when I only want the two?'"
But any fan of Thompson knows he's written a good deal more than one disc's worth of classics. So thankfully, he included a number of pre-Capitol favorites, including three from one of his finest albums, 1982's "Shoot Out the Lights." That album's closer, "Wall of Death," a live favorite which finally came during the second encore, was punctuated with a medley of Bob Dylan favorites. Thompson switched out lines from Dylan's "She Belongs to Me," "It's All Over Now, Baby Blue," "Like a Rolling Stone" and "Just Like Tom Thumb's Blues" at a dizzying pace as the audience laughed and tried to keep up. Other pleasant surprises included an off-the-cuff rendition of "Stardust" (in honor of the song's composer, Bloomington native Hoagy Carmichael), and the rollicking Egyptian singalong "Now My Daddy's a Mummy."
Thompson is definitely road-tested -- he's got the stage presence and easy audience rapport that can only come from thirty-plus years of constant touring. His songs are often dark, cynical tales of lost love and missed opportunities, but the man himself is warm and engaging. Literate, moving, and handy with an acoustic guitar, Richard Thompson is one of modern music's best-kept secrets.
(C) 2001 Indiana Daily Student via U-WIRE" -Marc Bergman
marchand@neptune.kanazawa-it.ac.jp