Boston - April 21, 2001
Northampton - May 14, 2001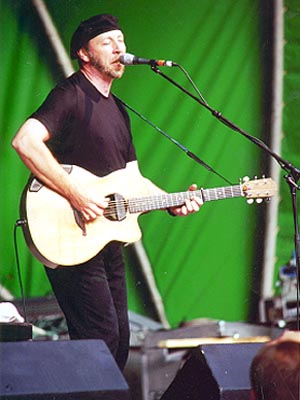 Richard Thompson (solo/acoustic)
Opening act: Amy Correia
Richard played for almost two hours including encores
1. Crawl Back (Under My Stone)
2. When The Spell Is Broken
3. Don't Let A Thief Steal Into Your Heart
4. King Of Bohemia
5. Turning Of The Tide
6. Walking On A Wire
7. I Misunderstood
8. My Daddy Is A Mummy
9. Dry My Tears And Move On
10. 1952 Vincent Black Lightning
11. Why Must I Plead?
12. I Feel So Good
13. The Ghost Of You Walks
14. I Agree With Pat Metheny
15. Persuasion
16. Beeswing
17. Uninhabited Man
18. Valerie
Encore 1:
19. Bathsheba Smiles (with Dave Mattacks on hi-hat and snare drum)
20. Al Bowlly's In Heaven (with Dave Mattacks on hi-hat and snare drum (brushes))
21. Cooksferry Queen (with Dave Mattacks on hi-hat and snare drum)
Encore 2:
22. Word Unspoken, Sight Unseen (new song)
23. Dimming Of The Day

Brian A. Miller"
brianm@nh.ultranet.com
---
A fine show last night,
as would be expected, with nearly two hours of RT's music at the grungy old Orpheum Theater. The pleasant surprise of the evening was the appearance of local resident Dave Mattacks and a minimal drum kit to join him on three encores, "Bathsheba Smiles", "Al Bowlly", and "Cooksferry Queen". A nice version of "Why Must I Plead" was a welcome addition to the setlist, and "Walking On A Wire" was something of a chiller high point. Like probably a lot of people on this list who have seen him many, many times, I don't necessarily expect any stunning new revelations at an RT show, just the utterly uplifting experience of watching one of the best musicians who's ever picked up a guitar ply his trade. And that's what it was last night.
I guess I'll be brief since I need to run off to the final day of the New England Folk Festival.
--Tom Nelligan
nelligan@ix.netcom.com
---
Orpheum Performance
At 10:02 PM -0700 4/21/01, Bob Kovar wrote << BTW, he was great at the Keswick, but does anyone think there's a bit too much bluster (not sure if that's the right word, but close) creeping into his vocals, particularly at the end of songs? As his voice (and body) gets stronger over the years, is he starting to lose some of his subtlety? >>
You've hit on my _one_ complaint about last night's Orpheum performance: Too often Richard ended songs by repeating the chorus at higher and higher volume and (an attempt at) greater emotional pitch. Doing this so often had, for me, the opposite effect from the intended: it came off as a "signifier" of great emotion, rather than the real thing.
Other than that, the show was splendid, one of the best RT acoustic shows I can recall seeing. In the past I've sometimes ventured on the list that RT seems to fall into certain musical "tics" when he's soloing, but last night his playing seemed endlessly inventive. I was particularly impressed by some choices of chord voicings that added unusual and rich new harmonies to old tunes, e.g., on the "Everyone is in love with money..." bridge to DLATSIYH. (I'm not sure that "voicings" is the right word here; perhaps I simply mean different chords!)
I'm on digest, so this no doubt has been mentioned already, but: As an added treat, Dave Mattacks, now a Bostonian, came out for the first encore with just snare and high-hat and added drums to "Al Bowlly," "Cooksferry Queen," and, and "Bathsheba Smiles." Astonishing what a talented musician can get out of such a small kit. RT and he looked attentively at each other throughout, clearly having not rehearsed much if at all. I must admit, RT's playing seemed a little inhibited by having to coordinate with DM, but it was still fun.
"Words Unspoken, Sight Unseen" is an odd song at first listen. It's got a little bit of that galloping pace as in "Don't Renege on Our Love" (though a bit slower); RT plays the strings in a rather muted, "dry" style; and the melody takes some odd turns. I'll be very interested to see how it becomes fleshed out when recorded.
"My Daddy Is a Mummy" and "I Agree with Pat Metheny," along with their accompanying intros, were very well received (and nice breaks from what even I came to realize was a rather dark set of songs).
A few other notes: There were of course a few "clever" souls in the audience - perhaps members of this list - who called out for songs knowing that they were next on the set list, and one who yelled "Kenny G!" well before RT had gotten to that part of his Pat Metheny rap. RT was clearly not amused, though he dealt with it in his usual heckler-handling way: "You, sir, must be clairvoyant.... Don't go spoiling the punchline." I can't see the point in this behavior: it annoys Richard, and who does it impress?
You'll remember my asking the list a while back whether I should tell my friend that RT was depressing or not. She enjoyed the show, though I think she did find it a bit too much on the miserable side. Her boyfriend felt similarly: he said he could listen to RT play guitar forever, but were there any albums where that's _all_ he did (i.e., not sing)? (I told him there was "Strict Tempo," but it was a different kettle of fish entirely.)
RT did not acknowledge the anniversary of Sandy's death, nor did anyone in the audience bring it up that I heard. I considered yelling, "Play one for Joey Ramone!" but never found the moment.
Spotted only one other Dee-shirt on an audience member, as we were exiting. The wearer and I nodded at each other but didn't stop to exchange names. Who were you, sir?
- Jesse
Jesse_Hochstadt@postoffice.brown.edu
---
Northampton
I'm sure someone will come along to do a better job of this, as my head's still reeling from last night's show at the Iron Horse. But until someone does, here is my [nearly complete] set list:
Mr. Rebound
I Misunderstood
Crawl Back
[Cruel Country? Withered and Died? -- didn't recognize this early 70s one]
Don't Let a Thief Steal Into Your Heart
My Daddy Was a Mummy
I'll Dry My Tears and Move On
'52 Vincent Black Lightning
Cold Kisses
I Feel So Good -- segueing good-naturedly into an audience-member's requested She May Call You Up Tonight [Left Bank song]
Beeswing
Turning of the Tide
I Agree with Pat Methany
Jennie
Persuasion [-solo, but I didn't miss the backup at all]
Shoot Out the Lights [another audience request -- quite amazing]
Bathsheba Smiles
King of Bohemia
Cooksferry Queen
encore 1:
Word Unspoken, Sight Unseen
Valerie
encore 2:
The Ghost of You Walks
Wall of Death -- segueing into a Dylan 60th tribute [She's an Artist? or os it called Don't Look Back?]
Razor Dance
Dimming of the Day
I couldn't begin to list the highlights of this astonishing and intimate show, unless it was finally getting the chance to meet him afterwards when he signed some cd's for me. What an extremely nice man. What an evening.
best, Jo Wood
jo_wood64@hotmail.com
_________________________________________________________________
Hi RT Fans Globe-Girdled!
No need to give you the "skinny" on RT's brilliant performance at The Iron Horse in Northampton, MA last night because I just might find eggs on my windshield from those outside the concert hall who failed to get in and "crash the party."
After waiting in line for an hour with Brian, I was rewarded with a front seat spot-nook to view RT. Great views of those flying fingers and two water bottles. I even spotted his pre-amp glowing briskly in the warm, soft-tones of the evening's twilight.
Clothes: everything black (again). From his shoes to his Tam. Didn't see a belt, but I presume it was black too. "AT" pants, alas.
Stage Patter. Since the audience at the Horse tends to be very quiet, RT came up with a few good lines such as..."Table 23...let's have some of your requests!"
I found myself just as much transfixed on the audience as on Richard Thompson during his singing. I am not kidding. There were plenty of people just gazing at him with slack-jaw and bouncy head top. Caught up in his spell and bewitched like a muddle of puppies..
It is also a pleasure to listen in on fans after a show trying their best not to "lose it" while gushing to Richard Thompson about any old sort of thing. He is usually gentle with these sorts. The witty giant on stage turns into an eagle-eyed pussycat once the hardcore fans line up for cheap talk and vinyl autographs.
My one request for "Oops, I Did It Again" got shot down like it deserved. "Apache" just got a grimace.
Perfect. Hearing RT play a few licks from "Pretty Ballerina" from the Left Banke got me worked up a tad.