Jazz Fest and Double Decker
April 27-28, 2001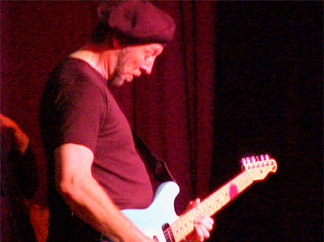 An amazing day of music.
I would be very hard pressed to pick between the sacred steel Campbell Bros and Richard Thompson as the highlight of the day. Both were extraordinary. In spite of the rain, RT held a (slightly diminished) crowd through a very fine performance. A friend of mine (new to RT) said: "Just him and a guitar, and he held that crowd." Just one encore, about 90 minutes of music.
We had a listmeet of folks from Minnesota, Nashville, and Arkansas (also, obviously, Mississippi), in the midst of major music overload. Not quite jazzfest level, obviously, but i've spent the day with the Campbells, the Hackberry Ramblers, David Lindley, a local garage band (Tyler Keith) local jazz (Motet) and brief bits of the Psycho Sisters, Syd Straw, the North Mississippi Allstars and the Silos. Last night was Lindley and the night before Bernie Worell, all this going on within two blocks of my office, where I'm writing now.
I'm exhausted; maybe more tomorrow.
setlist:
Crawl Back
When the Spell Is Broken
Vincent Black Lightning (interesting baroque elaboration on the "Cripple Creek"-ish bridge)
Dry My Tears
My Daddy is a Mummy
I Misunderstood
Shoot Out The Lights
Feel So Good
Cold Kisses ("a John Grisham mystery"-- this town is where Grisham lived for a time)
Keep Your Distance
Turning of the Tide
Persuasion
Sights and Sounds
Ghost of You Walks
Beeswing
Razor Dance
Bathsheeba Smiles
Cooksferry Queen
encore: Valerie
Tom Freeland
thf4@watervalley.net
---
Criminy!
Where is everyone who saw RT on Friday? Still out partyin'? (We're exhausted.)
He did a pretty short set--50 minutes, tops. Someone kept notes on the tunes (where are you?). He was mobbed by autograph seekers at the Virgin tent afterwards. (Sorry re typos...teeny portable keyboard.) Said he had to turn like a quarter of them away. I got to interview him, about which more later. (And I ate three of his strawberries and felt terribly guilty later.)
His set (electric) with Beausoleil--he was on for about half B's set--was wonderful. Very well received. The Times Picayune thinks he should play with B. more often. His pic was on the cover of Sat's T-P--color, above the fold.
Rob and I have to go out now and retrieve Grant's house keys from the transvestite Chinese restaurant where we had dinner last night. I shall leave NO tomorrow morning having missed several things I wanted to experience: a spaghetti and meatball po' boy and Louis Prima's grave among them. It's been a great trip, though.
Later:
Pam, in New Orleans
pmw@annapurna.com
---
Amir wrote:
<<Greetings all. Pam, that's a great line from your last post to the digest, but you've got to say more about it..>>
Yeah, I love to sneak stuff like that in....
There's a restaurant in New York City that I've always wanted to go to. It's called Lucky Cheng's. The stunning waitstaff comprises lovely ladies who are not what they seem. So when we were in New Orleans, I was delighted to find a Lucky Cheng's in the French Quarter. We were seated by the window, and Rob was very amused by the people who passed and pointed--I guess the place is rather notorious. I was amused, too, until he suggested, "I wonder whether those people think you're a transvestite."
I got my amusement back when a somewhat long in the, er, tooth Britney Spears clone did a dance for us that included giving Rob a bit of a nuzzle. She also did a cartwheel that was pretty impressive--I could never do a cartwheel, and certainly not in a minidress.
Oh, the food was good, too. But the drinks were pretty deadly. I still don't know how I misplaced my hosts' keys, nor do I recall, precisely, how I ended up in Cafe du Monde with a big mug of black coffee and a pile of beignets to fight Rob over.
I have got to go back through the last week or more of mail...I don't recall seeing posts about RT's shows in Boston, Baltimore, or New Orleans and very little about the Harry Smith tribute (about which I desire to learn much, much more).
Pam (awfully tempted by the Iron Horse)
pmw@annapurna.com
---
Sun April 29, 2001
Setlist: May be omissions/out of order
Crawl Back
When the Spell is Broken
Vibble '52
Dry My Tears and Move On
Daddy is a Mummy
I Misunderstood
Shoot Out The Lights
Ghost of You Walks
Turning of the Tide
Persuasion
Sights and Sounds of London Town
Cooksferry Queen
*Encore*
Word Unspoken, Sight Unseen
Valerie
RT finally makes a solo acoustic appearance in my neck of the woods. A welcome change, as usually he ventures this far south only with full band in tow. Personal highlights were my first live "Persuasion" and first acoustic SOTL. I really like the acoustic version; those detuned strings pack an appropriate wallop, and I love the contrast between his squirmy lead fills and the staccato chords.
The setting was an odd one, as the festival was plonked in the middle of downtown Houston, the stage nestled amongst highrise buildings. He quipped that he had intended to enter by rapelling from the buildings, but fire codes prevented him from doing so. He also commented on the lack of cowboy hats and pickup trucks in the crowd and chided us for letting our culture slip away. The presence of the buildings added a weird echo on the sound, noticeable during the quieter bits, but it was good to know that for one afternoon at least, downtown Houston resonated with OH's music.
Simon Holcroft
mrsimnoc@blkbox.com
---
Gee Whiz,
No problem Mr. Jackson! It was surreal, and somewhat distracting. I have to say I prefer a real club to the festival type setting. (less of the "Look Maw, is it a hammock or is it a chair? I cain't tell!" as the crowd shuffles about the booths.) That said, it did seem that a large majority of the crowd had come specifically to see OH, based on the number that were singing along. RT also seems to play to the crowd (in a gimmicky sense) at a festival. He attempted, fairly unsuccessfully, to turn Crawl Back into a singalong chorus, the same with Sights and Sounds. S&S actually caused him to grimace when he heard the butchery of his finely crafted, hand tooled melodies that only a chorus of Texas drawls can render. Following that he did shed some possible light on his new label plans. He pretended kinship with "real" country and western swing player Hank Thompson, and played a snippet or two of C&W, quipping that "they'll sign anyone in Nashville these days; maybe I can start over from scratch." Oh, and gee, Mr, Jackson, did you know that without your glasses you look kinda like Su.... ah forget it.
Cheers,
Simon Holcroft
mrsimnoc@blkbox.com
---
When Tom Freeland
first posted the line-up for the Doubledecker festival, I was first excited (RT, David Lindley, The Campbell Brothers and Syd Straw, wow!) and then depressed (there's no way I can go to this). But even though we hadn't gone on a music road trip since the children showed up (no time and no money), I asked my wife if there was any way to fit it in. To my surprise and delight, she thought it was a wonderful idea and started looking into logistics and costs. With a good deal on airfare through Priceline and me foregoing some shows here, the money part fell into place. The weekend was miraculously open on both our schedules, so we decided to go.
Boy, am I glad we did. From the jambalaya pasta for dinner on Friday night, waking up Saturday morning to an avian chorus of unfamiliar songs, finding a lucky penny in my first 10 minutes in Oxford, through the festival itself, everything was magical.
The festival was downtown, one stage on each side of the courthouse so there was very little sound bleed-through from one stage to the other. The streets were filled with booths of food (catfish, crawfish, jerk chicken, BBQ, it was heaven) and art. The festival feel was that of a small town celebration of Spring; people with kids and dogs. Since both Andrea and I were raised in small towns, we felt right at home even though the delightful local speech patterns reminded us that we were far from the Midwest. Though well-attended, the festival never felt crowded and people were very relaxed.
The first musical thrill of the day for me was Syd Straw. I ran into her through her work with RT (Golden Palominos and he guests on her Surprise album), liked her voice and songwriting but had never seen her perform. She was accompanied by Peter Holsapple on guitar, a nice surprise. Her set was sparsely attended, due to being at 1:00 on a sunny day perhaps, so I was almost alone in front of the stage. A very nice set indeed, highlighted by For Shame of Doing Wrong. I was able to talk to her for about 10 minutes afterward, she was very approachable and seemed genuinely amazed that I had both of her CDs and liked them.
After a little bit of the excellent local band Blue Mountain (coming to Minneapolis soon and already penciled in on my calendar) it was time for the Campbell Brothers. I'd heard them on the radio a few times (the first was one of those ohmyGodwhatwasthat stopthecarandlisten moments), but I really wasn't prepared for them live. Two steel guitars (one lap, one pedal), one other guitar, drums and a female vocalist that brought Big Mama Thornton and Mahalia Jackson to my mind. It's gospel music ("sacred steel") like nothing I've ever heard. They really had the crowd revved up; dancing, singing, clapping, jumping in the heat of the day. Thanks to Tom, I got to meet them and found them to be incredibly sweet, gentle people. If you ever get the chance to hear them, take it.
After feasting on a big pile of steamed crawfish, we listened to Lindley and his menagerie of instruments. I enjoyed the set but couldn't help thinking that while he is a fine instrumentalist he can't hold a candle to OH as a vocalist, much less a songwriter. Drummer Wally Ingram has one of the funkiest looking drum kits I can remember: a cymbal with a bite or two taken out, a Prussian army helmet, various cow-bells, strings of beads and other assorted metal trinkets. He used all of this stuff effectively and is a good match for David.
Finally, time for RT. The clouds that had started to build during Lindley reached critical mass and it started to rain. (I couldn't help thinking that the doom and gloom was rolling in right on schedule.) The crowd scattered and I was a bit worried (I want lots of people to hear RT), but when he came out to play the crowd came back out of hiding, gave him a rousing welcome and sang along with enthusiasm on the chorus of Crawl Back.
Tom has already posted the set list, but I'd like to add a couple of comments. RT looked happy and was in fine form vocally. (Andrea is a voice teacher and commented on how good he sounded.) I've never cared much for Sights and Sounds, but he's added some guitar filigree and we both thought it sounded much better than on the MT tour. The cycles in VBL were Nortons, Greaveses and Velocettes. I hadn't heard Beeswing for awhile, since I skip it on the CDs, and giving it a long rest made it enjoyable again. I was quite surprised at how good CQ sounded solo, I liked it better than the band version. The song that stayed in my head though was The Ghost of You Walks, it is still percolating through my brain. Valerie was the only encore, I think there was a curfew involved as RT stopped right at 10:30. After the last song the woman next to me, who had clearly been enjoying the show, turned to me to ask "Who was that!" Another RT fan is born, perhaps.
We'd intended to go to a club to hear more of the Hackberry Ramblers, but we really didn't want any more music after RT; we just wanted to bask in the glow. It was nice to meet fellow listees (a first for me). Hi Susan! Hi Lee! And one more big thank-you to Tom Freeland for all of his help and information. Tom, I'd be curious to hear what the buzz was around Oxford regarding RT's performance.
All of this and a romantic weekend with the woman I love! We may just have to come back next year.
Larry
lschussler@carlson.com
---
Larry Schussler asks:
<< Tom, I'd be curious to hear what the buzz was around Oxford regarding RT's performance.>>
Pretty uniformly positive. A writer-friend of mind said, "Perfect ending to the day." She'd been trying to see a Richard Thompson show for some time and life kept interfering. She loved it. Laurie Stiratt from Blue Mountain was similar positive.
A session guitarist who splits time between Oxford and Los Angeles said, "I stood out in the rain. It's been a long time since I've stood out in the rain." He seemed to have had a near-religious experience.
The crowds at the festival were fairly musician-full. I think there were at least 30 or so in the crowd for the Campbell Bros set (less so for the RT set, but still a lot of them. Everyone seemed to agree it was a good day's music.
I'd still be hard pressed to pick between RT and the Campbells as the highlight of the day.
This is three years in a row that this festival, though small, has had really great music (last year it was Wilco, Alejandro Escovedo, R.L. Burnside, and others; the year before, Lucinda Williams, Othar Turner, and I'm forgetting who else offhand. The New Yorker profile of Williams made a large-- but pretty completely fictionalized-- deal of her Doubledecker performance that year. I don't know who to hope for next year, although I'm going to continue my campaign for a serious amount of gospel and better coverage of local traditional music. Al Green would make a nice headliner....).
Tom Freeland
thf4@watervalley.net