Hendrix College, Conway, Arkansas
February 16, 1999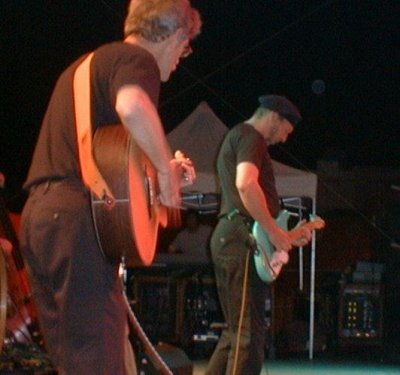 Nearly every music critic worthy of that designation
heaps unending praise on Richard Thompson.
I'm not sure if it is written on their diplomas when graduating from music-critic college or if the gene that makes certain people want to review music also carries the trait for respecting Thompson. Nevertheless, in all the music criticism I've ever read, I've never heard an ill peep about Thompson, one of the founding members of the 1960s folk-rock band Fairport Convention.
The first time I became aware of Thompson was reading a 1987 issue of Rolling Stone magazine entitled "The 100 Best Albums of the Last Twenty Years." Two of his albums (recorded with his then-wife Linda) appeared on that list: "Shoot Out the Lights" at number 24 (sandwiched in between Derek and the Dominos' "Layla and Other Assorted Love Songs" and the Doors' first album) and "I Want to See the Bright Lights Tonight" at number 86. Seven years later, while I was living in upstate New York, Thompson made several visits while on tour supporting his album "Mirror Blue." Each show I would say I'm going, only to find an excuse at the last minute. The next day in the newspaper, the music critic with the unfortunate gene would say how he's seen Thompson ten times in his life and this was his best show yet! I became more intrigued. Around the time of "Mirror Blue," "Beat the Retreat" was released, a tribute album with Thompson songs recorded by R.E.M., Bonnie Raitt, David Byrne, Los Lobos, and Dinosaur Jr., among others. This was my first purchase of Thompson's music, albeit recorded by others.
While trading tapes with a friend, I noticed that he had a large collection of live Thompson. As a side trade, I asked him to send me a copy of his best show. It was phenomenal. As far as I could tell from listening to the show, he was the only performer on stage, yet his guitar at times sounded like there were at least two players. And that voice! Unlike many other British acts whose accent is absent when singing, Thompson's deep resonant voice retains the English charm. His singing is also very expressive, at a level to affect your insides. Listening to this tape over and over was the incentive I needed to start building my CD collection with Thompson's albums.
My first album by Thompson was 1982's "Shoot Out the Lights." From the moment the laser hit the disc, I knew this was something special and I wondered why I had waited so long to bask in the glory of all that was Thompson. A spending fury ensued over the next months: 1994's "Mirror Blue," 1991's "Rumour and Sigh," 1996's "you? me? us?," 1981's "Small Town Romance," 1974's "I Want to See the Bright Lights Tonight," and the 1993 box set, "Watching the Dark." So far, I've yet to discover an album by Thompson that is truly disappointing.
Wondering whether Thompson was on tour a few weeks ago, I searched the internet and found out that he would be playing Conway, Arkansas the next day (February 16)! Further surfing would reveal that it was a free show on the campus of Hendrix College. Never one to miss an opportunity like that, plans were made to drive to Conway to see the show.
The auditorium held 825 people, but it would be first-come first-serve for seats. To be sure I made it in, I arrived at the auditorium two hours before the doors opened, joining about ten people already waiting. All were in their 30s or older, and none were from Hendrix, although posters for the show were everywhere around campus. By the time the doors opened, several hundred were waiting and anticipation was in the air. Imagine, seeing Thompson, the British music legend, live at a free show in Arkansas of all places! And I would be sitting stage center in the second row.
Thompson took the stage promptly, fashionably dressed in black shirt and pants, colorful vest, and his trademark beret. His new album "Mock Tudor" will be released in May and he opened with two new songs, "The Sights and Sounds of London Town" and "Basheba Smiles", as good as anything he's written. After the slower heartbreaking number "Cold Kisses", a song he referred to as a "post-Valentine's Day number", Thompson roared into the crowd favorite "I Feel So Good," about a newly released convict's first day: "I'm old enough to sin, but I'm too young to vote. I've got a suitcase full of fifty-pound notes, and a half-naked woman with her tongue down my throat, and I feel so good I'm going to break somebody's heart tonight." Even the hardcore Thompson fans around me were laughing at his stiff British delivery of those lines.
Calming the mood down again, he played the beautiful "The Ghost of You Walks" from "you? me? us?". Thompson commanded the audience's attention whether we recognized the song or not. Slow fingerpicked songs segued into more upbeat songs. Just to show he had a sense of humor, too, he performed a four-minute distillation of everything you needed to know about Shakespeare's "Hamlet."
In his introduction to the Scottish polka, "Don't Sit on my Jimmy Shands", Thompson discussed with the audience famous musicians born in Arkansas. When Johnny Cash's name came up and someone else said that he didn't play in Arkansas anymore, Thompson wryly replied, "What did you do to him?" "Jimmy Shands" is a singalong and the audience did not disappoint, although the balcony-dwellers, clearly less familiar with Thompson's material, had a more difficult time.
One of the highlights of the night (as if you could single out such moments) came when Thompson performed "1952 Vincent Black Lightning", a story about a rebel, his girlfriend Red Molly ("red hair and black leather, his favorite color scheme"), and the motorcycle that brought them together. Deftly playing his acoustic guitar, every time Thompson hit the bass string, I felt the hair rise on the back of my neck. The song demands nimble fingers and I sensed that Thompson had even sped up the song somewhat from its recorded version, further demonstrating his guitar prowess.
A slower song that also had the audience in rapt amazement was "Dimming of the Day", recorded by Bonnie Raitt on her 1994 album "Longing in their Hearts." Singing the song as if the emotions were fresh in his heart, Thompson pleads for the urgent return of his lover, "When all my will is gone, you hear me pray, 'I need you at the dimming of the day.' You pull me like the moon pulls on the tide. You know just where I keep my better side.'" The final strum completed, we listened to the fadeout of the strings before proclaiming our appreciation for that performance.
Announcing his final song, the crowd let out a disappointing sigh. Thompson replied that "we have this pact. You know, I leave and then you, you know," gesturing clapping his hands. And so, with the final strum of "Razor Dance", the crowd lept to its feet, giving one of the fiercest standing ovations I've ever been a part of. When he returned, the hardcore fans (including some with British accents) shouted out requests from his Fairport Convention days. "If you don't like this song, it's that gentleman's fault," Thompson said from the stage, while preparing to play his first encore "Meet On the Ledge". He performed two more songs, "I Misunderstood," and the danceable "Two Left Feet," then left again. Unwilling to let him go, we rose again to our feet. He came back and performed arguably his most famous song, "Wall of Death", recorded this past year by Nanci Griffith on her "Other Voices, Too" album. He closed the night with a chilling new number, "The New Me."
Thompson earned the respect of the audience that night in Conway. There were the longtime fans, those who were familiar with his recorded material, but had never seen him perform, those with limited exposure to his music, and those who came because it was a free show. Thompson provided a set list and performance that even the most cynical critic could find few faults with. You might say that the ink on my music critics' diploma is finally dry.
Set List:
The Sights and Sounds of London Town
Basheba Smiles
Cold Kisses
I Feel So Good
The Ghost of You Walks
Hamlet Parody
Genesis Hall
1952 Vincent Black Lightning
If You Don't Want Me, I'll Dry My Tears
Keep Your Distance
Shoot Out the Lights
Don't Sit on my Jimmy Shands
Turning of the Tide
God Loves a Drunk
She Twists the Knife
Dimming of the Day
Razor Dance
E1: Meet on the Ledge
I Misunderstood
Two Left Feet
E2: Wall of Death
The New Me
by David Schultz
published in the Norman (Okla.) Transcript