US Tour March 2001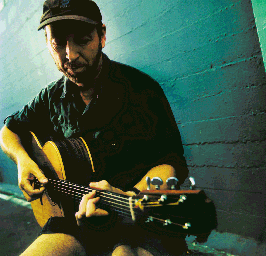 Seattle, Washington
King Kat Theatre
March 12, 2001
It wasn't me!
Just need to share my chagrin at being a Seattleite after last night's performance by the Seattle audience. The request-shouting got so embarrassing that it was hard to enjoy the show (which was otherwise great, of course).
It's bad enough to have the usual gaggle of "experts" shouting their favorite obscurities from the way-back catalog. It's worse when they get it wrong. RT's difficulty at maintaining his civility and sense of humor was palpable. "Devonshire!" insisted one fan, at least 8 times, pronouncing the "-shire" with a long "i". Richard teetered near the edge of snide retort. A request for "Slipjigs and Reels," a non-RT Fairport song of recent vintage, nearly pushed him over.
Next time I'm going to suggest that the King Cat arm the ushers with gags.
Best request and response: After "I Agree with Pat Metheny," someone asked for a Kenny G song. RT happily obliged with a minute or so of brilliantly pointless pentatonic noodling (BPPN), punctuated with mugging, tossing back imaginary crinkly hair and commenting about the sound of cash registers ringing. BPPN became his standard response to shouted requests for the rest of the night--though he did oblige at least once or twice.
This was the first time I'd seen him solo since Mock Tudor, and it gave me a new respect for the new material.
Also enjoyed Amy Correia's warm-up set--shades of Michelle Shocked, Lou Reed, Harry Nilsson, Victoria Williams. Tasty cello backup, too.
Charles Spear
Charles.Spear@ci.seattle.wa.us
---
My brother in Seattle
reported an RT retort along the lines of: "Some of the requests are a bit old. I'm a bit concerned as to when you bought your last album. But the investment seems to be paying off."
Performing both "Down Where the Drunkards Roll" and "God Loves a Drunk" may have been a kind of commentary.
Scott Miller
---
RT in Roseland, Part the Second (setlist)
Portland, Oregon - March 13, 2001
Mr. Rebound
Hide it Away
Crawl Back
Cold Kisses
Turning of the Tide
When the Spell is Broken
My Daddy is a Mummy
If You Don't Want Me (Dry My Tears? help, brain seizure)
VBL
Ghost of You Walks
Sights and Sounds of London Town
The Great Valerio
I Feel So Good
I Agree with Pat Metheny
Bathsheba Smiles
Beeswing
Wall o' Death
Uninhabited Man
Cooksferry Queen
encore1
Words Unspoken Sight Unseen
Valerie
encore2
Shoot out the Lights
Dimming of the Day

From: Gary Whitehouse
gwhite@peak.org
---
RT in Roseland, Part the Third
(I apologize in advance for the lack of apostrophes -- I typed this in Word, and it lost them in translation to my email program.)
As far as Richard Thompsons part of the Portland show 3/13/01, it was nearly flawless. "Mr. Rebound" surprised me as a strong opener; Im not that crazy about it as a studio track. "Crawl Back" was powerful, unexpectedly intricate guitar work, lots of energy. "Cold Kisses" remains a strong one. The ones who said he seems to encourage the laughs are right, IMO; last night he visibly leered on the "lacy things" line. Good job on "Turning of the Tide," though Im tired of it. "When the Spell is Broken" seems to me a little weak as a solo number. It seems to need drums at least, something to carry it from line to line; that drop in voice at the end of each "broken..." creates some big holes in the melody line.
"My Daddy is a Mummy" was a big hit with the crowd, as was "Pat Metheny." Laughter for the latter was particularly loud. Id be willing to bet that those laughing hardest are the ones who have or at least had some Kenny G CDs in their collection. "Dry My Tears" was unexpectedly strong, I thought, really moving as a live number. "London Town" was hard and fast and nasty. "Valerio" a completely unexpected treat. When he was done I thought, "Linda who?" He owns that one now. Could have heard a pin drop during the Satie bit at the end.
I keep expecting "Beeswing" to get stale, but it doesnt. "Wall of Death," on the other hand ... well, its tired with the band, and not much better solo. "Uninhabited Man" ... this ones growing on me, and he's doing some nifty guitar work on it in the absence of Teddy and his dulcimer.
Mr. Jerome was a phantom presence on "Cooksferry Queen," a credit to his playing -- I hear him even when hes not there. "Words Unspoken" seemed a bit intricate of lyric -- I got the feeling it was going over peoples heads. Maybe just mine. A complex song to play live before its been recorded.
"Shoot Out the Lights" is still breathtaking, even solo acoustic. He had to restart "Valerie" after moving the capo up a fret. "Dimming of the Day" was another one he has grown into. What a beautiful way to end the show. A lot of shouting of song titles and attempts to converse with RT. He said at one point, "Its my show." That quieted them for a while. The person running the lights should be shot, or at least forced to watch a lava lamp for 24 hours straight. The flashing on and off of red-green-blue lights during some of the more uptempo numbers was completely unnecessary and distracting. This is one performer who doesnt need flashy effects to be interesting. For cryin out loud, point a spot at him and go away. Sound was pretty good, though not as good as the Aladdin. We were disappointed that smoking was allowed, although there dont seem to be many RT fans who still smoke, at least here in Oregon.
It was late and we faced a long drive home on a weeknight, so didnt hang around to try for a word and an autograph. Went home happy, though.
Gary
From: Gary Whitehouse
gwhite@peak.org
---
Into the Mystic, yesterday evening
*martyred sigh* Well, it's getting on 8 o'clock... show's about to start at the Filmore, I'll wager... I'll just sit here in this draughty corner of my lonely room (filled with sa-adness, filled with gloom) and post last night's set list... no, no, really, I'm fine--- really... let the young people enjoy themselves, I always say...
Mr. Rebound
When the Spell Is Broken
Crawl Back
[Interlude] Wheels (just a few bars, claimed he knew some more, though)
Cold Kisses
Turning of the Tide
Hide It Away
My Daddy Is A Mummy
Dry My Tears and Move On
1952 Vincent Black Lightning
The Ghost of You Walks
I Agree With Pat Methany
Shoot Out The Lights
Read About Love
Beeswing
Bathsheba Smiles
From Galway to Graceland
Feel So Good
[Interlude] A few seconds of something cheesy I didn't recognize
Uninhabited Man
Cooksferry Queen
Encore:
Sight Unseen (?)
Valerie
Encore:
Persuasion
Razor Dance
River of My Tears
Dimming of the Day
Now for a disclaimer and a pathetic excuse:
(Disclaimer) I bought SOTL (I love list acronyms!) in 1982 because, as a wee lass, when Ira Robbins said "Jump!", I said "How high?" (On the other hand, when Van Halen said "Jump!", I said "Will you guys turn that down!"--- I lived in a dorm at the time.) (Where was I?) Erm... the next RT item I purchased was... Mock Tudor. I know, I know, I know. In the last year or so, I've been patiently encouraged/indoctrinated/brainwashed by a very dear person and I think I'm entering the "OhgoodlordhowCOULDIhaveignoredthisamazingtalentforsolong" phase. (And I'm quite looking forward to it; I love that phase!)
(Pathetic excuse) That's why I'm only guessing at the title "Sight Unseen" (above).
Also:
* I am unrelated to most any Stackpole you could name.
* About a half-a-dozen list members welcomed me on or off list after yesterday's post, which is half-a-dozen more welcomes than I received after introducing myself on my OTHER list, and I've stuck with that one for ages.
* RT is astonishing and I wish I were leaning on the stage at the Filmore right now.
Cheers,
Jean Stackpole
jeanlass@sonic.net
---
Here's what RT played in Portland on the 13th.
Mr. Rebound
Hide it Away
Crawl Back
Cold Kisses
Turning of the Tide
When the Spell is Broken
My Daddy is a Mummy
If You Don't Want Me (Dry My Tears? help, brain seizure)
VBL
Ghost of You Walks
Sights and Sounds of London Town
The Great Valerio
I Feel So Good
I Agree with Pat Metheny
Bathsheba Smiles
Beeswing
Wall o' Death
Uninhabited Man
Cooksferry Queen
encore1
Words Unspoken Sight Unseen
Valerie
encore2
Shoot out the Lights
Dimming of the Day

From: Gary Whitehouse
gwhite@peak.org
---
RT @ the Fillmore
San Francisco
March 15, 2001
I went to last night's San Francisco show feeling as if RT had been coasting recently. I left the show feeling like he really loves his music, his fans, and performing.
The guitar playing was a notch or two above what I recall in the past. The song selection was somewhat predictable but with songs like "The Great Valerio" also included in a set that ran over 2 hours, how can one complain? The guitar playing on 1952 VBL was even more astonishing than ever, and the beauty of the song once again brought tears to my eyes (perhaps being a motorcyclist had something to do with it).
We got Pat Metheny (great intro from RT), Words Unspoken/Sights Unseen, My Daddy Is A Mummy. No "Mr. Rebound" but that's probably my only gripe. He told a story of Ralph McTell having a big hit in the 1960s, then doing a kids show in the 1970s, and ending up with audiences comprised of pre-9 year olds and over-65 year olds.
The crowd was *very* well-behaved during the show, and willing for the most part to let RT choose the songs. Nearer the end he actually had to solicit requests...no one really yelled out requests during the show itself.
Thanks to RT and Simon mixing the great sound. The Fillmore may be the best place to see a show in San Francisco, and last night's show was definitely a treat and a half.
I thought the final encore was going to be Razor Dance, but RT played "Dimming of the Day" to close the show. It really felt like a message to *us*, his fans. I guess when it all comes down to it we need his music at the dimming of the day, too. :)
Jeff Soldau
lava@well.com
---
I got the Fillmore set list
and never got around to posting it. The only song I didn't get was a Fairport Convention song (a request) in the second encore. He said "Sandy sang it." Maybe someone else who was there knows it.
Crawl Back
When the Spell is Broken
>From Galway to Graceland
Turning of the Tide
Hide it Away
Dry My Tears
My Daddy is a Mummy
52 VBL
Ghost of You Walks
I Agree with Pat Metheny
Sights and Sounds
The Great Valerio
I Feel So Good (broke string, no Twist and Shout, good banter)
Shoot Out the Lights
Beeswing
Bathsheba
Uninhabited Man
Cocksferry Queen
First Encore
Word Unspoken, Sight Unseen
Persuasion (messed up the lyrics, said "That's Teddy's line")
Valerie
Second Encore
Fairport Convention song
Razor Dance
Dimming of the Day
After maybe ten band shows over the years, this was my first solo acoustic show. I hated to think of seeing RT with no electric guitar playing, but it was still an amazing show. That man can rock harder solo with an acoustic guitar than most full rock groups. One of my favorite RT live cuts is When the Spell is Broken on WTD, and I don't think the acoustic version on Celtschmerz can compare. But the acoustic version at the Fillmore was completely satisfying, as was Shoot Out the Lights, another of my electric favorites. All in all, one of the best RT shows I've seen, even with no electric guitar.
John Swanda
SWANDA@aol.com
---
I can wax at length about the set later.
Over-all, it had to be the best RT solo set I'd ever seen. The crowd was large & appreciative.
One thing that really stood out was a new take on Valerie. The instrumental break at the end of the tune that's modelled or lifted from a dance tune has been up to now left out of the solo rendition, that night he played it while accompanying himself with bass notes. It was quieter than the rest of the tune, I don't know if he'll keep it, but it really increased the song's solo viability to me.
Evan Malonai
emalonai@tyriscorp.com>
---
Joe's Pub - New York City - March 21, 2001
Just returned from Joe's Pub, an ideal RT venue. He was masterful as always, but the show (a ridiculously brief 95 minutes) flew by. Much to the disappointment of the crowd, there was no second encore. The set list, from what I can recollect:
Mr. Rebound
I Misunderstood
Crawl Back
Uninhabited Man
Keep Your Distance
My Daddy Is A Mummy
'52 Vincent Black Lightning
Madonna's Wedding (Despite the printed lyrics taped to the floor, he just
couldn't remember the words and nearly gave up half way through,
which made the song all the more enjoyable.)
Cold Kisses
Turning of the Tide (A highlight, partly because it was on this number that
he broke a string, which is always good for a few minutes of banter. This
time, there was talk of elephant condoms.)
Ghost of You Walks
I Feel So Good
King of Bohemia
Beeswing
Cooksferry Queen
Encore: (with Teddy)
Bathsheba Smiles
Persuasion
For any list members who attended, I confess to being the one who took the set list off the stool (I've begun collecting them) and the broken string from the stage floor (my first ... I'm not sure why, but I HAD to have that string.)
Waltzing's For Dreamers, Razor Dance and the Pat Matheny/Kenny G Song were on the original set list but not performed. My Daddy Is a Mummy and the Madonna song, performed instead, were not on the list.
The one or two requests that RT did grant turned out to be songs he would have done anyway, almost all of which are on the new "Best of the Capitol Years" CD. All other requests were answered with promises to do those other songs at the Town Hall show next month.
By the way, I noticed that Teddy is playing at Fez, which is just down the street from Joe's Pub, on Friday night. And since Teddy helped out his father tonight ... well, perhaps Dad will return the favor.
Ellen
ECatDevonside@aol.com
---
Who's holding her tonight?
(Joe's Pub, 3/21/01)
Last night, just after launching into "Turning of the Tide," Richard broke a string.
"'Twist and Shout'!" requested a friend at my table--a choice that I found rather too in-the-know (though I was looking forward to hearing it). Alas, Richard didn't acquiesce. Instead, he made some funny comments about strings and then, by the time he was done retuning, he seemed to have forgotten where he was.
I was about to call out "You were 'holding her tonight'" when I was hit with a revelation about "Turning of the Tide": the speaker is with the woman even as he's making his observations. I'd never noticed this before. I'm not sure what it says about the speaker--I'm thinking "self-esteem problems," myself. Makes the song, never one of my favorites (I prefer the similar-sounding "Valerie"), more appealing to me.
Highlights at Joe's: "Cooksferry Queen," "Vincent," and "Crawl Back." He's really punching the gas pedal on these, reinventing them, rediscovering them: he's very awake when he does them. "Persuasion," with Teddy, was beautiful.
I had a sense that he was a bit nervous last night, which, given the small crowd and the high proportion of people in the music business, is somewhat understandable. The vibe just wasn't quite the same as at a show that's full of fans. No, that's not quite accurate; Joe's was certainly full of fans last night--a very sophisticated bunch of listeners, it seemed, not just people who got in free because they're in the business. He's clearly got a lot of friends and admirers in the music industry.
---
Troubadour - March 27, 2001 - LA
Dave Hughes asked about Action Packed posters-there were some at the Troubadour. Here is the set list, not in order, and I may have forgotten something. You will see it is not unlike those performed elsewhere:
Mr. Rebound
I Misunderstood
Crawl Back
Keep Your Distance
Turning of the Tide
If You Don't Want Me
Cooksferry Queen
King of Bohemia
VBL
Ghost of You Walks
The Great Valerio
I Feel So Good
I Agree with Pat Metheny
Uninhabited Man
Words Unspoken Sight Unseen
Valerie
Razor Dance
Dimming of the Day
With Kamila:
Persuasion
More interesting was a two page list, taped to the floor. A grid in black marker - sections with short phrases which seemed not to be hints at songs or lyrics...a fellow standing near me lifted it at the end of the show and seemed to think it was a crib sheet for the jokes. As we were discussing this, he was persuaded to give it back by an RT team member (Simon, perhaps, sorry I don't know what he looks like-this was a tall, light brown pony-tailed gent in shorts-40-something). He was quite firm about this material not being for public knowledge.
I saw a black List T-shirt across the crowded room, but could not get there and never saw that person from the front-or again! It seems the Los Angeles branch can't get a list meet going, at least I haven't known of one, and noticed a message here asking if others had gone to the Troub. Next time, maybe?
RT in great form, very funny, some new (to me anyway) jokes...reminisced about past dates he had played there (opening for Ricky Nelson and Donny Hathaway), repeated the story about the bar tab exceeding the payment for the weeklong Fairport gig. Stated he would play that evenings show for free if it would help cover the past debt. A couple of times when he was unsure of details he would say "I was there!" as if this explained the memory loss.
Highlights: (for me)
If You Don't Want Me, which I think has always been superior live (or maybe because I first heard it live). I love the contrast of the cut and dried lyrics and simple tune to the verse (Ok, I'm done) with the plaintive cry of the chorus (Faded Love! Am I out of your dreams?!)
Ghost of You Walks...which has grown into one of my absolute favorites. Another great moment: from where I was standing, stage right, I looked towards the upstairs/backstage area described previously. During this song the entire upstairs was in darkness except for one light which shone down on the blonde head of Nancy Covey -the rest of her was in shadow- as she watched her husband perform this beautiful song....
King of Bohemia, which has not been a fave, but which I have gained new appreciation for through recent postings here.
Persuasion, with Kamila was a lightning rod moment for the crowd. I was right in front, and there seemed to be a surge towards the stage, and in particular, two young women right behind me, who screamed and hollered and one, I think, was in tears at the end. She (Kamila) did sound like Linda, and her facial bone structure also reminded...
I hadn't seen Mr. T solo in quite awhile, and it was great to hear these songs acoustically which I had not too long ago heard electric-they are such strong songs, and so good either way and the differences are fun to reflect on. I am always impressed by how involved he now always seems with each song-no phoning in here. His playing was crisp and unrushed. I love the moment at the end of each song where he pauses and comes back from wherever he has gone. As I have said before, I think RT is at the absolute top of his game.
I managed to track down DG and remarked as much to him (after I untangled my tongue)-sorry Donnie-I really wanted to thank you for taking an interest in the list and its denizens and for the opportunity to pose questions to Richard, and for all the updated info.
Ok, I'll stop now.
janet
NP: Ghost in the Wind, in my head only....
---
Robert Plant anecdote @ the Troubadour
Richard reminisced between songs about other times he'd played the Troub over the years with Fairport, Ian Matthews, etc. Amusing stories. Lots of implied alcoholic overindulgence.
He eventually got to the infamous night Led Zeppelin joined Fairport onstage for a jam. Stating that tapes were rolling but were nowhere to be found now. Things folks like us smugly knew already, but interesting hearing his version nonetheless.
He then was reminded of a particular time he encountered Plant outside London. He explained that he'd just been shopping at a place called Hendon (sp) for "one of those fences one puts up to keep toddlers from tumbling
down the stairs."
Long story short, on his way home, RT met Plant on the street and said, "Funny I should run into you. I've just bought a stairgate in Hendon."
Delivery timed so well that had a drummer been present, a rim shot would have been irresistible.
He went on to imitate the face Plant made back at him as a response. Guffaws echoed throughout, as you can imagine.
THE END
Tom Lindley
tomjl@pacbell.net