Japan 2001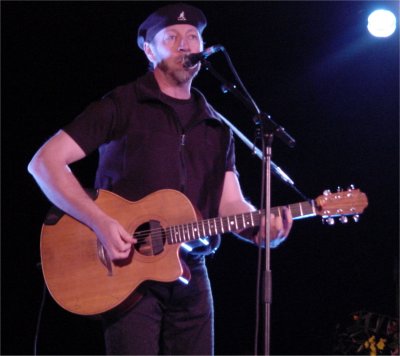 Here's a review from the Tokyo show
from my brother Jim, who's been a fan for many years but had never seen him live before; he's a little too comfortable with calling OH "goofy" for my taste, but then he thinks I need to be deprogrammed sometimes!
<Maida and I went to the RT show last night, and were both very much impressed. The club, which is only a 20 minute walk from our house, is a very cool and cozy place, and it was packed with about 750 or so mixed-nationalities to see Richard play a two hour set, solo acoustic. Oh yeah, the club is on the fifth floor of a commercial building!
He opened with passable Japanese greetings of "good evening" and "its nice to be back in Japan", to the crowd's roar. Although my short term memory isn't good enough to recount the set list (and we didn't carry a pen), I can say that the only unheard 'surprise' was "My Daddy Is a Mummy" (I imagine that is the title) which he said he had written for one of his kids when they were studying ancient Egyptian history in grammar school and asked if he knew any Egyptian songs ("other than that Bangles hit"). It was an Elvis-y ditty which he initiated by saying "remember, there are TWO Memphis' ".
He's an absolutely amazing performer, Bob. Jocular, muscular, strong vocals and even more terrifying guitar playing, with only some nervous fumbling with his capo between some latter songs in the two hour set. Oh yeah, Maida and I agreed that his little leg wriggling and hip swaying is kinda goofy, but you could tell that he also has an incredible drive to rockout and I look forward to the day when I can see him with his band.
He only seemed 'off' or 'disinterested' when he played the request for "Wall of Death" in his final encore; otherwise, I was surprised that he could play something like "Shoot Out the Lights" - which was his second song - with so much passion and feeling, as if it were written last week and he hadn't performed it a zillion times over the years. Does Neil Young maintain that much fresh passion on, say, "the Needle and the Damage Done"? Other requests, like "Bees' Wings" - which he agreed to apparently begrudgingly (he always said "I'm not sure EVERYONE wants to hear that") - came off beautiful and haunting and fresh with emotion.
It was a mixed crowd, as I said, with a handful of Brits providing the between-song shout-outs that he seems to thrive on. The Japanese, by turns, seemed a bit embarrassed when one of these guys (all guys) would engage him in some British witticisms and RT remarked "just when we start having fun, the place goes quiet". But there was one Japanese guy behind us who knew all the songs, was equally engaged in the verbal sparring, and guessed "Bathsheba smiles" after only three bars even before Richard re-set the capo from the sixth or so to the second fret. RT acknowledged with his eyes that he was impressed!
No chance to get the set list. Firstly, because we moved before the first encore from the front of the crowd back up to higher ground (in vain hopes of reaching the bar and something cool to drink); secondly, because there were steel barriers keeping the crowd about 20 inches from the stage (and providing space for a few photographers) and I knew that even if it remained after the lights went up I'd never reach it on the other side of his monitor. In different circumstances, however, it seems doable. He certainly didn't carry it with him and the roadies didn't come out immediately... Jim>
Bob Kovar
dr.k56@erols.com
---
RT in Osaka
As I was saying...
Osaka, Japan
24 Feb, 2001 Setlist:
1. Mr. Rebound
2. Spell is Broken
3. Crawl Back
4. Waltzing's for Dreamers
5. Turning of the Tide
6. Ghost of You Walks
7. Walking the Long Miles Home
8. My Daddy is a Mummy
9. Dry My Tears
10. 52 Vincent ("Harleys, Kawasakis, and Suzukis won't do")
11. The Great Valerio
12. I Feel So Good
13. SOTL
14. Bathsheba Smiles
15. Persuasion (MY request, he asked me what key...)
16. Withered and Died (request)
17. Meet on the Ledge (request) "I don't do THAT one very often..."
18. Cooksferry Queen
ENCORE 1:
19. Words Unspoken, etc
20. Valerie
ENCORE 2:
21. Beeswing
22. Razor Dance
23. Uninhabited Man
I had a 25 minute private chat with RT, post-show. It was very substantive and friendly, and I have MUCH news but I also have a wretched cold and won't be online for a day or so. More soon. -
Marc Bergman
---
RT in Osaka: proposed setlist
Pam asked if Beeswing was a request or in the setlist. Answer: both! Itwas played as a request but also shows up on this origianl setlist, as follows.
The PROPOSED setlist for Osaka (NOT what was played but what was planned to be played):
1. Mr. Rebound
2. When the Spell is Broken
3. Crawl Back
4. Waltzing's for Dreamers
5. Turning of the Tide
6. Ghost of You Walks
7. Walking the Long Miles Home
8. My Daddy is a Mummy
9. Dry My Tears
10. 52 Vincent ("Vince")
11. Valerio
12. Bathsheba Smiles
13. I Feel So Good
14. Sights and Signs of London Town
15. Beeswing
16. Cooksferry Queen
ENCORE 1:
17. Words Unspoken, Sights Unseen
18. Valerie
ENCORE 2:
20. Dimming of the Day
21. Razor Dance
What's significant about this (for me) is that he DIDN'T do Sights and Signs, which I loathe, but he DID do SOTL, which is my favorite song of his, and did a great version to boot. Plus, we got 2 more songs than he'd originally planned on doing. How could it get any better?
On the floor were cheat sheets for Words Unspoken, for the Madonna song, and for Pat Metheny, the latter 2 of which he didn't play. -
Marc Bergman
---
RT in Osaka: song comments
1. Mr. Rebound: "from Action Packed, my new album of greatest hits, out 27 March here. Buy it, it's great!" [Stage whisper]: "It's crap."
4. Waltzing's for Dreamers: "This one's for the ladies. Are there any ladies here? It's only guys!!! So much for my sex appeal..."
7. Walking the Long Miles Home: "This is about the class system in England. We ruined everything with the class system, horrible thing. England used to be great."
ME: When?
RT: "About a hundred years ago. We invented everything. This is a song to walk to, about missing the bus and having to walk all the way home. You had to get home before your parents woke up. You see how dangerous my youth was?" (big grin and a wink).
8. My Daddy is a Mummy (the Jack's school story, two Memphis', as reported earlier)
11. The Great Valerio: "This is an old song, from about 1971, about when we were so idealistic about things..."
15. Persuasion: I asked for it and he said "What???" ME: Persuasion, please.
RT: "Oh, "PLEASE"??? I don't know what key it's in, don't know if I can do it."
ME: _I_ can do it, but not very well.
RT (hastily): "I'LL do it, thank you VERY much, that's OK. What key do you do it in?"
ME: G.(I couldn't remember, actually.)
RT: "Good choice. I'll try it in this one and if it's not right, I'll just stop and change the key. Oh, it's in C or something." He then went on to talk about the "rubbish Australian film" it was from, saying, "You HAVEN'T seen that film, trust me". Made comments about Teddy's performance on it with him, seemingly full of fatherly pride.
Requests were shouted out after mine was granted. RT said, "OK, I'll do a few of those." I asked for "When I Become Prime Minister". He fixed me with a comically withering glare and said "Wiseguy."
17. Meet on the Ledge (request) "I don't do THAT one very often..."
-Marc Bergman
---
RT in Osaka: the gig and news bits
I made the 3 hour train trip to Osaka to see RT with my Japanese girlfriend Masayo. It's a great thing to go to an RT show with a neophyte and see it afresh through their eyes. During the 3 hour trip on the train, many times she said it was "like a dream" to be going to see RT. I had been able to contact RT listee Hiroshi Nomura from Kyoto, a very nice guy, and we met in the Virgin Megastore, in the basement of the building that the Club Quattro is in. Doors opened at 6 and we all went together. It's a small club, probably not holding more than 250 max. I'd seen RT in several countries and several types of gig situations, from the London Palladium to the park in Chicago last summer but never in such a small intimate club. It boded well, as did our positioning: on the floor, 3 feet from RT's microphone. Tickets ran $50 U.S. but HEY, that included a drink (beers are routinely 5 bucks)! The crowd, as Jim Kovar noted, was mixed, far more JPs than gaijins, mostly over 30 years of age. I wore my list tshirt and was asked by a guy in back where he could get one. I could have SOLD the damned thing and covered the considerable cost of the train trip!
I spotted a guy I thought I knew (but had never met) and dropped a name, then asked if RT was going to do a meet and greet. He said "No" but asked how many people I'd be bringing in, total. I said 3 and he said to meet him at the side door after the show and he'd arrange it.
RT bounded out exactly on schedule, in his usual stage attire, greeted the audience with a "Good evening!" and "Long time, no see!" in Japanese, instantly winning over the JPs. From that point on, he could have played Louie Louie for 2 hours and gotten a standing ovation; he HAD 'em. Very efficient businesslike playing, no fooling around, lots of grins between songs but not during them. Songs like 52 Vincent seemed shorter than usual, no real long solos but all very very tasty stuff. He plays each song with a great amount of power and concentration: he's engaged with them, and you can really feel it if you are close to him when he's playing, not just HEAR it, but FEEL it. There was nothing perfunctory, as was reported about Wall of Death in Tokyo. He was energetic, stepped into the shadows after each song, as if shaking off a kind of trance, before stepping forward, grinning, to acknowledge the applause. Many of the JPs around me knew the words to every song (save Words Unspoken, of course) and sang them softly. I'd wager that no one actually understood what they were singing but they surely knew the material. The sound was truly excellent and as was also noted before, Valerio's ending was spooky, with the kind of rotosound swirling you hear on Pharoah on Celtschmerz.
He said he always loved playing Osaka and Hiroshi confirmed that this was as full as the Quattro EVER got, that RT was 'famous' in Osaka. RT surely did seem to be enjoying himself and even his few slipups were acknowledged by him with a smile. Two hours went by in a flash.
Afterwards, while I was trying to get to the side door for the meet, I was surrounded by several JPs who saw me writing the setlist, asking the title of each song. Most knew that Words Unspoken was new, surprisingly. Hiroshi, Masayo and I were ushered backstage, but no one else, and it was indeed dreamlike to see OH emerge in his khaki shirt, extending his hand and smiling broadly, having recognized me from the audience. His hand was large, warm, surprisingly soft and very strong. I told him I'd been chasing him around the world since 1986 and he said "Well, you finally caught me!", laughing. He was very friendly being introduced to Masayo and Hiroshi, whose hands were shaking so much he couldn't hold his camera. We exchanged pleasantries and I was struck by his extremely amiable manner and his engagement with us, not at all like it was a burden he HAD to put up with. He joked, laughed easily and listened carefully. When I asked him why it had been so long since he'd played Japan, he said "I come when they ask me. Really. They haven't asked me for a while." I told him to bring the band next time and to make it within the next 3 years and he said he'd like to very much.
Though I realize that this may not be news for YOU on the list, as I've been off for 6 months, it was all news to me anyway: 1. The next live official bootleg is ready to go! It'll be a collection of songs from the band tour, not a single entire concert. The plan is for it to be the first thing offered on the new website, which should be functional sometime between 15 - 27 March. What they're planning is to use the website to sell RT merchandise of all sorts. They will definitely also be providing downloadable MP3s of songs that didn't make the official bootleg CD, things fans had requested, things of a "rarer sort" but didn't specify what. Fans will pay for these. I think they're (wisely) using the Bob Dylan site as a kind of model for RT's. Presumably, tshirts and the like will be sold through the website as well.
2. The video: Simon LOVES it, thinks Ken LaBarre did a terrific job on it. RT said to me: "Tell your pals on the Internet that I LOVE the video. It looks good and sounds good. I'd very much like it to be out soon and it COULD be. The only problem is the negotiations over the rights. I DO want it out." He agreed with me that he could have sold maybe a hundred vids at the Osaka gig alone.
3. He and Teddy are dismayed that Teddy already got dropped by Virgin. I told him honestly that I liked Teddy's album, that I would have thought it was a good album even if RT hadn't been involved and he said he thought it would have been good no matter WHO played on it. Both RT and Teddy are label shopping, with results to be announced soon in RT's case, at least.
He blushed when Masayo complemented him on how well he looked, that he looked much younger than his photos, which is true. For the pics, he posed happily with us all, putting his head on my shoulder for one, putting his arm around Masayo. He's a hugger, strangely (or not). He signed everything in sight and looked for more things to sign. We invited him to Kanazawa and he said he'd heard about the Henry Kaiser gig there a couple of years ago, that Kaiser had told him it was a good place to play. I told him about the Marc Ribot concert a few weeks ago here as well, to further convince him to include Kanazawa next time. He said he regretted that he couldn't come up for some Japanese home cooking as they were off to L.A. the next morning. He was utterly charming and affable, even after putting on a long and concentrated show, and I felt very happy that he granted us the time, about 25 minutes, with no rush, no fuss, no signs at all of artistic "temperament" or impatience.
Sorry to bore you with all the details but, while this is all mundane to those of you who can hear quality live music on a weekly basis, a few miles from your door, to those of us here in Japan, it's more than rare and more than welcome. It was a wonderful experience, and being able to share it with 2 Japanese friends made it all the better. The beers and yakitori at our tiny post-gig listmeet were exquisite. I can't wait to see the pics. That's it from Japan (whew!) -
Marc Bergman
marchand@neptune.kanazawa-it.ac.jp
---
Madonna's Wedding
Out of wedlock is my son
Two bastards now instead of one
What can publicly be done
To rectify my honor?
A wedding, that'll pull me through
I'll hitch to father number two
Get me Scotland, that'll do
Say it's for Madonna
Oh, get me a castle, nice and old
Lots of armor, lots of mold
Not too shabby, not too cold
Say it's for Madonna
A tartan for the bridge and groom
A few close friends, there ain't much room
Maybe Sting's place for the honeymoon
If we can stand the squalor
When baby Rocco needs a dip
In holy water, ain't it sick
Get me a cathedral, quick!
Say it's for Madonna
Oh, let's do that Scottish thing
Whiskey and a Highland fling
A limo waiting in the wing
To whisk you where you wanna
The locals think it's some big deal
They're flattered by that ??? feel <<< sounds like "sharpish"?
They even thought Braveheart was real
Upon my word of honor
We'll get "Hello" magazine
To photograph the happy scene
We'll make those other divas green
With envy of Madonna
'Cause you see my dear it's down to class
What good's talent, tits and ass
If your lifestyle's deeply crass
Like those would-be Madonnnas
Willy Keats
wkeats@earthlink.net