Tuscon, Arizona
November 17, 2000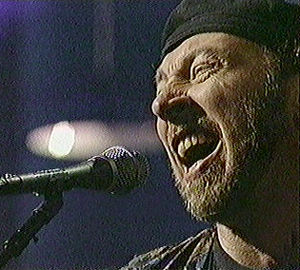 why must i plead
yes, really...
rt attacked the song at request, and made it at least halfway through...
just one of the good thAngs about tucson... ( + i misunderstood, valerio, dimming...)
isn't anyone going to write it?? at least a couple of phoenicians/listbuds were down there...
and 3 folks from nottingham...
i'll TRY to get them to tell you folks a story...
lovely evening... wondrous theatre... terrific sound... Rainer Ptacek's widow in attendance, RP having been a big fan... Paul Woods... are you still listening to Rainer? Anyone else??
dee
deeg1225@amug.org
http://www.amug.org/~deeg1225/
---
Sticking my nose in here
to give my account of last Friday's show 'cause I heard a few days ago that no one else had.
Mr. Thompson was great. I was happy with the set list because there was less pandering to the marketplace by playing second-rate songs off the current album than usual.
Mr Thompson's guitar work has again advanced by leaps and/or bounds since last I saw him (Boulder, several years ago). He now seems to be starting to be able to improvise at will while holding down accompaniment - sometimes a bass line, chords, AND a lead line. Amazing.
The voice, full and strong.
Plenty of affectionate requests for songs from the audience. At one point Mr. Thompson had his concentration face on and was just about to launch into something delicate when somebody screamed out a song title. Mr. T had to stop and recompose himself, seeming somewhat flustered. Who could blame him - the song turned out to be Dimming of the Day. Who has ever written a better song than this?
A new song about Pat Metheny's justified rape of Kenny G. (probably available somewhere on the internet if you're a musical snob like me) was the funniest thing I've heard in years. Mr. T is on Pat's side.
Somebody called for How Many Times and Mr. T said, "Wow, that's really obscure - do you really want to hear it or are you just showing off?"
The running joke all night was "I'll do it after this one..." lying, of course. But during intermission he did do How Many Times and Poor Ditching Boy, another request that was seemingly refused earlier.
Nice theater, great sound. Great show, and I was happy to finally cop a copy of Celtschmerz in the lobby.
Capped off by a fine party at the Congress Hotel, drinking and assaulting passersby until after 2 AM, attended by wonderful people whose names I'm sure you'd recognize if I told you who they were.
Later y'all
Kirk Hawley
khawley@quik.com
---
A few notes regarding the Tucson show...
Richard noted early on in the show that this was first visit to Tucson and "there must be a reason for that" at which point someone yelled incomprehensibly (literally... I think it was in Spanish) - Richard quipped "that's the reason". Later, someone did ask why he hadn't been there before and he theorized that it was a changing demographic and that we were all actually from "Cleveland" and "Buffalo" (I secretly laughed because he was WAY off... I am from Chicago!) He also joked that the requests (much of the standard fare..."Beeswing", "Poor Ditching Boy", etc) weren't "Arizona requests" but when someone requested "End of the Rainbow" - he queried back "Why are YOU so different?"
The introduction to "My Daddy is a Mummy" was a highlight. He claimed that the United States was a country without any real history (which drew some playful jeers) - he said "sure, you got some of ours but that's about it" and he called the Boston Tea Party a "bloody waste of perfectly good tea if you ask me". He continued by joking that since we couldn't decide whom are next leader will be - Queen Elizabeth has decided to reclaim the U.S. for England.
"I Agree With Pat Metheny" was every bit as funny as everyone says. It was also cool that, near the end of the song, RT sings that (I'm paraphrasing) he's waiting for the day when they leave ol' Kenny alone and can go after Michael Bolton!!
The music was outstanding, of course. As for the new/Mock Tudor songs, "Cooksferry Queen" is a true gem in my opinion. He really tears into that song. It was also my first opportunity to see him play "When the Spell is Broken". I had been hoping to see how he manages to play that solo. It is really astounding and drew a loud ovation upon completion.
I'd like to see him come to Phoenix now...
Set List:
Mr.Rebound
When the Spell is Broken
Crawl Back (Under My Stone)
Cold Kisses
Turning of the Tide
Why Must I Plead? --- stopped shortly after started
Ghost of You Walks
My Daddy is a Mummy
Dry My Tears & Move On
VBL 1952
The Great Valerio
Walking the Long Miles Home
I Feel So Good
I Agree With Pat Metheny
Keep Your Distance
From Galway to Graceland
Sights and Sounds of LondonTown
Uninhabited Man
Beeswing
Cooksferry Queen
----ENCORE 1-----
Poor Ditching Boy
How Many Times?
I Misunderstood
----ENCORE 2-----
Dimming of the Day
Valerie
---
The Tucson 11/17/00 solo show
setlist, as I managed to scrawl it in my date book:
[new song -- didn't catch title ...." mystery..."]
when the spell is broken
crawl back under my stone
cold kisses
turning of the tide
why must i plead (CUT short)
ghost of you walks
my daddy is a mummy
dry my tears and move on
1952 vincent black lightning
the great valerio
feels so good
i agree with Pat Metheny
walking the long miles home
Galway to Graceland
sights and sounds of london town
uninhabited man
keep your distance
beeswing
cooksferry queen
encores:
the poor ditching boy
how many times
i misunderstood
encores 2:
dimming of the day
valerie
Incredible night overall. RT seemed in a good mood and had lots of good banter between tunes. The venue, the Berger Performing Arts Center, was a great hall -- KUDOS to the local promoters who booked OH. big applause all show long; 2 encore sets. OH big smiles at the end.
I think this was the best solo show I've seen yet; an inspired set list and things i nearly wept hearing live (valerio). the ballads and more emotional fair were especially inspired.
can someone fill in clueless mark on what the opening song was called? (and no, it wasn't mystery wind...). he did i false start on why must i plead (per an audience request) but gave up after a half a minute -- i think he muddled the lyrics and got frustrated.
As others noted it was a rather boisterous crowd and there were lots of calls for songs all the way through. new tunes daddy/mummy and pat metheny were both funny and had the everyone in the hall in stitches.
How many others on the list were at this Tucson show? I know you were there, Dee; forgot to drop you a line before heading down.
Best part of the evening was turning on a fellow music fan to RT. Kelly knew the name but that was in. And man, was she blown away by his performance!! This was my second RT show this fall (send the doctor) -- we caught the RTB tour closer in Anaheim in September.
Mark Bartlett
mark.bartlett@asu.edu
Librarian, Head of Technical Services
Ross-Blakley Law Library
Arizona State University
P.O. Box 877806, Tempe, AZ 85287-7806
480.965.4867 Fax: 480.965.4283
---
>didn't catch title ...." mystery..."
>can someone fill in clueless mark on what the opening song was called?
MISTER Rebound :-)
on the vinyl release available through Flypaper or BongLoad.
sorry i missed you, Mark. dee