Auckland, New Zeland,
and locations throughout Australia !
February 2001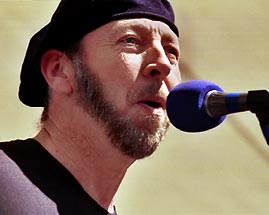 RT clan of the alphane moon?
Hi, this is a note from the Auckland show, 3 Feb 2001, Bruce Mason Center.
Apologies for not compiling a set list, but following are some highlights:
A wonderful opening set by Mahinirangi Tocker: she started off her set and finished her set with some traditional Maori a capella vocals, which was great -- and of course, she's an extremely exceptional songwriter and vocalist.
The set list is essentially the same as the 29 December 2000 Edinburgh show, in different order. First song was "Sights and Sounds of London Town." The exceptions are that OH did *both* "I agree with Pat Metheney" *and* "It's for Madonna" back to back. Followed by "Daddy is a Mummy."
The Bruce Mason Center is a good small hall with modern and highly effective acoustics. At times I thought OH was going a bit to heavy on the reverb and volume for such an intimate venue, but it really worked. His vocals were exceedingly strong. Dynamic range and control, vocal and guitar...utterly superb. Having not seen him live before, I wasn't actually prepared for such a uh, masculine stage presence and such a passionate, driving delivery.
If you've ever sung in a large choir in a church with good acoustics, or played a particularly good guitar right next to your breast while singing, you'll know what I mean: your chest cavity resonates with the instrument, and with your singing partners' and, if you're lucky, with the whole hall. OH had the whole hall ringing like a bell, crying like the wind and just about every emotion possible in between.
He saved "Valerie" and "Beeswing" for the encore. "Tear Stained Letter" was suggested in the "Is there anything I haven't played that you'd like me to" section of the set, but deferred. Claimed that he'd *told* the band to be at Heathrow by 9, but they must have been out late the night before...
The first few rows of the audience were like a who's who of New Zealand music. There were also present many members of the Devonport and Titirangi folk clubs :-) scattered throughout the audience. At one point he did suggest a "singalong like in a hootenanny or a folk club," grimacing comically at the word "folk club" and then launching into "Crawl Back."
I kind of wish that someone would have had the courage to go up on stage with him for a duet or more...but I don't think even the Finns felt they could add anything to this singular perfection on stage, one man and his Lowden who very easily could have kept the entire Bruce Mason Center spellbound with no sound system and no effects pedals at all.
What did he wear? Faded, slightly baggy jeans, a black rugby shirt and of course, the black beret. There was an odd lighting effect (or something) that looked like a pale turquoise green glow around his left ear on occasion. He was clearly in tremendously good health and good spirits, and had been having an extremely enjoyable time socializing with the muso's that made up much of the audience.
Ah well, that's the news from Lake Woebegone.
Enjoy!
Cheryl Fillekes
cheryl@virtualspectator.com
---
Forwarded from Rob Lake:
Setlist
1. Sights and Sounds of London Town
2. When The Spell Is Broken
3. Crawl Back Under My Stone
4. Cold Kisses
5. Turning of the Tide
6. Ghost of You Walks
7. My Daddy Is A Mummy
8. Dry My Tears and Move On
9. 1952 VBL
10. The Great Valerio
11. I Feel So Good
12. Madonna Song
13. I Agree With Pat Metheny
14. Walking The Long Miles Home
15. From Galway To Graceland
16. Keep Your Distance
17. Uninhabited Man
18. Cooksferry Queen
Encore 1:
19. Words Unspoken, Sight Unseen
20. Valerie
21. Beeswing
Encore 2:
22. Wall of Death
23. Bathsheba Smiles
24. Dimming of the Day
The Bruce Mason Theatre holds 1000 and was almost full. The city has a population of well over 1 million. Reasonable number of posters visible in the city. Free publicity from radio interviews should have helped, and ticket prices were very reasonable ($50NZ), but still a few empty seats.
RT in usual black, with beret. Didn't recognize the guitar but was acoustic with no pick guard, but an armrest - Ferrington?
Audience predominantly on the far side of 40 but at least that meant they shut up and really listened.
Valerie and Beeswing were requests. RT seemed unsure whether to do the Madonna Song or Pat Metheny, finally decided on the Madonna song, but also did Pat Metheny in response to an audience call. A call (obviously from an internet reader) for "Whoops I did it again" prompted the response "How did you know I did that?"
Several songs had a vibrato effect on the low guitar notes, and voice effects on the vocals in Valerio, added by the soundman (presumably Simon). Sound was brilliant throughout, and the final instrumental section of Valerio was stunning. It filled the room with an atmosphere of wonder.
Willy Keats
wkeats@earthlink.net
---
G'day all,
I'm not on the RT list anymore but I thought a few of you Fairporters would like to hear of RT's gig in Sydney last night. Currently touring Australia RT played Sydney's Enmore Theatre, where he also appeared on his previous tour 4 years ago. The Enmore is an old place a bit the worse for wear with no luxuries such as air conditioning or seats that don't give you a pain in the arse by mid gig. BUT when RT plays his Sydney fans would go & watch him anywhere anytime anyplace & the Enmore was chocka. As RT opined through the gig - lots of old chums out there I see! I didn't note the set list but it included songs from as far back as the early 70's "Great Valerio","Dimming of the Day", right thru to about 4 tracks from Mock Tudor. He also rolled out 2 humorous little ditties recently penned perhaps just for the tour. The first, to the scottish tune sometimes known as "Marie's Wedding", but lyrically about Madonna's recent wedding in a scottish castle was bloody hilarious. The second titled "I agree with Pat Metheny" ("Kenny's talents are too teeny") is about comments made by Pat Metheny on his website in regard to the sacrilege of Kenny G recently heard overdubbing himself onto a Lois Armstrong track. What can one say about RT that hasn't been said so many times. Nothing really. I went with a mate who hadn't even heard of RT before last night - his first comment after the gig was - "Can that bloke play or what - I thought there were 3 guitarists up there - when is the new best of album coming out?". Yes RT solo with just his giutar, songs, humour & stage prescence, can win fans no worries. After 2 hours & two ample encores we rolled out into a rainy & steamy Sydney summer evening hoping it won't be another 4 years before RT's back in town.
Have a good one, Frank, Sydney.
Frank Carsburg
frankc@comcen.com.au
---
Bruce Mason Centre
Review: David Lawrence
When this mild-mannered English guitar hero wondered aloud during the first of two encores on Saturday night whether there was anything anyone wanted to hear, there were a dozen or so instant suggestions.
He has been recording for close to 35 years, and the back catalogue is extensive.
He had started with Sights and Sounds of London Town (the opening words are "Gillian she's" although my kids insist he sings "jelly and cheese") from his latest album, Mock Tudor, and much of the show was recent rather than vintage Thompson.
He has a fervent and faithful following and everything was warmly received. But the older stuff went down best.
Requests for the exuberant Valerie and the haunting Dimming of the Day (which slightly overstretched the serviceable vocals) were dutifully answered, although he didn't hark back as far as his Fairport Convention days.
No Tear-stained Letter either, or Shoot Out the Lights or Hokey-Pokey or Walking On the Wire or Al Bowlly's in Heaven ... and nothing from his timeless collection of instrumentals, Strict Tempo.
Still, what he played was a treat because he plays so well. You could swear he had a couple of assistants, but it was all from his own digits (except for an occasional touch of reverb) as he coaxed or wrung the full range from an acoustic Lowden.
For someone whose lyrics have their fair share of death and despair, he comes over as a genial character, and there were a couple of jokey numbers, one updating Marie's Wedding to take in Madonna's nuptials and the other satirizing Kenny G's "duet" with Louis Armstrong ("a meeting of great minds, how nice/like Einstein and Sporty Spice").
No one should have felt short-changed after a near two-hour set. It is just a pity he couldn't do a second show and correct the omissions. And then maybe a third ...
nzts.nz@caverock.net.nz
NZ Herald Online Story
---
Glorious songs, great singing,
from a true troubadour
RICHARD THOMPSON
Reviewed by BRUCE ELDER
Enmore Theatre, February 5
On paper a great concert is such an artless and effortless experience. All you need are a bunch of great songs, some great musicianship, a singer with a great voice and an enthusiastic audience to applaud and cheer at the appropriate moments.
In practice such a collision of circumstances is so rare that, if you're lucky and a regular concert attendee, you'll experience it once or twice in a decade. This was one of those experiences.
Richard Thompson, pared down to a mesmerizing minimalism (dressed in black and accompanied only by his acoustic guitar), delivered two hours of material he has built up over nearly 30 years. It was a near-flawless show.
If you came along wanting to be seduced by Thompson's guitar playing you would have spent most of the night staring at the stage trying to equate what was being played with what was emanating from the speakers. For goodness sake, most of the time the man sounds as though he's accompanied by a guitar orchestra. He plays bass, rhythm and lead guitar at the same time on the one instrument. And, if that isn't enough, every song offers opportunities for some truly heart-stopping improvisation. If you have heard all these songs before - and who among Richard Thompson's fans doesn't know From Galway to Graceland, Dimming of the Day, The Great Valerio, 1952 Vincent Black Lightning and Beeswing, just to name a few - then you sit transfixed as Thompson, who must have sung them all 1,000 times, finds new life and meaning, new nuance and subtlety as he gently reaches beyond the old recorded versions.
If you came along for the singing and the lyrics you would be equally satisfied. Thompson has a fine, deeply passionate voice ideally suited to his songs, which range from in-your-face rock'n'roll (he took I Feel So Good at breakneck pace) to delicate balladeering (Beeswing and Dimming of the Day were both highlights). His lyric writing is steeped in the English folk ballad tradition, embracing both story songs and hard-edged ruminations on human frailty and the realities of love.
And if you want humour, Thompson, who was quite serious and po-faced the last time he was here, has a couple of marvelous throwaway numbers which will never make it on to record. There's his scathing and witty attack on Madonna's Scottish wedding (complete with suitably Scottish accompaniment) and his satiric tour de force I Agree with Pat Methany, in which he lambastes Kenny G for daring to digitally duet with the long-dead Louis Armstrong.
It all works because it is done with unpretentious sincerity, great virtuosity, extraordinary musical inventiveness and an easy warmth. Thompson is about as close as the electronic global village will ever get to a medieval troubadour. He comes to town, plays his songs, enthralls and subtly educates his audience, and then moves on.
At the end of the night you are left with the extraordinary sense that this two hours was little more than the tip of the iceberg. Where were I Mis-understood, Al Bowlly's in Heaven, Two Left Feet and all those glorious songs from the Fairport Convention days?
Then you realize that if Thompson immediately came back onto stage and did another two-hour set it could be full of the great songs he omitted from this remarkable set.
http://smh.com.au/news/0102/07/entertainment/entertain6.html
---
Last night in Melbourne very hot.
Great venue.. Melbourne Concert Hall, acoustics brilliant. Holds almost 3,000 people. I'd say there were nearly 1,500-2,000 there. Opening act: Chris Wilson (vocals) and Shannon Bourne(?) (guitar). 30 minute set. Although not my cup of tea (blues type music), Chris has got a great voice and plays a mean harmonica.
RT: don't have to say anything do I? Audience very receptive.
Played a lot off Mock Tudor, also played the new one "Word Unspoken, Sight Unseen". Sounded good on the one hearing. Only two from the '70s The Great Valerio and Dimming of the Day. 5 from the 80s: Wall of Death, Shoot Out the Lights, Valerie, Turning of the Tide, Keep Your Distance. The rest from the 90s. I suppose that's why he's still so good. Acts that have been going as long as him rely heavily on old material. Speaking of which: With a big grin on his face, he asked whether we'd be going to see Deep Purple, who are touring here soon eluding to it being a good show (tongue firmly in cheek). Then he asked whether we'd be going to see Bob Dylan; he then stated facetiously "He's crap!".
Sorry that it's over. I wish he would stay out on stage for 4 hours. Selfish bastard arn't I? We only get to see him once every 4 years or so, if where lucky. Looks as if I'll have to save up one year and travel OS to see him perform with his band. Still yet to see him live with the electric guitar. Oh well one day.
See you in 2005 RT and thanks.
Oh and one question to Donnie Graves, Flip. How about putting the animated film of "I Feel So Good" on and enhanced CD for the up coming "Action packed" CD....in not on all CDs, how about on a limited edition for us fanatics?
Brian Grills
Brian.Grills@latrobe.edu.au
---
Guitar Hero Transforms Concert Hall Into a Big Folk Club
(Sorry John, it's ironic!)
The last time I was in the Melbourne Concert Hall I heard Arvo Pärt's Berlin Mass performed by the Estonian Philharmonic Choir one or two years ago - an exhilarating musical experience of a different kind. I was surprised to find that one man - in black jeans, black tee and black beret, of course - and his guitar could fill the hall with sound in the same way.
There was a small but visible number of nubile young girls and, er, nice young lads in the audience. The set felt like an extension of the Mock Tudor promotion with his '90s work well represented. 'For Madonna' and 'I agree with Pat Metheny' got great responses - Australians have a habit of not taking their heroes too seriously. Only problem with these 'fun' numbers was that having heard so much about them the surprise - but not the enjoyment - was a bit muted for me.
After some spontaneous echoes of 'Crawl back' RT invited us to sing along to 'Sights and sounds' and a few others, but from where I sat this was a rather lame affair. Having only been here for symphony and ensemble performances I had trouble thinking of the Concert Hall as a '(shudder) folk club'. At least he tried.
Maybe someone can confirm that I heard this in 'The great Valerio':
Come, all you tungsten tumblers,
are you really ready yet?
No unseen hand will pluck you
when you tumble to the net.
(I've only heard the version on _Watching the dark_, with 'upstart jugglers'.)
'Word unspoken, sight unseen' sounds like a solid addition to the tortured-romantic repertoire, though it's difficult to comment on a new song on first hearing. Stop pushing 'Action Packed', Richard, give us a new album!
Low points: what, no 'Cold kisses'? no 'Galway'? no 'Al Bowlly'? you get the drift
High points: no Britney, thank goodness
>From the audience chatter as we spilled into the muggy night to the sounds of 'Yellow Submarine', it sounded like a good time was had by all.
Claudine
Melbourne Concert Hall 8/2/01
Bathsheba smiles
God loves a drunk
Crawl back
Sights and sounds of London town
Ghost of you walks
Turning of the tide
For Madonna
Dry my tears and move on
Vincent
The great Valerio
I feel so good
Shoot out the lights
I agree with Pat Metheny
Walking the long miles home
Keep your distance
Uninhabited man
Beeswing
Cooksferry Queen
Dimming of the day
Word unspoken, sight unseen
Wall of death
Valerie
Claudine Chionh - Melbourne, AU - claudine@vicnet.net.au
Let's make Melbourne an enclave of Linux-wielding hippie geek vegan dykes - and those who don't quite fit that description. -- jenn, on linuxchix
---
Set list
Bathsheba smiles
God loves a drunk
Crawl back (under my stone)
Sights and sounds of London town
Ghost of you walks
Turning of the tide
Madonna's Wedding
Dry my tears and move on
VBL '1952
Great Valerio
I feel so good
Shoot out the lights
I agree with Pat Metheny
Walking the long miles home
Keep your distance
Uninhabited man
Beeswing
Encore 1
Cooksferry queen
Dimming of the day
Encore 2
Words unspoken, sight unseen
Wall of death
Valerie
RT was in very fine voice and interacted well with the audience with good humour. Guitar playing exemplary as usual, using some electronic effects on only a few tracks.
What can't he do? Writes, plays, sings - an extraordinary catalogue of songs to select from - with almost instantly recognisable and distinctive tunes.
Richard
rfsman@telstra.com
---
Got back from the Melbourne concert
last night after a four hour drive at 3 am very tired but feeling fine. This was the first time I'd seen RT live and I was blown away. I thought an acoustic concert would be very nice but a bit too laid back - but boy can this man rock! Others have posted the set list and there were too many highlights to list. I concur with what others have said about the amazing number of parts he appeared to be playing on his guitar. Unfortunately I was on the wrong angle to see much of the finger work, but it was truly an awesome sound.
Some random memories ...
The acoustics were superb from where I was sitting. The seats were comfortable and I was able to get lost in "the musical carpet ride" that RT promised us at the start.
I'm glad he played Dimming Of The Day and was pleasantly pleased with the performance ex-Linda. I also enjoyed the novelty numbers and their introductory stories. I was hearing all the Mock Tudor songs for the first time - I've had a copy on order for 6 weeks but alas it didn't arrive in time for me to accustom myself to it before the big night. I liked all of them although Uninhabited Man slipped passed me.
Someone seemed to have a Teddy obsession and was yelling for Teddy songs. At one stage he yelled something like 'Do one for Teddy' and RT asked 'What?' This person then repeated the request and RT looked bemused and replied "Is that some sort of code?". Later on after another Teddy request RT said something like "Look, he's not hear alright! - Get over it".
A word about the openers - Chris Wilson and Shane O'Mara. They only played five songs (including one encore) but Chris has an incredibly powerful voice and spot-on harmonica playing. Shane is a very good guitarist and works with a number of Melbourne's finest around the traps, but was the subject of an ongoing joke all night. When the duo were introduced at the start the voice over lady wrongly announced Shane Bourn. Bourn is a Melbourne comedian and the announcer had obviously had got muddled up at the crucial time (or was given the wrong info). Anyway, before one song Chris said "This one goes out to the Bourn family" . Later RT also complemented the opening act as Chris Wilson and Shane Bourn with tongue in cheek.
Andrew Patterson
patto@iconnect.net.au
---
Greetings all
A brief review of last night's RT show in Brisbane. My apologies if someone else has already posted a review.
Another hot summer night up here in the northern sub-tropics and humid enough to instantly rust the strings of any acoustic guitar. There was a great buzz as about 150 - 200 RT fans gathered in the lounge of the Tivoli Theatre, knocking down quite a few beers and other liquids.
The Tivoli is a great venue, and the crowd was in a top mood. It was like a celebratory gathering of long-lost, distant relatives that you've never met! After a very good support act by two guys, whose names escape me (sorry), RT wandered on to a rapturous response, and powered into Bathsheeba Smiles.
I felt that RT was most relaxed, and more communicative with the crowd than on his last visit here. His playing was just wonderful, and his voice seems to have gained strength since I saw him last. The sound at the Tivoli was superb, and RT had us hanging on every note and every word. The dynamics of his performance are just wonderful - the delicate, pure, hanging notes (I think just about everyone forgot to breathe during the Valerio ending) through to the powerful, thunderous, multi-layered rhythms (one woman in front of me had her fingers in her ears at one stage!). How that Lowden acoustic isn't completely trashed by the end of his show is an X-files mystery. (Perhaps, Leadbelly-like, RT sold his soul to the devil for the perfect acoustic)
I Agree with Pat Methany had people in stitches. Soon after RT called for requests, and was met by a barrage of shouts. I just started laughing, as it was hilarious to be in a room full of RT fans, all shouting out favourites (bear in mind that I have not yet bumped into another person in the last three years, apart from an old friend from Sydney, WHO HAS HEARD OF RT!!). One person called for Tear Stained Letter and RT said "I need the combo for that!". Looking left and right at empty spaces on the stage he cast a questioning look back at the crowd, "I told 'em Heathrow, 9am. Anyway, if I brought 'em you'd have to pay four times as much!" to which some wag shouted "Hey, we could see Kenny G for that!". Later, another call for requests brought a massive shout-fest, and in a moment's silence a bloke in the front row leapt up and shouted "Play 'em all - AND COME BACK NEXT YEAR!". RT cracked up, as did we all.
Other thoughts:
The cleverness of those songs, and how his electric stuff comes alive in a different guise when played solo on the acoustic.
My Daddy Was a Mummy - RT attempting to remember (or pretending to forget) verses
A lovely tune I'd never heard before, Word Unspoken, Sight Unseen (?)
Mind-numbingly great version of Shoot Out the Lights
Those lines in Valerio - I also thought it was "no unseen hand will pluck you, when you tumble to the net"
RT came back for two encores, ripping through a list of requests that included a terrific Read About Love. RT also showed that he's human (shock! gasp!) by apologizing for missing a verse of Beeswing (didn't notice somehow). He also blew a first line in one of the verses of Dimming of the Day, but who cares! The atmosphere was just so positive and fun that all was enjoyed.
And then 'twas all over. After unsuccessfully trying to talk a stagehand into letting me take RT's written song-list (or something scribbled anyway) off the floor ("He might need it!"), we were out into the warm Brisbane air, and laughed our way home.
We wait so long, and it's over so fast. But hey, I smiled the whole way through the next woeful day at work.
Song List (from memory, not in order):
Bathsheeba Smiles
Turning of the Tide
My Daddy was a Mummy
I Agree with Pat Methany
Read About Love
Bees Wing
Dimming of the Day
Wall of Death
Word Unspoken, Sight Unseen (?)
Cold Kisses
The Great Valerio
Galway to Graceland
If You Don't Want Me
Valerie
Crawl Back
Cooksferry Queen
Walking the Long Miles Home
Sights and Sounds of London Town
1952 Vincent Black Lightning
God Loves a Drunk
Ghost of You Walks
Feel So Good
Shoot Out the Lights
Cheers all
Robert Ashdown
RAshdown@bigpond.com
---
The Octagon Theatre, Perth 15/2/01
Thursday night at the Octagon was a milestone in My Life As An RT-Farty. After almost ten years, my first opportunity to see the man himself. I almost didn't make it -- I was expecting to be called in for work on the night, and only knew for sure that I would be free late the night before. I felt almost nervous, like someone meeting a pen-pal for the first time, after a lengthy correspondence.
Although I haven't seen RT before, I know his catalogue so well, both live and recorded, and have read and heard so much of performances past and present, that the evening had few purely musical surprises for me. As a result, this report will concentrate on what I was most sensitive to -- the feel of the show, the look of the man, trivial maybe, but the real essence of live performance, surely, the stuff that you can't get down on tape.
The venue was Octagon Theatre, a performance space/lecture hall in the leafy grounds of the University of Western Australia, a Spanish-style limestone campus on the banks of the Swan River. I have worked and played at the University for much of my life, and met Nicki there, so it was a memory-laden venue for such a significant event. As we approached the Theatre, beneath gum-trees in the humid twilight, a couple of young Chinese students were practising a dragon-dance on the lawn.
The Octagon seats about 800 people, with steeply raked seats in a half-octagon shape around a wooden apron stage. RT was placed at the back of the apron, so even though we were in the front row we weren't exactly close. The place was probably a bit more than three-quarters full -- the usual folky crowd, with a moderate infusion of young blood. (Those who know tell me that Hank Marvin, now resident in the Perth Hills, was in the audience.)
The opening act: Bernard Carney, local folk-club stalwart and Bard of Rottnest Island -- he has a pleasant enough line in ragtime guitar and comic numbers, but was not exactly a challenging or exciting choice.
THE MAN: Half-way through the first interval, the new-agey background music gave way abruptly to -- Bobby Gentry (? that song about dark deeds on the Tallahatchie? Bridge), Procul Harum (Whiter Shade of Pale, the first song Nicki's parent's ever danced to), then a modern sounding female singer I didn't recognise, finishing just as the lights faded and RT bounded on ...
---
He was a little shorter than I'd imagined (isn't everyone?), with rather stumpy legs and a slightly knock-kneed stance while playing. The outfit? Black. (Surprise, surprise.) The classic 'Freedom for Tooting' look. Nicki claimed to find the sight of nipples prominent beneath a soft black t-shirt 'disturbing', but would not elucidate further. Beret pulled back tightly, forming three symmetrical 'horns'. A big grin, and a manner that seemed equally compounded of nervous energy and diffidence. You can't tell me that RT doesn't have some Asian blood in him somewhere. I've noticed this before, in photos, but it was still more striking in the flesh. Even some of his mannerisms -- we've had a Japanese guest staying with us for several weeks, and RT's crinkly, slightly embarrassed smile, accompanied by a bob of the head and narrowed eyes, was instantly recognisable.
I came discreetly armed with pen and paper, but it was too dark to take notes. I could recreate the setlist from memory, if anyone asks. It seemed essentially identical to the recently reported ones, even down to the 'requests'. ('Beeswing' and 'Dimming'.) No 'Mr Rebound', though.
'Bathsheba' to start, followed by a manic 'Crawl Back' -- the vocal coda was positively frenzied. A slight hitch at the start, when he paused in the first chorus for audience participation and got blank silence, causing him to lose his place. It was a bit much to expect from the audience, really, not having warned them, and only the second song of the night. I wondered if this was his way of seeing how many people out there had bought his latest CD. They got the idea quickly, though, and joined in enthusiastically enough for the rest of the song.
I've said that the evening had few purely musical surprises -- the biggest one for me was just how LOUD it was. A bit too loud for the intimate acoustic, really. I'm not sure if it was the mix, or just RT's ferocious musical attack, both vocally and instrumentally, even on some of the quieter songs. It tended to flatten out the sound. Personally, I would have liked a little more deliberation, on occasion. The unremitting intensity seemed, at times, almost defensive, as if it was keeping the audience at a certain distance.
Having said that, the next song, 'Cold Kisses', was dark and moody and controlled. It was Nicki's favourite performance of the night, and it received an equally positive response from the forthcoming Paterson (now _in utero_, known to us, for complex reasons, as 'Angelfish Junior', or 'AFJ'). I'm told AFJ's other favourite, suitably enough, I suppose, was 'My Daddy is A Mummy'. This concert was undoubtedly the most intense auditory experience he (we _think_ it's a he) has had -- it will probably scar him (?) for his (?) life to come, one way or the other ...
I won't list all the other songs -- it was a good two hour show, without a break, except for string replacements and chit-chat. Highlights? The powerful and harrowing 'Shoot Out The Lights', certainly. (Oddly relieved, in one of the instrumentals, but a funny little folk twiddle, like a tiny jig.)
'Uninhabited Man' definitely answers my question about which of the 'Mock Turtle' songs have gained most stature in perofrmance, although I still wouldn't place it quite in the absolute top rank of 'classic' RT songs. Great to hear solid versions of 'Turning of the Tide' and 'When the Spell is Broken'. 'Dry My Tears' seemed a bit skimpy without a band. 'Sights and Sounds' sounded fabulous, but lyrically I find it a bit like watching old re-runs of 'The Bill'. 'Walking the Long Miles Home' was a pleasure.
The guitar work. What can I say? I have to admit something: I think that RT is the most overrated underrated guitarist in the business. Of course he's brilliant, extraordinary, amazing: but I can see why his playing hasn't made him many friends in the 'real' world. It's easier to praise than to really like. I don't mean that negatively, it's just that his current style of playing doesn't really seem to WANT to be liked, on the one hand, while not wanting unduly to impress on the other. It's as if the guitar speaks a language of its own, knotty and austere, unconcerned by whoever is listening, but of intense personal meaning -- to judge by the scowls and grimaces that accompany it.
I loved the guitar work, personally, for all its Celtic knottiness: the way that traditional motifs have become a natural part of its idiom, even in songs that make no pretence to 'folkiness'; its determination to explore complex landscapes rather than make pretty pictures; its almost Puritan unwillingness to over-indulge for the sake of sheer sensual gratification (ooh-er!). I wish that this style was more evident in his recordings. (I can see, for commercial reasons, why it isn't.) I can't help feeling a little sad, though, that it seems to have become an instrument for scratching certain complex and difficult itches -- pain, anger, fear, frustration -- at the expense of certain others -- hinted at in the coda to 'Valerio'.
The jokes? We were informed that the original Perth, in Scotland, is an unbelievably boring place, to be avoided at all costs, accompanied by the old joke about Eskimo words for 'snow'. When taking out his large and shiny box of strings he commented that it reminded him of 'a box of elephant prophylactics' ( a fair comment) -- 'but then lots of things remind me of prophylactics'. (Hmm ... ) While replacing the string he told, at great length, the old one about the cast away and Ursula Andress -- only to find, at the end, that he had fitted the wrong string. This led into the audience singalong of 'Twist and Shout'.
The best impromptu of the night (I assume it was an impromptu) came towards the start, when someone at the back of the hall loudly yelled '68!' RT made a comic pretence of bewilderment, treating it as a song request, and started to suggest songs with numbers in them, finishing up with '76 Trombones' and 'Neun und Neunzig Luft-Ballons'. Towards the end he was invited back to the house of a lady audience-member -- 'I know where you live -- 14 Acacia Avenue, isn't it? -- I'll come if I can bring along the lads too -- and some of my old army chums -- Ginger and Curly and Spud ... ' You had to be there, I guess ..
The audience filed up the stairs to the 'Avengers' theme. (RT really should have been wearing his 'Mock Tudor' bowler and suit, a la John Steed, the professional Englishman so beloved of foreigners.) We couldn't hang around, for family reasons. Today the local paper ran a very respectful review, all the usual stuff, with a serious looking photo. Reference was made to two songs: 'Who's Been Sleeping in My Bed?' (I think I can figure that one out) and 'Wild Women With Hearts of Dust' (say WHAT?).
Cheers!
NEALE PATERSON
Perth, Western Australia
nihil@iinet.net.au
---
Just a few jottings
about the two shows on Sat and Sun, set list will have to come later as I'm knackered after two and a half days of standing , dancing and over consumption ( I've been functioning only due to the consumption of countless cups of coffee today )
Both RT sets were great ! Richard looked really happy to be performing on both days, despite temps of over 34 on Sat and 39C in the shade on Sunday ! Two short sets, the Saturday gig was FILMED in its entirety and should be available as a radio broadcast- either in FM or AM . Hopefully some of the video footage should make it onto the ABC Womad special which will be broadcast over two days in April. List members, write to the ABC NOW and request the RT set as part of the show !
Sunday was fun, Richard broke a string during "I misunderstood", sang the rest of the song accapella whilst changing the string and had to get someone to run backstage to fetch another one . As he was re-stringing he shouted " You're fired ' to the backstage crew, all in jest however, he wasn't serious . Jimmy Shands had a good sing along chorus from the audience ( the front area being full of Adelaide fans , Michael Hunter , Michael Prescott, Dave Kelly, Ian Fry , Vick from Big Star records and others who knew the words )
Ian was all over front of stage taking photos so we may have some nice pics to go with my Womad 2001 web site when its up and running . Saw Nancy , Richard's wife, at the record store, we asked her if Richard was going to autograph Cd's , she said she doubted it and it didn't occur - Big mistake, if you want to build a fan base, get out there and be a presence !. They were selling Live At Crawley and some other Official Live Releases , which all sold out , and there were a lot of people buying Mock Tudor as well, so there was a chance to promote the RT profile wasted.
Anyway, the lad went down very well on both days, a more complete report from this end of the world later, after I've recovered !.
dave
great offwhite dude
coco95@senet.com.au
---
Thought you may find
the review below of interest, it's from the Courier Mail (Brisbane), and the reviewer, Noel Mengel, has kindly given me permission to transcribe it. Noel is this paper's excellent music writer. In a city mostly obsessed with MOR dirge-rock it was a real pleasure to find this half-page review of the RT gig with colour photo. In his reply to me Noel said that he had sent a copy of the review to RT's wife, who collects them.
Most embarrassing in my previously posted amateur review (amateur critics unite) was my gaffe about Leadbelly and the devil etc, thanks for the Johnson brothers corrections, I see the musical knowledge of list members is indeed vast!
Oh yeah, I forgot to mention that Brisbane is in Australia, but I figure you all worked that out. "It's so far away!" said RT, who was last here FOUR years ago. "Not if you live here - return soon!" we replied.
Robert Ashdown
RAshdown@bigpond.com
REALLY ROCKIN'
Richard Thompson, Tivoli Theatre
Noel Mengel
Courier Mail
February 16 2001
While Richard Thompson's music is regarded by those only vaguely aware of him as part of the folk world, this dazzling two hours of music underlined what his loyal fans know well. Even armed with just an acoustic guitar, Thompson really rocks.
His music has some traditional elements but there is not a "hey nonny no" in sight.
Recent additions to that vast catalogue - it has been more than 30 years since he left Fairport Convention - illustrate the point, and songs such as "Bathsheeba Smiles" and "Sights and Sounds of London Town" blaze with a rock'n'roll intensity that show he has as much in common with Pete Townshend as he does with folk.
Thompson is a mighty guitarist, whether it be his jaw-dropping finger-picking style that makes one guitar sound like three on the likes of "1952 VBL", or his slashing lead lines that can switch from Middle Eastern to '50s rockabilly in the blink of an eye.
In fact, there isn't a guitar player on the planet I would rather watch, but his instrumental prowess doesn't get in the way of the fact that he is a songwriter first, and a passionate singer to boot.
It is a difficult job to keep a crowd enthralled for two hours but the sheer diversity of styles - and the wit and intelligence with which he explores human frailties - seems to make the night race swiftly by. He can move from dark and unsettling on "Cold Kisses" (a man sneaks a peak at old lovers in his girlfriend's photoalbum) to aching love songs ("Dimming of the Day") and slice-of-life stories like "From Galway to Graceland" where a woman tosses in her marriage to be by the grave of her life's great love.
His greatest forte might be tales of heartbreak and despair, but Thompson writes a splendid comic tune as well. He wrote "My Daddy is a Mummy" for his son's class about ancient Egypt, with the punchline being that the song is an Elvis-style rocker inspired by both Memphises.
And "I Agree With Pat Methany" supports jazz guitarist Methany in his distaste for Kenny G's temerity in overdubbing his sax with Louis Armstrong. Line of the night: "It's a meeting of minds, like Einstein and Sporty Spice!"
All this and no "Withered and Died" or "Never Again", but the fact is that Thomspon could have played an entirely different set from his huge bank of tunes with no drop in quality.
Noel Mengel,