July 15, 2000
Chicago Folk and Roots Festival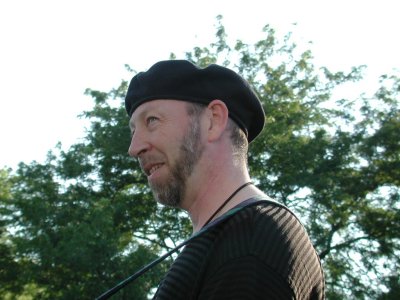 A gorgeous day for an outdoor music festival ...
Richard Thompson list members plan to get together ...
Hi all! sorry for the delay in getting this out. spinning too many plates in the air this week.
Andrew M. and I have decided: 3pm at Hopleaf for a pre-show meet. 3pm is when Hopleaf opens, and it tends to be fairly empty at that hour. *Many* wonderful beers on hand for your enjoyment, especially Belgian varieties and American micro-brews. There are numerous wonderful middle-eastern restaurants of various nationalities starting the block north of us, if you wanted to catch lunch first.
Hopleaf is in easy bus distance from Welles Park where the Fest is. Or if there are enough of us we can cab it. (Or if you have bicycles, that's best of all!) Here is the address: 5148 N. Clark St., Chicago 60660 (just south, perhaps three doors, from the intersection of Clark and Foster. Between an Italian restaurant and another bar) 773-334-9851 <<this phone has intermittent problems, so try again after a little while if you don't get through at first.>>
I'm the brown-haired woman with the greenish/grayish-framed glasses and the gap between her front teeth. If I'm not immediately visible, please ask the bartender.
*Really* looking forward to meeting everybody! This will be fun!
Louise M
of Michael & Louise's Hopleaf Bar, Chicago
lemolnar@mindspring.com
---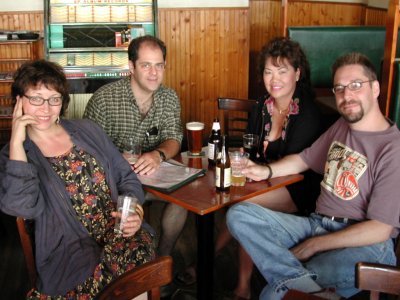 And shortly after 3:00 p.m., listmembers Louise, Andrew, Lena, and Jesse show up! Marc was a no-show, but was spotted at the festival. The beers were exactly as advertised. But beware! No Miller and no Bud, for those so inclined. We were able to go in one car and find a parking spot just one block from the entrance! Thanks for that snappy U-turn, Lena.
---
We arrived in time to catch the Mekons. For those Mekons fans out there, this was an unusual show even for them since it was all acoustic.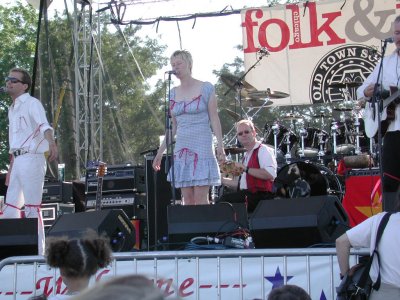 From the Chicago Tribune review,
The main stage predictably drew the largest crowd, presenting over the course of the two days everything from country to world music. The Mekons performed a pared-down acoustic set that featured fiddle, banjo, and Rico Bell's accordion. "Folk is where punk rock has come to die" ribbed singer Jon Langford, but in fact the Mekons has spent most of its post-'70s career exploring country, roots-rock, and reggae. Songs such as "(Sometimes I Feel Like) Fletcher Christian," "Wild & Blue," "King Arthur," and "Prince of Darkness" covered topics ranging from miner strikes to mutinies, presented with the band's trademark cynicism and black humor.
---
Finally, Richard prepares to take the stage ...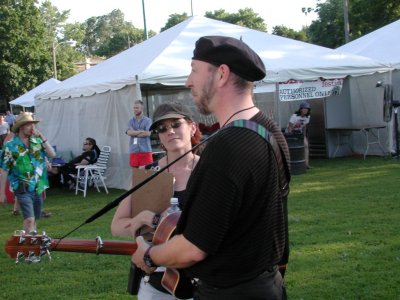 I'm having trouble with the setlist. This is as far as I've gotten with a little help from Andrew:
Sights and Sounds of LondonTown
Bathsheba Smiles
Ghost of You Walks
If You Don't Want Me
Galway to Graceland
Daddy is a Mummy
Great Valerio
Feel So Good
'52VBL
Turning of the Tide
Wall of Death
Cooksferry Queen
Crawl Back (encore)
... am I missing something?
Best wishes! --Louise
lemolnar@mindspring.com
eee! I remember!
He did God Loves a Drunk!
Near the end right?
---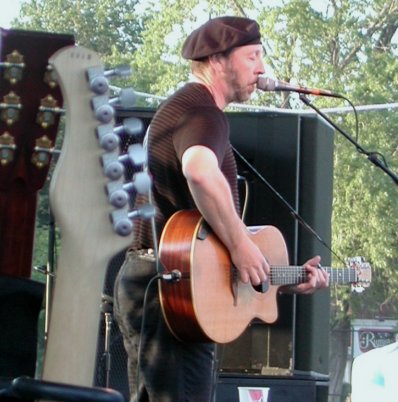 This was the first time I'd heard Daddy is a Mummy at a live performance.
From the post of Dr. Dave Moreman:
Oh my name is Amenhotep
I'm a Prince of the Nile
And when my Daddy died
He really went in style
They put him in his burial chamber
With his favourite things
For his afterlife journey
That's because he's a king

Now my Daddy is a mummy
He's inside a pyramid
Yes my Daddy is a mummy
Close the door and shut the lid

(repeat chorus)

Now the priest made a potion
and they rubbed on lots
They wrapped him up in bandages
Put him in a stone box
Then they covered him in gold
And they sealed it up tight
'Cos you wouldn't want him sneaking out
In the middle of the night!

(repeat chorus)

3000 years later
Well its really too bad
They put him in a museum
Won't you come and see my Dad?

(repeat chorus) x2

Well my name is Amenhotep
Be my pen-pal, write to me
Send me a postcard
to a 1000 BC
Send it off to Egypt
That's the name of my land
But please write in hieroglyphics
Or I won't understand!

(repeat chorus) x2
Dave
adm1@staffs.ac.uk
---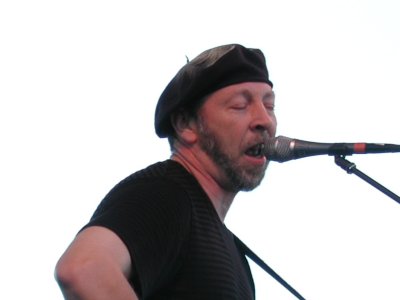 A gorgeous day for an outdoor music festival (we were very very lucky compared to past years). RT was relaxed and in good humor and good voice. Bantered happily with the audience, apparently winging it. Responded cleverly to a heckler. Seemed a bit distracted at times (it really *was* such a lovely evening, beautiful light, sweet breeze) losing his lyrics a couple times but recovering amusingly.
I've been trying to reconstruct the setlist; it was just too fine out there to do anything that organized. Here is the best I could do, although the order in the middle may be a bit mixed up:
Sights and Sounds...
("Want to sing?" he asked the crowd before a chorus; response was weak and confused, which he seemed to anticipate)
Bathsheba Smiles
Ghost of You Walks
Dry My Tears and Move On
Galway to Graceland
Daddy is a Mummy (with lengthy amusing intro, very kid-friendly, including references to Raffi and Pokemon
---go ahead, just imagine him saying "Pikachu"!)
Walking the Long Miles Home (this *really* is a great song)
Great Valerio (superb; wonderful coda)
Feel So Good
'52VBL (with a fine howl in that last verse. oh, no new verses though)
Turning of the Tide
Wall of Death
God Loves a Drunk (sublime)
Cooksferry Queen (fast! thrilling!)
Crawl Back (encore) (with an enthusiastic audience chorus to his left; so enthusiastic he had to tell them, indulgently, "no" at one point)
I know there were at least 5 other listers there, so cmon folks, please correct, add and clarify as you see fit! (hey Jesse, when did he go off so hilariously on that Eurovision song contest? And thanks again for claiming that nice ground so close to the stage.) It was *great* fun meeting you all: Andrew, Willis (Bill) & Lena, Jesse, Marc(!), and Gordon. I hope our paths cross again.
Louise
the Hop Leaf Bar, Chicago
lemolnar@mindspring.com
---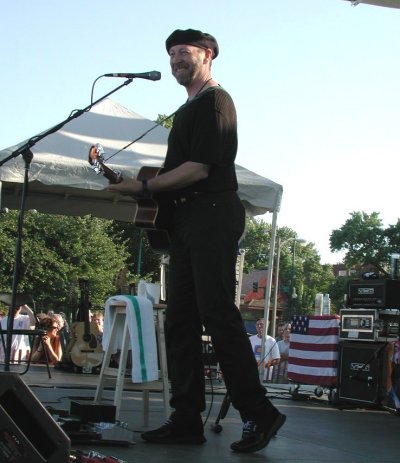 From the Chicago Tribune :
FOLK FEST UNCOMMONLY FREE-WHEELING
By Joshua Klein
Typically, the term `folk' refers to traditional music played and passed on through the years. But just as artists from Bob Dylan to Beth Orton have redefined folk for different generations of listeners, so has the Old Town School of Folk Music playfully toyed with the definition of its namesake.

Recent years have seen the venerated venue expand its programming to include music not usually considered part of the folk world. Most conspicuously, the Saturday night headliner of the two-day 3rd annual Chicago Folk & Roots Festival was punk poet Patti Smith, who is about as far from the stereotypical folk image as possible.

Or is she? One of the greatest things about the Old Town's somewhat-risky decision was the way it forced us to reconsider the way we obsessively categorize and thus segregate different kinds of music. Smith's music may not be rife with acoustic guitars and campfire-friendly melodies, but hers is music for the masses, and as such it's as good a candidate as any for being called folk.

Of course, the Folk & Roots Festival had plenty to offer that fit more traditional concepts of folk. Held in Welles Park near the Old Town School on a beautiful Saturday and Sunday, the festival gathered dozens of artists, vendors, and musicians to celebrate at the very least the sense of community implicit in all folk music...

Richard Thompson has a similar bleak streak, though his music stems from his roots in English folk instead of punk. An astounding acoustic guitar player, Thompson better fit the folk archetype than many of the day's acts. "I Feel So Good" took sarcasm to a new level, while "Turning of the Tide" and "Walking on a Wire" revealed the delicate nuance of heartbreak, the latter featuring another sublime solo...
Flip Feij"
flipfeij@zeelandnet.nl
---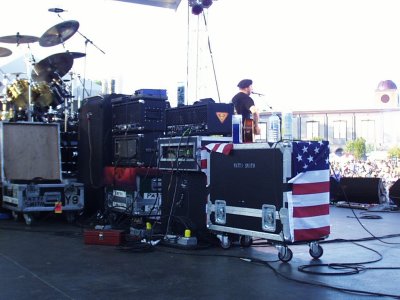 As the sun set behind Richard, he made a comment about the audience being blinded by his presence!
---
Spec21 wrote:
Also remember some pathetic crowd members screaming out a request for Dire Straits' "Romeo and Juliet" thinking it was an RT song??? Rather ironic considering that "Put it There Pal" is supposedly about Knopfler.
Hmm, I couldn't make out what they were screaming from where I was. Instead, behind me was a rather large rough intimidating sort of fellow (I figured one of the more hardcore punk Patti fans staking out his spot) who *kept* yelling "FASTER!" "FASTER *AND* LOUDER!" to which Richard quickly and charmingly replied: <something unintelligible to me, then> "This is a FOLK Festival! So hit the road mac!" Made the crowd laugh. I noticed the monitor guy frowning and staring at the heckler; next time I looked back (he'd been quiet awhile) he was gone.
Louise
---
Overall, I thought it was a very good show. The place was packed - I wouldn't be surprised it there were over 5,000 people there, maybe as many as 8,000. And a fair number of them payed close attention to OH's set. OH also made a guest appearance on one of Patti Smith's songs.
Mike B.
Mkebrooks@aol.com
---
Will we ever know what Richard thought of the show? As he left the stage he stuck out his tongue and made a face. What was that about?
---
And then Patti took the stage.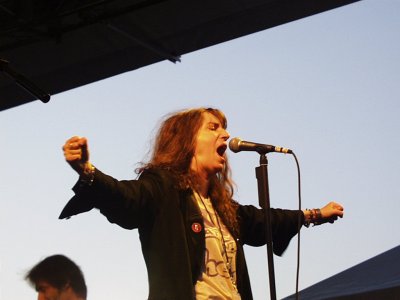 Also wanted to say that quite a few friends and acquaintances, who went to the fest mainly for Patti, have made a point of saying how impressed they were with RT, that they had no idea, wow, and so forth. Imagine he picked up more than a few new fans.
Chi Tribune yesterday printed nice large photos and positive reviews of both Richard and Patti. Yay!
Louise M, again
lemolnar@mindspring.com
---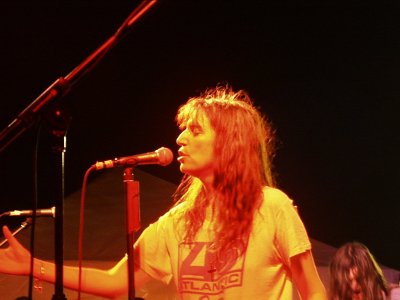 From the Chicago Tribune review:
Since her comeback Patti Smith has aimed to please, a goal that has made her recent performances both powerful and pleasurable Smith tore into "Glitter in Their Eyes," "Dancing Barefoot," "Summer Cannibals," and "Because the Night" with populist vigor. Her sole concession to folk was a wild rendition of The Byrds' "So You Want to Be a Rock 'n' Roll Star," which even Roger McGuinn may have had trouble recognizing. But like much of what Smith approaches, the song became hers, soaked with her charisma and the love of her audience.
---
A special thanks to the Elizabeth Rush agency, Donnie, Simon, and Richard - who made these pictures possible.
Willis Howard