Edinburgh
December 29, 2000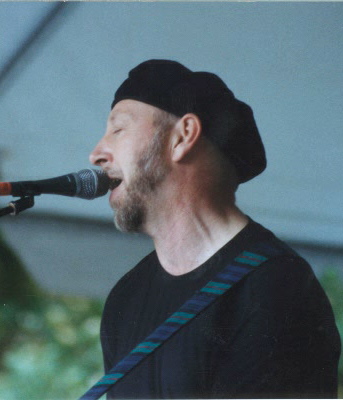 For Nancy & anyone else who's interested!
A set list is no problem. What's more I'll throw in whatever else comes to mind along the way. Don't know if this will help those 'jealousy issues' of your's tho'!
Sadly I didn't get to Bert's early enough to catch any listees who may have dropped by (my quips about getting 'encased in snowdrifts' were much nearer the mark than I thought they would be). Shame, but we'll hope for better luck next time. However I did catch some non-list friends who were also attending and a swift pint (ok 2 pints) of Deuchars IPA later and we were off.
The venue was amazing ... large gothic cathedral, wonderful granite pillars, seriously high ceiling, stained glass ...need I say more? Well yes I do. It was picturesque, atmospheric & had truly wonderful acoustics ... if only it was fitted with a heating system that could cope it would have been perfect. Not unbearable but respect is due to anyone who dared to take their coat off. Also I couldn't say whether the folk sat off to the sides had a clear view between the pillars but I was glad to be central.
Set list
-----------------------
Mr Rebound
When the spell is broken
Crawl back
Cold kisses
Turning of the tide
The ghost of you walks
My daddy is a mummy
Vincent Black Lightning
Great Valerio
I feel so good
Jimmy Shand (with a spoken intro on the great man's passing ... "A good innings ... respect due")
Galway to Graceland
Beeswing
Sights and sounds of London Town
Persuasion
Wall of death
I misunderstood
-----------------------
Cooksferry Queen
Dimming of the day
Valerie
-----------------------
Waltzings for dreamers
Bathsheeba smiles
-----------------------
What else to tell? Well I don't need to tell you how good he was but as my last couple of outings had been band gigs I was especially happy to be catching an acoustic set. First time I've caught 'My daddy is a mummy' ...ok he may never record it but it makes a change from 'Hamlet' as the comic interlude. My personal highlights were 'I misunderstood' and 'Bathsheeba smiles' but as these tend to turn up on any introductory compilations I have a hand in it would be wrong of me to suggest they were any better than anything else on the night. Worked for me tho'.
VBL had 3 bikes this time round - Nortons, Beezers (rings bells/sounds right ... whilst I have friends who appear to spend more time dismantling & rebuilding bikes than actually riding them I claim no real knowledge own on the subject ... as I'm about to prove) and something in-between them that I think began with G. At the time it sounded like Gretch's but that just leaves me a mental image of someone trying to ride round town on a big old fat bodied semi-acoustic guitar ... which can't be right. Help before I'm stuck with that image for good. 'Greavses' rings a bell ... does that make any more sense?
Beeswing to Wall of Death were the "Is there anything I haven't played that you'd like me to" section of the set ... tho' I didn't catch the shout for SASOLT. Al Bowley was suggested but declined because "It doesn't sound right with just me on my own". From acoustic sets pre Danny I'd beg to differ but that's a debate that'll undoubtedly never happen. I didn't get my request for Smiffy's glass eye ... & don't even begin to ask me why that one came to mind! Some coaxing was required for Persuasion ("I normally do it with Teddy so I only know the words to every second verse ... err ... despite having wrote it ... kind of") but he did have a go and we'll never know for sure whether some of the lyrics to the second verse were replaced by "dum dee dum's" simply for effect :-)
I did have to nip out briefly but I don't think I missed anything so no "I agree with Pat Metheny". Shame, I thought this was my chance to hear it at last. However it's been a while since I've seen him do 'Valerio' or 'Dimming of the day' so no complaints. I know there's posters out there who really like 'You?Me?Us?' from the recent albums but I lean much more towards Rumor & Sigh or Mock Tudor myself. Having said that 'Cold kisses' & 'The ghost of you walks' sounded mighty fine. Cooksferry Queen without a band still kicks ... in fact anything that leaned towards slapback echo (Turning of the tide, Valerie) worked a treat in that room. As for more delicate numbers, (Beeswing, Galway to Graceland, Dimming of the day) the sound simply carried. Absolutely gorgeous.
For tech heads:
One guitar was used through (the Lowden) with no broken strings or obvious problems (beyond forgetting to change the tuning before launching into the next track but these things happen, BTDT etc.). A brief glance at the pedal board suggested that it also contained the usual suspects - Sunrise pre-amp, Uni-vibe, a Boss pedal which I think was a delay and at least one something else I didn't get a good look at (I'm guessing DI Box & power supply). In addition there was some nice sparing/sensitive use of modulation at points in various tracks. One of my friends (who gets to play with this kind of stuff for a living) reckons that much of that was 'flown in' from the 2 Yamaha processors in the rack at the sound desk rather than any of the boxes at OH's feet. Makes sense considering the quality, the way they sometimes drifted in for some sections of a song and also the surprisingly large number of channels on the desk which appeared to be showing signs of life for a one voice/one guitar gig.
Dress code = black
"Bunnet" (hat!) = Kangol, also black
In closing let me just add that it's the first time I've seen OH play with a lifesize 'Jesus on the cross' suspended 30 feet above his head. However, for the acoustics alone may I suggest we cross our collective fingers and hope for a Cathedral/Church tour for sometime warmer in 2001!
Hopefully other will post what I've forgot to mention or didn't catch but I think I've just said more than enough for a year ... back to lurking for now.
Until the next time here's wishing y'all everything you'd wish for yourselves in the year ahead.
Have a good one.
al brand
alb@vennel.freeserve.co.uk
P.S. Was this what you were looking for Nancy?
---
It was all of those things
and I wouldn't have missed it for the world but - great acoustics? Not from where we were sitting. Our own fault for being slightly, ahem, confused about which of Edinburgh's many god-bothering establishments St Mary's was. So we ended up pretty much at the back and the sound was like a bad bootleg tape for most of the time - we couldn't make out much of the spoken asides at all. The slower number survived better.
It was still magical though.
<< In closing let me just add that it's the first time I've seen OH play with a lifesize 'Jesus on the cross' suspended 30 feet above his head.>>
I thought it was just begging for a gag - 'That's what happened to the last person I caught bootlegging one of my concerts' or something. It would have made a great photo..
Kevin O'Donnell
kevin@embra.compulink.co.uk
---
re: wonderful acoustics
Sounded fine from where I was sat (between a third to half way back). Also I was standing next to the desk during Beeswing waiting for a between song break so I could get back to my seat without disturbing folk. You say 'the slower numbers survived better' and Beeswing certinly sounded fine whilst I was standing there so I assumed it was all like that. Apparently not.
Now if you'd made Bert's before-hand you'd have found 4 west coasters would have 'got you to the church on time' ... lol. This is the second time we've almost caught each other at one of these outings. Here's hoping for 3rd time lucky.
re: Jesus on the cross
Yeah I thought it'd get a comment as well. Knowing of his weakness for Python I kept waiting for bit's of the 'Life of Brian' to creep in. Hmm, maybe not ... no point causing offence where none's intended.
cheers
al brand
alb@vennel.freeserve.co.uk
---
Happy Joy To All,
With the end of the year 2000 breathing down our collective necks, we must take a moment to reflect upon the love and joy we have received listening to Richard Thompson the past year. For me, it must be hearing "Mr. ReBound" and thinking of the slings and arrows we all encounter as we waltz through this troubled world of woe and strife. Life is very hard, but we must keep slogging through the muck if we are to survive and thrive. Whether we live in France or Holland or New Haven or Nepal or the western reaches of Australia, we have been "changed" and forever influenced by the mighty guitar wailings of Sir Richard Thompson. He has dared to go where no man before him has gone: to the nether regions of rock and roll, a lonely place where pride and passion walk hand-in-hand with love and devotion. Yes, I'm talking about heaven here. A cloud-packed vista brimming with unbridled happiness and quivering delight. Sunny cherubs zip across the open skies raining down tender mercies and lovely chunks of chocolate. Where the world is one big farm-fresh blueberry muffin, ready for a big, loud bite! His music has made us better people. His music has given us a new perspective. His music has transformed us into vibrant, perky people ready to do battle with the multitude of injustices in this crazy, mixed-up world. We are ready and willing to attend any Richard Thompson venue and buy the requisite t-shirts and bumperstickers and throw rugs! Together we stand and divided we fall, I say. More product, less filling! You can never have too much of a good thing if it happens to be Richard Thompson. Like most of you, I own all of his "official recordings" but I am ready to venture into the wild and uncharted territories of recordings that 'Flypaper', an excellent publication, produces. I stand in line to purchase more videos, posters, and autographs of the greatest singer-songwriter of all time. Why Richard Thompson isn't in the Rock and Roll Hall of Fame is a mystery to me. I know that many of you have been "hankering" to vote Richard Thompson in, but don't have the resources. Well, for goodness sake, don't be shy. If you go to the Rock and Roll Hall of Fame (in Cleveland, Ohio) and their website you can add your vote. Like many of you, my favorite movies of the year don't win much of anything ('You Can Count on Me', 'A Hard Day's Night' (re-released), 'Election', and IMAX's 'Mysteries of Egypt'), but that's OK. My favorite flicks might not correspond to a Hollywood critic swimming laps in his own private swimming pool. but I forgive him/her. They know not what they do. On the other hand, we know what we like and we like what we know. Thompson's impeccable guitar playing and stellar songwriting blows away ALL competition. Yes, I'm talking the likes of Bob Dylan, Joni Mitchell, Leonard Cohen, John Lennon, Phil Ochs, Jerry Garcia, the 1910 Fruitgum Company,Andrew Gold, Cat Stevens, The Hollies, The Ventures. Roger McGuinn, Jimi Hendrix, The Doors, Stiff Little Fingers, Joe Meek, Graham Parker, XTC, Neil Young, Bruce Cockburn, Dougie MacLean, The Bangles, Dar Williams, The Beatles, The Knack, The Carpenters, Jonathan Richman, The Mermen, Dick Dale, The Rolling Stones, Frank Zappa, Gram Parsons, Grand Funk Railroad, The Monkees, Abba, Todd Rundgren, Left Banke, Nick Drake, Bert Jansch, Martin Carthy, Fairport Convention (Yes!), The Wallflowers, Shawn Colvin, Robert Goulet, Frank Sinatra, Julie London, America, Boston, Chicago, Bay City Rollers, Andy Gibb, Cream, The Doobie Brothers, Dire Straits, Simon and Garfunkel, and every other artist out there who wants to strike it rich (and big) by being "grander than life". We are stardust and we last just milli-seconds in the grand scheme of thangs (thanks Deeg). So appreciate it all and give thanks to Richard Thompson and others who take time to make our "hum-drum" lives better and more interesting. Rock on, Mr. Thompson.
Binkles
binkles@optonline.net
---
And so we end with the review of the final concert of Richard Thompson in the Twentieth Century.
But this year has also had beginnings. In addition to running this collection of Richard Thompson gig reviews, I have become listmaster of the Richard Thompson discussion list. Little did I know what was before me.
I would like to personally thank everybody on the Richard Thompson discussion list for their help and patience as the discussion list was transferred to a new server (two times!)
As we go into the new year and new century, I look forward to new music, new concerts, and new reviews. Thanks for your participation and friendship!
Willis Howard
wehoward@alphane.com
December 31, 2000