Columbus and Ann Arbor
January 26-27, 2001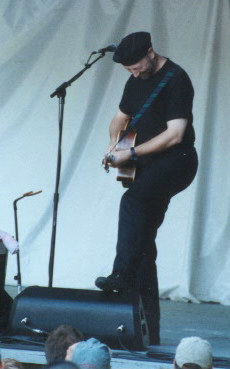 RT was in fine form
performing before an enthusiastic crowd at the Southern Theater in Columbus, Ohio on Friday night. His guitar playing was wonderful, ranging from the delicate touch of songs Great Valerio to the barely controlled frenzy of Feel So Good. I got tired just watching the things his hands were doing.
I have only seen OH one other time, with band at Bogart's in Cincinnati. That was a really good show, and I normally enjoy a full band more than a solo acoustic show. But for RT, I think I prefer the solo acoustic style, because I can just concentrate on his superb guitar work and the words of his songs. That was more than enough to keep me enthralled for the entire set. OH was in good humor, joshing with the audience. Several cries of "We love you, Richard Thompson" were heard at various points during the show. After one such outburst, RT cocked his head and asked, "Yes, but how much do you love me." He then discussed how in Mozart's day, musicians had patrons who supported them and this made the artist's life much easier. Another time, several requests were shouted out one after another. RT kept shifting from side to side as the different songs were called out, then would slide his capo to different spots on the fretboard to match the various numbers. One person did yell for Galway to Graceland, and RT immediately launched into that song. I suspect the felllow just happened to yell at a lucky moment, but after that more people started for call out for their favorites.
He had a long buildup to doing I Agree with Pat Metheny, telling about Pat M. breaking his vow not to criticize Kenny G. because KG had the effrontery to dub his voice with Louis Armstrong. RT called Satchmo, the man who practically invented 20th century music, "sort of the Prince of this day, only not that popular." (this last said quite tongue in cheek). After the song, he said something about Michael Bolton having lost a court case and now having to pay up $3.5 million. Does anyone know what that was about. The Southern Theater is a beautiful venue, one of those old ornate theaters with intricate gold leaf designs everywhere and soaring arches that make you think the place is reaching into the heavens. But if, like me, you have a slight fear of heights, I don't recommend the front row of the second balcony. Just leaning up to the railing was enough to induce vertigo. Fashion report: Dark gray slacks with matching shoes, black shirt and, of course, black beret.
Set list (which I am doing from memory, so the order may be confused, but I'm pretty sure these were the songs played:
Mr. Rebound
When the Spell is Broken
Crawl Back
The Ghost of You Walks
Turning of the Tide
Cold Kisses (with his head buried in a Jackie Collins mystery)
A humorous song about Madonna's wedding
Galway to Graceland
VBL
I Agree with Pat Metheny
The Great Valerio
Dry My Tears and Go Home
Keep Your Distance
Walking the Long Miles Home
Cooksferry Queen
Uninhabited Man
Encores:
A song I didn't know, but had the phrase "Words Unspoken" in the refrain. The opening line was something about leaving this tainted place behind.
Feel So Good
Dimming of the Day
Second Encores:
Valerie
I Misunderstood
The opening act was a fellow named Tim Easton, of whom I had never heard. He was OK, although didn't impress me a great deal. He apparently had played in bands in Columbus a few years back and had his vocal supporters in the crowd.
Steve Schlather
Scratch818@aol.com
---
Just got back from Columbus.
It took us 9 hours to drive down yesterday because of the snow related accidents. Should have been about 5. Only about 320 miles but stuck for an hour twice. Got there one hour before showtime. A good show with a couple surprises. Set list included.
1. Mr. Rebound
2. When the Spell is Broken
3. Crawl Back ( Under My Stone )
4. Cold Kisses
5. Turning of the Tide
6. Ghost of You Walks
7. Madonna's Wedding Song ( to the tune of Nobodys' Wedding )
8. From Galway to Graceland
9. Vincent Black Lightning 1952
10. Dry My Tears and Move On
11. The Great Valerio
12. Walking the Long Miles Home
13. I Agree with Pat Metheny
14. Keep Your Distance
15. Uninhabited Man
16. Cooksferry Queen
First Encore
17. NEW SONG!! - Word Unspoken, Sight Unseen ( Title ?? )
18. I Feel So Good
19. Dimming of the Day
Second Encore
20. Valerie
21. I Misunderstood
Heard there will be a "Best of " issued by Capitol Records, which dumped him last fall. Then a possible "Live Mock Tudor" and maybe somewhere in between the "Getty Benefit" will be released. His website should be up next month.
TL Beauregard
gaudiarti@peoplepc.com

---
Rebecca (in the wee hours) wrote:
<<
RT: wonderful; VBL1952; Crawl Back; Cooksferry Queen; Mr. Rebound; I Agree With Pat Matheny; Ghost of You Walks; When The Spell Is Broken
Eddie From Ohio: excellent
Todd Snider; funny and intriguing
Dave Carter & Tracy Grammer; liked them very much
Peter Yarrow; sad, really, and his dirge-like Blowing in the Wind, with all >the other performers up there with him, was just embarrassing.

Rebecca
>>
Ye gods Rebecca we drop you off and you get right on the keyboard, don't you?
And I'd add: Dave Wilcox; entertaining but somehow not as engaging as I'd expected Weavermania; odd and they don't sound anything like the Weavers Connie Kaldor; enjoyed her songs and her style eddie from ohio were a revelation
It's hard to tell, Yarrow was touted as the "Headliner" as Joan Baez' replacement but RT had equal billing on the poster and the audience's (and performers') reactions seemed to me like he was considered the real star of the show here...I had a good view into the backstage door and there was quite a crowd watching his set, and the greatest raves of applause seemed to be for him.
RT seemed a bit rushed, he's very aware of the limited time he gets in the festival. This time he got 40 minutes, started at 8:55. Wearing the usual black t-shirt, dark grey or black slacks, black lace-up cloth shoes, black beret with a blue-green enameled pin on it, coordinating quite nicely with the blue and green tartan guitar strap. Had not only a set-list on the floor but made great play of pulling a yellow lined bit a paper out of his front pocket and scrutinizing it for a list. The monitors were miked and he used some pedal effects once in a while.
First I'd heard "Pat Metheny" and it was in line with what I've seen of RT's sense of humour. Didn't RTB make a bit of a "thing" during the Mock Tudor tour of Kenny G and his luxurious curls?
Somehow I was surprised to hear "Crawl Back" acoustic, though now I realize he did it at the last acoustic Ark show. He turned it into a singalong (in the fine tradition of the Ann Arbor folk festival) . The audience seemed very appreciative overall, standing ovation and fruitless begging for encores.
The Peter Yarrow set *was* a bit sad, he seemed weak and maundering. During the aforementioned dirge-like whole-cast performance of "Blowing in the Wind", I was watching RT through field glasses and saw many wry expressions of embarrassment and rueful humour. Especially when he was asked for a verse and it wasn't quite in his key of vocal comfort!
It's one thing to pay respectful homage to the mainstay early songs of "the movement" but this was awful. When they launched into "If I had a Hammer" RT perked up a bit and when Yarrow mouthed at him "Play a solo" he obliged with a nice little effort. It's interesting to note that some of the other guitar performers were making efforts to watch his hands, and I heard someone later ask Dave Carter and Tracy Grammer, "Wow, what was it like to be on stage right next to *Richard Thompson*?
It was also a bit weird to realize that several of the other performers tried songs with similar themes to some of RT's work - tie-dye, jeans, and the Woodstock generation or moving on from a relationship without a future. Then RT came on with Cooksferry Queen and If You Don't Want Me, and simply said what they'd tried to say much more directly, artfully, and beautifully.
Someone asked if the Holocaust was commemorated in any fashion at the Ann Arbor festival - no, most of the political references seemed to be on the new Administration and recent "election".
Irene Henry
IJH.WRH@worldnet.att.net