Getty Center
10 November 2000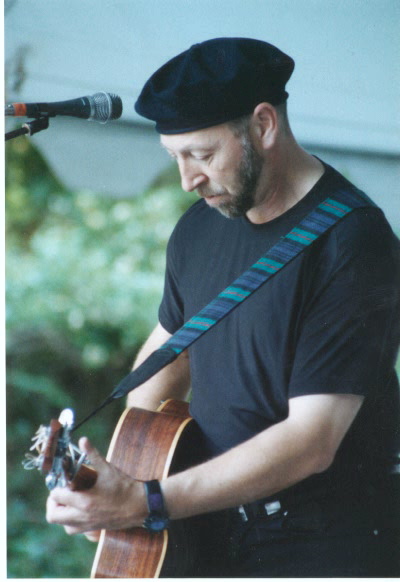 Ok, I have just left the Getty Center
and will attempt to describe yet another amazing evening with Mr. T, this one unlike any other. Start with solo acoustic (plus occasional percussionist) and then stray off the usual course. No way to approximate a setlist. An evening with Richard Thompson, subtitled "A Thousand Years of Music" as stated on the cover of the accompanying program, with witty notes by OH. And those were the only notes written by him that surfaced this evening. (well, no there was the tune of the Shakespearean song from the Tempest and there was the Sandy connection with Banks of the Nile). Through the ages, starting I believe in 1240, with some fast forwarding, and including 1920's Music Hall, Gilbert and Sullivan (Pirate King), Hank Williams (Lonesome Whistle), Crowded House (4 Seasons in One Day), the Beatles (It Won't be Long), Britney Spears ("Oops, I Did it Again" -I'm not kidding, and it sounded great). Most were reflective of what seems to be his recurrent interest in his history both immediate and distant and in traditional British music through the years. And also his reverence and enjoyment of good ol rock and roll. (Wine Spo-Dee-O-Dee). Lots of funny, informative information on each song/period. He seemed nervous much of the time, more than I have seen, especially this year. My sister, who had never seen him before said to me "Does he have a stutter?" And as I stated to my other companion "Is there nothing he can't do???"
I fear I am being less than coherent and will leave it to others with the more encyclopedic memories to fill in any gaps.
Janet Sarver
JSarver@fulfillment.org
NP Celtsmerz (finally bought it tonight!)
---
Here's a copy of the Program notes
from the Getty. I can't add much to the songs Janet has already said he performed except he did do Fats Waller's "I'm Gonna Sit Right Down and Write Myself a Letter". Another tune he performed was one that he said his Granny was prone to sing after 13 gin and tonics (something about being being in church, left in the lurch and the groom isn't showing because his wife won't let him). Oh, and of course there was "Sumer Is Icumen In". A real pleasurable evening.
Any mistakes in the notes are the fault of the OCR program I scanned this with (I don't make tpyo's).
One Thousand Years of Popular Music
I was asked, in the dying months of 1999, and predictably enough, to submit a list of the ten greatest songs of the millennium to an article in Playboy magazine. Ha! I thought, I'll show 'em. ..1 bet I'll be the only one from the entire cast, celebs and also-rans, who goes back before 1900-gosh darn it, I'm going to call their pretentious bluff and go back to A.D. 1000! I quickly realized that, if the songs were to be in English of any kind, I would need to sneak the starting date to at least 1250, and in the event I began with "Sumer Is Icumen In," from 13-something. (Playboy, of course, had the last laugh, by not printing my selection- perhaps they thought I was subverting Hefs philosophy.) So when asked to do an evening of something a bit different at the Getty, I rejected the idea of a kid's show (tough crowd) and thought it would be fun to cruise through history on a magic steamroller of song.
Some of tonight's selections would be considered folk, some court music, some close to classical, and as we reach the twentieth century and the lines become confused, just Music, under the big umbrella of Popular. Troubadours, minstrels, traveling dance bands, all disseminated popular music from early times. Sir Philip Sidney learned ballads from a blind fiddler, Oliver Goldsmith from a milkmaid; Samuel Pepys delighted in a widespread song like "Barbara Allen" as much as any sailor or farmer. The most unlikely songs turn up five hundred years late in the Smoky Mountains of Tennessee, and many dance tunes would cross all class and geographic boundaries of Europe. Thomas Hardy's descriptions of village life, when musical experience was limited to the church, the dance, the plowman's song, and perhaps the family piano, show the intensity of pleasure derived form musical opportunity before the gramophone age. Nowadays, music is our joy and wallpaper. There were twenty-four thousand separate CD releases last year, leaving us with the problem of, not how do we listen to everything, but rather how do we filter out the 99 percent we don't have the time or desire to hear. With the potential of hundreds of satellite radio channels, perhaps we shall be able in the near future to choose our entertainment, rather than have our entertainment choose us.
One of my recent musical high points was to walk into a folk club in Britain and hear someone singing a song I'd written in 1971. It wasn't the performance that gave me the glow-the rendition was pretty basic, although I liked the way the singer had changed some of the lyrics, it made it more singable-it was the fact that the song was being introduced as traditional. I felt quite excited about being part of the folk process (not even dead yet), and reflected on the probable lack of importance to future generations of all the music I slave over and obsess over. Cole Porter has a few that live on, Gershwin, Buddy Holly, Bob Dylan surely-M.C. Hammer, Boy zone, Britney? Maybe I'm too old and jaded to predict the shelf life of contemporary song. But "Sumer Is Icumen In"-now there's a catchy little number...
Who Is This Thompson Geezer Anyway?
I was born in London in 1949, and some of my earliest memories are of the Sunday Teatime of the Soul. Britain, post WWII, would shut down every Sunday from 4 p.m. to 7:30 p.m. All radio and TV would be devoted to the "God Slot," and a ritual meal of fish paste sandwiches and angel cake would be administered to the suicidal. Just what people were supposed to do in the middle of winter up there on the very fringe of the Arctic Circle I do not know. So I started picking up the guitar and the black hole sped by, until it was time for Hancock's Half-Hour and other cultural essentials. My Dad had some cool discs (Ellington, Django) and my sister some more (Jerry Lee, Gene Vincent), and soon I was meeting fellow social outcasts with a mind to amplify and harmonize. The rest, as they say, is blistery (the ends of my fingers never quite heal) and I'm still doing it and getting paid for it! SO UP YOURS WITH A WIRE BRUSH SCHOOL CAREERS MASTER, who recommended accountancy or the teaching profession, a couple of scrap heaps as it turns out. This is the most fun you can have vertically.
Special thanks to: Katie Bergin, Russ Cole, Danny Ferrington, Nancy Covey, Donnie Graves, and Jill Allemand.
John Schulte
johns@condoreng.com
---
It's the classic music-hall
(vaudeville) song "Waiting at the Church" about a jilted bride, which ends with the lines "Can't get away to marry you today - my wife won't let me!"
It was written by Henry Pether and Fred Leigh and made famous before World War I by Vesta Victoria, whose best known other song was "Daddy wouldn't buy me a bow-wow". It was famously revived by Prime Minister Jim Callaghan, who incorporated a few lines into a speech at the Labour Party Conference some time in the late 70s.
I would expect when RT was growing up he would hear a lot of these music-hall songs on a TV programme called "The Good Old Days", which seemed to be on every week in the mid-1960s and in which contemporary performers dressed like the old music hall stars and performed their "greatest hits".
Steve Willis
s.willis@virgin.net
---
"Sumer is icumen in"
is the oldest song in Middle English to come down to us through the ages in written form; it is the first (historically speaking) for which an actual physical document exists.
It's a harvest [planting!, ed.] song celebrating the earth and the bounties (both vegetable and animal) that grow therefrom. I sang it years ago when it was incorporated into a medieval mystery play dramatizing the story of Noah's flood entitled, appropriately enough, "Noah's Fludde", written by my mentor Isaac Van Grove (not to be confused with the piece of the same name by Benjamin Brittan). Give me a pint and I could still sing it for you as I remember the melody, and there's a very good chance my wife might remember the translation. It wouldn't be the first time she's surprised me with what resides in the dark recesses of her memory!
Sounds like OH's appearance at the Getty was both informative and fun.
Cheers -
Paul
PSchmidt@cravath.com
---
The 'Waiting at the Church' song
was a well known music hall song. I was born in London 5 years after RT, and it was still widely known then. Our family used to sing songs like this in the car. This may not be the whole lyric, but its got the key bit in:
There was I,
Awaiting at the church,
Awaiting at the church,
When I found he'd left me in the lurch,
Oh how it did upset me!
All at once,
He sent me round a note,
Here's the very note,
This is what he wrote,
'Can't get away to marry you today,
My wife won't let me!'
Geoff Batchelor
Geoff.Batchelor@btinternet.com
---
... 14 gin and tonics ...
great show, most unexpected, he did a great hank williams number, lonesome whistle moan, jerry lee's drinkin' wine spodee odee- he pattered about liking jerry lee lewis' attitude, then referred to him as a "disgusting human being"- "you got a nickel, i got a dime, let's get together and buy some wine" what a night! the getty was awesome too, as the sun was setting, the full moon was rising in the east, wow, not a speck of smog to be seen.
jnovac
jnovac@home.com
---
Today's L.A. Weekly had this review
"When Lucy Lin, assistant producer of the J. Paul Getty Museum's Community Arts Resources, introduced Richard Thompson with the caveat that he was about to perform '1,000 Years Of Popular Music', I thought she was kidding. She wasn't. The show was inspired, wrote Thompson in his program notes, by a contribution he was asked to make to Playboy in the 'dying months of 1999', weighing in on the greatest songs of the millennium.
Responding to the request with wicked literal-mindedness, Thompson began his list with the 13th century Middle English 'Sumer Is A Cumen In'. Playboy declined to use Thompson's list, but an adept rendition of 'Sumer' began Thompson's Friday night set at the Getty, which was free and open to the well-informed public.
In a little over two hours, Thompson toured the centuries. He sang of the tennis balls that threatened the 15th century court of King Henry V (a song that resurfaced intact in 20th century Appalachia), showcased his fine tenor on Gilbert and Sullivan's 'The Pirate King' (with audience employed as chorus), wrote himself a letter Fats Waller-style, declared Hank Williams among the millennium's best songwriters, paid homage to the Beatles, and wrapped up with Britney Spears' latest and greatest hit, 'I'm Not That Innocent' -- and segued, seamlessly and to our collective astonishment, into an instrumental version of an old English Renaissance dance tune. (I believe I heard noted Thompson fan Harry Shearer, who was seated in the row behind me, gasp.)
All Thompson's trademark tics were in evidence -- the Balmoral cap, the virtuoso guitar picking, the little flick of the head between lines, the throat clearing, the sarcasm, the sarcastic throat clearing. But with admirable devotion to his program, he pulled out not a single one of his own songs, not even in encore, not even when devotees cried out, as is their wont, for 'Vincent Black Lightning' and 'Beeswing'. It almost seemed, at times, as if Thompson were testing his own integrity and musicianship. He proved both beyond debate to us."
(Judith Lewis)
submitted by Ida M Miller idafan@home.com