US Solo Tour
October 2000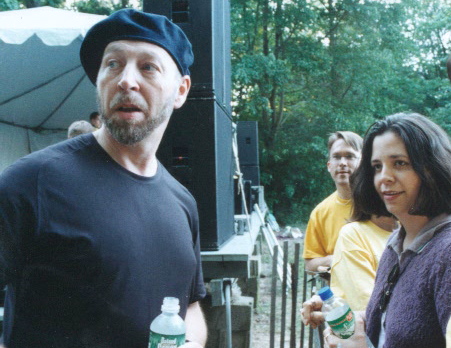 Somerville, MA 10/19
Just in case no one else feels up to it, here's my set list, done from memory:
Mr. Rebound
When the Spell is Broken
Crawl Back
Turning of the Tide
Ghost of You Walks
Cold Kisses
My Daddy is a Mummy
I Agree with Pat Metheny
Cry my Tears
God Loves a Drunk
Long Miles Home
Feel So Good
1952 Vincent VBL
Uninhabited Man
Dimming of the Day
Cooksferry Queen
Valerie
Beeswing
I Misunderstood
I know I've left stuff out.
Richard titillated us by saying he would do some requests later, but I don't think he did. He did do both of the new funny novelty numbers that happily replace Jimmy Shands and Hamlet: "Mummy" and the new "Metheny". There was a long, funny introduction to Mummy about Ralph McTell and McTell's children's songs and the odd audience it has created for McTell -- over 65 women with silver-rinsed hair who want to hear "Street of London" and the sub 8 set to hear children's songs (said tongue in cheek). After he sang Mummy, he asked candidly if we liked it better than the other stuff. (Many a no in response.) Could the prince of doom and gloom be thinking of writing more funny songs? He was frankly winging it with the Metheny song. It still played great with the audience.
All in all a very fine set. He was in fine voice, and he played very well. The sound was a little muddy. For me, the standout was a stunning, devastating, God Loves a Drunk that went straight to the heart. Oh the other hand, he forgot the last verse to Beeswing, vamped a bit, grinned, andsomeone in the front row prompted him with the first words.
Whelan, Thomas
Thomas.Whelan@brooks.com
---
Somerville show grumble
No grumbles about Our Hero's fine performance last night, but rather about a tiny subset of the audience, the two lushes seated in balcony row KK, center, behind my friends and I. I hope they woke up this morning with massive hangovers. They showed up late, stumbled over people en route to their seats in the middle of the row while talking loudly (this during a quiet song), and continued talking loudly through songs until asked by one of their closer neighbors to quiet down -- at which point they kept talking, but with less volume. The thing that surprised me was that the male half of the couple was wearing a Mock Tudor tee shirt, which implied some interest in RT's music, as opposed to a case of people who didn't have a clue what he was about but somehow wound up at the show and didn't feel any need to respect the music or those sitting around them.
And not a grumble, really, but a curiosity: why do so many people still laugh at he beginning of "Cold Kisses"? Are there still a lot of people in live audiences who haven't heard it and don't know how dark the song is? Or does it make people nervous, because they've all be plowing through their loved one's belongings?
On the brighter side, a knowledgeable audience is a useful thing. When RT forgot the last verse of "Beeswing" (a very welcome choice for the first encore, I think) there were several folks who helpfully prompted him.
Finally, Roger McGuinn wasn't on last night's bill with RT, but I did see him last month at the Boston Folk Festival, and in light of that experience I have to disagree with some of the critical comments that have been posted lately. I enjoyed that set -- his upbeat personality, his chiming 12-string and strong voice, his time machine visit to the Byrds classics and his bright arrangements of traditional songs. Maybe he's not the best match for RT on a co-bill -- although given the larval stage Fairport Convention's interest in the Byrds, there's certainly a logical connection -- but he's a legend in his own right and still a very viable performer. Plus a nice guy who's more than happy to chat with fans after the show.
--Tom Nelligan
nelligan@ix.netcom.com
---
Somerville review -Bostonherald.
Guitar hero Thompson thrills the faithful
Music review by Dean Johnson
Saturday, October 21, 2000
Fun show, great venue. I agree that the sound was a bit muddy. Made his voice sound a bit flat. Love the line about cold kisses. Does anyone remember some of the tongue-in-cheek jabs he took at America History and care to elate them...
http://www.bostonherald.com/entertainment/music/rich10212000.htm
Richard Thompson at the Somerville Theatre, Thursday night.
A solo acoustic set by British singer/songwriter Richard Thompson is a lot like thumbing through a book of vivid short stories, each with its own startling soundtrack.
Thompson's sold-out Somerville Theatre show Thursday night was sponsored by radio station WUMB-FM (91.9), a makeup gig after Thompson was unable to perform at the station's folk festival earlier this season. Thompson's 21-song set ranged from dark tunes about love lost (``When the Spell Is Broken,'' ``I Misunderstood'') and drug-addled musicians (``Uninhabited Man'') to rollicking upbeat songs (``Valerie,'' ``I Feel So Good'').
``Cold Kisses'' was such an intensely personal song about rummaging through a woman's belongings seeking clues about her past and old lovers, that just listening seemed like a barely legal act of voyeurism.
But part of Thompson's enormous appeal is his knack for playing the musical chameleon, able to change moods and hues almost instantly. He followed the pensive, wistful ``Ghost of You Walks'' with a comic rockabilly tune about ``the other Memphis'' titled ``My Daddy is a Mummy.'' An hysterical new song dealing with the ongoing feud between jazz guitarist Pat Metheny and smooth saxman Kenny G opened with this couplet, ``I agree with Pat Metheny/Kenny's talents are too teeny.''
Thompson liberally splashed muscular, spidery guitar runs over most tunes and displayed a wicked wit between numbers.
He silenced one overly boisterous fan with a prim, sarcastic, ``Heckle bravely! Heckle bravely!'
CGJ
gleiman@tiac.net
---
Somerville show grumble
Tom Nelligan wrote (snipped):
"And not a grumble, really, but a curiosity: why do so many people still laugh at he beginning of Cold Kisses"?
& Pam Winters wrote (snipped):
"I find myself wanting to think of the song as dark...but lately I'm wondering if I've just misinterpreted the song all along. Maybe Richard *wants* the audience to laugh. Or at least to squirm a bit."
I'd never heard laughter before either, but I found it intriguing. The laughter seemed in response to "Said you'd be gone five minutes, that's time enough" and died down quickly thereafter. I think people are amused at the protagonist's sneakiness, and that they are laughing in recognition of that sneaky impulse in themselves.
I can't imagine that this bothers R, and as Pam suggested, he may be provoking this reaction intentionally. Although the recorded version seems to be clearly dark, as is so often the case the song plays differently live. Over time I think performers discover different aspects in their own songs (as audiences do as well) and it wouldnt be surprising to think that he's delivering those lines just a little bit differently to play up the contrast.
There's something delicious in that gorgeous forboding intro (which would tip one off, that it's not one of the merry lil tunes) giving way to those lyrics, momentarily lighter than what you'd expect after which the mood quickly darkens (like moving into shadow or peering into the back of a drawer crowded with extraneous things) and stays dark and astonishingly confessional (things one might only confess in the dark) until lightening up at the end.
Just my humble opinion. It was a spectacular show from where I was leaning on the wall behind last row orchestra. What a great venue, and perfect for him. He so clearly wanted to be there. What a delight.
Louise, in Cambridge, from Chicago
lemolnar@mindspring.com
Absolutely glad I made the journey
---
Cold Kisses funny?
James G. Odom wrote:
"I think it is the mark of a master songwriter who can make you start out laughing and then grab you by the short ones. Nothing wrong with the "first time" listener who responds to the humor."
Or to quote Richard himself: "You can start out a song as being funny, but it isn't really, but them their already sucked into the song and can't get out of it and have to listen to the end" RT in an interview with Norwegain TV in 1992
Asgeir Ueland
ueland@netvision.net.il
---
Dan Sallitt and I and Dan's friend
set out from NYC for RT's gig at Monmouth College tonight. We left plenty of time, but there was a problem on the NJ Turnpike and it took us 2.5 hours to get there instead of the estimated 1.25 hours. We came in at 8:15 on a gig that started at 7 (as the Pat Metheny song ended!), so we missed a lot. Sorry, no set list, and I didn't hear any new songs or any banter.
What we did hear was 45 minutes of delicious RT music. Some songs I haven't thought about in ages were completely revived by RT's heartfelt delivery and reinterpretation. Even Jimmy Shands, which I had totally written off, was a delight, and the audience sang the choruses flawlessly. RT was in VERY good voice, as was Ms. Lowden, so tomorrow night in Princeton should be great. I wish I could go!
I spoke to the man after the concert--first time in a while. He was absolutely gracious, open, and at ease. What a totally decent human being! Richard Thompson stands for brotherhood and mutual respect. Let us think of his example when we are tempted to diss each other on this list. I am as guilty as anybody, but after tonight I am resolved to do better in the future.
Peace
Michael Krugman
myriad@panix.com
---
Set list at Monmouth University, 22 Oct
I didn't see that anyone actually posted the set list from Pollak Auditorium in Monmouth University on 22 Oct, so here it is, although it doesn't seem very different from other shows.
start 7.12
Mr Rebound
When the spell is broken
Crawl back under my stone
Cold Kisses
Turning of the tide
Ghost of you walks [best in show]
My Daddy is a Mummy
Dry my tears and move on
VBL 52
The Great Valerio
I Feel So Good
I Agree with Pat Metheny
Walking the long miles home
God Loves a Drunk
Lights and sounds of Londontown
Shoot out the lights
Beeswing
Cooksferry Queen
Dimming of the Day
I Misunderstood
Jimmy Shands
bit of Slow Down -> Valerie
end 9.01
The auditorium is small and not quite full (and an extra section in the back was not opened). The early start and finish was appreciated!
Jonathan Schilling
jls@sco.com
---
RT at the Kentuck Folk Festival
I'm just a lurker on this list, but I thought I would contribute the following information. My husband and I traveled to see RT at the Kentuck Folk Festival in Northport, Alabama on Saturday. It was a good show, but was plagued by technical difficulties (popping and crackling microphone, loss of sound towards the end). Richard was funny, as always. He said "What a quiet, respectful crowd. I was told that people in Alabama would all look like Charlie Daniels." He said the stereotype about British people is that we think they all look like Benny Hill.
Songs in no particular order:
- Turning of the Tide
- Bathsheba Smiles
- Walking the Long Miles Home
- My Daddy Is a Mummy
- Uninhabited Man
- Wall of Death
- Galway to Graceland
- Ghost of You Walks
- Vincent Black Lightning (standing ovation)
- God Loves a Drunk
- Mr. Rebound
- Dimming of the Day (by request)
- Cooksferry Queen
- Valerie (ended early due to technical difficulties)
- Beeswing (by request)
I believe he also played "Crawl Back Under My Stone", "Dry My Tears And Move On", and "I Misunderstood", but I've listened to so many RT CDs lately, I can't trust my memory. I was a little disappointed that he did not play "I Agree with Pat Metheny", since a live show may be the only way we'll ever hear it.
Live At Crawley, Two Letter Words, and Celtschmerz were on sale after the show. $20 for a single CD, $25 for double CD.
A few notes:
- He said Galway to Graceland was "a bit girly" but he sang it anyway.
- When he asked for requests, a number of people shouted "Beeswing". He didn't play it 'til the end and only after a second request. He said that this song was also "a bit girly".
- Before playing "Uninhabited Man", he said the song was about people heknew who were affected by drugs. I had read this on the list before, and Istill don't get it. The lyrics are obviously about a relationship. But, it's his song, so it's about whatever he says it is!
- I have to say, I thought "God Loves a Drunk" was a particularly odd selection for a daytime, outdoor festival with a bunch of families withkids. I love the song, but this little gem of doom and gloom seemed so out of place.
- He was very accessible after the show. You could buy a CD and have him sign it. Several people brought record albums to be signed. He also poses for pictures without reservation. This is the second time we've been able to get his autograph and I was struck both times by how much he just seems like a "regular guy".
I know this post is already too long, but if you are interested, you can buy "Richard Thompson Teaches Traditional Guitar Instrumentals" at Barnes and Noble (www.bn.com). Do a search for "richard thompson teaches" or use this link
You can read more about it at the "Henry The Human Fly Caught In The Web" site: http://www.alphalink.com.au/~sfy/RT/
Thanks to all of the members who contribute to this list. I have found many of you to be an invaluable source of information over the last year!
Lisa Allen
lisa@ibs2.com
---
Here's a chronicle
of my recent trip to see RT in Alabama. A vacation followed, so this is the first chance I've gotten to post anything.
The week of October 15 was fundraising week for most public radio stations, so it was the week from hell prior to the trip. I left work Friday evening at 6, drove to Tuscaloosa (just across the river from Northport) and checked into a hotel. If you ever spend the night there avoid the La Quinta Inn at all costs. Do, however, go to the Waysider for an outstanding breakfast… and it was under six dollars!
Arrived in Northport about 10 o'clock Saturday morning, parked downtown and took the shuttle bus to Kentuck State Park where the Kentuck Arts Festival was being held. That early there was plenty of parking on site, so I could have saved myself the trouble. The arts and crafts part of the festival was surprisingly good… certainly far superior to the two similar festivals that Nashville has. More exhibitors, a greater variety and often higher quality. Plus the park itself is in a nice wooded area unlike Centennial Park in Nashville where you bake in the sun.
Vulcan's Britches, an old-time string band from Birmingham was the first musical at act the Festival Stage. Their name is an inside joke foranyone who knows anything about Birmingham. They delivered a spirited, if not particularly polished set to a small group of spectators.
There were five sets of bleachers set up in a semicircle about 30 feetfrom the stage. Since it was near the food vendors, a lot of people were in the audience primarily as diners rather than listeners, which troubled me a bit. What if RT starts playing and there are only a handful of us paying attention?! He was probably getting a flat fee, and, as I've often pointed out to folks I was playing with, if the check clears it was a good gig. The weather was great, slightly overcast in the morning, but clearing as RT's set approached. Temps in the mid 70s.
Tracey Elliot, a 'Bama graduate and current Atlanta resident was next. Apart from three covers ("You Ain't Goin' Nowhere," "Heart of Saturday Night" and John Mellancamp's "Small Town") her set was all originals. Not bad, but nothing that I felt the need to go buy. I'd say it's a safe bet that she owns all the Indigo Girls' CDs. Read what you want into that.
RT and Simon were driven up to the stage shortly after 1:00 (his set started at 2:00). The quality of the sound had been average at best, so I was really glad to see Simon there! Watching him work I was reminded again how lucky RT is (and the rest of us!) to have a first-rate sound man willing to follow him around. I'm sure Simon is compensated well for his efforts, but whatever he gets paid can't be enough!
While Simon reset the stage and worked out the sound problems, the bleachers filled up and people started sitting on the ground in front of the stage. I gave up my front row seat and went forward to a spot about 8 feet from the stage and slightly left of center. I got some photos which I hope to have available in the next few days! By the time the set began there were at least a couple of hundred people gathered. Mostly older geezers, but enough enthusiastic college students to give me hope for the future. Some weren't even pierced or tattooed!
The set list was:
Turning of the Tide
Bathsheba Smiles
Galway to Graceland (Love Me Tender version)
Crawl Back
Ghost of You
My Daddy Is a Mummy
Walking the Long Miles Home
1952 VBL (Nortons, Indians and Harleys only)
Dry My Tears
I Feel So Good
God Loves a Drunk
Wall of Death
Dimming of the Day
Keep Your Distance
Uninhabited Man
Mr. Rebound
Cooksferry Queen
Encores:
I Misunderstood
Valerie (broken string)
Twist & Shout (to cover re-stringing)
Beeswing
Early on RT made jokes about expecting everyone to look like Charlie Daniels and adding that all Englishmen don't look like Benny Hill. He also asked how many people had bought art, then, "How many people have had domestic disputes about art?" He commented on the fact that he was the only person there wearing black.
After God Loves a Drunk he offered to take requests. I was hoping to hear Mr. Rebound for the first time, but someone else shouted for it before I had a chance. A little boy named Jack came forward and asked for Wall of Death. Pretty good taste for a child, so I'm guessing that was Mom or Dad's request. Another parent used the same trick to get Valerie later on.
He did drop Mr. Rebound in near the end of the set. A great treat to hear and fun to watch people asking each other which album its on.
A string broke about midway through Valerie (the A!) prompting the singalong Twist & Shout which covered the time well and amused everyone.
Copies of Crawley, Two Letter Words and Celtschmerz were sold at the side of the stage and a long line formed to meet RT and get autographs. I took along the Mock Tudor LP for signing. Last year when RT played Nashville I gave him some CDs of a couple of shows I produce and/or edit. I asked if he remembered them and he said of Bluegrass Breakdown, "Some of them were quite good." Look for that on all our print ads now!
I missed Al Bowlly's in Heaven. Also missed getting to run a stopwatch on Hard On Me. To sum up: a great performance and further proof that the idiots at Capitol wouldn't know talent if it jumped up and bit them on the ass. I got the feeling that, after the massive band tour, RT was really getting a kick out of playing solo again. He seemed to have as much fun as anyone there, despite a few sound problems near the end of the set. Folks near Tuscon should make every effort to be at his show there in a few weeks!
I let you know when the photos are posted.
Scott Smith
---
Last night at the McCarter
Probably my 30th show, and just when I was starting to think I was a jaded veteran, RT floored me again -- last night's show is way up there with the best I've seen. I took three other people, one who knows only a little of RT's music, and two others who don't. They were amazed, although one of them said Richard was "giving it a bit too much of the Rolf Harris," which for those of you who didn't grow up in the UK means there was too much musical comedy. My only complaint was with the "Free Bird" hecklers and all the other morons in the crowd who couldn't let a nanosecond of betwteen-song silence pass without blurting out the name of the RT cliche they wanted to hear next.
A few other disorganized and incoherent impressions:
Nice diverse setlist -- everything seemed a bit fresher and not so pre-programmed.
Some of the Mock Tudor material didn't translate so well to the solo accoustic format, especially, for me, Dry My Tears (I really missed the brass section) and Walking the Long Miles Home (I think it's one of his weaker pieces). On the other hand, I was blown away by the guitar work on Uninhabited Man, and the more I hear SASOLT the more I think it's a heartbreaking, stirring protest anthem.
Cold Kisses (no laughter during the opening verse) and Ghost of You Walks were revelations.
Too bad there'll never be a Kenny G -- Richard Thompson Celebrity Deathmatch.
Best instrumental version of "Take Me Out to the Ballgame" I've ever heard.
Adding the "Big Ben" chiming notes to the instrumental part in SASOLT was inspired.
I'm tired of I Feel So Good. I think he feels he has to play it because it was a "hit", but it might be time to put it aside for a few shows.
On "Crawl Back" a curious thing happened. He had been working hard (and jovially) to get the audience to sing the "crawl back" response, but just as the audience was in full swing he seemed almost to forget where he was and started screaming the words "crawl back" with an absolute vengeance.
Glad he didn't play Tear Stained Letter -- just like I'm relieved when Dylan omits Rainy Day Women. Those show-ending "crowd pleasers" can be a pain.
I can't think of another artist who could sustain an audience's attention for over 2 hours playing solo accoustic. I love Dylan, Neil Young, the Boss et al, but they all would start to sound monotonous. RT's singing and virtuoso playing bring a color, texture and humor, and a diversity of mood, that make these long accoustic shows rich and constantly engrossing.
The Great Valerio was magnificent -- I liked it better than the recorded version (his singing just keeps surprising me), and the guitar fadeout was gorgeous.
Who else would or could deliver a 2 hour solo accoustic show that omits songs of the caliber of Dimming of the Day, Heart Needs a Home, Wall of Death etc etc.? Amazing.
Hope the show makes it onto Napster. . . .
Kirk Lipsey
KLIPSEY@debevoise.com
---
This was my first time
seeing Richard perform. Wow! What a great show! I'm still recalling certain phrases, looks and sounds and just the amazement of being there taking it all in, trying to figure out how he gets all those complex sounds out of just 6 strings. I gave up on that one pretty quickly, and just let myself be completely captured by his performance. It was so great to hear his music "in the moment", in the same space he's in, with not only the actual music but also his mood washing over us. He was very funny, very charming, and is such an odd combination of exuberance and then brief withdrawal I'm intrigued. I don't think he could hide anything and that's very
appealing. The whole evening was certainly one for the happy memories book. And I had wonderful companions with me too, all long-time RT fans, so that made the whole experience even sweeter. Ahhhhh. Thank you.
Here's what Richard played, although except for the first two and very last one, am not sure of the exact order, and I may not be recalling all of them. (I used the Alabama list to jog my memory. I don't think I could have handled a pencil effectively during the actual show.)
Mr. Rebound
When the Spell is Broken
I Feel So Good
Turning of the Tide
Cold Kisses (no laughter except when he emphasized Zed with an "I'm being so dramatic" look as though he wanted a reaction)
Dry my tears and move on
Keep your Distance
Crawl Back (he really got fierce with this one, so fierce I don't think he knew the audience was there anymore)
Walking the Long Miles Home
My Daddy Is a Mummy
The Great Valerio (when he finished, said "that's an old one, from '71, before I was born")
Uninhabited Man
Vincent Black Lightning
Galway to Graceland (this and next one were birthday requests for a guy in one of the front rows. Apparently, his wife (?) had written a letter to Richard requesting these songs, and, according to Richard, there were also lots of $20 bills along with that request, as he looked over the audience making sure we got the hint. He does have great comic timing. Very funny, although I'm not sure anyone believed him.)
Shoot Out the Lights
Ghost of You Walks
Sights and Sounds of London Town
I agree with Pat Matheny (what a scathingly funny song and great story build-up)
Bathsheba Smiles
Cooksferry Queen
Valerie
Take me out to the ballgame
Beeswing
Beat the Retreat (after this second encore, took his guitar with him when he left the stage. Interesting to end the show with such a low-key tune, but it did get the audience to calm down and let him go)
I just have one question now. When can I see him again?
Debra Shea
P.S. I did get to actually meet him after the show! I don't remember exactly what was said (because he was only inches away from me!!!!) but did thank him for his performance and asked him to sign the cd I'd just bought at a Princeton record store (Hands of Kindness because I'd never seen it in the NYC stores), and when he saw it said, oh, 1983. Then, I told about seeing him perform Woodstock at the Joni tribute and that now I was catching up with his music, and he said something about "a convert, bless you" and patted my arm. Ahhhh, again.
---
For Robyn, who requested
the McCarter set list: I grabbed RT's actual set list from the stage (much to the mortification of my husband, who pretended not to know me), so here it is, reflecting RT's own revisions:
Mr. Rebound
When the Spell Is Broken
Crawl Back
Cold Kisses
Turning of the Tide
The Ghost of You Walks
My Daddy is a Mummy
Dry My Tears and Move On
'52 Vincent Black Lightning
The Great Valerio
I Feel So Good
I Agree with Pat Metheny (the Kenny G Song)
Walking the Long Miles Home
Galway to Graceland (at the request of George Van -- this is marked on set list)
**Bathsheba Smiles (appeared to be a direct response to a request)
Shoot Out the Lights
Sights and Sounds of London Town
Uninhabited Man
Keep Your distance
Cooksferry Queen
*God Loves A Drunk
*Wall of Death
First encore:
**Take Me Out to the Ballgame (instrumental)
Beeswing
*I Misunderstood
Valerie
Second encore:
Mingus Eyes
*Dimming of the Day
**Beat the retreat
*On the set list but not played
**Not on the set list but played
And Pam, my husband really enjoyed meeting you. While you guys were chatting, I was waiting my turn to talk to RT, who kindly signed my set list (I couldn't resist asking). I also had the pleasure of speaking with him for a few minutes and learned that he will indeed be touring in Australia, although I forgot to ask whether it will be a solo or band tour. I did, however, learn that he is working on a new record, though he has no idea what label it will be on.
One more thing, unrelated to this show, that I haven't seen discussed on the list. (Then again, I went through a brief period of not getting any postings, so please let me know if I'm covering old ground here.) Does anyone have any thoughts on the obnoxious reference to OH in the current issue of Vanity Fair? Is it now in vogue to bash anything halfway intelligent and brand it as snobbery? I seem to recall an equally obnoxious reference in the New Yorker a year or so ago, and it was very obvious that the author could not really have been familiar with RT's music. I was always under the impression that OH could do little wrong as far as the critics are concerned, but, of course, magazine writers are the anti-critics. And I suppose it's iconoclastically cool to attack whatever the critics are endorsing. Still, it's no wonder RT doesn't like playing New York anymore. But I think it's a bloody shame. ... Any thoughts?
Ellen
ECatDevonside@aol.com