Western US Tour
September 2000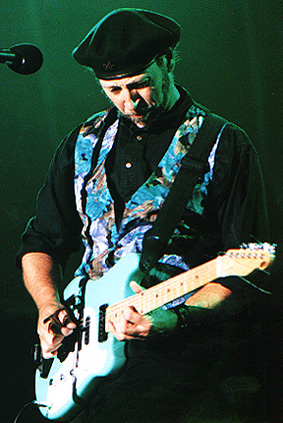 RT Band
September 1, 2000
Aladdin Theater, Portland, Oregon USA
After the one-two punch of his opening numbers, Tear Stained Letter and Ghosts in the Wind, RT joked with the audience about the previous night's house. The Friday, Sept. 1 show at the Aladdin sold out quickly, so a "second" show was added on Thursday, Aug. 31, for, as RT put it, the laggers who couldn't make up their minds quickly enough to get tickets for the original show. But they were a good audience, he said. "Even the dregs -- the waifs, the strays -- were fabulous!" he said. "So you've got a lot to live up to." Big laugh. "We peaked last night, though." Bigger laugh. "But I'm sure we can find some passion somewhere deep inside." He and the band went on to put on a hard hitting show that was, curiously, just a bit flat. As though they had, indeed, peaked the night before. It left me feeling a bit frustrated at the bookers that they added a second show before the first.
Part of the feeling could have come from the guitars. He broke strings right and left all night. Three times he had to change guitars in id-song, and that can't help but hurt your pacing and drain the emotional fever you're trying to build.
Don't get me wrong, it was still a fabulous show, and at 22 songs and two-and-a-half hours, it left us all drained and euphoric at the same time. But although it was nearly an hour longer than last year's show in support of Mock Tudor, it didn't have quite the same intensity. He looked pretty tired at show's end, too.
The highlights for me:
The superbly reworked "Nearly in Love." I think he's hoping one of the big-hat boys in Nashville will cover this one. All it lacked was a steel guitar to be a bona-fide country song already. "Al Bowlly." His acoustic work on this one keeps getting better, and Pete's and Danny's solos seem more thoughtful and passionate now too, and is vocals were never better. "That's All." He doesn't seem to have quite found this one live, but it's great to hear it, and he's getting close. "Bright Lights." Pete's great bari-sax playing. "Taking My Business Elsewhere." Sublime playing and singing. She didn't call him "her fantasy," any more, but rather "Old Ironsides." Not the only song where he played with the lyrics. And yes, Pam, I noticed the subtle change in "That's All." "Hard on Me." The LOOOONG version, absolutely tore the house down, got him his second standing O of the night. The first was for the opener, "Tear Stained Letter." "VBL" also got one. Not quite as incredibly excellent as last year's version, but still alive and kicking. "Mingus Eyes," especially Danny's excellent work. This song really seems to mean a lot to RT.
I haven't talked to my 18-year-old daughter, who attended with my wife and I. She left before the second encore. Youth lacks stamina, I guess. She had a bit of a drive to get home and had had a long day. I know she loved "TSL."
I was too fagged to stick around and try to get RTgraphs. It was 11:30 and we had a 90-minute drive home. Too bad, because the venue was handing out posters from the previous night's show while we were in line. Or on line for you other folks out there.
Tear Stained Letter
Ghosts in the Wind
Bathsheba Smiles
I Want to See the Bright Lights Tonight
That's All, Amen, Close the Door
She Twists the Knife Again
Uninhabited Man
Al Bowlly's in Heaven
Taking My Business Elsewhere (Old Ironsides)
Sights and Sounds of London Town
Walking the Long Miles Home
Two Faced Love
Hard on Me
Cooksferry Queen
Nearly in Love
A Man in Need
VBL52
Crawl Back
Wall of Death
Mingus Eyes
Put it There Pal
Valerie
Gary Whitehouse
gwhite@peak.org
---
Pete Zorn rocks
On Fri, 1 Sep 2000, Mark Rogers wrote:
"Just to set the record straight, neither I nor anyone who agreed with me knocked Pete Zorn's singing...the guy is worth twice his weight in gold to the RTB"
AND, he was absolutely fabulous last night in Portland, the best I've ever seen and heard from Pete. I take it all back. He's a sideman extraordinaire, and RT obviously appreciates the heck out of him. Last night he was superb on bari and alto sax and sopranino, penny whistle, and bass flute, and also played guitar, mandolin and dulcimer. And "shaker," which RT had fun with.
Speaking of Teddy, he has a full-page ad from Virgin in the Sept.- Oct. issue of "No Depression," the magazine of alt-country, whatever that is.
Gary Whitehouse
gwhite@peak.org
---
RT in Sausalito
Just got back from the show at the Sausalito Art Festival. RT only had an hour and a half slot, but he put together a great show. I was able to get a spot next to the stage, about 10 feet from RT, fifteen minutes before they started playing. We got That's All, Amen, and it wasn't a disappointment. The final solo extended beautifully on the studio version that fades out so fast. I never thought of Crawl Back as a closer, but RT beefed it up at bit, and Henry Kaiser showed up to trade solos with RT. Between the two of them, they made quite a bit of noise. I'm looking forward to the full show at Petaluma tomarrow.
Tear Stained Letter
Bathsheba
Bright Lights
Hard on Me (9:40)
Sights and Sounds
Al Bowlly
Walking the Long Miles Home
Valerie
That's All
Cocksferry Queen
I'm Nearly in Love
Man in Need
52VBL
Crawl Back
-John Swanda
SWANDA@aol.com
---
RTB Hangs Tuff As Tour Ends
Richard Thompson and his Band thanked the audience before the last song of their second encore ("Valerie") in Anaheim last night saying "This is the last night of a tour that's been going on for about 18 months and it's been great!" And it certainly was. They may have been performing in the shadow of Disneyland - but there was no mousing around on stage - the RTB played very tuff and showered their audience with a cornucopia of riches.
The venue, The Sun Theater in Anaheim was one of the nicest I have ever seen, and had an excellent sound system which revealed a wealth of lovely details in the band's protean playing. The stage is even flanked by two giant video screens which seemed charmingly superfluous given the excellent view of the stage which was aided by outstanding lighting.
I want to thank listmate John Schulte for piloting us to the concert, we somehow dodged LA area traffic successfully on the way down and )more importantly since John was driving) his staying awake until 2 a.m. for the return drive back home to Santa Barbara. And John met his own Red Molly before the show who wound up buying his extra ticket - perhaps he'll share that story in his report.
Many other listees have detailed this concert tour, and the play list was quite similar with only a slight bit of reordering. Rather than a round by round commentary, I'll just mention a few moments that were particular highlights for me. To start the evening we had the redoubtable David Lindley and Wally Ingram who were a marvelous bit of lagniappe as the opening act.
When the Thompson Mob ambled out my concerns about whether this very different looking Orange County audience would prove Thompson-worthy was quickly allayed. The audience was enthusiastic and the band seemed to to have a litle extra edge perhaps knowing this was their final chance for a while to showcase these songs. There's a marvelous synergy which you can feel at great concerts - as the audience members are both personally excited by the music individually and as a group. When that feeling sweeps back onto the stage and then is mirrored back in a powerful performance - you have something quite memorable and uniquely communal. I think that is something that is celebrated in this list by the many reviews that are shared and part of the great fun of this group.
RT was was in strong voice and once again his guitar was his Excaliber. The marvelously reconstructed guitar chop-and-dice intro to "I Want to See The Bright Lights Tonight" showed his inventiveness early on, and he constantly matched that level. I was delighted to hear "That All, Amen, Close The Door" which really started to cook as they progressed through it and included a couple of guitar solos. The shorter one was concise and seemed to have the flavor of a George Harrison solo. Throughout the night I was amazed about how much Pete Zorn, the King of Horns, added to everything. He played a wide assortment of air breathing and stringed instruments and sang with gusto, especially on "Wall of Death" which John commented almost seemed more Pete's song. As for Danny, I think his playing is always amazing but what was fabulous is that the sound system held together on the lowest octaves so we got some tight, gut massaging low notes not the usual muddy morass most PA system produce. And the audience truly hailed Danny's efforts on his solos giving him his props as he deserved. Michael Jerome stayed as busy as if he was being paid double scale and again the sound system gave each rim shot, kick drum, tom, and cymbal clean well articulated sound.
We had told our table mates who hadn't seen RT in a couple of years "Wait for this song called "Hard on Me" and make sure you have both your lap and shoulder belt firmly attached." RT uncorked it early in the set and it blstered for 9:35 leaving the audience gasping for breath by the end.
There was a song very early in the set which neither John or I could identify by name, perhaps another listee was there and could assist? It was an airy, eerie piece with Danny producing exotic short notes from a bowed bass and had a transcendental jazz feel and few lyrics.
I cannot say enough about what a marvelous enhancement the great sound and lighting were for this show. Although I have RTB from much closer, this had much more theatrical gobsmack to it. What a perfect image to burn into my retina as I remember my first long cycle of RT concerts which started when I saw a short solo set by him at the Greek Theater two years ago.
While RT added only a few brief asides between songs they were all funny and well received. The most hilarious was the tutorial he gave this Los Angeles area audience before singing "Walking The Long Miles Home." "O.K., first, I'm going to need to explain what a bus is... OK imagine a ~really~ big car with 40 people. And walking - OK that what would happens if you got off your treadmill but kept doing that thing with your legs."
I was charmed as he and the band took the time to thank all the roadies, sound and light people and even the coach driver Dale for their efforts on the tour. In my "own private Idaho," I felt as if RT was thanking me personally for being on the bus with him, and believe me - it was all my pleasure.
Andrew Teton
Ateton@instadv.ucsb.edu
NP: Mental Reverberations
---
RT Band at StreetScene
in San Diego (a little long)
Ok, being the dutiful RTLister that I seem to have become (grammar?), here is the setlist, not in correct order I am afraid. What with contending with my rather sloshy neighbors up at the front of the stage, and attempting to maintain concentration so as to acheive nirvana (in the sense of a state of harmony, bliss, peace, or joy-I was going to use the word godhead, as in the 60's phrase, but did not want to offend.), I did not (and actually never intended to!) take notes.
Tear Stained Letter (very energetic sing along from the first, without any prompting)
Bathsheba
I Want to See the Bright Lights
Walking the Long Miles
Hard on Me
Man in Need
She Twists the Knife
Nearly in Love (wonderful!!)
Crawl Back
Valerie
Vincent
Wall of Death
Before he started playing someone (male) yelled out "I love you Richard" to which OH replied, hippie like, "I love you too, man, I really do". This is my third encounter with the RTBand this year and altho the shortest due to festival venue, I think the best. I don't think I have ever seen RT himself so animated in his playing, and he kept his cool (and then some!) in the face of multiple equipment problems, the most amusing of which occurred during Man in Need. As he was starting the second verse, something happened to his guitar and right as he said "find the right connection" a roadie was at his feet messing with the plugs and wires, so Mr. T looked down and repeated "find the right connection!". He actually changed guitars in the middle of two different songs without missing a beat. Pete Zorn had a couple of broken strings as well. Maybe the've changed elixirs?
Highlights for me were Valerie (which has never been a fave), Nearly in Love, Hard on Me and She Twists the Knife, which just percolates. Anyway, I think that OH is at the absolute top of his game, confident, strong and singing with real conviction and emotion and gush gush gush. It was wonderful to be that close and really see him close his eyes and go wherever it is he goes and then bring himself back after one of the extended solos. And the interaction of Pete and Danny and Michael...they are really playing together with and reacting to RT, as opposed to accompanying, if you know what I mean (and I know you do!!). I really feel spoiled for any other music for awhile.
Janet Sarver
JSarver@fulfillment.org
oh...black ribbed T-shirt, black pants (not Versace, I think), same interesting shoes as pictured here previously. black beret (not Kangol)
---
Street Scene - San Diego
Hi all, well...I'm out of lurk mode (been there for months, since moving in July), and wanted to share some pix from San Diego. I'm part of the management team for Street Scene, and its been hectic. Saturday in particular was not a good day for me, until... I got to hang out for the RT set. I usually am able to move around and check out chunks of music during the event, but Sat I was swamped with little crisis moments that prevented me from seeing anyone. I went to the stage where RT was scheduled to take care of something, and my boss (who needed to sign off on something) was talking to RT, so... after I finished I asked OH if he'd be so kind as to take a photo with me. He obliged (2X), and then went right on stage. I was able to stay and watch the whole set. Man, he was on, and in a good mood, considering the broken strings and pedal box. I got to take some digi pix, and have placed them all at this site http://albums.photopoint.com/j/AlbumIndex?u=70452&a=8659635 .
I also got the setlist at the end of the gig, and RT was kind enough to sign it for me. A scan of that is also at the site. As you'll see Wall Of Death was a spontaneous add on at the end. His set made my day, and reminded me of why I was putting in the hours for this event. I sure wonder if there's a recording out there... :-)
Dave L
dlinn7@home.com