Hawaii
April 15 -22, 2000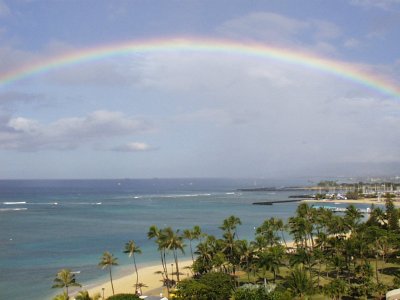 The show was sold out!!!
The Kilaua Theatre holds about 200 people. Full house except for my neighbor who went fishing with the big boys during the day and couldn't make it. The band, the two Thompson guys, wore all black which Richard joked about being the only ones on the island with no color. Danny Thompson played a huge stand up bass. It was really beautiful. They said they were on an Island world tour, Tasmania to Kauai! It was a long show, 2 1/2 hours, with no breaks and two encores. I didn't recognize a lot of stuff. Nothing was played from Hand of kindness that I noticed. I know that's rather old. They did play a funny song called "My Daddy's a Mommy". Henry Kaiser came out and played a smoking guitar on one of the encores. The tuning strings were on the bottom. Interesting.
"an RT fan on Kauai who prefers to remain annonymous."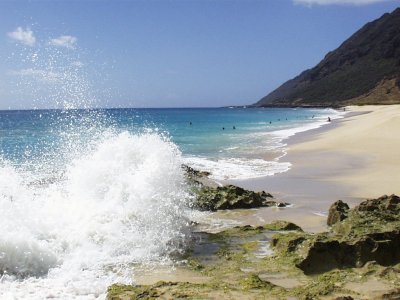 ---
RT in Honolulu, Hawaii
Tonight was the third and final show in RT & DT's mini-tour of the Hawaiian Islands. They played on Maui about two weeks ago, vacationed there a bit, then moved on to do a benefit for the local public radio station at the Kilauea Theater in Kauai last Saturday. From what I've heard, they only drew about 150 people at the Maui gig, which could have been because the Doobie Brothers had played there the night before. But the Kauai show was sold out, as was tonight's performance at the Academy of Arts Theater in Honolulu.
Forgive me if I'm a bit too overwhelmed at the moment to reconstruct the entire setlist in the correct order, but here's what I do recall:
Easy There, Steady Now
Bathsheba Smiles
Waltzing's For Dreamers
Hamlet
Ghost Of You Walks
I Feel So Good
Al Bowlly's In Heaven
She Twists The Knife Again
Uninhabited Man
1952 Vincent Black Lightning (solo)
Cooksferry Queen
Dry My Tears And Move On
Walking The Long Miles Home
Ghosts In The Wind
Down Where The Drunkards Roll
Turning Of The Tide
Wall Of Death
ENCORES:
Pharoah
I Misunderstood
Shoot Out The Lights
Don't Step On My Jimmy Shands
Crawl Back Under My Stone
Galway To Graceland (solo)
I'm certain I've forgotten a song or two, and as I've said the running order probably isn't 100% accurate, but as you can see it was a nice long show with a generous amount of encores.
The audience was really enthusiastic, and seemed to especially enjoy Richard's sense of humor, which is often in direct contrast to the gloomy nature of some of his songs.
Some miscellaneous tidbits:
Before "Walking The Long Miles Home" RT asked us if we had buses in Hawaii. We do! RT went on to explain how the song is about missing the last bus in England. "You can either stay home and have no fun, or go out and have fun but miss the bus. It's a divided society." The audience got a kick out of that!
Simon Tassano only accompanied the Thompsons for the first gig, on Maui, then had to return to the continent (which is what some people here call the mainland; it's an island thing; see, to us, **this** is our "main land"). Anyway, for the Kauai and Honolulu gigs, local sound wizard Rick Ames ran the house sound, and apparently earned a "thumbs up" from RT and DT. Come to think of it, RT's vocals were a little clearer this time than they were the first time he played here in '97, with Simon doing sound.
Rick is a friend of mine, and after the show I hung around to help him load out his gear. I got to say hi to both RT, who autographed my copy of Celtschmerz, and to DT, who later chagned out of his stage clothes into an aloha shirt and a pair of red swimming trunks! If you didn't know better, you could have mistaken DT for a kama'aina (Hawaiian term for longtime resident)!
I overheard the promoter, Kevan Scott, telling the tale of how, at the Kauai show, Bill Kreutzman of the Grateful Dead popped into the tent RT was using as a dressing room, right after RT got off stage. Apparently, he caught RT without his trousers on, and RT got pissed and chased Kreutzman out of the tent! A few minutes after hearing this tale, I ran into RT talking to Rick, and I jokingly asked RT if the story about Kreutzman was true. RT looked a little embarrased, and said, "Well, I was changing my trousers!"
This past Wednesday, DT was the subject of a feature story in the Honolulu Weekly. The article talked about DT's illustrious career, the story of his antique standup bass "Victoria," and of course his current collaboration with RT. It was really nice to see DT get his "props" for a change!
Prior to tonight's show, the Thompsons spent the past week hanging out at a rented house on Oahu's North Shore, which is where they are at the moment, doing whatever they do to wind down after a successful performance.
I certainly hope the decide to visit again! Count yourself fortunate you don't have to wait three years between RT gigs wherever you lot reside!
Happy Easter,
: ) Jim Kneubuhl
Honoulu HI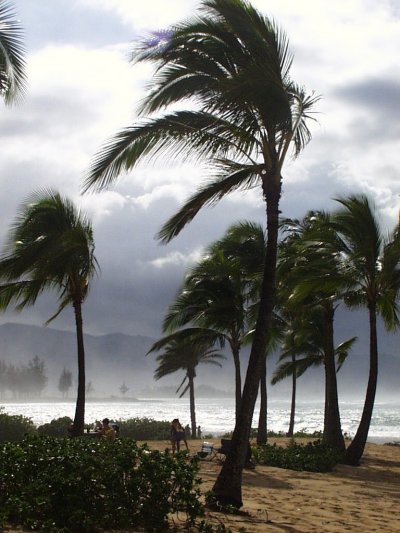 Hi Again,
Just realized I incorrectly listed "Pharoah" as one of the encores in my previous post. The tune was, in fact, a new song called (I think) "My Daddy Is A Mummy." The tune is written from the point of view of a son whose father has been dead for thousands of years, "but you can still visit him."
Don't know why I assumed this was "Pharoah," except for the common Egyptian content.
I've never heard this song before. Has anyone else? Matter of fact, I managed to miss hearing "Pharoah" before too, until just now while listening to Celtschmerz for the first time. "My Daddy Is A Mummy" is a lot more humorous and in a more rocking vein.
Sorry for the mixup!
: ) Jim
***Happy Easter, Folks... Jim is a previous reader of the RTlist.
---
RT in Hawaii (another report) \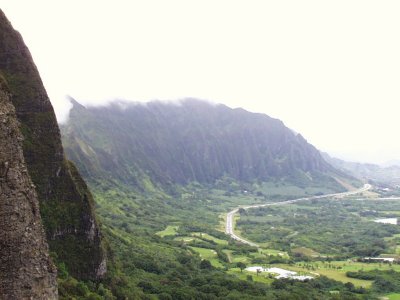 Here's another report of the RT/DT Honolulu show from a former professor
and co-writer of mine who lives there:
He was also joking about Nordic angst, which is why they always wear lack, following Northern European dress code. DT gave us the chaka.
They seem to think we're a bit primitive (as RT said before one song, 'here's a bit of culture for you') but they like it here. Terrific audience response: three times, at each exit, the audience rose to standing ovations like one person. The Elvis devotee "sang 'Love Me Tender'" instead of "humming 'Suspicion'" this time.
"My Daddy Is A Mummy", which RT said he composed because his son had to learn about Pharaohs for a school assignment, was a tribute to the location: The Honolulu Academy of Arts is currently housing a world class exhibition about Ancient Egypt, 'Mysteries of the Nile'.
I didn't only think RT's voice was better (much stronger) than in 97. The arrangements were almost all new, with many surprising twists. This material is so rich, he can play it for the next decades and still produce something fresh and unexpected. It takes ever-increasing skill and artistic vision and he combines both.
Now be thankful? You bet."
Marc Bergman
marchand@neptune.kanazawa-it.ac.jp
---
Pictures of Oahu from the 2 Left Feet webmaster Willis Howard, himself, who only missed the Hawaiian tour by 2 weeks.