European Tour, Spring 2000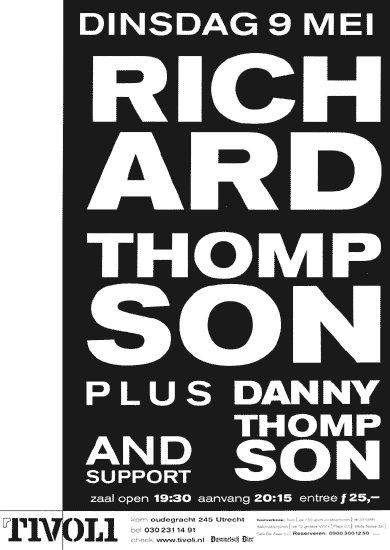 RT+DT live in Tivoli Utrecht last evening.
(April 9 2000)
Hi all,
Setlist:
1. Easy There, Steady Now
2. Bathsheba Smiles
3. Waltzing's For Dreamers
4. I Feel So Good
5. Ghost Of You Walks
6. Hamlet
7. Uninhabited Man
8. She Twists The Knife Again
9. All Bowlly's In Heaven
10. '52 Vincent Black Lightning
11. Dimming Of The Day
12 Cooksferry Queen
13. If You Don't Want Me (I'll Dry My Tears & Move On)
14. Walking The Long Miles Home
15. Sights & Sounds Of London Town
16. Ghosts In The Wind
17. Wall Of Death
18. Turning Of The Tide (d-string broken)
ENCORE 1:
19. I Misunderstood
20. Razor Dance
ENCORE 2:
21. Shoot Out The Lights
22. I Want To See The Bright Lights Tonight
=
Tivoli: hot (it's already like summer in the lowlands) + smoky Audience: 600-700 of which 6/7 dedicated RT-followers and 1/7 drinking beer, talking loudly in the back (and not takin' notice of tonight's English (?), American (?) music. But the rows between the stage and Simon Tassano's sang along loudly with RT's alternative for London Is The Place For Me.
=
RT+DT were in a good mood, though DT told Richard Condon + me outside the venue + before the concert he hardly knew in what place he was and what time it was. He explained he flew from Hawaii to Jerusalem to participate as a moderator in a BBC-tv documentary about the three (?) religions that are claiming this Holy City as their Holy City. He tried to be shy about it, but the BBC wanted to have him because of his natural talent as a presenter and because he doesn't have too much of a teacher.
He flew from Israel to Groningen yesterday (Monday) where he met RT to kick off the current West-European Tour. He tried to have a little rest in the van after he told us about his tv-adventure, even before Richard Condon could ask if Hamlet was on the setlist. The Old Fan carried a note in his briefcase saying in big letters: NOT HAMLET ! ;-)
=
I could ask Danny if his thumb & fingers had healed and he was surprised since he got the same question on the first night in Groningen as well. I explained the Dutch tv-documentary Man On The Edge had a part in which Danny shows his wounded fingers to the camera saying: "If I go like this (painful face) I'm not enjoying the music, but just suffering". He told us he had not seen the video, but that he wasn't interested in looking at himself. He was very kind and open and pretty relaxed.
=
Simon Tassano told me Groningen on Monday had been a nice show too. Some 250-350 in the audience.
=
Other listmembers traced: Arie Euwijk (digest-lurker mostly. very friendly), Emanuelle (gorgeous Francaise), Richard Condon (The Old Fan who felt a bit sweaty after hours in the car between Brussels and Utrecht so he didn't want to put on his clean Dee-shirt), Koen Hottentot, the guy who maintains the Iain Mattews list and.........(good old) Derrick Leigh (who just flew in from London and who was looking forward returning to Amsterdam for a good night sleep and: RT+DT in Paradiso).
=
It was Derrick who noticed RT wore a strap with a BLUE pattern. Yes, you heard right !
=
RT looked happy, played well, explained the connection between "Dutch Courage Is The Game" from The Ghost Of You Walks and he told the Dutch the expression originated from the times Britain and Holland were in a war. RT: "We didn't mean it !".
As an intro to Uninhabited Man he mentioned Brian Wilson and Mama Cass (If I heard right). There was not much stage banter, but the music was known, ok and well done.
After the show I found a little bag that had RT's D-4th in it.
You wanna know what's on it ?
You wanna know what strings he's using ?
Are you such a completist ?
It says:
"SOUND QUALITY THAT LASTS"
E L I X E R
D-4TH
ACOUSTIC GUITAR STRINGS
=
Right in the beginning someone from the balcony shouted: Woodstock ! His reaction I couldn't understand, but made people laugh. But that song did not come.
It's 4 in the morning now. I've got a job to do in three, four hours but I thought the world ought to know: The European Tour is On ! Paradiso is next and then NL is done for another ... years ;-)
Regards,
goodnight
Flip Feij
---
RT and DT in Utrecht
Last night's concert in a stiflingly hot and smoky Tivoli at Utrecht, Netherlands, saw RT and DT on top form. Apart from Flip Feij and his two brothers and all three SPUDS, plus Flip's daughter Fleur, Emmanuelle, Arie and myself from this list were there, and there was a surprise (and welcome) appearance by ex-listee Derrick Leigh, dormant for some time since.
Flip and I chatted with Danny in the street before the show. He was looking for his car so that he could sleep for a while before performing as he was jetlagged. He had only met up with RT the night before, at the first concert of this tour, in Groningen, since fimmediately following the tour of Hawaii, Danny went to Jerusalem to make a film for the BBC about the meeting of three great religions in this holy city. This should be interesting.
Having arrived home from Holland at 2am and having nonetheless arrived at work at 8, I am a little car and bed-lagged myself and appear to have left my setlist at home. If there are any completists around who would like to know it, mail me privately.
A few comments: when someone (one of the Feij clan?) called out a request for "Woodstock", RT made desperate suppressing gestures and replied, "I'll pay you afterwards to keep quiet about that - it's not really in the repertoire."
I was dismayed when they played "Hamlet" yet again, but I can see why they do it time after time. Even as RT introduced it with his habitual patter, you could see Danny's eyes sparkling with pleasure and it is true that the two of them do a wonderful instrumental job on it, really enjoying the soloing.
The show began with "Easy there, steady now" - a great number to get the pair of them warmed up. All the recent acoustic shows that I have seen (DT or no DT) seem to have started with "Turning of the Tide", so this was good news. They DID play "Turning" at the end of the concert and RT broke a string then - which enabled him to come out and change it publicly to show us how quick and easy it was. He commented that unlike richer musicians they didn't keep spare instruments. "We're just artisans," he said.
When I find the setlist I shall probably remember some other amusing comments/incidents, but this will have to do for now.
A final word: the acoustics of the hall were not good: the support act (a Dutch singer-songwriter called, bizarrely, The Watchman) was vocally inaudible. Yet Simon did his usual brilliant stuff and for RT and DT the sound was infinitely better. I was positioned close to the soundboard and could see how meticulously he tweaked the sound non-stop.
Richard Condon
Richard.CONDON@cec.eu.int
("Old fan inside an old man")
---
Flip accurately described
last night's concert in Tivoli. Both RT and DT seemed relaxed and enjoying themselves. The crowd in the back were obviously not interested in the music, or too much so. A guy behind me was echoing Razor Dènce (American pronunciation) after each Britsh Razor Dance from RT.
The stage banter was cheerful, but very hard to understand in the back of the venue. The early part of the concert I was close to the stage, on the left side. When RT explained the meaning of Dutch courage, after saying "We didn't mean it", a guy from the audience replied "But we did". RT then quickly responded with "Oh, then we did too. That means we have a war (or something like that).
When a guy requested Woodstock, RT looked up to the balcony and responded with "I will pay you not to mention that".
I think I recognised Flip and company in the audience (if you were the person in the striped shirt writing down the set-list, just behind the mixing console). I didn't recognise any persons who were also present at the Stacey Earle gig in Paradiso (Hi Arie)(I did prefer the Paladins, although I've seen them perfom better).
I hope you will all enjoy tonight's performance in Amsterdam. I will not be there even though it is my home-town. I'm saving my money for Steve Earle & the Dukes later this month.
Wilfried
wmboon@knoware.nl
---
RT+DT Live In Paradiso (first notes)
11 May 2000
Hi all,
Rather than staying at home I decided to get my second "shot" of RT/DT this week, so I drove some 200 kilometers to Amsterdam (Paradiso). Here they are, the first notes.
Setlist:
1. Sights and Sounds Of London Town
2. Bathsheba Smiles
3. Waltzing's For Dreamers
4. I Feel So Good
5. Ghosts In The Wind
6. Hamlet
7. Unihabited Man
8. She Twists The Knife Again
9. All Bowlly's In Heaven (I'm In Limbo Now)
10. (without Danny) '52 Vincent Black Lightning
11. (without Danny) Dimming Of The Day (request)
12. Cooksferry Queen (first time "acoustic" ?)
13. If You Don't Want Me (I'll Dry My Tears And Move On) last part without DT, but with a guest performance of tour manager Simon Tassano (in shorts) lying at Danny's feet trying to repair Victoria's amplification.
14. Easy There, Steady Now
15. Don't Sit On My Jimmy Shands (with loud audience participation)
16. Shoot Out The Lights (request)
17. Wall Of Death
18. Turning Of The Tide
ENCORE 1:
19. From Galway To Graceland (solo)
20. Crawl Back (Under My Stone) (first time RT+DT "acoustic"?)
ENCORE 2:
21. The Ghost Of You Walks
22. Valerie (cap5)
What else to mention ? It was a better show than the one in Utrecht in my humble opinion. Paradiso's is a better venue acoustically spoken. Along the walls and in front of the stage were chairs and tables with candles. The air conditioning worked o.k. so it was not so smoky as in Tivoli the other night.
The former church (it's holy rock ground for ages too) was pleasantly filled up with connoisseurs only, so it seemed. Requests were shouted after many songs while RT didn't seem to be distorted by them. He looked happy hearing so many different suggestions of his back catalogue. The request for "Dimming" came at exactly the right time (when Danny had his regular break) and was rewarded. The request for "Shoot Out The Lights" fitted in well too (after Jimmy Shands). I found many young people around, I was looking at two young boys with an obvious interest in RT's playing and they were simply blown away. There were older fans too (couples mainly) who looked each other in the eyes as soon as they were recognizing the intro to daddy's favorite song (or the song they made love by, that I couldn't read from their faces).
Richard was in perfect shape, his playing vivid, lively and hard to believe as always. Danny played wonderful as well. He is such an amazing musician and he knows the songs so well he seems to invent different bass patterns every time and they always come out perfectly. Ghosts In The Wind sounded like a Charles Mingus/ Dmitri Shostakovitch piece, contemporary music + jazz.
During "If You Don't Want Me" Danny's bass wasn't heard and while Simon was repairing it (he left the soundboard as soon as he heard terrible hissings and scratches through the speakers and crawled under DT's monitors like a first aid person) while Richard finished the song (the audience applauded loudly). While Simon was playing his role as handyman Richard told the audience he played the venue back in 1967: "I played here in 1967, so I was here before you were here", while watching some young people in the first rows. And he added he played here too "with my ex-wife" opening for Hawkwind. "People weren't aware of us, I think, they all went (and he put on a very absent look that I last saw during the early seventies among Hawkwind & Soft Machine fans, indeed ;-) Sorry, fans.
Listmembers spotted: Derrick Leigh and Arie Euwijk and his RT-veteran wife and girl + friend who had his first live RT-experience - and he liked it. Afterwards we talked about the problems young kids with RT coverts as parents experience as soon as they come up with Richard Thompson at school while the rest of their class are into The Spice Girls and Britney Spears.
Derrick Leigh, who always does some good thinking, brought up the question: "When was the last time Richard came up with a new song ?" As Derrick has left this discusiongroup I informed him about "My Daddy Was A Mummy" and without having heard it he thought it could be a song similar to "Now That I am Dead".
Derrick and I chatted a bit with Simon on the street before the concert and Simon told us they're still thinking about an official RT website, but that he didn't have enough time to develop it, so this won't happen in the next couple of weeks.
In a few hours they're on their way to Copenhagen.
Regards,
Flip-
PS Via a source on the Joni Mitchell list I was informed last Monday someone in the audience in Groningen called for: "Black Crow". And RT replied: "How do you know ?" while Danny played a couple of notes of "Goodbye Pork Pie Hat". So the scream for "Woodstock" in Utrecht was not completely without some consistence. No mentionings of Joni Mitchell-songs last night in Amsterdam, though. The RT/DT European tour definitely is on the road.
Flip Feij
flipfeij@zeelandnet.nl
---
Poor Thompson
Today's Dutch leftish national newspaper De Volkskrant carries a review of RT/DT's Utrecht concert. The headline is something like "Poor Thompson obliged to stick to folksongs".
QUOTE:
Musicians of Richard Thompson's stature must be able to set up a decent tour, but written words don't sell records so since many years Thompson doesn't have an ideal relation with his recordcompany, has got no money and had to travel with his experienced bassist Danny Thompson (no relation) in a simple little bus trough the Netherlands, while the band stayed in Los Angeles for financial reasons. That's a pity, because the Tivoli concert just missed the variation that made the Thompson Plus Band Tour - six months ago in Britain - so memorable. The two men in their fifties looked sympathetic and Thompson surely is an acoustic guitar virtuoso, but you're missing his electric guitars. Thompson's work can be divided in acoustic folksongs and mean guitarmonsters. In Tivoli Thompson had to stick to the folksongs.
But he's got lots of them: Feels So Good (?), Uninhabited Man and Sights and Sounds Of London Town really stood out, especially thanks Danny Thompson colorful bass. The two men played with love and the audience loved them.
RT will always go on making wonderful records and who saw him cherish his guitar knows that he has not lost his joy of playing. That's heartwarming, but at the same time the music misses a certain drama. You'd wish him to write a real angry song or a song about something he cares for. It's the only way to escape from dullness. More songs like Shoot Out The Lights of the divorce-lp he made together with Linda, would do him good. In Utrecht he played is in the encore.
UNQUOTE
(roughly translated by me)
A load of rubbish I think of this real critic (Gijsbert Kamer) who also did the interviews of the Man On The Edge documentary (I told you NL is a small country). I think he calls everything a folksong that is played on "acoustic" guitar.
Maybe he has a point with the band. It must be pretty expensive to tour Europe with the mrs Jerome & Zorn added, but OH + band could easily have filled a Dutch venue like Vredenburg in Utrecht two nights if the recordcompany or touragent had paid some money for promotion. The Man On The Edge documentary had a great impact and I think many of the young people who were at the Dutch concerts "invented" RT via this broadcast in the very funky tv-programme Loladamusica.
Last night - right before the concert - I was standing in front of Paradiso and Simon Tassano asked me: "Do you see any bill saying Richard and Danny Thompson In Concert ?" I didn't. My ticket (and the badly organized Paradiso website) said: "Richard Thompson Solo". Who cares.
Regards,
Flip-
********************************
Richard Thompson For Completists Website
http://people.zeelandnet.nl/flipfeij/
---